High Density and Strength fiber cement board is a high quality calcium silicate architectural board reinforced with selected cellulose fibres and fillers.
The raw materials of fiber cement board are cellulose fiber, silicate cement, quartz sand, water and some additives.
It is 100% free from asbestos, sepiolite, inorganic fibres or formaldehyde.
Product Applications:
1.Indoor ceiling of industrial and resident building.
2.Partition of industrial and resident building.
3.The ceiling and partition of the bathroom and other wet condition building.
4.Indoor ceiling and partition as base board of the decoration for operation room,clean room of hospital or laboratory .
5.The fireproof board of the air passage.
6.Furniture or furniture's accessories.
Product Advantages:
1)excellent fire-proof
2)excellent damp-proof
3)Durability and long service life
4)high strength
5)stable dimensions
6)good heat and sound insulation
7)non-asbestos
8)mould resistant
9)no deformation
Main Product Features:
1) Elegance and excellent decoration
2) Easy installation and convenient maintenance
3) Best Surface processed with PVC Lamination
4) Heat insulation, thermal insulation, moisture proof, mould proof, sound absorption and noise reduction
5) Incombustibility / Fireproof
6) No dust / no pollution
7) Stucturally strong
8) Over 15 years no transmutation
Product Specifications: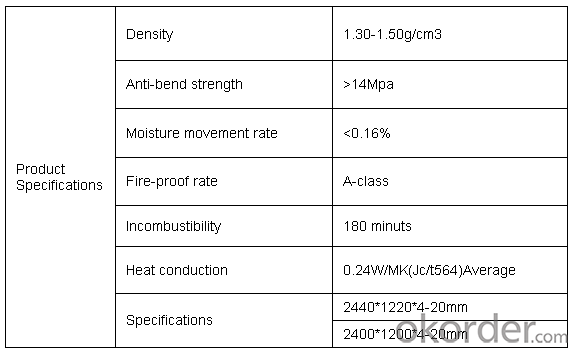 FAQ:
1. Q:What is the different and most important point from other supplier?
A:We guarantee No asbestos if it has asbestos density will be more than 1.4g/cm3 what's more
3.2mm*3000*1220mm can be produced by us other suppliers can not do this size
2. Q:What are the advantages of your board?
A: outstanding light weight ,heat insulation, waterproof, fireproof, sound insulation, fast construction.
3. Q: Is the board fire resistant?
A: Yes, fire resistant 4 h , in the heat of 1000℃.actually it is noncombustible Class A1.
4. Q: Do you have any certificate to help us get government's approval?
A:China testing report and our laboratory' s testing by ourselves as your supporting document.
Because building standards are different in different countries, most of our customers buy the boards for testing and get approval by themselves.
5. Q: If we need samples for customer approval, will it be possible?
A: Of course we can.
6. Q:How to guarantee the quality?
A:Laboratory, integral testing process from raw materials to finished product until loading containers will be done by our factory.
Images: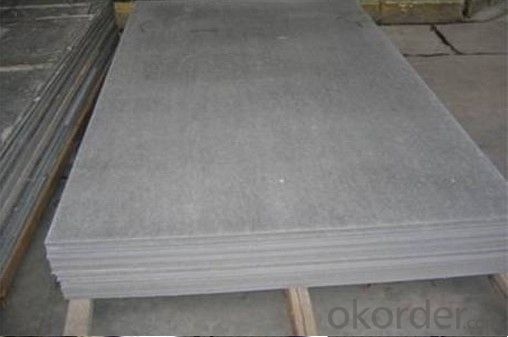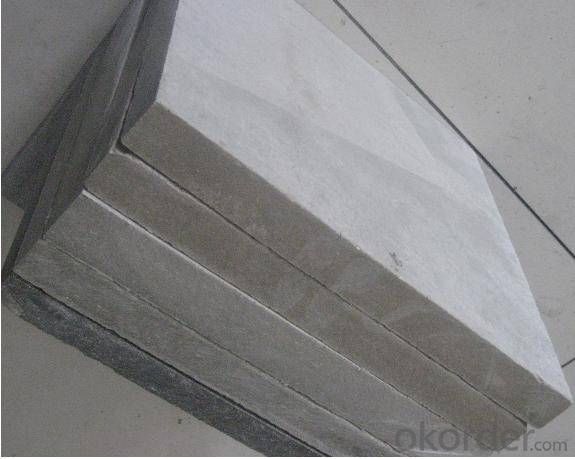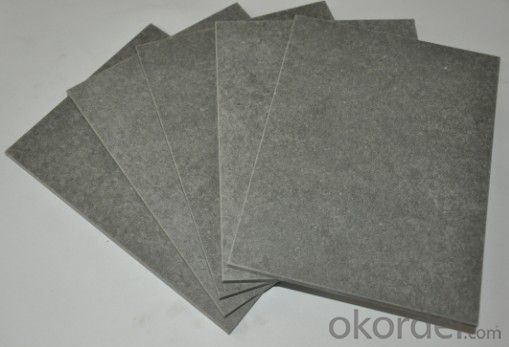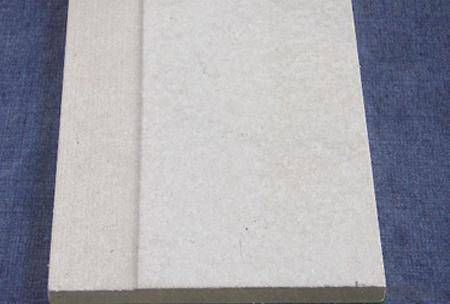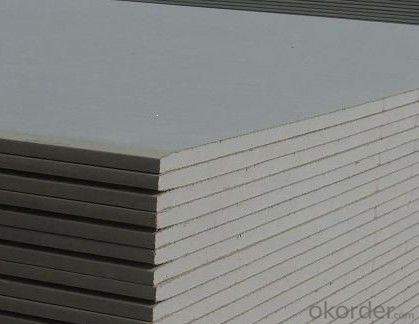 Q:I found these in a house I bought and am not sure what they are nor what they would be used for. I'd hate to just throw them out if they could be used.

Backer-board for tiling walls or floors. An absolute must in bathroom showers and tub enclosures.
Q:Can v board be glued directly on the wall?

Saw board, the UV decorative panels according to the actual requirements of a block into a block.
Q:I want to put a small addition to the side of my concrete bungalow. it will be shed with lean to roof I want to construct this without having to put columns/post on the side of the house what I want to do is attach like a piece of 2x4 or 1x4 to the wall horizontally and have my rafter attached to it. the excisting concrete wall is made of 6 inch thick cinder blocksplease help

Youve got the right idea, but your lumber selection is too small. If this is going to be room sized... that is, at least 10ft x 10ft, make the ledger board at least a 2x6, or 2x8. (I prefer the 2x8 myself). Use joist hangers to attach the lean-to rafters (also 2x6) to the ledger board. This is a lot stronger, and easier, than 'toe nailing' the rafters to the ledger. You will want to anchor the ledger board to the cement block wall, oversized 'mollies', or tapcons will work just fine... put a little construction adhesive on the back side of the 2x too. I like to use 6x6 posts, but if this addition isnt very large, 4x4's will work. Set them 2 feet into the ground with concete, minimal, to get below most frost lines. I like to run a top sill plate, with at least one 2x6 under it, attached to the posts, to support it. I make the sill plate wide enough to cover the post, and the sill ledger. Notch the rafter joists to match the angle on the sill plate. and again, use some form of joist hanger, or hurricane tie. (the hurricane ties work well at this end of the rafter joist. Next step depends on how you are going to roof the structure. If you are going to use sheetmetal roofing, then you will want to install some 1x material. I like to use 1x6, or 1x8 and split it on my table saw. (costs less than buying 1x3's). If you are going to shingle, then you need to sheathe it with 3/4 exterior grade plywood. If it is very large, use tongue and groove, or plywood clips. Cover with a good felt paper, install your drip edge, and apply shingles. (Run a row of shingles around the perimeter, and don't forget the flashing where the roof meets the wall) Have Fun (I'll add this here - If you are setting the posts on a concrete footer or slab, instead of in the ground, use a metal base. They can be found near the joist hangars, and such in any building supply store.)
Q:What is the difference between building curtain wall and architectural facade decoration?

Building curtain wall is the building does not load the external wall of the Wai, usually by the panel (glass, aluminum, slate, ceramic plate, etc.) and the back of the support structure (aluminum beam column, steel structure, glass ribs, etc.). Building wall with the definition of the law, set up A ~ B for a wall, if A ~ B wall line can be cut about the relevant structure of the wall, and vice versa for the external walls. From the architectural point of view, the enclosure of buildings, so that the formation of indoor and outdoor demarcation components known as the external walls. Its functions are: take a certain load, shelter wind and rain, thermal insulation, to prevent noise, fire safety.
Q:Gypsm plaster is recommended in Christopher Alexander's Pattern Language (#235 Soft Inside Walls) If I were to go to a building supply store and ask for gypsum plaster would they know what I was talking about? ...Is it a universal term? Can you give me a chemical formula?

Gypsm is hydradated pulverized limestone. You would ask for Gypsym topcoat or Gypsm tape adhesive in the Drywall department of Lowes. It costs today $9.95 for a 5 gallon pail of the stuff. Gypsm is resoluable in water after drying. In other words you can redissolve gypsm in water. Gypsm is mined in the US in states like Michigan, Indiana, Ohio and so on. It is a naturally occuring substance. Plaster of Paris is unhydrated form of lime. When wetted with water it changes chemically and remains hard no matter if submerged into water. The process is irreversible. Cement is made from clay and limestone fired to high temperatures, then ground and pulverized. When water is added to cement it changes its chemistry and the water reacts with cement forming a new compound It is irreversible The Romans invented Cement. Common Drywall is gypsm between 2 layers of paper enclosure. There are also metal lath in 26x84 inch lenghts and plaster board lath in 16x36 inch lengths Those all above are nailed or glued to the house studs.
Q:Yesterday I started a job at a warehouse store. This store, being a warehouse has cement floors. I have a pair of walking shoes I wear with added inserts for more comfort, but after my shift yesterday, I could barely walk because of the pain in my hips, knees, foot/leg joint, and my ankles. I know that arthritis runs in my family, and that other family members have had problems when dealing with cement floors. I'm only 23, but I know arthritis can start that young (I also know my knees are total crap because of sports). So my question is, could this pain be from walking on the cement floors all day, or is this just random? I never had this happen this bad before, and have never had to be on cement floors that long either.

Hi there: I know this the floors will just kill my feet when working on cement. You have a fine day..
Q:Can the cement pressure plate be made of sanitary partitions?

Of course, can be harmless, veneer brick to hang on the block network, directly on the cement board when the mortar easy to fall off the role of retaining the network in this!
Q:I removed old tile from my bathroom walls as well as the old vinyl flooring. Underneath the vinyl was cement backerboard, which is good. But all around the outer edges where the wall tile used to be, is a 1 inch gap where the floor board are showing. How do I get this gap filled? Do I need to rip up the old cement backerboard and start over? Can I cut small strips of new backerboard to slip in the crevice? Is there a compound I can fill the gap with? Any help out there?

If you have the backer board yes you can rip it and put it in. If you do not you can use some of the thinset you (should use) are going to put the tiles down with. Just mix it a little more dry than it calls for (not too dry) and fill this area in and let it dry for a day. Then go back and tile away. The only reason I am not telling you to go out and buy another product is that if it is along the wall edges and it is only an inch its a waste of time and money, you will be fine.
Q:I've taken up old linoleum tile, chip board, and two other layers of linoleum to get down to an oak floor in my bathroom. This has a felt-like paper uniformly adhered to it that must have been the backing for the first linoleum layer. I'm going to put down Hardi-backer, then tile. Do I have to take up the old tile backing material before I put down the hardibacker? It's very difficult to remove. Thanks!

If you are going to thinset the hardi-backer down and screw it as designed, it will be fine.
Q:How to apply waterproof material on the cement board?

Plus a layer of geotextile and glue together with cement-based waterproof coating K11 or JS
1. Manufacturer Overview

Location
Year Established
Annual Output Value
Main Markets
Company Certifications
2. Manufacturer Certificates

a) Certification Name
Range
Reference
Validity Period
3. Manufacturer Capability

a)Trade Capacity
Nearest Port
Export Percentage
No.of Employees in Trade Department
Language Spoken:
b)Factory Information
Factory Size:
No. of Production Lines
Contract Manufacturing
Product Price Range
Hot Searches
Related keywords