Highest quality for Portland Cement of Type IP Standard
Loading Port:

China main port
Payment Terms:

TT OR LC
Min Order Qty:

100 m.t.
Supply Capability:

500000 m.t./month
OKorder Service Pledge
Quality Product
Order Online Tracking
Timely Delivery
OKorder Financial Service
Credit Rating
Credit Services
Credit Purchasing
---
Add to My Favorites
---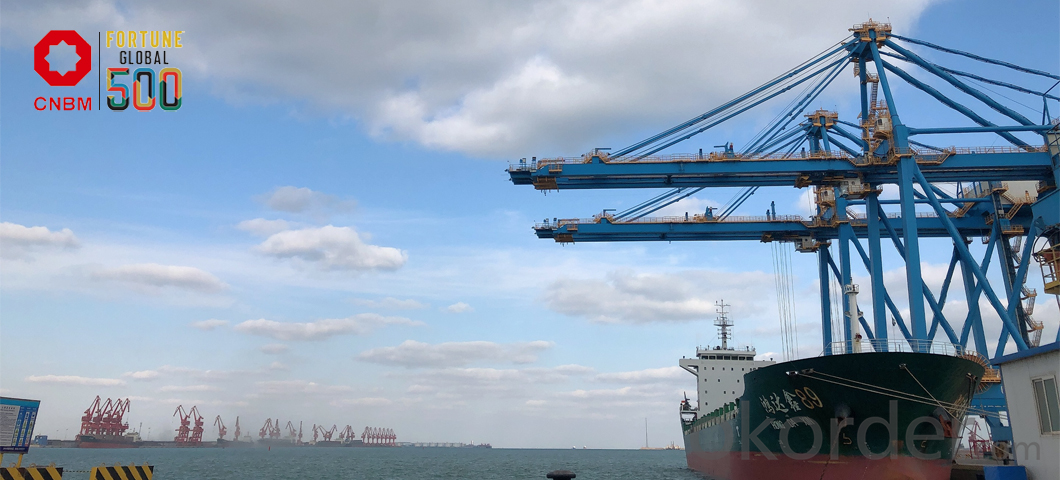 PORTLAND CEMENT

Portland cement is the most common type of cement in general use around the world, used as a basic ingredient of concrete, mortar, stucco, and most non-specialty grout.
It is a fine powder produced by heating materials in a kiln to form what is called clinker, grinding the clinker, and adding small amounts of other materials.
Several types of Portland cement are available with the most common being called ordinary Portland cement (OPC) which is grey in color, but a white Portland cement is also available.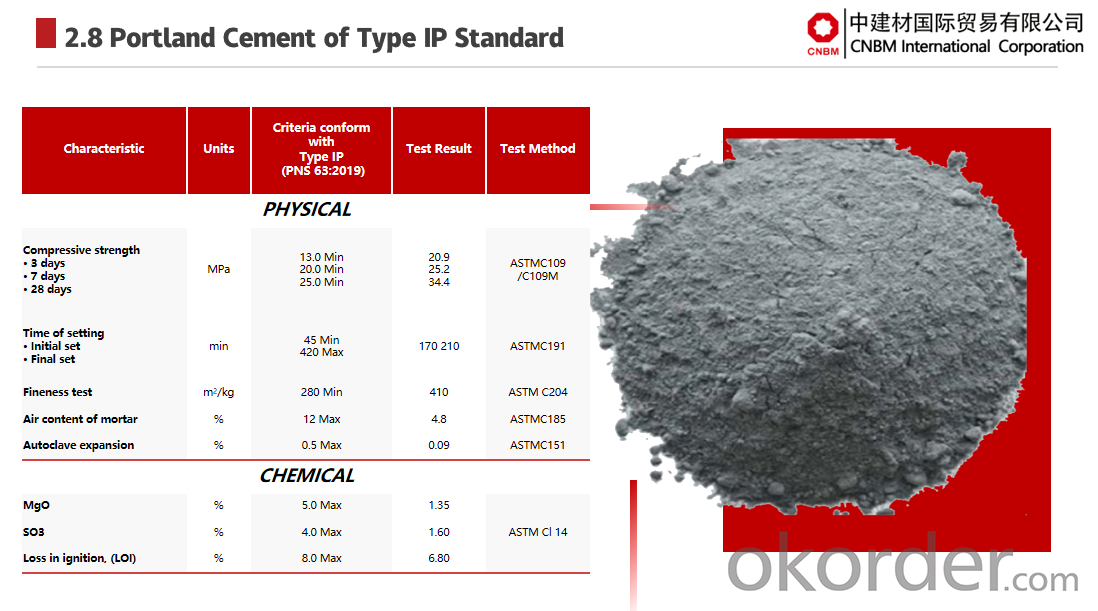 Application

CNBM Cement can be used for all types of architectural or structural concrete construction. Such application as pre-cast panels and systems, cast-in-place, masonry units, tilt-up panel systems, roofing tiles, terrazzo floors, highway median barriers, tile grout, swimming pools, stucco, culture stone,colored masonry products, cement paints and coatings, and ornamental precast concrete items.
CNBM INTERNATIONAL CORPORATION (short for the Company) is a subsidiary of China National Building Material Group Co., Ltd. (short of CNBM Group). China National Building Material Group is a state owned enterprise under directly management of the State-owned Assets Supervision and Administration Commission of the State Council, and ranked 187 in the world's top 500 in 2019. China National Building Materials Group is the world's largest comprehensive building materials industry group, the world's leading new material developer and comprehensive service provider, and has the strongest scientific research strength in the field of building materials and non-metal new materials. CNBM INTERNATIONAL CORPORATION is a brand-new platform built by China National Building Materials Group that focuses on non-metallic materials trading.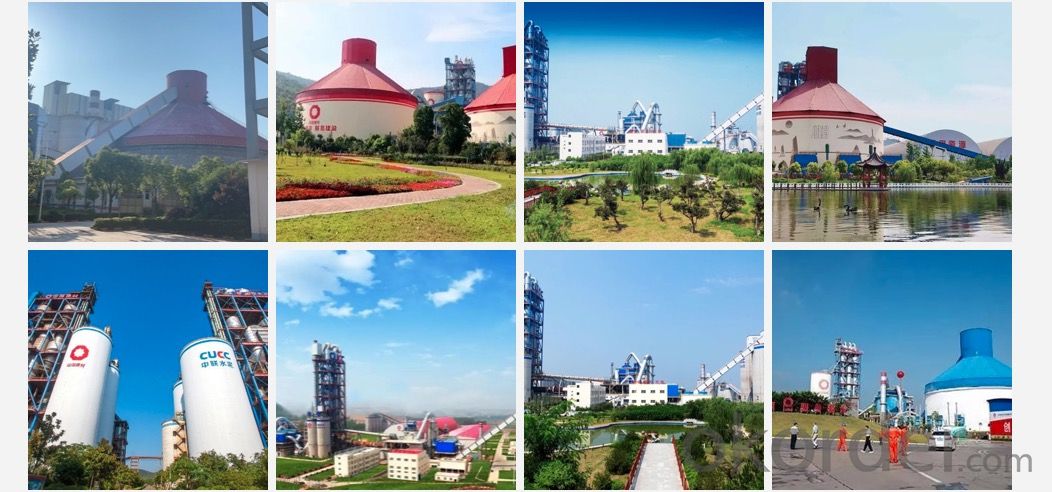 Q:Are you a trading company or manufacturer?
A:CNBM is a large-scale central governmental industrial group with its own manufacturing sector, research and development sector, trading sector and logistics sector.
Q:I have some special requirement about specifications.
A:We have a well-rounded product range, which endows us with the capability of applying many special specifications. Please feel free to contact us with yours.
Q:Do you accept OEM service?
A:Yes, we do.
Q:What is your delivery time?
A:It depends on the size/complexity of your order and our own production schedule. Usually we provide a faster delivery than the industry's average.
Q:What is the payment term?
A:TT and LC are both Okay.
Q:Can I have my own logo on the product?
A:Sure, we can apply your own logo on the products according to your drawings.
Q:Building materials distribution business projects can increase the cement products and steel it?

Add water after mixing into the slurry, can be hardened in the air or better hardening in water, and can sand, stone and other materials firmly cemented together For a long time, it is an important cementitious material, widely used in civil engineering, water conservancy, defense and other projects Steel: steel widely used, variety, according to the different shape of the cross-section, steel is generally divided into profiles, plates, pipe and metal products four categories The definition of steel: steel is the national construction and implementation of four essential essential materials, its wide range of applications, variety, according to the different shape of the steel, steel is generally divided into profiles, sheet metal, pipe and metal products four categories From the above analysis, cement products and steel products are building materials, can be increased
Q:Crack in cement floor of resdential ranch, crack runs left to right ( if facing front of house), tile was taken up and I verified that there was no moisture coming through. I checked around walls and did not see any indication that the cement floor has dropped. I am thinking it might be caused by roots? (very big pin oak (2 of) 15-20 feet away from house, ). If it is roots, would slab jacking be a waste untill roots are taken care of ?Thanks!

I am interested about it. But it is the same questions of me. What's the solution of that.
Q:Does rubber cement float?

i know regular cement floats,they used to make ships using cement mixed with Styrofoam
Q:Hey guys, I'm getting a pallet expander tomorrow. I was talking to my friends who have had one in the past and they said they were able to take theirs out. Unfortunately i can not. I was just wondering why could they take theirs out and i cant? The ortho said that mine will be cemented. I only have just a little cross bit with one tooth out of line. Can anyone tell me? Thanks a lot :)

Both types expand the palate. The difference is that remove able ones are used to obtain a smaller amount of expansion than a cemented one. The one that is cemented can engage the teeth in a more rigid manner and can be more effective in obtaining extra width. The cemented ones usually work quicker and compliance is not a problem. Compliance relates to the tendency for people who have removable ones to take them out. When they are out they are not expanding. Each case is different. Some require cemented ones and others can get away with removable ones.
Q:Was the gulf oil leak sealed with cement as stated, or was it concrete?

In the oil industry it is known as cement. Granted, there are non-cement constituents, but there is no aggregate as the concrete that we're most familiar with has. The cement has to flow through small gaps and can't have rock chunks in it. The cement used in the oilfield also has a number of other additives to control such things as setting time and flow characteristics (called rheology).
Q:I'm trying to install a handrail on a small set of concrete stairs. I drilled/chiseled two 3 inch deep holes for the newel posts. Do I simply put the posts in and add the cement? My fear is that once the cement dries, the cemented newel post quot;plugquot; will not adhere and be able to be pulled out of the hole. Do I have to do anything special to make sure this doesn't happen?

use a non shrink grout and slope it away from the posts a bit...
Q:My driveway is a gravel hill and there is a large drop off about 15-20ft wide, pretty much takes up the whole drive way, and its just where the cement stops and drops off kinda. Well my plan is to fill up under the drop off and just smooth it out a bit. I would like to use something that cars can drive over, but more importantly some thing that will dry within a couple of hours. There are about 10 or 15 houses that use the same drive way and I plan to do my work at night, as not to disrupt people and be in their way. Thanks!!

You have got to put in your steel-toed boots and stomp on it every three hours for three days. After that, you pressure your cars onto it, and watch them sink into the cement, after you cover it in quail feathers and let it sit for a day. PRESTO! Cement that's cured!
Q:Any one know the differnt ratios of sand and cement for the different strengths of concrete eg. 25N 35N etc.?

Cement to aggregate ratios do not determine concrete strength. The water to cement ratio is what determines strength. Sand, gravel and other aggregates act as a bonding agent. Normal ratio is 7-15% cement to 14-21% water with remaining percentage as the aggregate.
Q:i would like to match the cement on my driveway. i have a small patchthat i need to fill in. the driveway is a very light gray. which cement would i use to match the shade.

the odds are you will never match it-as concrete dries it changes shades
Q:Need' to get 20 cement blocks home. How many [weight wise] can I put in the back of a PT Cruiser.? About how much does a 'Nellis' type cement block weight?

ABOUT 800 lbs. per load !
1. Manufacturer Overview

Location
Year Established
Annual Output Value
Main Markets
Company Certifications
2. Manufacturer Certificates

a) Certification Name
Range
Reference
Validity Period
3. Manufacturer Capability

a)Trade Capacity
Nearest Port
Export Percentage
No.of Employees in Trade Department
Language Spoken:
b)Factory Information
Factory Size:
No. of Production Lines
Contract Manufacturing
Product Price Range