Highest quality for Portland cement 42.5/52.5/Type I Standard/TYPE I/II
Loading Port:

China main port
Payment Terms:

TT OR LC
Min Order Qty:

100 m.t.
Supply Capability:

500000 m.t./month
OKorder Service Pledge
Quality Product
Order Online Tracking
Timely Delivery
OKorder Financial Service
Credit Rating
Credit Services
Credit Purchasing
---
Add to My Favorites
---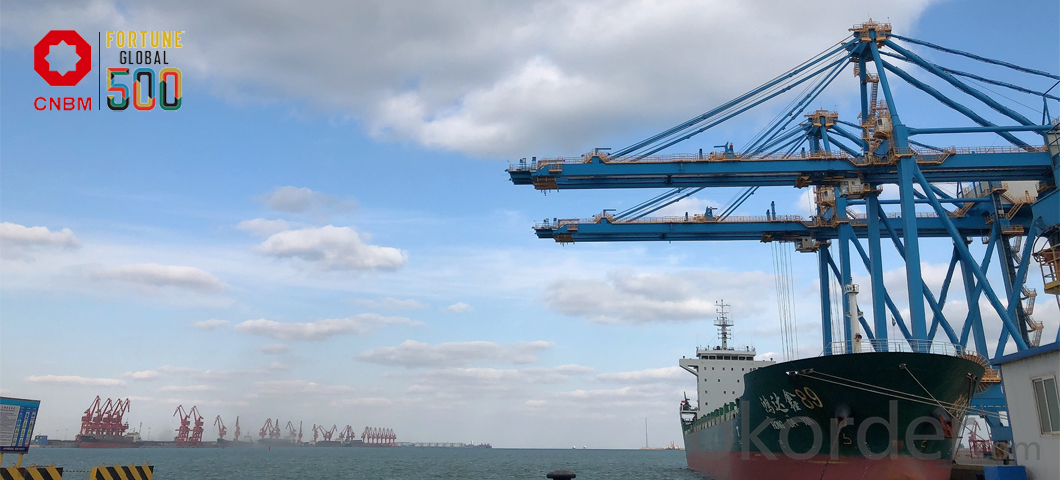 PORTLAND CEMENT

Portland cement is the most common type of cement in general use around the world, used as a basic ingredient of concrete, mortar, stucco, and most non-specialty grout.
It is a fine powder produced by heating materials in a kiln to form what is called clinker, grinding the clinker, and adding small amounts of other materials.
Several types of Portland cement are available with the most common being called ordinary Portland cement (OPC) which is grey in color, but a white Portland cement is also available.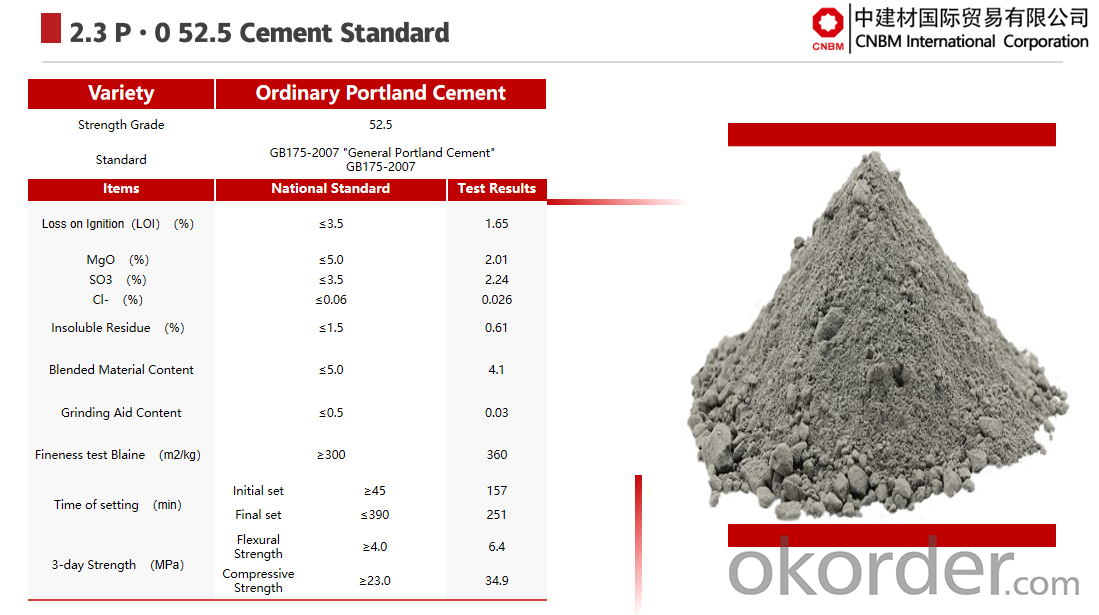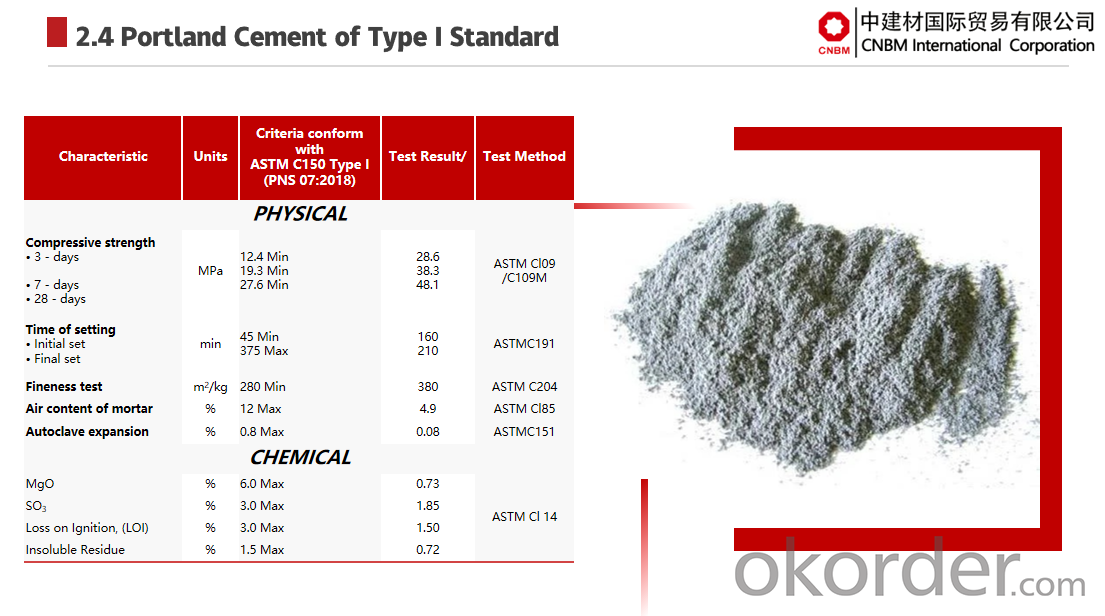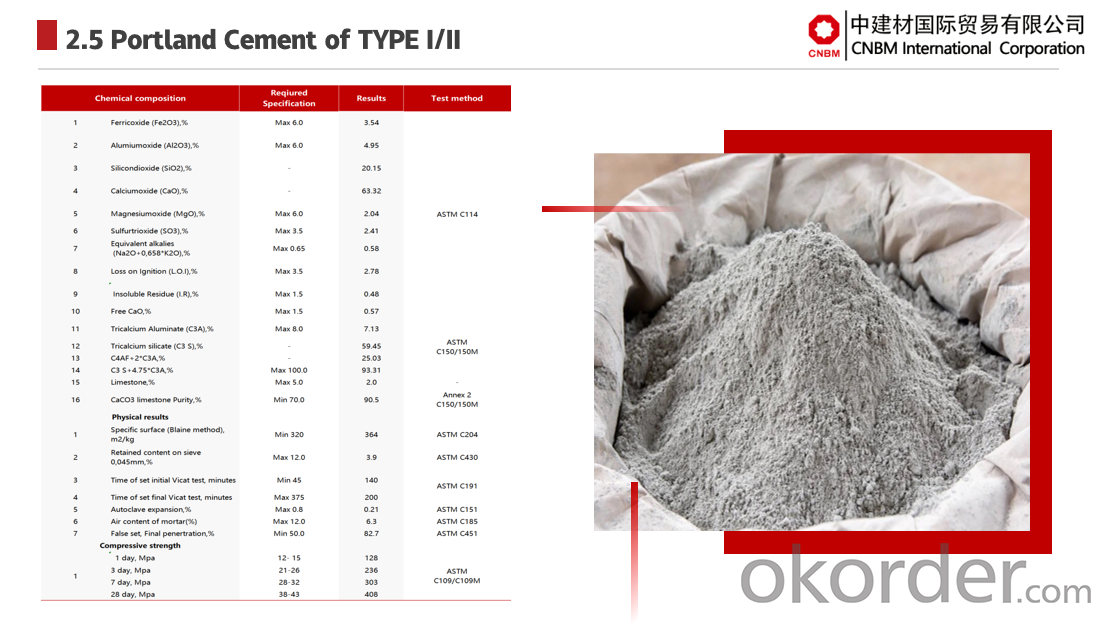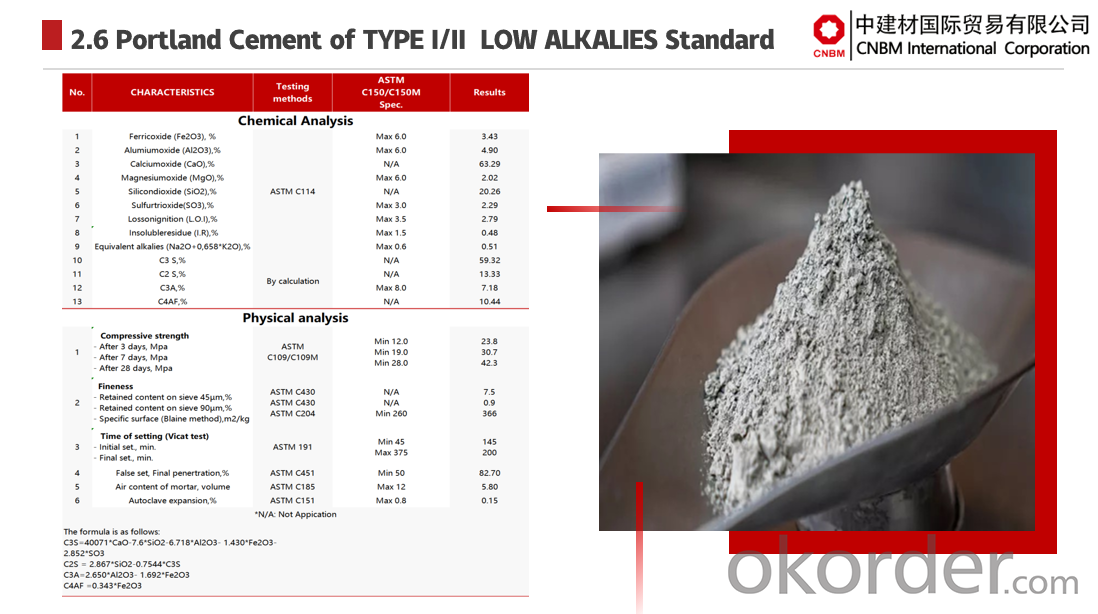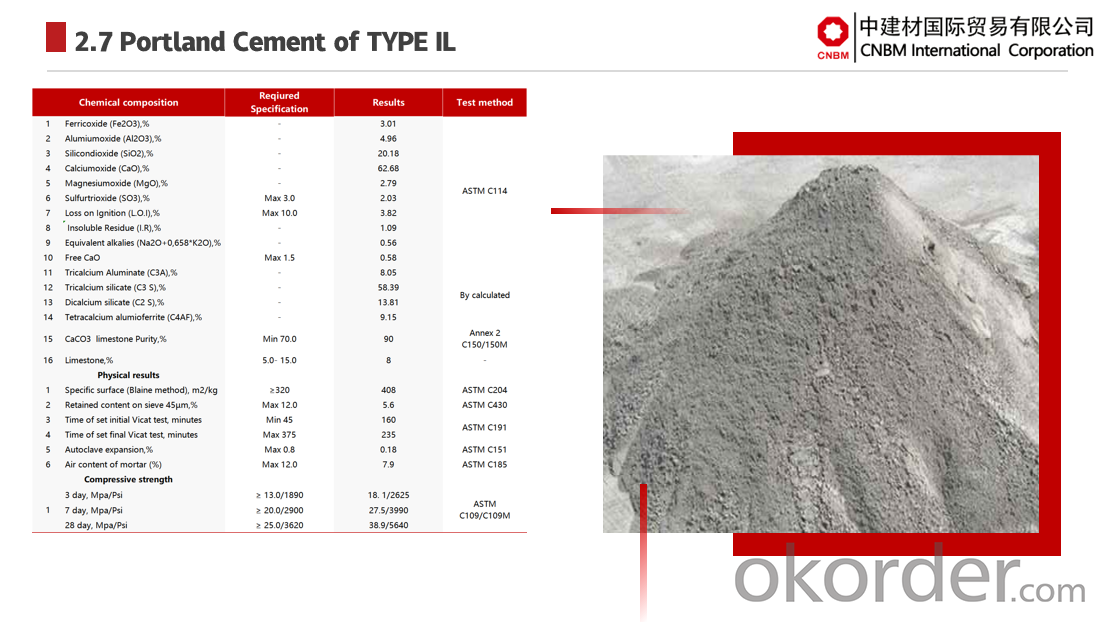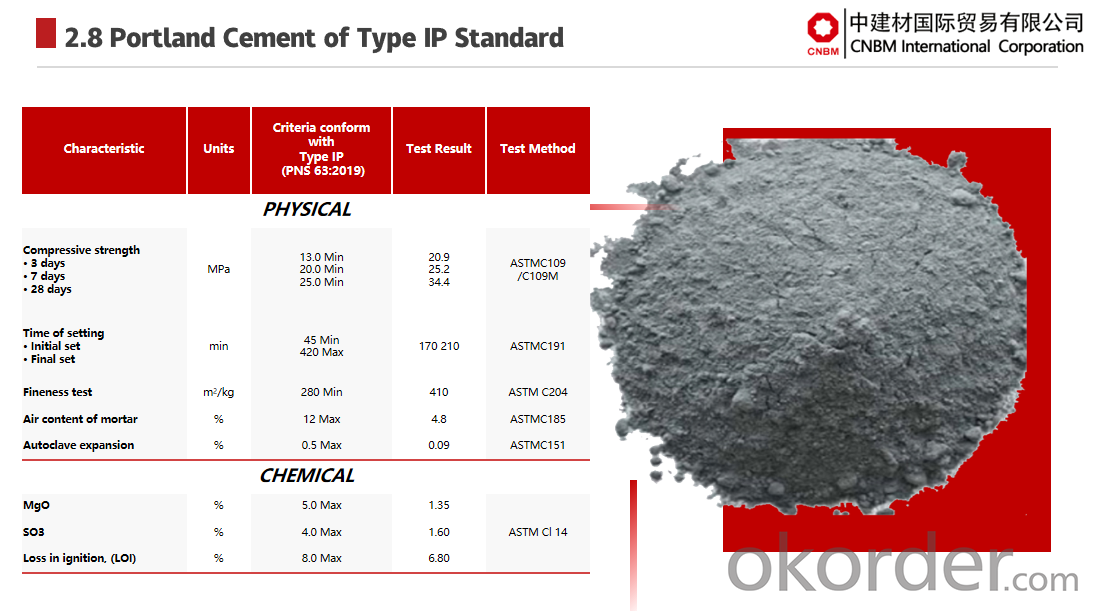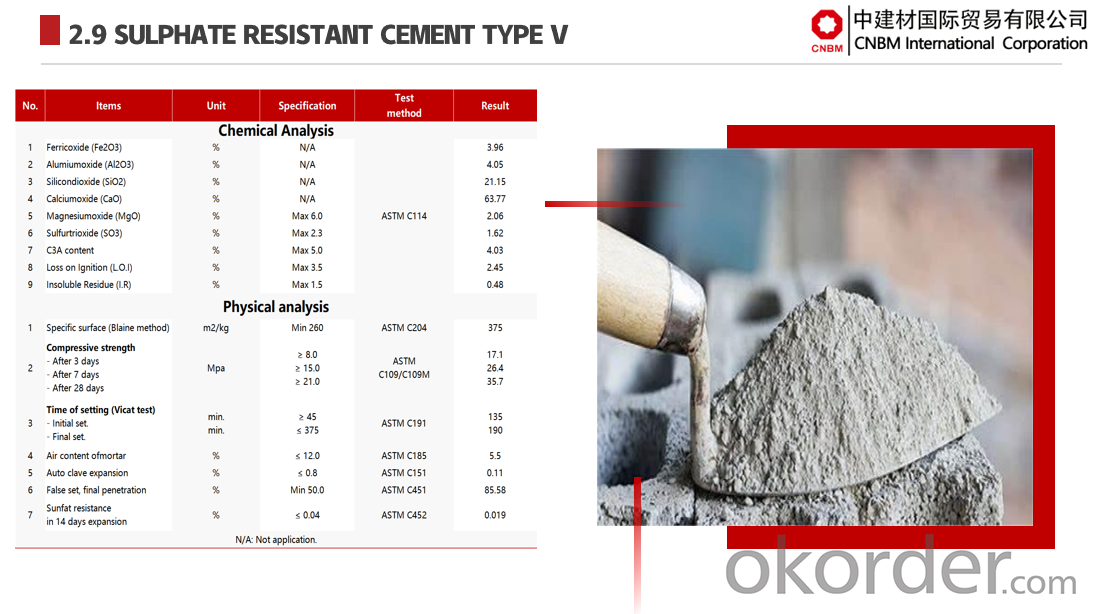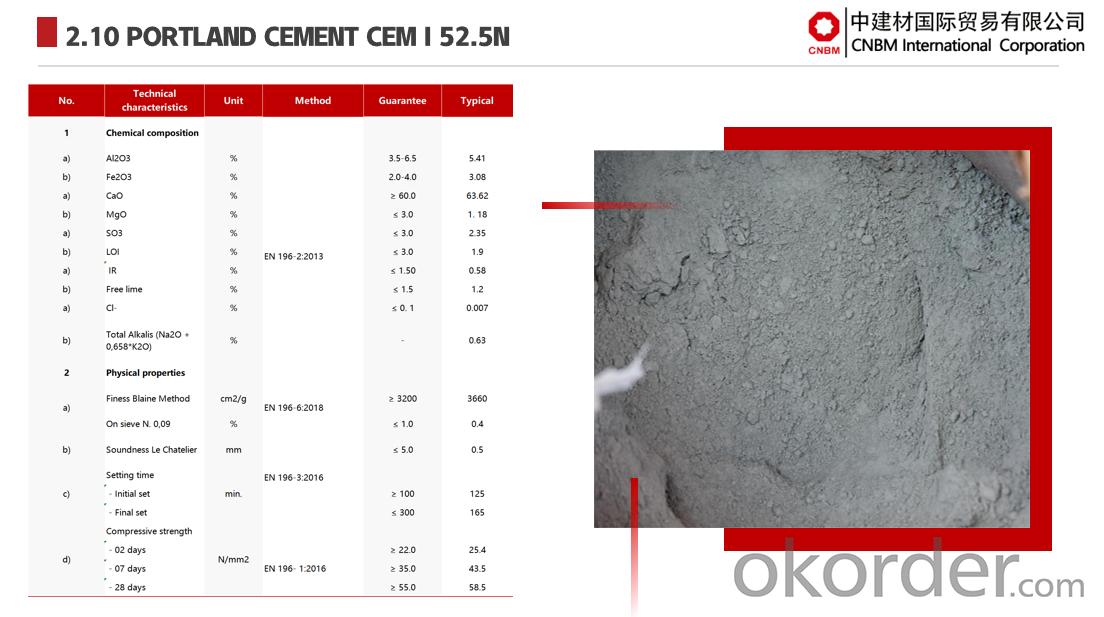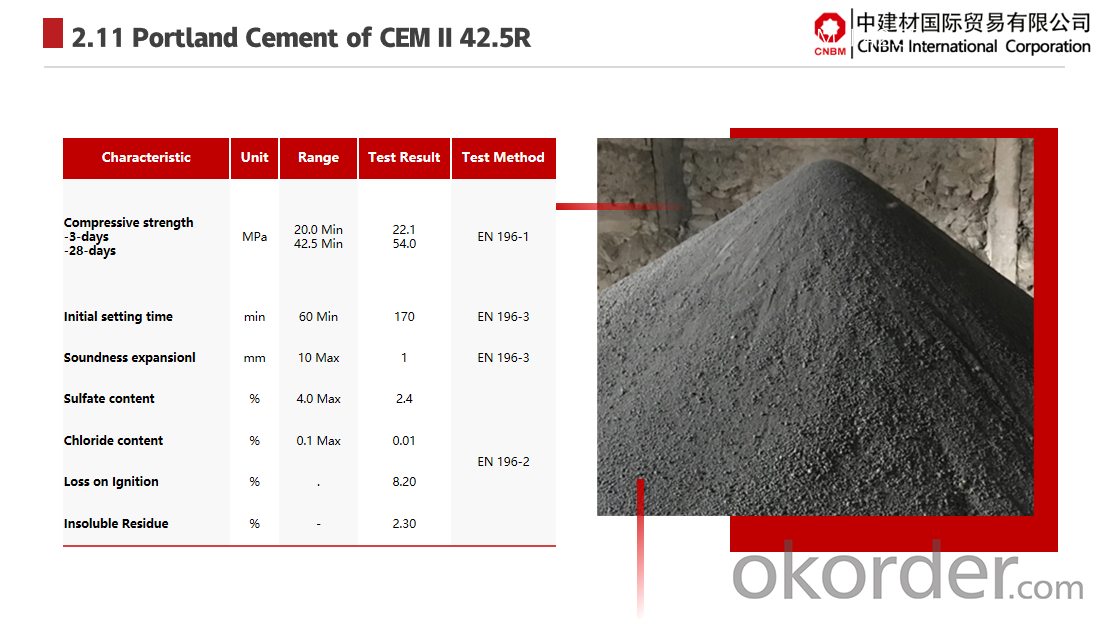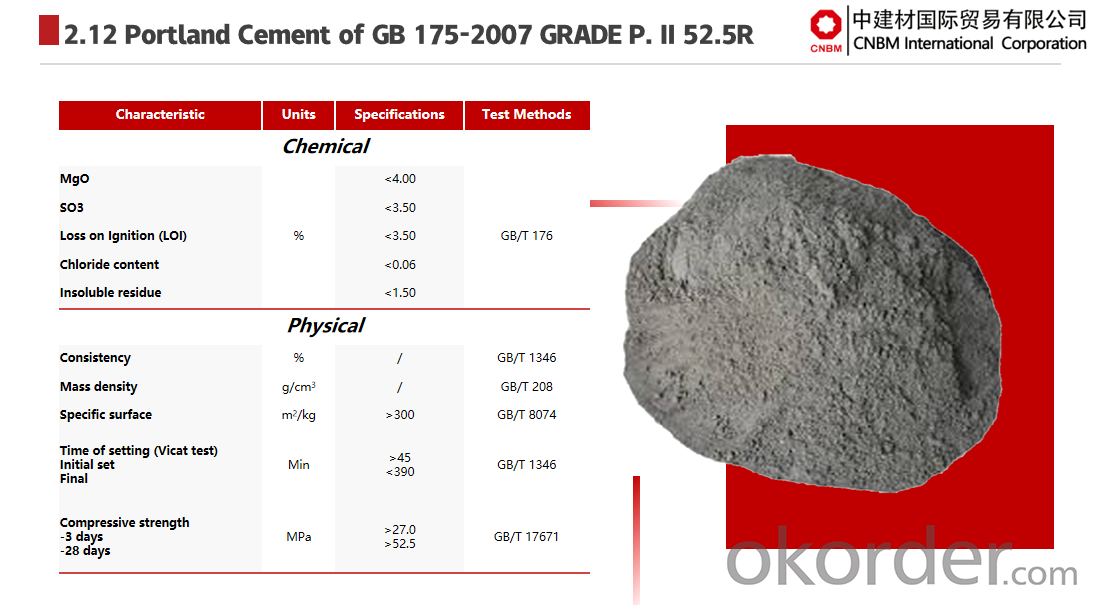 Application

CNBM Cement can be used for all types of architectural or structural concrete construction. Such application as pre-cast panels and systems, cast-in-place, masonry units, tilt-up panel systems, roofing tiles, terrazzo floors, highway median barriers, tile grout, swimming pools, stucco, culture stone,colored masonry products, cement paints and coatings, and ornamental precast concrete items.
CNBM INTERNATIONAL CORPORATION (short for the Company) is a subsidiary of China National Building Material Group Co., Ltd. (short of CNBM Group). China National Building Material Group is a state owned enterprise under directly management of the State-owned Assets Supervision and Administration Commission of the State Council, and ranked 187 in the world's top 500 in 2019. China National Building Materials Group is the world's largest comprehensive building materials industry group, the world's leading new material developer and comprehensive service provider, and has the strongest scientific research strength in the field of building materials and non-metal new materials. CNBM INTERNATIONAL CORPORATION is a brand-new platform built by China National Building Materials Group that focuses on non-metallic materials trading.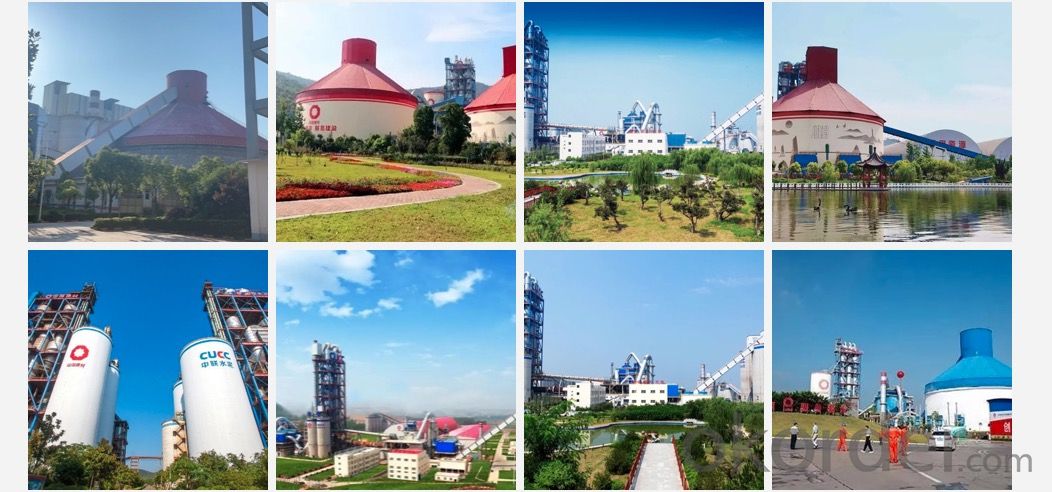 Q:Are you a trading company or manufacturer?
A:CNBM is a large-scale central governmental industrial group with its own manufacturing sector, research and development sector, trading sector and logistics sector.
Q:I have some special requirement about specifications.
A:We have a well-rounded product range, which endows us with the capability of applying many special specifications. Please feel free to contact us with yours.
Q:Do you accept OEM service?
A:Yes, we do.
Q:What is your delivery time?
A:It depends on the size/complexity of your order and our own production schedule. Usually we provide a faster delivery than the industry's average.
Q:What is the payment term?
A:TT and LC are both Okay.
Q:Can I have my own logo on the product?
A:Sure, we can apply your own logo on the products according to your drawings.
Q:how to install cement board for tile floor?

Your subfloor should be atleast one inch thick after checking that install cement board by screwing it down with 11/2 screws every 6 to 8 inches square.This is the best method and ensures a long lasting bond to the subfloor.I would prefer to pay the extra cost for screws and time then to have to come back on a repair.Also you can tape the seams but since your going over cement board you'll need to use a good mortar and that should handle any movement at the joints .
Q:My brother was called for an interview as accountant ,, is it a good employer which pay well ??

The best company in this field is a french company called Lafarge established 1833 largest by mass of production shipped abroad ironically ..... its first international contract was for the delivery of 110,000 tonnes of lime was directed to the Suez Canal construction project in Egypt ( we da yedeena fekra add eah el Balad dy kan masekhaa 7ad byef-ham awee zamaan ! ) aside to the fact that It was the first company to research and develop calcium aluminate cements. It was also one of the first companies to produce white Portland cement how ever Titan is considered to be No. 8 ( very good rank) ya3ny sherka mo7tarama awee khaly akhook yakhod feeha 2: 5 seneen khebra we yeb3at cv.s to lafarge they would certainly like to hire an Egyptian if he is qualified for the job how do i know ? >>>>> there history say so !
Q:The house was built in 1925 without foundation tile, over the years whatever was painted over the brick interior walls has bubbled because of the moisture that would have been diverted by an appropriate ditch around the foundation, or tiles to drain it, etc. Several of these bubbles are basketball in size, and there are cracks in many areas of the stucco-like stuff that chips off in large pieces. I want to patch it up, and repaint, what is that stuff called? It looks like cement when chipped off, is it joint compound? How should I go about this? Moisture problems have been aleviated, now I just need to fix the cosmetics.

It's a special type of waterproofing finish that is meant for block walls--probably a type of stucco with added plastic compounds that make it impervious to water. You can't use joint compound---it's not meant to be applied over block, stone, or brick. You have to use a grout-like substance--something that contains an adhesive to make it stick, and some additional ingredients to keep it from absorbing water. Go to your local box store, hardware or construction store and ask them what they would recommend--take a piece of the chipped off stuff with you so they can identify what is already on the walls. Then use a waterproof basement paint to finish it off after you patch. I gotta tell you, though--if you have a problem UNDER the stuff now, (because it's bubbling and cracking) you won't get rid of that problem by patching--you may have to get a pro in there to waterproof and seal the block from scratch. And that's a lot of $$.
Q:How are the ashes from a volcano used to make cement?

Commercial cement is not made from volcanic ash. It is usuually made with limestone or marble (source of CaO) as the main ingredient. Other incredients include some clay and gypsum. After mixing the stuff is heated to form clinker then with some more mixing goes into bags, bins, or tanks for mixing with sand, gravel and water to make concrete. Volcanic ash will harden somewhat into a cement-like compound when it becomes wet. Many cars had their paint jobs ruined in 1980 by Mt. St. Helens ash mixed with a little precipitation.
Q:my boyfriend wants the jordan black cement 3's from 2011 do u know the price of them and where i can buy them ? thank uuu :)

Probably the most common occurrence and issue out there is having gum stuck on your shoes. There are time when it comes right off, then there are times when it's a desperate struggle to remove every single sticky bit of it off your shoes. The Air Jordan 3 has had a big year with some much loved, classic colorways returning to NikeStore, as well as a new edition especially for this year. Launching on Black Friday is the next installment the iconic Black/Cement Air Jordan 3 Retro. With big-time innovation and lethal good looks, the Air Jordan 3 was the first shoe designed by Tinker Hatfield and features visible Nike Air and elephant print alongside the introduction of the iconic Jumpman logo. The launch of this shoe was the first time Spike and Mike hooked up and Mars Blackmon started hitting TV screens around the world.
Q:We had great hopes for a beautiful cement floor and ripped out all of our carpet only to find untreated cement covered with paint, spray paint, marker, plaster, cracks, and small gouges all over it. What can we do to our cement floor to make it beautiful?

You can resurface the floor. Then you can stain the concrete and get a really nice finish. But be warned, while you can do this yourself, it will not look near as good as a job done by a professional. Plus if you do the job right, it would be much cheaper to replace the carpet or even install wood flooring. I have a brother in law who owns a company that does this. He has a hard time finding people who are good at dong this. When he trains new hires himself, it takes him about 2 years to fully train them. Out of curiosity, I asked him how much to do this in my laundry room. (I asked after I had just installed new tile, which is what I wanted in the first place) he estimated that to clean, resurface and do a good quality stain job would be about $3,500 for one color. The pattern staining I wanted would have run over $5,000. The laundry room is about 9.5' x 12'. The tile floor I did myself cost me about $300 in tools and another $350 in materials. It took me 4 evenings and a Saturday to do it all. And I did a fairly fancy job! Stained cement floor in a house look great and can add value to the right house. Painted floors generally look poor and do not wear well, along with devalue a piece of property. The material they make for garages is great, but doesn't look right n the house. (I actually have it in my garage.) My advice-decide what you want and take the time to save up and do the job right. You will be glade you did.
Q:How many 80 lbs bags of cement to do a 12 ft by 8 inch wall?

You're missing a dimension... 8 ft. thick by 12 ft. long by (?) ft. tall? Volume requires 3 dimensions. Edit: Based on your inability to comprehend the basic spatial nature of our universe, I recommend that you never work with concrete... You'll probably hurt yourself.
Q:i need to know the difference and likeliness of cement kiln and incinerator. in what way they are diffferent from each other, and in what way they have similaritygt;?since i already looked in wikipedia, the incinerator and cement kiln both are a process of thermal waste management. thank you

Cement Kiln is used in cement industry to melt and mix different sand types of which cement is composed of, whereas incinerators are used to burn out solid wastes which can not be dumped. Hope thats enough. Bye.
Q:How come i can kickflip on grass but not on cement?

DO NOT do anything that would prevent the blocks from moving. They expand and contract constantly, so if you prevent movement, they will crack and it would look even worse. DO NOT use caulking, or cement. That just makes the sidewalk blocks crack, then the problem comes right back. Try some boiling water. Make sure that you do so on a hot day so that the blocks don't crack. For a temperairy job, if you have a Weed-whiper/Weed-hacker, then just use that to do it. Iff the sidewalk blocks are evenly spaced apart with at least 0.5cm of space, then that would work. If the sidewalk blocks are tight against eachother, the only way that I see fit is to get on your hands and knees and start scrubing that dirt away. It takes a lot of work, but the results are great! Then, if you can find an edger [A machine that makes a small-ish gap between the sidewalk and grass] just take back the grass so that no dirt gets back for a long while. Doing it by hand, is better because you get more of a gap, then the time will be greater before you have to do it again.
Q:I was biking and i fell for my bike we went to the emergency then they put a cast on me after a day i have my surgery they put screw on it because my fibula was displace. after 2 weeks i was so bored cause i cant do anything i try to step on it and it doesnt hurt anymore. next week they will put a cement on me and they will remove it after 4 weeks.

What cement? Just tell your doctor that you also have a medical degree and can decide for yourself what kind of treatment you need and for how long. Be sure to tell the doctor to his face, and NOT in writing. Because if you write it down, he will KNOW, for sure that you can't write beyond a third grade level and probably DON'T have a medical degree.
1. Manufacturer Overview

Location
Year Established
Annual Output Value
Main Markets
Company Certifications
2. Manufacturer Certificates

a) Certification Name
Range
Reference
Validity Period
3. Manufacturer Capability

a)Trade Capacity
Nearest Port
Export Percentage
No.of Employees in Trade Department
Language Spoken:
b)Factory Information
Factory Size:
No. of Production Lines
Contract Manufacturing
Product Price Range