Aluminum Coil Continuous Casting and Direct Casting
Loading Port:

Tianjin
Payment Terms:

TT OR LC
Min Order Qty:

100 m.t.
Supply Capability:

10000 m.t./month
Inquire Now
Customer Service
OKorder Service Pledge
Quality Product
Order Online Tracking
Timely Delivery
OKorder Financial Service
Credit Rating
Credit Services
Credit Purchasing
---
Add to My Favorites
---
Item specifice
Grade:
1000 Series,3000 Series,4000 Series,5000 Series,6000 Series,7000 Series,2000 Series
Surface Treatment:
Coated,Embossed,Anodized,Polished,Mill Finish,Color Coated,Oxidized,Enameled Wire,Brushed,Printed,Composited,Holographic Impression,Sand Blasted,Powder Coating
Shape:
Flat
Temper:
T3-T8,O-H112,T351-T651,T351-T851,Soft,Half Hard,Hard
Application:
Liner & Wad,Decorations,Door & Window,Heat Sink,Transportation Tools,Glass Wall,Food,Kitchen Use,Pharmaceutical,Seal & Closure,Insulation Material,Label & Tag
---
1.Description
Aluminium is remarkable for the metal's low density and for its ability to resist corrosion due to the phenomenon of passivation. Structural components made from aluminium and its alloys are vital to the aerospace industry and are important in other areas of transportation and structural materials. The most useful compounds of aluminium, at least on a weight basis, are the oxides and sulfates.
2.Specification
ALLOY: AA1***
AA3***
AA5***
TEMPER: H14 H16 H18 H22 H24 H26 H32 O/F
THICKNESS:0.03MM-3.0MM
WIDTH: 30MM-1700MM
COATING: PE(POLYESTER),PVDF,EPOXY
STANDARD: GB/T 17748-1999
3.Physical
Aluminium is a relatively soft, durable, lightweight, ductile and malleable metal with appearance ranging from silvery to dull gray, depending on the surface roughness. It is nonmagnetic and does not easily ignite. A fresh film of aluminium serves as a good reflector (approximately 92%) of visible light and an excellent reflector (as much as 98%) of medium and far infrared radiation. The yield strength of pure aluminium is 7–11 MPa, while aluminium alloys have yield strengths ranging from 200 MPa to 600 MPa.Aluminium has about one-third the density and stiffness of steel. It is easily machined, cast, drawn and extruded.
4.Picture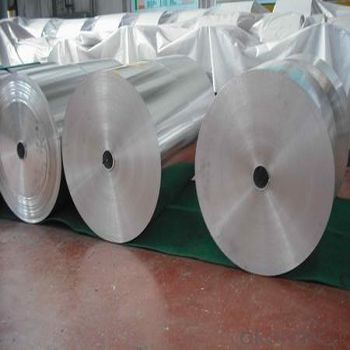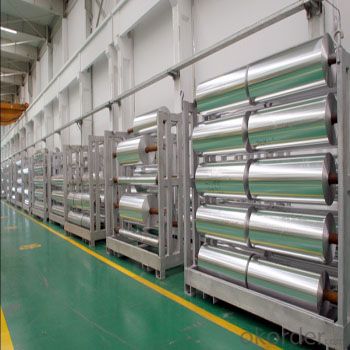 5.FAQ
①How about your company?
A world class manufacturer & supplier of castings forging in carbon steel and alloy steel,is one of the large-scale professional investment casting production bases in China,consisting of both casting foundry forging and machining factory. Annually more than 8000 tons Precision casting and forging parts are exported to markets in Europe
,America and Japan. OEM casting and forging service available according to customer's requirements.
②How to guarantee the quality of the products?
We have established the international advanced quality management system,every link from raw material to final product we have strict quality test;We resolutely put an end to unqualified products flowing into the market. At the same time, we will provide necessary follow-up service assurance.
③How long can we receive the product after purchase?
The purchase of product within three working days, We will arrange the factory delivery as soon as possible. The pecific time of receiving is related to the state and position of customers.Commonly 7 to 10 working days can be served.
Q:i've tried everything seasoning it marinating it a combination of both, and i still cant get any flavor in the chickeni need help can anyone give me a good recipe for my chicken or cooking technique to lock in the flavor and keep it moisti'm currently grilling my chicken on the george foremani would prefer a low sodium low fat low sugar/carb recipe thanx in advance.

ok you're stressing me out so muchStraighteners, bleached blonde and extensions - no no no! These things happen and sometimes you need to say enough is enough and start againThe same thing happened to me and you need to start againFirst of all get it cut as short as you can bare to minimise they amount of damaged hair you're dealing withStart taking hair supplements to boost and speed up healthy regrowthStop using Straighteners or you will fry you hair and it will lose every ounce of vitality left to the point were is will just snap awayNext start using a deep moisturising conditioning mask treatment every other time you wash your hair and a nourishing shampoo and conditioner in betweenDon't blow dry your hair more than once a fortnight or at all if you can manage itdye your hair in a few months time when you hair is in better shape and you have some regrowth to work withGet it done by a Professional and get it your natural colour but with a subtle extra hue such as auburn, gold or chocolateThis will add lots of shine a allow you to regrow your hair without too many touch ups at salonsand remember use SPF and a heat protectioning spray over the summer! good luck x
Q:Hi, I'm drilling through some aluminum pieces that are about 3/8quot; thickI had drilled a bunch of 1/4quot; holes already, but I need to enlarge a few of them to 1/2quot;My problem is that I'll get almost all the way through, and then the bit will get stuck, and I'll have to reverseleaving behind a little flap of metal that I can't for the life of me get outThe drill just gets stuck and stops if I try to drill through it, or else it'll skip and just kinda go around that flapIs there some trick to dealing with this?Thanks!

Alum is brittle, use kerosene as a lube when drilling, slow speed negative rake on drill lip.
Q:I need ideas for something to wear to an ABC partyI want to do something DIFFERENT and cute.So something OTHER THANTrash bagsDuct TapeYellow TapeBoxesAluminum foilThanks! :D

Country Crock is margarine, not butterYes, you can use margarine as a substitute for butterEDIT: I was wrongCountry Crock is butter mixed with canola oil to make it more spreadableI learn something every day!
Q:I'm roasting vegetables (cauliflower, carrots, zucchini, broccoli, onions) in a 400°F ovenIt's been 1.5 hours and the vegetables are not softI'd like them to become softWhat should I do? I cooked them for 45 minutes covered and then the other 45 minutes uncoveredThey are currently back in the oven uncovered.

Godsmack Static-X Drowning Pool Saliva Seether Five Finger Death Punch Breaking Benjamin
Q:I am trying to tell if a part on a motorcycle is either magnesium or aluminum.Is it true that if i take a grinder to the metal, if its magnesium it will give off red sparks.

There is a very simple way to do this .. you don't need complex chemical tests. Aluminium is amphoteric, Mg is not. So only aluminium will dissolve in alkali [eg sodium hydroxide / caustic soda] giving bubble whereas magnesium won't. So just degrease the part and dip it in sodium hydroxide. It it starts bubling it is Al , it no reaction, it is Mg. Wash the part in plenty of running water afterwards, which will immediately stop the reaction.
Q:In my model crude or mustard oil stick to aluminum.Please explain surface property?

I bake cookies all the time and I ALWAYS line the cookie sheet with aluminum foilBut, you can't have the oven rack close to the bottomWith a gas range, bake the cookies in the middle or upper part of the ovenWith an electric range, you can use the lower rackI have never burned cookies using foilGood luck.
Q:Well I got to do a science practical on chemical systems.On fertilisers, petrol(SASOL), soap and detergent industry or galvanic cells.egTake two types of fertilisers with different chemical ratios and use them on same plant and see for resultsThats and easy 1 and I cant use that oneYou can also include the way they are manufactured for example sasol uses fractional distillation.etc.I have tons of information on that I just don't know how to in co operate everything nicely.It should also be a practical that can easily be done at home Please help me with ideas.Oh and I'm in gr12Thnx!

Try textile dyeingYou would have to use pure materials in your practical partFor example, go to a fabric or sewing store and buy a yard each of cotton, polyester, silk, and woolSpecify no blendsFor the dyes, you can get turmeric and saffron in the spice rack of a supermarketDon't get commercial dyes whose ingredients are secretSaffron is expensive, but maybe your parents will spring for itTo test the effect of a mordant, get Burrows solution from a drug storeThis is a package of two packets that make aluminum acetate solution when mixed fresh in water3Ca(C2H3O2)2(s) + Al2(SO4)3(s) H2O 3CaSO4(s) + 2Al(C2H3O2)(aq)Always mix the solution fresh before dyeingYou can cut the fabrics into squares and staple labels to each written with India inkDye some with turmeric and some with saffronDye some by soaking in Burrows solution first and some notLet them all dryWash and dry each 10 times or soCompare the fastness, which is the retention of color with washingMount the fabric squares on poster board with labelsYou can look up the chemical composition of fabrics, the chemical composition of dyes, the dyeing process, mordants, and fastnessYou'll be so erudite that people won't be able to stand you.
Q:My daughter keeps nagging me for cake so ya

2 cups all-purpose flour 1 1/2 teaspoons baking powder 1 teaspoon baking soda 3/4 teaspoon salt 3/4 cup sugar 1/2 cup butter, melted (1stick) 1/2 cup buttermilk, yogurt, or milk 2 eggs 1 teaspoon vanilla 2 ripe bananas, mashed (about 1 cup) FOR THE TOPPING 1/4 cup all-purpose flour 1/4 cup dark brown sugar 1/4 cup butter (1/2 stick) STEP 1 Preheat the oven to 300 degreesIn a large bowl, combine the flour, baking powder, baking soda, salt, and sugarBlend in the melted butter, mixing together until moistAdd 1/4 cup of the buttermilk and combineSTEP 2 In a separate bowl, combine the other 1/4 cup of buttermilk with the eggs and blend into the flour mixtureAdd the vanilla and mashed bananasBeat for 1 minutePlace the batter in a greased 9 x 13 x 2-inch panSTEP 3 To make the topping, squeeze the flour, brown sugar, and butter together with your handsCrumble the topping evenly over the batterBake for 35 to 40 minutesWhen the cake is done, an inserted toothpick or fork should come out clean from the center.
Q:I am bringing banana bread on the Greyhound for a snack and in my luggage for the friend I am visitingWould wrapping it in aluminum foil preserve it's freshness and yumminess or is there a better way?

Vinigar is usually good?
Q:hello, im 11 years old, and i need snacks that I think I can preparelike Peanut Butter + Apples.:Dthese are just snacks between meals.:))

It is a lot easier if you are invited inStart by asking your instructors.Dept head ,make your pitchHeadhunters regularly ask dept headsIf not then Next network with the Professional organization ,ask instructor.Dept headJoin as student member [reduced dues] attend rub elbows ,listen The people you might meet ,if you are Professional ,might insight you inlast Do your home work see what company might be here in 10-20 yrs try the front door
1. Manufacturer Overview

Location
Year Established
Annual Output Value
Main Markets
Company Certifications
2. Manufacturer Certificates

a) Certification Name
Range
Reference
Validity Period
3. Manufacturer Capability

a)Trade Capacity
Nearest Port
Export Percentage
No.of Employees in Trade Department
Language Spoken:
b)Factory Information
Factory Size:
No. of Production Lines
Contract Manufacturing
Product Price Range