Fire Fighting Truck HOWO 6X4 Rhd/LHD Water Tank
Loading Port:

Shanghai
Payment Terms:

TT OR LC
Min Order Qty:

1 PCS
Supply Capability:

1000 PCS/month
Inquire Now
Customer Service
OKorder Service Pledge
Quality Product
Order Online Tracking
Timely Delivery
OKorder Financial Service
Credit Rating
Credit Services
Credit Purchasing
---
Add to My Favorites
---
Fire Fighting Truck HOWO 6X4 Rhd/LHD Water Tank
Product Details
Basic Info.
Model NO.:ZZ1257M4647C
Fuel:Diesel
Certification:ISO9000, CCC, EPA, EEC
Emission Standard:Euro 3
Condition:New
Export Markets:Global
Product Description
Quick Details
Drive Wheel:
6x4
Type:
Rescue
Transmission Type:
Manual
Condition:
New
Horsepower:
251 - 350hp
Tank Capacity:
5001 - 7000L
Emission Standard:
Euro 3
Fuel Type:
Diesel
Max. Work Height:
≥ 65m
Size:
10025*2500*3600
Place of Origin:
Shandong China (Mainland)
Brand Name:
Sinotruck howo, howo Truck
Model Number:
ZZ1257M4647C
Color:
Red, yellow, white and optional
Keywords:
Fire fighting
Max speed:
95km/h
Tyre:
12.00-20 (with 11.00-20, 11.00R20, 12.00R20 and14.00-20 as optional)
Driving type:
Left/Right hand driving
Front axle:
HF9T
Rear axle:
ST16T
Item

unit

Parameter

Vehicle model




HOWO FIRE TRUCK (RHD)

Horse Power

ps

375

Overall dimensions

mm

11990×2500×3940

Box dimensions

8500×2300×1800

GVW

kg

57870

Rated loading capacity

40000

Mass in working order

17870

Wheel base

mm

1800+4600+1350

Front track base

2022/2022

Rear track base




1830

Approach/departure angle

°

16/11.4

Exhaust/hp

ml/kw

9726/276

Max speed

km/h

102

Tire specification

12.00-20

Engine type

WD615.96E

Traction system

8*4

transmission

10-speed with over drive

Number of axles

4

Electric system

24v

Operation control system

Electrically hydraulic control

Allowable passengers in cab

3

Equipment

Fire pump capacity : 60L/s
pressure : 1.0MPa
water suction : ≤35s ( depth 7m )

Fire monitor pressure : 1.0MPa
capacity : 40L/s
range : water ≥ 65m foam ≥ 60m


Engine

WD615.62

Production cycle

7-10 days

Warranty

12 months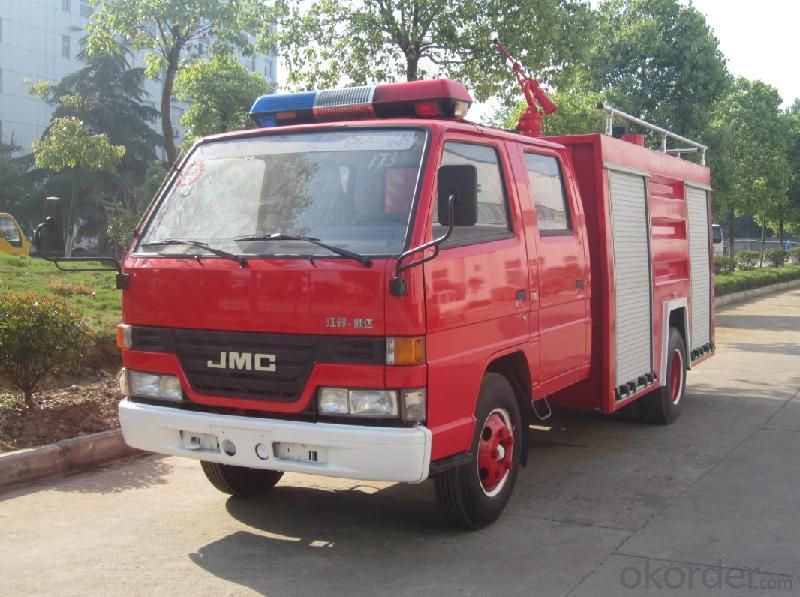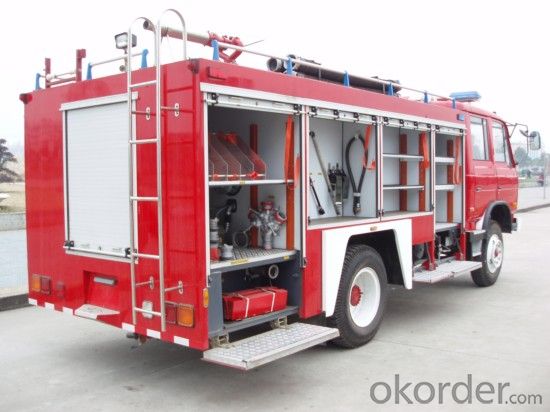 Q:Why can't fire up the garage exit?

In practice, some buildings are not designed for fire engines to stop, fire crews up and fire and rescue sites, so as to delay fighters.
Q:Are foreign ambulance and fire engines expensive?

Stationary fire pump, mobile fire pump, water hose, water gun, fire hydrant, spanner, shaped water hose, water separator, lighting lamp, etc.. Above are ordinary equipment that can not be used in ordinary water tanks and fire engines. Like rescue cars, foam fire engines...... And other sophisticated equipment, there will be many.Tank fire engines can be divided into small fire engines (about 2-4 tons), medium-sized fire engines (about 6-8 tons), large fire engines (about 10-15 tons) and large ones with 18 tons. There is a simple water supply fire engine that can pull 25 tons of water on the right.
Q:Is the fire engine carrying water when it goes to fire?

There are many kinds of fire engines, in addition to some special fire special outside is generally filled with water to go, but its capacity is limited, far enough to save a larger fire, so it can not only start this water go to the sprinkler also need to find more water can hold continued to put the fire out.
Q:Can fire engines be free from traffic restrictions while performing their duties?

Therefore, the fire engines are not subject to traffic restrictions when carrying out the above three tasks. If you perform other duties, you must observe traffic control.
Q:What are the types of electric fire engines and how to use them? What are the advantages of a large fire engine?

Introduction of electric fire enginesElectric fire engines are thin version of ordinary fire engines, also known as small fire engines, mini fire engines, electric fire engines and mini fire engines. They are new energy products that have been newly developed and produced in the latest year. Because the driving mode is DC motor drive, without refueling, you can drive out the train, equipped with high-pressure water pump 1, and equipped with fire ax, fire hammer, fire tongs, and 2 sets of dry powder extinguishers and other fire extinguishing tools.
Q:Chemical toxic substances explosion, fire engines, what car in the past?

Different types of fire engines each have their own unique uses. Examples are as follows:Fire engine: it is equipped with fire pumps and other fire equipment and passenger seats, so that firefighters transported to the fire fighting, direct water use, can also be used to supply water to the fire in the other fire extinguishing spray equipment. Most of the domestic fire pumps are Jeep chassis and BJ130 chassis modification. They are suitable for cities and towns with narrow roads with water supply.Water tank fire engine: besides fire water pump and equipment, it also has large capacity water tank and water gun, water cannon and so on. Water and fire personnel can be transported to the fire site, and independent fire fighting can be carried out. It can also be pumped directly from water sources, or supplied to other fire engines and fire sprinkler systems. In the water shortage area, it can also be used as a water supply and water conveyance vehicle. It is suitable for fighting general fires. It is a standing fire vehicle between the public security fire brigade and the enterprise fire brigade.
Q:Enclosed area fire engines can not enter the law?

Yes, this violates the provisions of this Law in violation of the provisions of this law. If one of the following acts is committed, the sixtieth party shall be ordered to make corrections and shall be fined not less than five thousand yuan but not less than fifty thousand yuan:(1) the disposition and establishment of fire control facilities, equipment or fire safety signs do not conform to the state standards or industry standards, or have not been kept in good condition and effective;
Q:What's in the fire engine?

Setting requirements of fire lane in built-up areaEspecially the old city area of built-up area often due to historical reasons, poor traffic conditions, fire water supply shortage in the inflammable built-up areas is also mixed with small factories, warehouses, and residential cross. The old city area of small towns, but also often is a bustling business district, is regarded as "lots of gold", the residents shop sale, road occupied, temporary buildings, booth adjacent to a narrow channel, once the fire, easy to form huoshaolianying. The built-up area in general has the fire lane, the fire lane should be kept open, any units and individuals are forbidden to occupy the fire channel, take the house heap, shetan. The existing urban flammable building concentrated areas should be integrated with the overall urban planning, gradually transformed, conditional renewal can be carried out. Fire lane is generally not allowed to park other vehicles, residents should be discouraged from building illegal structures and piling up articles.
Q:Fire truck heightWhat is the height of a fire engine?Body height of fire engines

14 CP10B model foam cars 7.20, 2.40, 2.8015 CPP30 model foam cars 7.60, 2.40, 3.3016 CF1 type dry powder cars, 3.90, 2, 217 CF10 type dry powder cars, 6.80, 2.40, 2.9018 CFP2 / 2 dry powder foam vehicles 10.50, 2.80, 3.7019 CE240 type CO2 cars, 7.20, 2.40, 2.6020 CQ23 bend arm climbing vehicle 11:20, 2.60, 3.7021 CT22 type arm ladder truck 7.20 2.50 2.9022 CT28 type arm Ladder Truck 8 2.50 3.1023 CZl5 type fire scene lighting vehicles 6.60, 3.20, 2.4024 C510 type fire communication command vehicle 5.85, 1.95, 2.35
Q:Why is there a fire lane in the block, and the distance between the central roads should not exceed 160m?

Code for fire protection design of construction:7.1.1The total length of the length of the street and the street building, especially U or L shaped building, if not limited in its length, will give the evacuation of fire fighting and rescue personnel and internal inconvenience, delay time of fire. In order to meet the requirements of fire fighting, rescue and evacuation, the total length of these buildings must be limited without restricting the length of the wings of the U and L buildings. As the protection radius of municipal fire hydrants in China is about 150m, according to the regulations, it is generally located on both sides of urban roads, so the distance between fire lanes is set at 160m. The provisions of this article also play a guiding role in regional planning.
1. Manufacturer Overview

Location
Year Established
Annual Output Value
Main Markets
Company Certifications
2. Manufacturer Certificates

a) Certification Name
Range
Reference
Validity Period
3. Manufacturer Capability

a)Trade Capacity
Nearest Port
Export Percentage
No.of Employees in Trade Department
Language Spoken:
b)Factory Information
Factory Size:
No. of Production Lines
Contract Manufacturing
Product Price Range