Fire Truck Water and Foam (EQ1141)
Loading Port:

Shanghai
Payment Terms:

TT OR LC
Min Order Qty:

1 PCS
Supply Capability:

1000 PCS/month
Inquire Now
Customer Service
OKorder Service Pledge
Quality Product
Order Online Tracking
Timely Delivery
OKorder Financial Service
Credit Rating
Credit Services
Credit Purchasing
---
Add to My Favorites
---
Fire Truck Water and Foam (EQ1141)
Product Details
Basic Info.
Model NO.:EQ1141
Transmission Type:Automatic
Power:Diesel
Load Capacity:11-20t
Emission Standard:Euro 5
Tank Volume:<5000L
Drive Wheel:4×2
Seats:≤5
Horsepower:150-250hp
Engine Capacity:<4L
Storage:Water
Tire Type:Solid Tire
Tire Certification:DOT
Tire Design:Radial
Condition:New
Chassis Model:Zz1167m4617c
Overall Dimension(Lxwxh):8820 X2500 X3450 Mm
Driving Type:6*4
The Number of Leaf Spring:8/10+8
Tire:10.00-20
The Number of Tire:6+1(Spare Tire)
Fuel:Diesel
Certification:ISO9000, CCC
Engine Type:4 Stroke
Volume:20000-30000L
Export Markets:Global
Additional Info.
Trademark:AOTONG
Packing:N/M
Standard:ISO9001 CCC
Origin:Shandong, China (Mainland)
HS Code:8708911000
Production Capacity:80 Set/Sets Per Month
Product Description
Discription:
1. More than twelve years professional manufacturer experience
2. Be designed according to your requirements
3. CCC ISO9001 agreement
4. Small order can be accepted
5.12 month quality guarantee term
6. We accept 100% inspection, welcome to our factory at any time

Pls contact the supplier for details, good quotation and further product information will be provided as you required.
Fire Truck Specifications




Chassis Model /Manufacturer

EQ1141/ Dongfeng

Overall Dimension

Length× Width× Height

7900× 2470× 3390 mm

Total Mass

14900Kg

Max Payload

10000 Kg

Kerb Weight

6880Kg

The parameters of chassis

Chassis Model /Manufacturer

EQ1141

driving type

4*2

Cab type

single row

Engine

Manufacturer:

Dongfeng Cummins

Model

B190 33

Rated Power

190HP

Maximum power

140(KW)

Displacement

5900 ML

Fuel type

Diesel oil

Wheel base

4500mm

Front/Rear wheel tread

1940/1860mm

The number of leaf spring

8/10+8

Tire

10.00-20

The number of tire

6+1(spare tire)

A/C Air Conditioning

optional

Max Speed

85Km/h

Fire truck technical parameters

Agent

Water

5000 L

Foam

2000 L

Fire pump

Model

CB10/40 normal pressure pump(Rear), high strength aluminum alloy, piston water device

Pressure

1.0(Mpa)

Flux

40(L/s)

Max suction deep

≥ 7(m)

Suction time

≤ 35(s)

Fire monitor

model

PP24

Range

water

≥ 50 (m)

foam

≥ 45 (m)

working pressure

≤ 1.0(Mpa)

Horizontal rotation angle

360 º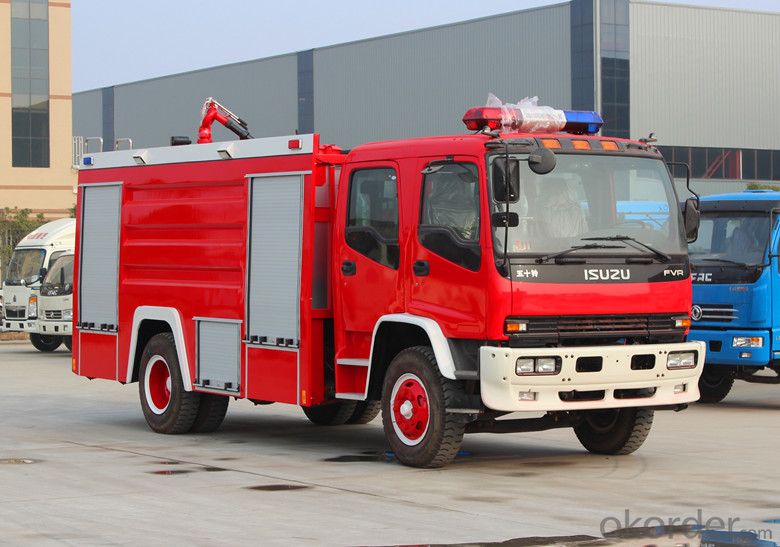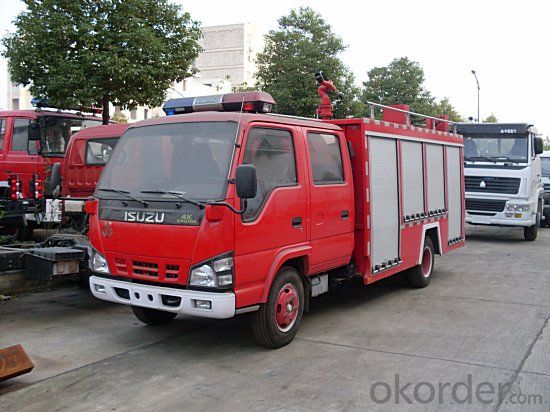 Q:What level of driving license is required for fire engines?

B2 driver's license, you can apply for a direct admission, you can also apply for additional driving on the basis of the C1 card.The following conditions are required to apply for a B2 driver's license
Q:How can fire stations fail to reach fire control problems?

In fact, you said the fire problem, whether in business units or residents of the community, it is not a personal thing, is a personal thing, should be actively involved in the coordination, the unit safety if a person really difficult!Write some nonsense, but I hope to help you, please adopt, little things, will encourage us to continue to solve the problem of more users
Q:What documents do you need to drive the fire engine?

The following conditions are required to apply for a B2 driver's license:1, over 20 years of age, under 50 years of age;
Q:What is the width of the fire engine body?

Different types, ZOOMLION ZLJ5161GXFAP45 model, for example, size is 8300*2500*3383
Q:In the fire code, what is the definition of trees that hinder fire engine operation? "Should not be planted between fire lane and building, set up trees that hinder fire truck operation?"

And now this provision is a normal person can be understood as you can set the trees, as long as not to interfere with the operation of fire truck can do, but this is how the definition of trees, speculation does not come out, can only ask the experts. Individual understanding, this can be more optimized for "fire lane and building should not be set up to hinder the operation of fire engines", and then in the corresponding provisions of the description of what the obstacles include. The standard design is bad and indirect, which brings difficulties to the architectural design work.
Q:How wide is the fire engine passage?

The fire fighting work site and road surface, the pipes and drain etc. should be able to withstand the pressure of large fire truck.Fire lane can use traffic road, but it should meet the requirement of fire vehicle passing and stopping.
Q:How to arrange the fire lane in the multi story public building with inner courtyard?

Three, factories and warehouses shall set up a fire lane, a, B and C plant covers an area of more than 3000m - or a B C warehouse facility covers an area of more than 1500N, should set the fire ring road, if there are difficulties, along the two long side set the fire lane or set for the passage of a fire truck and a width of not less than 6m of the esplanade.Four, fire water for the fire of natural water and fire pool, fire control should be set up.Five, fire lanes through the building openings, the height and width of not less than 4m; gate stack between the width of not less than 3.5m.Six, fire lane width should not be less than 3.5m, the road over the pipe, Zhanqiao and other obstacles, the net height should not be less than 4m.Seven, the ring fire lane should have at least two connections with other lanes. The end fire lane shall be provided with a return lane or a return field of not less than 12m*12m. For the large fire engines, the return yard area shall not be less than 15m*15m.The fire lane and Angou pipeline should be able to withstand the pressure of large fire truck. Fire lanes can take advantage of traffic roads.
Q:Why can the fire engine run through the red light?

In the implementation of the task of military vehicles, police cars, ambulances, fire trucks, engineering rescue vehicles and special vehicles to hold permits in the circumstances to ensure safety without traffic signs and markings limited, the red light will be retrograde!
Q:I like fire engines. I like cleaning cars, and I like police cars

I like fire engines. It can eliminate the arrogance of fire in the shortest possible timeI like clean cars. They make the city more beautiful and clean
Q:What color is the warning light of the fire engine?

4, chased the yellow and blue lights5, the special vehicles use red yellow and blue lights6, engineering vehicles, snow vehicles, sprinkler, tumbril, road wrecker, rescue vehicles, sanitation vehicles, buses and special vehicles use yellow lights
1. Manufacturer Overview

Location
Year Established
Annual Output Value
Main Markets
Company Certifications
2. Manufacturer Certificates

a) Certification Name
Range
Reference
Validity Period
3. Manufacturer Capability

a)Trade Capacity
Nearest Port
Export Percentage
No.of Employees in Trade Department
Language Spoken:
b)Factory Information
Factory Size:
No. of Production Lines
Contract Manufacturing
Product Price Range