Fire Truck HOWO 4*2 Water and Foam (7000/8000L)
Loading Port:

Shanghai
Payment Terms:

TT OR LC
Min Order Qty:

1 PCS
Supply Capability:

1000 PCS/month
Inquire Now
Customer Service
OKorder Service Pledge
Quality Product
Order Online Tracking
Timely Delivery
OKorder Financial Service
Credit Rating
Credit Services
Credit Purchasing
---
Add to My Favorites
---
Fire Truck HOWO 4*2 Water and Foam (7000/8000L)
Basic Info.
Model NO.:LLX5190GXFSG70HM
Type:Tanker
Certification:ISO9000, CCC
Volume:7001-10000L
Emission Standard:Euro 3
Transmission Type:Manual
Engine Type:4 Stroke
Payload:20T
Fuel:Diesel
Drive Wheel:4×2
Horsepower:251-350hp
Condition:New
Cab:4 Doors , 6 Persons
Chassis Brand:Sinotruk HOWO
Export Markets:South America, Southeast Asia, Africa, Mid East, Eastern Asia
Additional Info.
Trademark:Tianhe
Packing:Nude Packing
Standard:iso
Origin:Linyi, Shandong, China
HS Code:8705309000
Production Capacity:6000
Product Description
The fire engine has strong power, high speed, large carrier liquid volume and other characteristics; with using extended cab, ride comfort, operational focus, easy maintenance, and can be widely used in cities public security petrochemical, industrial enterprises and ports, terminals and other places, a large oil fire fighting and general material fire, is an ideal large fire equipment.
This fire truck is suitable for ambient temperature -30 degrees ~ + 50 degrees. Component parts of various instruments in the ambient temperature can keep in good working condition.


QDZ5190GXFSG70HM MAIN SPECIFICATIONS

Chassis Model

ZZ1167M4617C

Driving type

4X2

Engine

Brand SINOTRUK

Kerb Weight

9800KG

WD615.93 EURO II

Gross Weight

19000KG

Maximum Output

290HP

Tyres

12.00-20

Rated engine power

213/2200

Overall Dimension ( mm )

8540×2490×3560

Tank volume (L)

8000 ( SG70HM )

Electrical system (V)

24

Wheel base ( mm )

4600

Max.Driving Speed( km/h)

90

Fire pump

Model

CB10/60

Flow

60L/s

Pressure

1MPa

Fire monitor

Model

PS40/50

Flow

40 L/s ( 1.0Mpa )

Throw range

60 m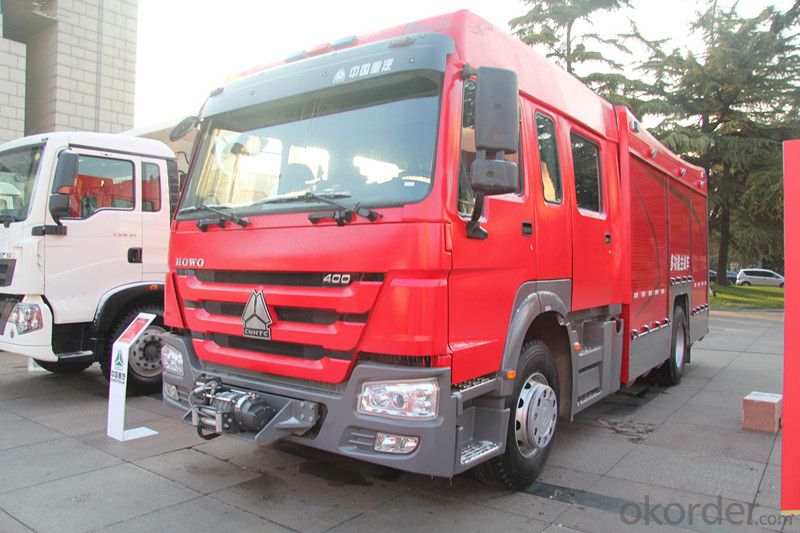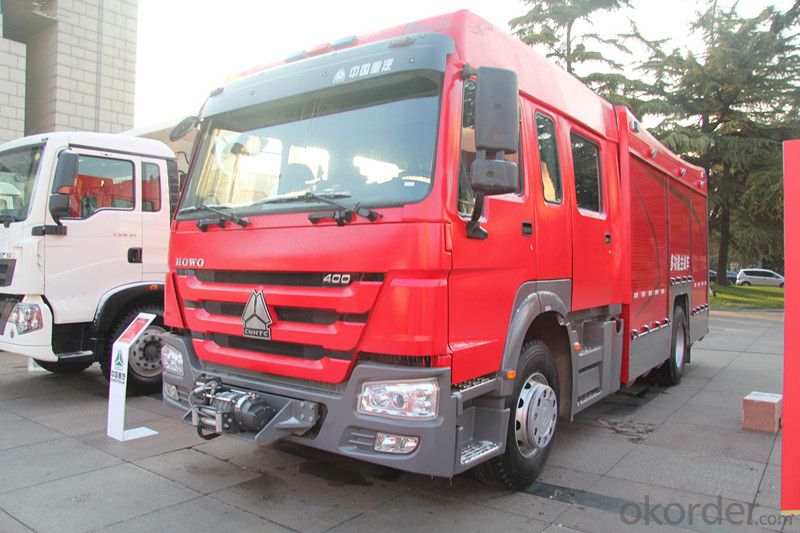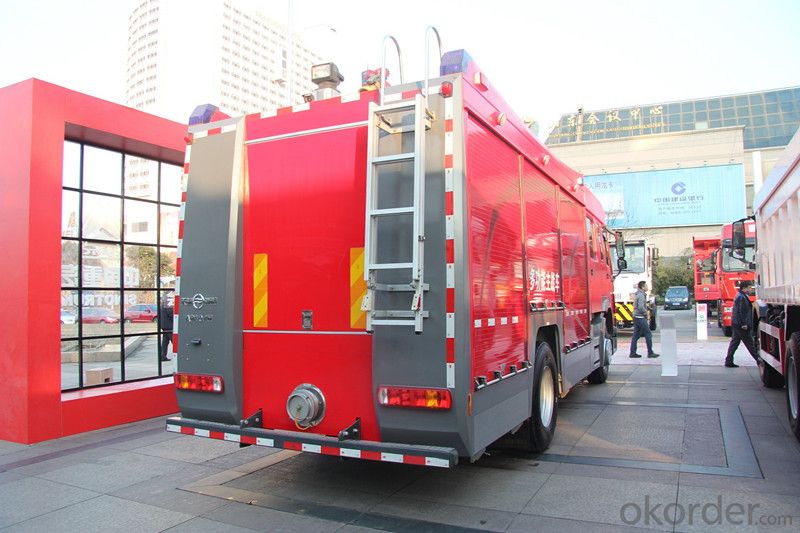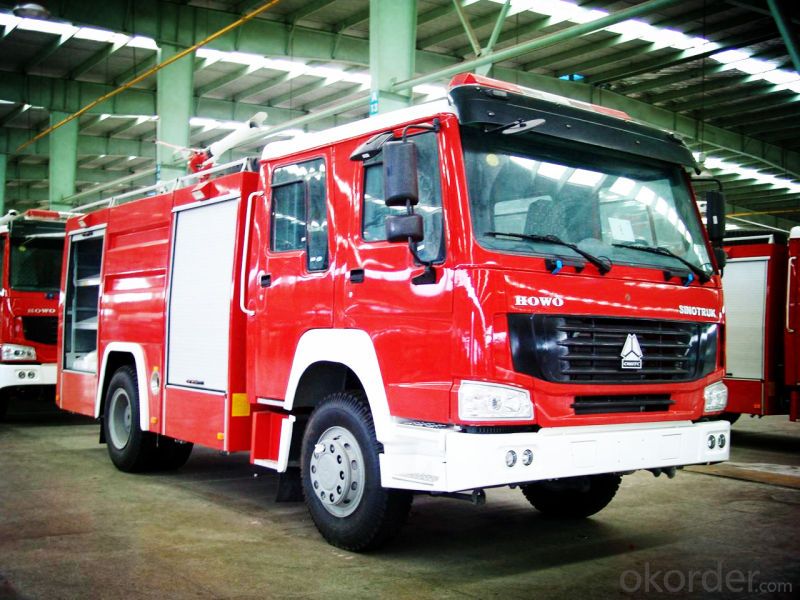 Q:What's in the fire engine?A large box in the square. Is it full of water?

2. Fire extinguisher spraying facilities. Such as pumps, power take-off, interfaces, valves (in and out) and so on3, commonly used equipment. Such as water hose, water cannon, air breathing apparatus, generator, smoke extractor, fire fighting equipment, hydrant wrench, water bridge......
Q:How much is the height, width and turning radius of the fire lane

(4) the fire lane pipe and drain should be able to withstand the pressure of large fire truck.(5) the fire lane through the building of the door, the height and width of not less than 4 meters; gate stack between width of not less than 3.5 metres.(6) there should be an annular fire lane around the high-rise building. When there is difficulty in setting the ring fire lane, fire lane can be built along the two long sides of the building.
Q:Why did the lieutenant order the fire engines to stop whistling in turn?

Because of such a pass, you can find the dying old lady by phone
Q:A car gun on a fire engineWhat type of car guns are common on fire engines?

Fire cannon is a fire extinguishing equipment which sprays air foam and saves liquid fire of armour, B and C in a long distance.
Q:Is the fire engine carrying water when it goes to fire?

There are many kinds of fire engines, in addition to some special fire special outside is generally filled with water to go, but its capacity is limited, far enough to save a larger fire, so it can not only start this water go to the sprinkler also need to find more water can hold continued to put the fire out.
Q:What regulations should the fire engine climb up the operation site?

Fire climbing venues and other requirements: between fire uprise venues and the workshop, warehouse, civil buildings should not interfere with setting fire truck operation obstacles such as trees, overhead pipeline and garage entrance; the site and building structure, pipeline and Angou, should be able to withstand the heavy fire pressure range of buildings and fire engines; a corresponding operation site, should be set up through outdoor stairs or through the entrance staircase. High-rise buildings should be at least along a long edge or around the length of the l/4 and not less than a long side length of the bottom continuous arrangement of climbing fire operation area, the scope of the podium depth should not exceed 4m. The height of the building is not greater than 50m construction, continuous layout climbing fire operation site is difficult, can be arranged at intervals, but the distance is less than 30m, and the total length of climbing fire operation site should comply with the above provisions.
Q:What are the types of electric fire engines and how to use them? What are the advantages of a large fire engine?

Advantages of electric fire enginesThe advantages of electric fire truck is driving energy saving and environmental protection, low cost, small cars can be quickly electric fire engines arrived at some narrow streets, before the fire engines arrived at the fire control can be said to be the fire in the bud, which is compared to the traditional fuel fire truck advantages are very obvious. Electric fire engines drive with little noise and zero emissions, and meet the requirements of environmental protection. Because the electric fire engine model is small, so more suitable for daily fire patrol, can also be used as sprinkler.
Q:What is the width of the fire engine body?

There are many kinds of fire engines, which are different in height, length and width
Q:Fire engine high-rise fire what are the frustration?

The fire inside the car there is a reserve water tank, fire hose, fire is also equipped with special equipment such as fire axe, fire wrench, shovels, buckets, fire extinguishers, and a series of emergency equipment, fire vehicle is also equipped with a ladder for high-altitude rescue.Stationary fire pump, mobile fire pump, water hose, water gun, fire hydrant, spanner, shaped water hose, water separator, lighting lamp, etc.. Above are ordinary equipment that can not be used in ordinary water tanks and fire engines. Like rescue cars, foam fire engines...... And other sophisticated equipment, there will be many.
Q:The fire truck generally how to paint?

. Orange and yellow light are not afraid to penetrate these objects. So the fire truck painted red in the foggy weather, the dusty environment or a dangerous situation, you can see all the way people call it, to make way for it, so that it as soon as possible to complete the task of fire and rescue.
1. Manufacturer Overview

Location
Year Established
Annual Output Value
Main Markets
Company Certifications
2. Manufacturer Certificates

a) Certification Name
Range
Reference
Validity Period
3. Manufacturer Capability

a)Trade Capacity
Nearest Port
Export Percentage
No.of Employees in Trade Department
Language Spoken:
b)Factory Information
Factory Size:
No. of Production Lines
Contract Manufacturing
Product Price Range