Fire Fighting Truck/Water and Foam Fire Truck (8000L)
Loading Port:

Shanghai
Payment Terms:

TT OR LC
Min Order Qty:

1 PCS
Supply Capability:

1000 PCS/month
Inquire Now
Customer Service
OKorder Service Pledge
Quality Product
Order Online Tracking
Timely Delivery
OKorder Financial Service
Credit Rating
Credit Services
Credit Purchasing
---
Add to My Favorites
---
Fire Fighting Truck/Water and Foam Fire Truck (8000L)
Product Details
Basic Info.
Type:Fire Truck
Certification:ISO9000, CCC
Volume:6000L-10000L
Emission Standard:Euro 2
Transmission Type:Manual
Engine Type:4 Stroke
Payload:10t
Fuel:Diesel
Drive Wheel:6×4
Horsepower:150-250hp
Condition:New
Chassis Model:Zz1167m4617c
Overall Dimension(Lxwxh):8820 X2500 X3450 Mm
Driving Type:6*4
The Number of Leaf Spring:8/10+8
Tire:10.00-20
The Number of Tire:6+1(Spare Tire)
Color:Red or as Customer′s Requirements
Port:Tianjin/Qingdao
Export Markets:Global
Additional Info.
Trademark:AOTONG
Packing:in Nude Packing with Container or RO-RO Ship
Standard:CCC ISO9001
Origin:Shandong, China
HS Code:8708911000
Production Capacity:100 PCS/Month
Product Description
Discription: 1. More than twelve years professional manufacturer experience
2. Be designed according to your requirements
3. CCC ISO9001 agreement
4. Small order can be accepted
5. 12 month quality guarantee term
6. We accept 100% inspection, welcome to our factory at any time

Pls contact the supplier for details, good quotation and further product information will be provided as you required.
Fire Truck Specifications




Model

JDF5190GXFPM70Z

Overall Dimension

Length×Width×Height

8820 × 2500 × 3450 mm

Total Mass

19000 Kg

Max Payload

11550 Kg

Kerb Weight

7000 Kg

The parameters of chassis

Chassis Model

ZZ1167M4617C

driving type

6*4






Engine




WD615.92

Model

B190 33

Rated Power

196HP

Maximum power

140(KW)

Displacement

9726 ML

Fuel type

Diesel oil

Wheel base

4600mm

Front/Rear wheel tread

1500/2650 mm

The number of leaf spring

8/10+8

Tire

10.00-20

The number of tire

6+1(spare tire)

A/C Air Conditioning

optional

Max Speed

85Km/h

Fire truck technical parameters

Agent

Water

5000 L

Foam

3000 L

Fire pump

Model

CB10/40 normal pressure pump(Rear), high strength aluminum alloy, piston water device

Pressure

1.0(Mpa)

Flux

60(L/s)

Max suction deep

≥7(m)

Suction time

≤35(s)

Fire monitor

model

PP24

Range

water

≥50 (m)

foam

≥45 (m)

working pressure

≤1.0(Mpa)

Horizontal rotation angle

360 º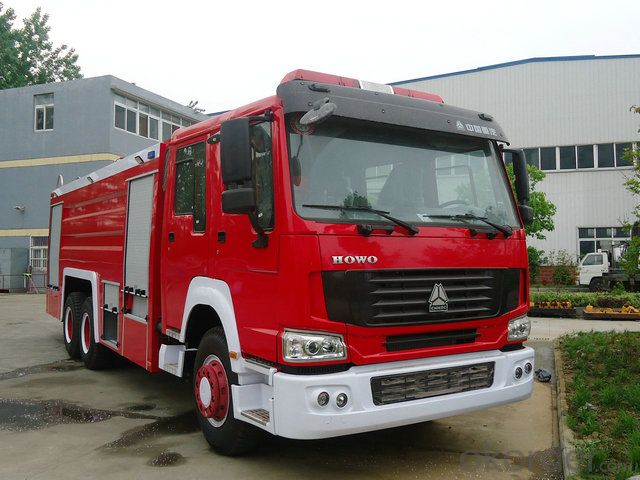 Q:What level of driving license is required for fire engines?

In accordance with the Ministry of public security, "motor vehicle driver's license application and use regulations", fire engines need B2 driver's license.Fire engines belong to large, heavy and medium-sized special operation vehicles, and should have large freight car driver's license, that is, B2 level driver's license.
Q:How much is the height, width and turning radius of the fire lane

(4) the fire lane pipe and drain should be able to withstand the pressure of large fire truck.(5) the fire lane through the building of the door, the height and width of not less than 4 meters; gate stack between width of not less than 3.5 metres.(6) there should be an annular fire lane around the high-rise building. When there is difficulty in setting the ring fire lane, fire lane can be built along the two long sides of the building.
Q:What kinds of fire engines are there? What's the difference in performance?

Different types of fire engines each have their own unique uses:Fire engine: it is equipped with fire pumps and other fire equipment and passenger seats, so that firefighters transported to the fire fighting, direct water use, can also be used to supply water to the fire extinguishing spray equipment. Other domestic fire engine most Jeep chassis and BJ130 chassis, suitable for city and township narrow water the road.
Q:Why did the lieutenant order the fire engines to stop whistling in turn?

Because of such a pass, you can find the dying old lady by phone
Q:Where should the school fire escape be, inside or outside the school?

Construction regulations GB 50016--20066.0.1 street should be considered within the road fire trucks, and the distance between the center of the road should not be greater than 160m. When the length of the building along the street portion is greater than 150m or the total length is greater than 220m, a fire lane through the building shall be provided. When there is a problem, the ring fire lane should be provided.6.0.9 the net width and clearance height of fire lane shall not be less than 4.0m. For the space where the fire engine stops, the slope shall not exceed 3%.Barriers between fire lane and factory building (warehouse) and civil building should not be set up to hinder the operation of fire engines.
Q:What is the width of the fire engine body?

Different types, ZOOMLION ZLJ5161GXFAP45 model, for example, size is 8300*2500*3383
Q:What kind of fire engines should be configured in the township?

Hand, shovel, bucket, fire extinguishers, and a series of emergency equipment, fire vehicle is also equipped with a ladder for high-altitude rescue.Stationary fire pump, mobile fire pump, water hose, water gun, fire hydrant, spanner, shaped water hose, water separator, lighting lamp, etc.. Above are ordinary equipment that can not be used in ordinary water tanks and fire engines. Like rescue cars, foam fire engines...... And other sophisticated equipment, there will be many.Tank fire engines can be divided into small fire engines (about 2-4 tons), medium-sized fire engines (about 6-8 tons), large fire engines (about 10-15 tons) and large ones with 18 tons. There is a simple water supply fire engine that can pull 25 tons of water on the right.
Q:How much water does a fire engine hold?

Fire engines, also known as fire engines, refer to special vehicles that are mainly used to carry out fire fighting. Most of the countries, including China, will also use it for other emergency purposes. Fire engines can transport firefighters to the scene of the disaster and provide a variety of tools for carrying out relief tasks. Modern fire engines usually equipped with ladders, water guns, portable fire extinguishers, self-contained breathing apparatus, protective clothing, emergency rescue tools, tools and other equipment, the part will be equipped with a water tank, water pump, foam fire extinguisher and other large fire extinguishing equipment
Q:We have a small property owner here. Force 1 floor users to fire the channel to buy down. Others buy Oh, the fire channel is completely blocked. Into his back garden, the situation of how to punish

If sixtieth units violate any of the following acts in violation of this law, they shall be ordered to make corrections and shall be fined not less than five thousand yuan but not more than fifty thousand yuan:(1) the disposition and establishment of fire control facilities, equipment or fire safety signs do not conform to the state standards or industry standards, or have not been kept in good condition and effective;(two) damage, misappropriate or dismantle or deactivate fire facilities and equipment without authorization;(three) occupy, block up, close the evacuation passage, exit safely or otherwise obstruct safe evacuation;(four) bury, occupy or cover a fire hydrant or occupy fire prevention space;(five) occupying, blocking or blocking the passage of fire engines and impeding the passage of fire engines;(six) a crowded place is set up on doors and windows to influence the escape and fire rescue;(seven) failing to take timely measures to eliminate the fire hazards after being notified by the fire protection institution of the public security organ.
Q:Fire lane width should not be less than a few meters

5 width of fire lane should not be less than 4.00m. Fire lane from high-rise building exterior wall should be greater than 5.00m, fire lane above 4.00m within the scope of the obstacles should not be.6 end fire lane should have back lane or return field, enter the field should not be less than 15mx15m. The return field of large fire engines should not be less than 18mx18m. The fire lane pipeline and Angou, should be able to withstand the pressure of fire fighting vehicles.7 through the fire lane of the high-rise building, its width and height clearance shall not be less than 4.00m.8, between fire lane and high-rise building, should not set up hinder climbing fire truck operation of trees, overhead pipelines.
1. Manufacturer Overview

Location
Year Established
Annual Output Value
Main Markets
Company Certifications
2. Manufacturer Certificates

a) Certification Name
Range
Reference
Validity Period
3. Manufacturer Capability

a)Trade Capacity
Nearest Port
Export Percentage
No.of Employees in Trade Department
Language Spoken:
b)Factory Information
Factory Size:
No. of Production Lines
Contract Manufacturing
Product Price Range