Fire-Fighting Truck Hovo 6X4 Special
Loading Port:

Shanghai
Payment Terms:

TT OR LC
Min Order Qty:

1 PCS
Supply Capability:

1000 PCS/month
Inquire Now
Customer Service
OKorder Service Pledge
Quality Product
Order Online Tracking
Timely Delivery
OKorder Financial Service
Credit Rating
Credit Services
Credit Purchasing
---
Add to My Favorites
---
Fire-Fighting Truck Hovo 6X4 Special
Product Details
Basic Info.
Model NO.:ZZ
Type:Tanker
Certification:ISO9000
Volume:5001-7000L
Emission Standard:Euro 2
Transmission Type:Manual
Engine Type:4 Stroke
Payload:30T
Fuel:Diesel
Drive Wheel:6×4
Horsepower:351-450hp
Condition:New
Colour:Optional
Overall Dimensions (L x W x H)Mm:10025*2500*3600
Gross Weight(Kg):27600
Total Weight(Kg:14800
Approach/ Departure Angle(°):16/13
Export Markets:Global
Additional Info.
Trademark:HOWO
Packing:Nude
Standard:ISO
Origin:China
HS Code:87
Production Capacity:2000
Product Description
Specifications
Fire truck
1. Tank: 12-15t
2. Sinotruk 6*4
3. Fire engine
4. Engine: 266hp
6*4 howo 251-350hp euro 2 fire truck, rhd fire engine
Fire engine is also called as the fire fighting truck and fire truck.
Fire engine is used to fight fire or for other emergency rescuing specially.
The fire fighting engine is usually kept in fire bureau, and fire engine truck is driven to the accident location by the fire fighter. Most fire fighting engine trucks are painted in red, but still some rare places that fire engine truck is painted in yellow or military green. The siren on the fire fighting engine truck is usually taken as the standard device for the fire engine truck.
Entire Vehicle

Main Parameter

Gross Weight(kg)

27600

Total Weight(kg)

14800

Overall Dimension
(L * W * H) (mm)

10025*2500*3600

Chassis

Chassis Mode

ZZ1257M4647C

Engine Parameter

Mode

WD615.92E

Power(kw)

196

Emission (ml)

9726

Fuel Type

Diesel

Functional Parameter

Max Speed(km/h)

85

F/R Tread(mm)

2022,2041 /1830/1830

Leaf Spring

10/12,4/12

F/R Overhang (mm)

1500/2490

Axle Load(kg)

6900/20700

Approach/
Departure Angle(°)

16/13

Tire Size

11.00-20

Number of Tires

10

Wheelbase
(mm)

4600+1350

Number of Axles

3

Tank

10t water & 1t foam

Special Device

1.Pump: CB10/60, flowing rate: 60L/s/MPa
2.Monitor:
PL48, flowing rate: 48L/s/MPa,
Covering range: water ≥60m, foam ≥55m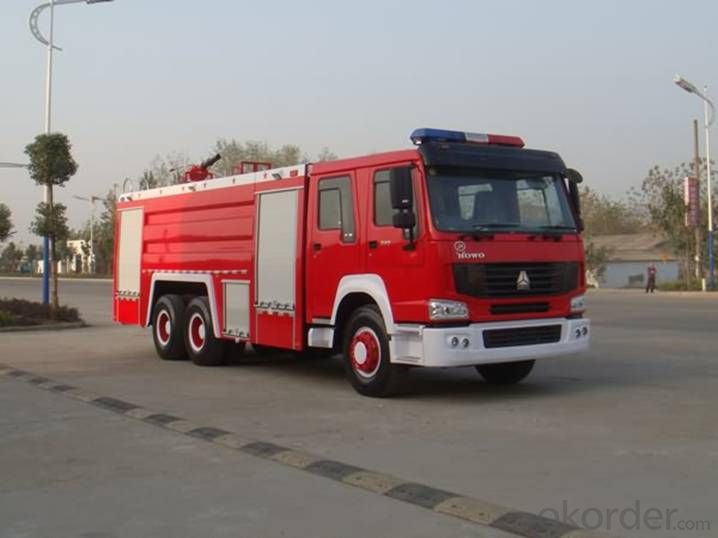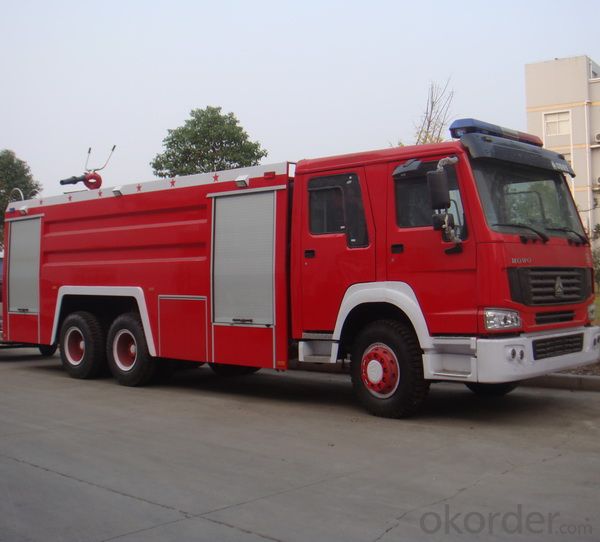 Q:What are the fire engines?

The fire truck chassis according to the category is divided into: fire truck Dongfeng fire truck, fire truck, Futian liberation fire truck, fire truck, fire truck Shaanqi heavy truck, qingling;
Q:What regulations should the fire engine climb up the operation site?

If the distance from the edge of the wall climbing venues recently too close, resulting in high fire rises the operating space is small, unable to rescue or fire, if too far, easily lead to high fire engines can not reach the maximum efficiency of building exterior wall, reduces the efficiency of rescue and fire extinguishing effect.
Q:The fire vehicle fire when the fire should be charged?

Forty-ninth articleNo fees may be charged for fire fighting or emergency rescue by public security fire brigade or full-time fire brigade.The units, full-time fire brigades and volunteer fire brigades shall take part in the fuel, fire extinguishing agent, equipment and equipment that have been consumed by the units outside the fire, and shall be compensated by the people's government at the place where the fire occurred.
Q:Fire lane setting problem Excuse me: what kind of situation do you need to set up fire lane?

Third statements:The fire lane width itself according to the requirement of not less than 4 meters in order to facilitate the fire vehicles, lane should be set at the end of the enter field, enter the area of not less than 12 m *12 m if the ring road, it should be according to the design of road turning radius turning radius is 12 meters, calculate the if the road the width is 4 meters, turn right at the top right is is to bend at the top of the arc is about 10.6 meters.
Q:What's the width of the fire engine?

Fire lane settings should be comprehensive, the road load is too small, the road below the pipe is too shallow, and the ditch used light cover plate, etc., can not withstand the passage of large fire engines. In addition, as can be seen from the table, due to the large fire truck body length and minimum turning diameter is too large, therefore, enter the field set the fire lane for 12 * 12m was impassable, enter the field to set a larger area to meet the use requirements, it shall be determined according to the local actual equipped with large fire engines.
Q:What equipment should be equipped with a 16 ton tank foam fire engine?

Fire equipment classification: fire equipment: air foam gun, gun fire, water pipe, water filter, water separator, fire hose, hose hook, hose jacket with different diameters, the same type of interface, interface, DC gun fire hydrant, transition joints, water gun, water gun, flowering DC switch sheep pick, wrench, ground the suction pipe wrench, belt bridge, mixer pipettes, waist axe, axe, shovel, fire control lever.
Q:What is an annular fire lane?

6.0.2 has a closed courtyard or patio buildings, while the short side length is greater than 24.0m, the fire lane should be set to the inner courtyard or patio.6.0.3 has a closed courtyard or patio buildings along the street, should be pedestrian streets and communicated inner courtyard (use staircase), the distance should be less than 80.0m.
Q:Why can the fire engine run through the red light?

In the implementation of the task of military vehicles, police cars, ambulances, fire trucks, engineering rescue vehicles and special vehicles to hold permits in the circumstances to ensure safety without traffic signs and markings limited, the red light will be retrograde!
Q:Fire lane width should be no less than meters

1 fire lane2 around the high-rise building, there should be an annular fire lane. When there are difficulties with ring lane, two long side along the high-rise building set fire road, when the building along the length of more than 150m or the total length of more than 220m, should be set in the fire lane through the building of moderate position.
Q:What equipment does the fire engine have?

Fire button (start fire water pump), and some are also equipped with emergency lights, fire reels, etc., as well as double hydrant hydrant box, inside the plug mouth, hose, water gun are two groups
1. Manufacturer Overview

Location
Year Established
Annual Output Value
Main Markets
Company Certifications
2. Manufacturer Certificates

a) Certification Name
Range
Reference
Validity Period
3. Manufacturer Capability

a)Trade Capacity
Nearest Port
Export Percentage
No.of Employees in Trade Department
Language Spoken:
b)Factory Information
Factory Size:
No. of Production Lines
Contract Manufacturing
Product Price Range