Fire-Fighting Trucks 6*4 16-18cbm
Loading Port:

Shanghai
Payment Terms:

TT OR LC
Min Order Qty:

1 PCS
Supply Capability:

1000 PCS/month
Inquire Now
Customer Service
OKorder Service Pledge
Quality Product
Order Online Tracking
Timely Delivery
OKorder Financial Service
Credit Rating
Credit Services
Credit Purchasing
---
Add to My Favorites
---
Fire-Fighting Trucks 6*4 16-18cbm
Product Details
Basic Info.
Model NO.:BJ1253VLPJE-S1
Type:Tanker
Certification:ISO9000, CCC
Volume:>10000L
Emission Standard:Euro 2
Transmission Type:Manual
Engine Type:4 Stroke
Payload:20T
Fuel:Diesel
Drive Wheel:6×4
Horsepower:251-350hp
Condition:New
Brand:Foton
Allowable Passengers in Cab:2+3
Engine Brand:Weicai
Water Tank Capacity:14-15cbm
Powder Tank Capacity:2-3cbm
Tire No.:10
Water Rated Flow:30L/S
Fire Monitor Range:More Than 45m
Max Speed:90-110km/H
Exhaust:9000-10000ml
Export Markets:Global
Additional Info.
Trademark:Foton
Packing:Naked Package and Waxed Before on Board
Standard:CCC, ISO 9001
Origin:Suizhou, Hubei
HS Code:87053090
Production Capacity:1000unit/Month
Product Description

Product advantage:
1. Factory export department directly sale
2. Export experience more than 12 years
3. Cheap / competitive price, high quality, you get more than your paid
4. With CCC, ISO, BV approved
5. The heart of the service, rational design


Chengli Special Automobile Co., Ltd is a professional manufacturer of all kinds of special truck and trailer as well as other special equipment.
LPG tank is our most advantage key products which rank Top 5 in China, excellent engineers and high-grade production equipment as well as stricted quality control system can ensure all the tank from us run very well with 10-20 years use life.



Item

unit

parameter

Vehicle model




FOTON 17CBM Fire Fighting Truck

Chassis model




BJ1253VLPJE-S1

Overall dimensions

mm

10275X2480X3500




Curb Weight

kg

14225

Payload

17550




Wheel base

mm

4300+1350




F/R track base

1555/2850

Exhaust/hp

ml/ps

97260/220

Max speed

km/h

90

Tire specification


12.00R20

Engine type


WP10.270

Traction system


6*4

Transmission


6-speed with over drive

Number of axles


3

Axle Load


7000/25000

Leaf Spring

9/12

Allowable passengers in Cab

2+3

Engine

Weicai,6-cylinder in-line with water cooling GB3847-2005 emission standard

Equipment

Cabin: Flat head, metal-enclosed cab, double-row seat, four door, panoramic curved windshield
Water Tank Capacity 14500L, Powder Tank Capacity2500L
Fire Monitor range: ≥ 45M
Pump: type ES30, Water Diversion Way: circulation,
Water Diversion Time: ≤35s, Rated Flow: 30L/s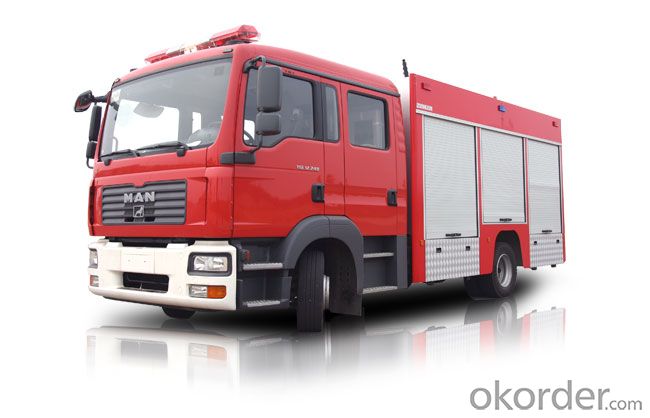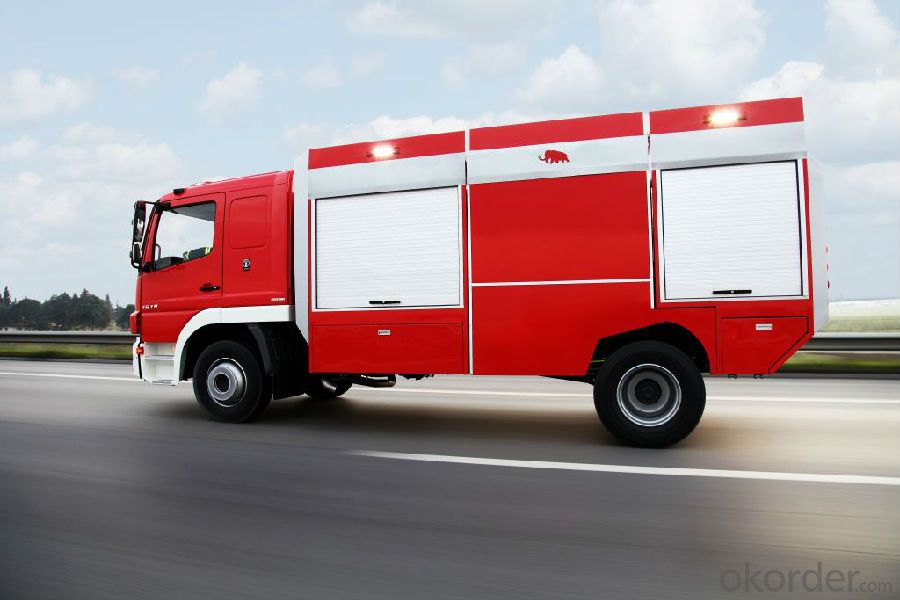 Q:Is the minimum width of fire passage for public buildings 4.0m or 6.0m?

Fire lane settings should be comprehensive, the road load is too small, the road below the pipe is too shallow, and the ditch used light cover plate, etc., can not withstand the passage of large fire engines. In addition, as can be seen from the table, due to the large fire truck body length and minimum turning diameter is too large, therefore, enter the field set the fire lane for 12 * 12m was impassable, enter the field to set a larger area to meet the use requirements, it shall be determined according to the local actual equipped with large fire engines.
Q:Fire engines can draw water from the fire hydrant outside and fire water from the fire well, right? What else should I read about the fire hydrant?

No water intake is available, as long as the outdoor fire hydrant arrangement meets the fire code.The arrangement of outdoor hydrants shall be arranged in accordance with the relevant provisions of the building fire protection design code
Q:Wood fire truck can go?

May not。 The fire truck weighs more than the floor after it is added to the water
Q:What is the fire distance now?

(2) at least two lanes should be connected with other lanes.(3) the end of the fire lane should be back lane or area of not less than 15 * 15 square meters of return field, for large fire engines to use the return field area of not less than 18 * 18 square meters.
Q:What words do police cars, fire engines and ambulances use to describe their voices?

The siren of the police car was very short and there was no interval. Mr. Ma described it as a word: "it's over and done."
Q:Fire lane from the outside wall of the building should not be less than 5m, should not be greater than 15m, from what norms?

6.0.2 has a closed courtyard or patio buildings, while the short side length is greater than 24.0m, the fire lane should be set to the inner courtyard or patio.6.0.3 has a closed courtyard or patio buildings along the street, should be pedestrian streets and communicated inner courtyard (use staircase), the distance should be less than 80.0m.6.0.4 in the fire lane across both sides of buildings or buildings into the courtyard, should not affect the security settings of the evacuation or fire truck traffic facilities.
Q:Enclosed area fire engines can not enter the law?

Yes, this violates the provisions of this Law in violation of the provisions of this law. If one of the following acts is committed, the sixtieth party shall be ordered to make corrections and shall be fined not less than five thousand yuan but not less than fifty thousand yuan:(1) the disposition and establishment of fire control facilities, equipment or fire safety signs do not conform to the state standards or industry standards, or have not been kept in good condition and effective;
Q:Water consumption of fire enginesHow much water does a fire engine use? About how much water should I use for a fire?

Water consumption of fire enginesFire trucks, one car, water 30TThe water used in a fire depends on the fireDepending on the size of the fire and the type and material of the burned item
Q:I'm a fire fighter pilot. I can't fire a car. I can only drive

Water absorption:(1) water absorption; effluent1. Close the water valve and open the water outlet valve;2, the water tank will be connected with the pump filled with water; (if there is no small water tank, this step can be omitted);3, press the clutch pedal, then put on the power take-off, and turn on the water switch (or press the water button)
Q:What are the types of liquid supply fire engines?

1, fire engine: equipment fire engine on fire pumps and other fire equipment and passenger seats, the main function is to transport firefighters to the scene, directly save the use of water, can also be used to supply water to the fire in the other fire extinguishing spray equipment.2, water fire cars: the car is equipped with a fire extinguishing agent is mainly water, with a large capacity storage tank and a water gun, water gun and so on, can be used for fire fighting and rescue, fighting for direct use of water, also can be made from water absorbing direct attack, can also be used to supply water to the fire in the other fire extinguishing spray equipment. The utility model is suitable for fighting general fire, and is a standing fire vehicle of a public security fire brigade.
1. Manufacturer Overview

Location
Year Established
Annual Output Value
Main Markets
Company Certifications
2. Manufacturer Certificates

a) Certification Name
Range
Reference
Validity Period
3. Manufacturer Capability

a)Trade Capacity
Nearest Port
Export Percentage
No.of Employees in Trade Department
Language Spoken:
b)Factory Information
Factory Size:
No. of Production Lines
Contract Manufacturing
Product Price Range