Fire-Fighting Trucks 6*4 460HP
Loading Port:

Shanghai
Payment Terms:

TT OR LC
Min Order Qty:

1 PCS
Supply Capability:

1000 PCS/month
OKorder Service Pledge
Quality Product
Order Online Tracking
Timely Delivery
OKorder Financial Service
Credit Rating
Credit Services
Credit Purchasing
---
Add to My Favorites
---
Fire-Fighting Trucks 6*4 460HP
Product Details
Basic Info.
Model NO.:ND1250B50J7
Type:Tanker
Certification:ISO9000, CCC
Volume:7001-10000L
Emission Standard:Euro 2
Transmission Type:Manual
Engine Type:4 Stroke
Payload:8t
Fuel:Diesel
Drive Wheel:6×4
Horsepower:>450hp
Condition:New
Brand:Beiben
Allowable Passengers in Cab:2+3
Engine Brand:Weicai
Water Tank Capacity:4cbm 5cbm 6cbm
Tire No.:10
Water Rated Flow:30L/S
Fire Monitor Range:More Than 45m
Max Speed:90-110km/H
Exhaust:11596ml
Horse Power:460HP
Export Markets:Global
Additional Info.
Trademark:Beiben
Packing:Naked or Waxed Before on Board
Standard:CCC, ISO9001
Origin:Hubei, Suizhou
HS Code:87053010
Production Capacity:1000set/Month
Product Description
Product Description:

2, fire range:water≥50m foam≥45m
3, Suction time: ≤35s
4. Low oil consumption with strong horse power 460HP





Item

unit

parameter

Vehicle model




Beiben Fire-fighting Trucks

Chassis model




ND1250B50J7

Overall dimensions

mm

10830X2500X3980




Curb Weight

kg

23850

Payload

8000




Wheel base

mm

5050+1450




F/R track base

1515/2735

Exhaust/hp

ml/ps

11596/460

Max speed

km/h

90

Tire specification


12.00R20

Engine type


WP12.460E40

Traction system


6*4

Transmission


10-speed with over drive

Number of axles


3

Axle Load


7000/25000

Leaf Spring

10/12

Allowable passengers in Cab

2+3

Engine

Weicai ,6-cylinder in-line with water cooling GB3847-2005 emission standard

Equipment

Cabin: Flat head, metal-enclosed cab, double-row seat, four door, panoramic curved windshield
Water Tank Capacity 6000L, Powder Tank Capacity1700L
Fire Monitor range: ≥ 45M
Pump: type ES30, Water Diversion Way: circulation,
Water Diversion Time: ≤35s, Rated Flow: 30L/s
Pump Room: Middle or rear-mounted pump. Left and right side of the pump room, storage compartment side have the new style high-strength alloy aluminum rolling doors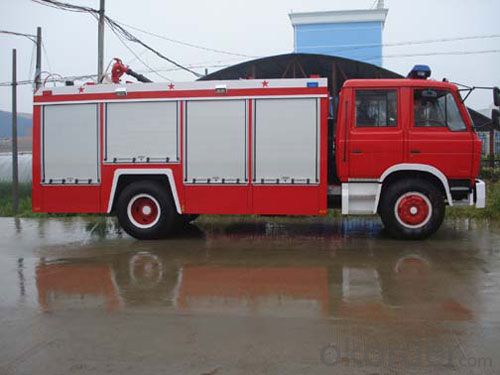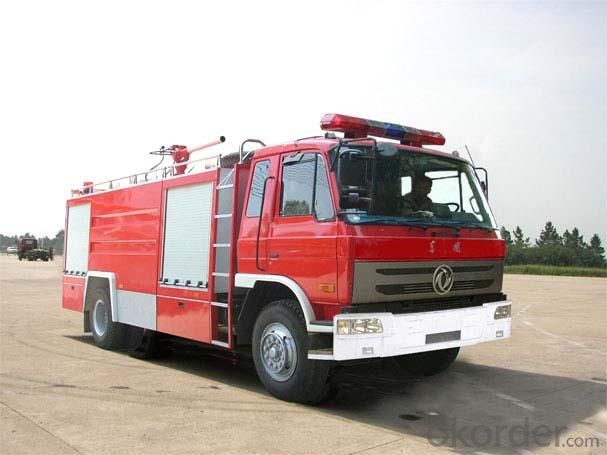 Q:What are the fire engines?

The fire truck chassis according to the category is divided into: fire truck Dongfeng fire truck, fire truck, Futian liberation fire truck, fire truck, fire truck Shaanqi heavy truck, qingling;
Q:Is there a "fire passage and entrance"?

6.0.2 has a closed courtyard or patio buildings, while the short side length is greater than 24.0m, the fire lane should be set to the inner courtyard or patio.6.0.3 has a closed courtyard or patio buildings along the street, should be pedestrian streets and communicated inner courtyard (use staircase), the distance should be less than 80.0m.6.0.4 in the fire lane across both sides of buildings or buildings into the courtyard, should not affect the security settings of the evacuation or fire truck traffic facilities.
Q:How can the fire engine go out when the gasoline is on fire?

Tank fire engines can be divided into small fire engines (about 2-4 tons), medium-sized fire engines (about 6-8 tons), large fire engines (about 10-15 tons) and large ones with 18 tons. There is a simple water supply fire engine that can pull 25 tons of water on the right.Fire engines, also known as fire engines, refer to special vehicles that are mainly used to carry out fire fighting. Most of the countries, including China, will also use it for other emergency purposes. Fire engines can transport firefighters to the scene of the disaster and provide a variety of tools for carrying out relief tasks. Modern fire engines usually equipped with ladders, water guns, portable fire extinguishers, self-contained breathing apparatus, protective clothing, emergency rescue tools, tools and other equipment, the part will be equipped with a water tank, water pump, foam fire extinguisher and other large fire extinguishing equipment. Most of the fire truck appearance is red, but also look for the yellow fire truck parts, so it is part of the special fire truck, fire alarm siren, car at the top is usually equipped with lights and flashing lights. Common types include fire water fire engines, foam fire truck, fire engine, aerial platform fire truck ladder truck, etc..
Q:How can fire stations fail to reach fire control problems?

In fact, you said the fire problem, whether in business units or residents of the community, it is not a personal thing, is a personal thing, should be actively involved in the coordination, the unit safety if a person really difficult!Write some nonsense, but I hope to help you, please adopt, little things, will encourage us to continue to solve the problem of more users
Q:Project fire lane width is 4 meters or 3.5 meters?

2) at least two of the ring fire lanes should be connected with other lanes. The end fire lane shall be provided with a return lane or a return field of no less than 12 * 12m2. The size of the return field used for large fire engines shall not be less than 15 * 15m2. The fire lane pipe and drain should be able to withstand the pressure of large fire truck.
Q:Social morality and fire cut

Where fire fighters and fire fighting equipment and materials that are rushed to the scene of fire or emergency rescue are required to be transported by railway, waterway or air transport, the units concerned shall give priority to transportation.
Q:In the fire code, what is the definition of trees that hinder fire engine operation? "Should not be planted between fire lane and building, set up trees that hinder fire truck operation?"

If in a regulation, because and the fruit have said all over, then still write the article explanation, no doubt equal to take off pants, fart. This article will undoubtedly continue to change in the next specification update, because the trees belonging to the plant, since it is so natural plant will grow, grow to a certain height also prevents fire operation, so from this article speaking should not set. But a house a week, not a few trees are not normal, so if you must set, will certainly be derived new regulations
Q:What kind of driving license can drive a fire engine?

B2 driver's license, you can apply for a direct admission, you can also apply for additional driving on the basis of the C1 card.The following conditions are required to apply for a B2 driver's license:1, over 20 years of age, under 50 years of age;
Q:What are the types of liquid supply fire engines?

3 foam fire engines: foam fire engines and tank fire engines are basically the same. Foam fire engines are used for different purposes. Foam is used for fire fighting, and water for tank fire engines is water. Foam fire engines are mainly equipped with fire pumps, water tanks, foam tanks, foam mixing systems, foam guns, guns and other fire fighting equipment. They can fire the fire independently. The utility model is especially suitable for fighting oil fires, such as oil and the products, etc., and can also supply water and foam mixture to the fire ground. The utility model is an essential fire fighting vehicle for petroleum chemical enterprises, oil transportation terminals, airports and urban professional fire brigades.4 、 high speed foam fire engine: high speed foam fire engine, the body is equipped with a high expansion foam device and fire water pump system. You can quickly spray 400 to 1000 times the amount of foaming of high air bubbles, the burning surface is isolated from the air to suffocation and cooling, and can eliminate part of the smoke, fighting for the basement, warehouse and ship closed or semi closed building fire, significant effect.5. Carbon dioxide fire engines: high pressure gas storage cylinders equipped with carbon dioxide extinguishing agent and their complete injection devices, some of which are equipped with fire water pumps
Q:Which of the latest fire laws is blocking the safe passage?

If sixtieth units violate any of the following acts in violation of this law, they shall be ordered to make corrections and shall be fined not less than five thousand yuan but not more than fifty thousand yuan:(1) the disposition and establishment of fire control facilities, equipment or fire safety signs do not conform to the state standards or industry standards, or have not been kept in good condition and effective;(two) damage, misappropriate or dismantle or deactivate fire facilities and equipment without authorization;
1. Manufacturer Overview

Location
Year Established
Annual Output Value
Main Markets
Company Certifications
2. Manufacturer Certificates

a) Certification Name
Range
Reference
Validity Period
3. Manufacturer Capability

a)Trade Capacity
Nearest Port
Export Percentage
No.of Employees in Trade Department
Language Spoken:
b)Factory Information
Factory Size:
No. of Production Lines
Contract Manufacturing
Product Price Range