Artificial Grass Carpet Swimming Pool mat Ground Mat 2021
Loading Port:

Tianjin
Payment Terms:

TT OR LC
Min Order Qty:

100 pc
Supply Capability:

100000 pc/month
Inquire Now
Customer Service
OKorder Service Pledge
Quality Product
Order Online Tracking
Timely Delivery
OKorder Financial Service
Credit Rating
Credit Services
Credit Purchasing
---
Add to My Favorites
---
Artificial Grass Carpet Swimming Pool mat Ground Mat 2021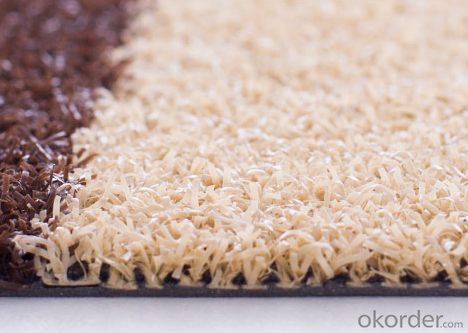 Product Specification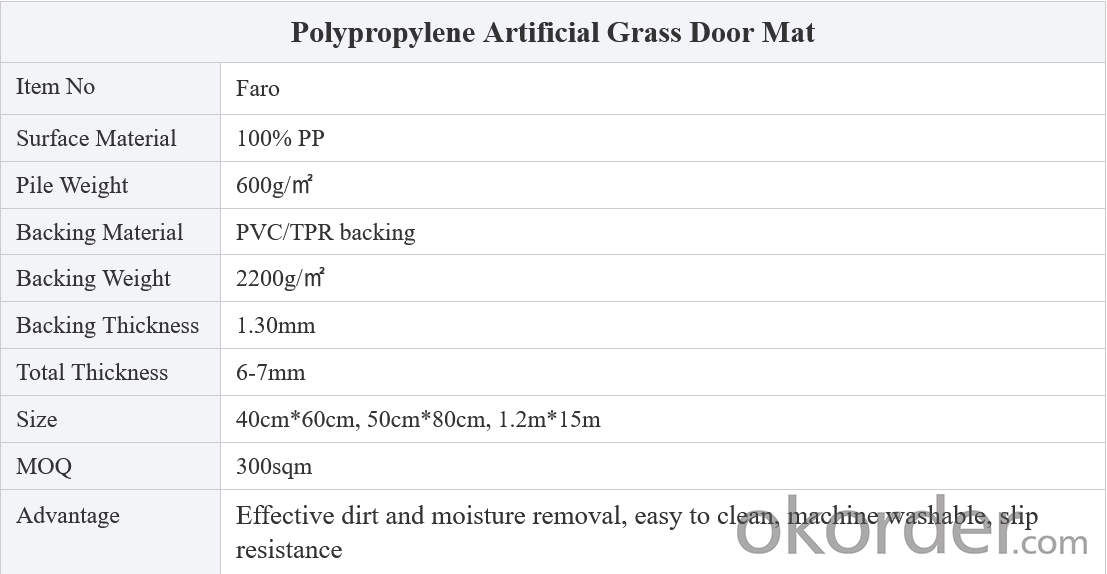 Products Functions
PREMIUM QUALITY
- being made of high quality 100% recycled artificial grass,our door mats for inside entry help to create a cleaner and healthier environment as it is 100% recyclable. As front door rug retains toughness, does not fade and prevents premature wear and tear.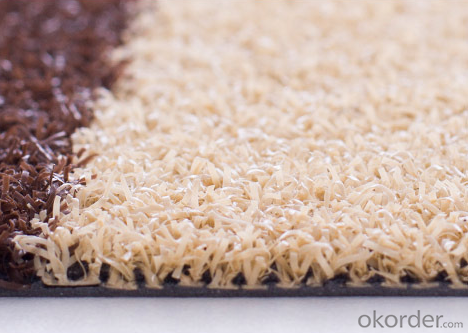 Anti-slip PVC Backing And Mud Removal
Anti-slip backing of our door mat indoor entrance gives it safety door mat features. This not only means the entry rug does not slip, but also effectively protects your expensive interior floor coverings or the floor itself, which is vital for outdoor doormat.
The artificial grass is hard coil, It can effectively remove mud, dirt, debris, tough and elastic, long service life.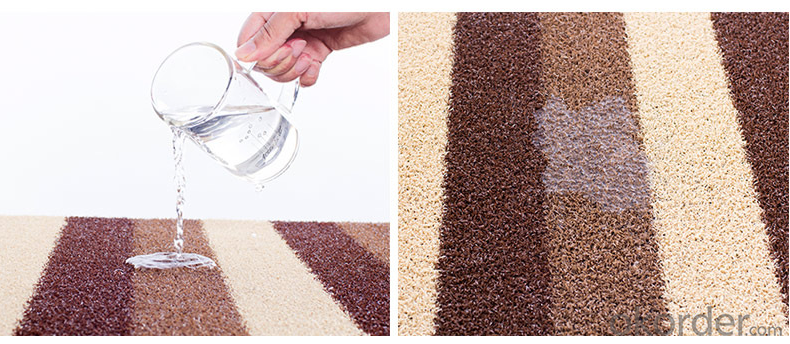 Water Absorption And Any Cutting
The door mat perfect for heavy traffic area, front door, outdoor, living room, bedroom, kitchen and office, ect.
Also, the doormat is both protect your floor and add tasteful decor to your life. you can cut size according to your application.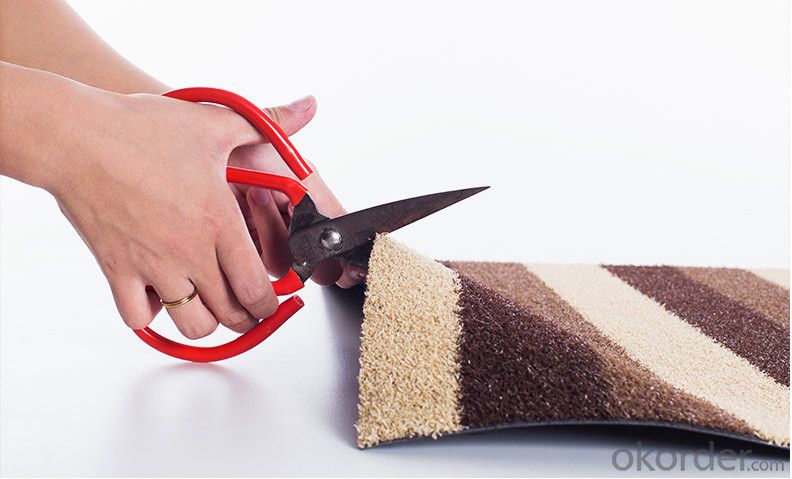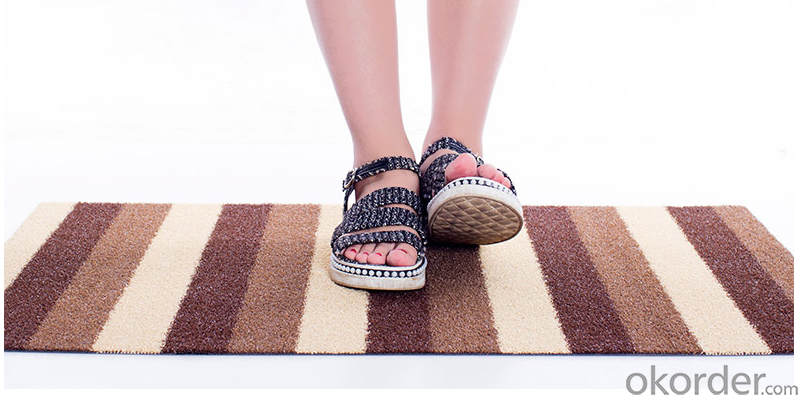 Other Type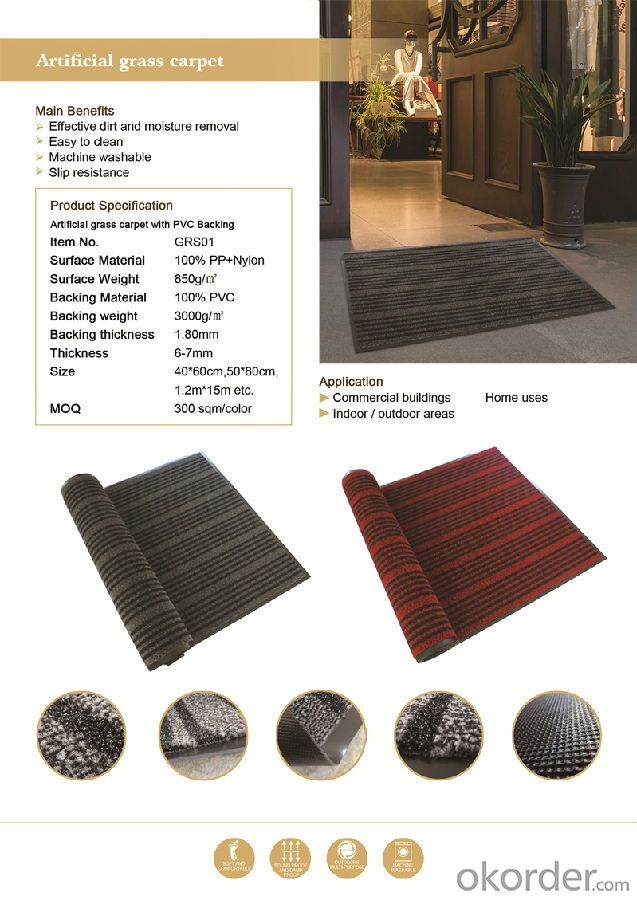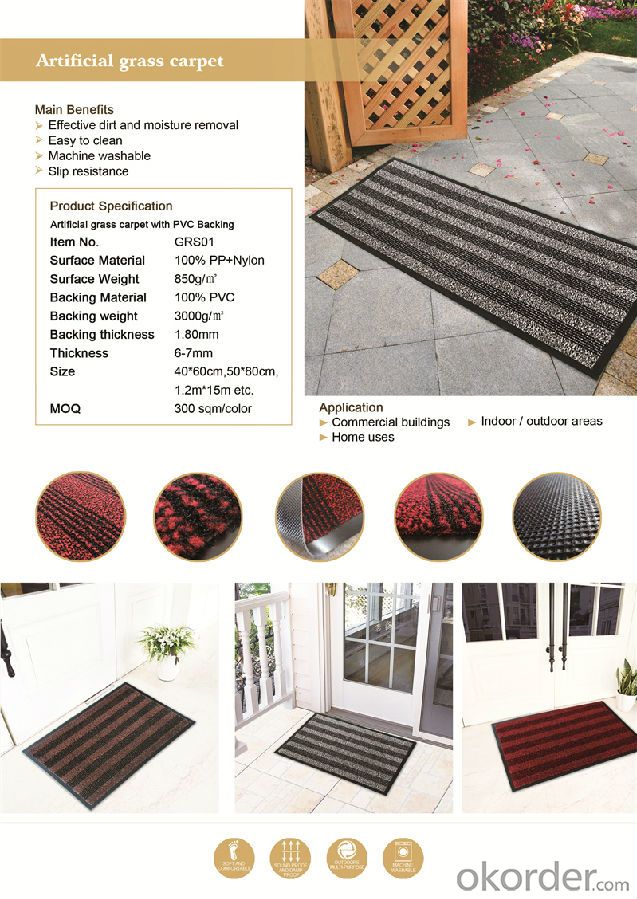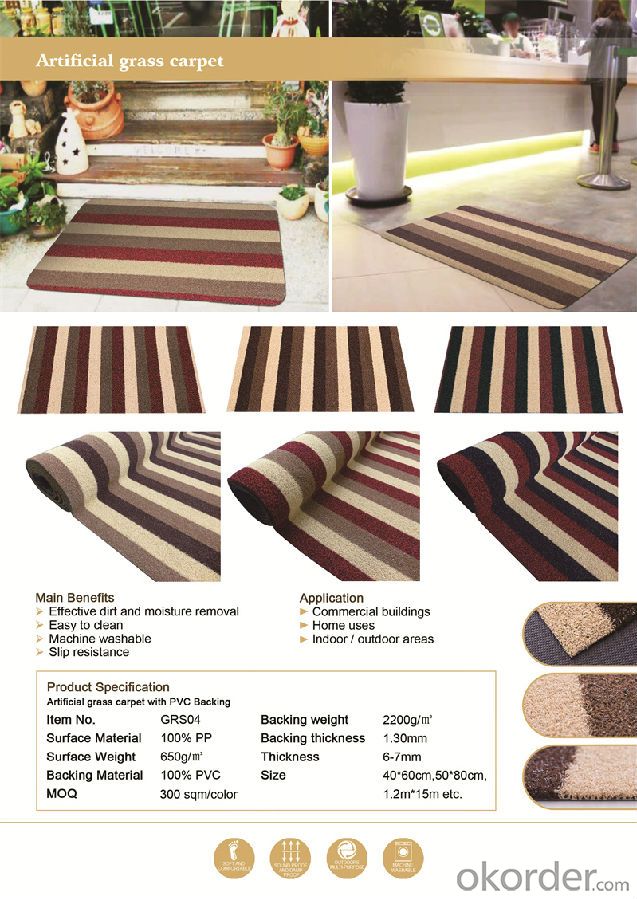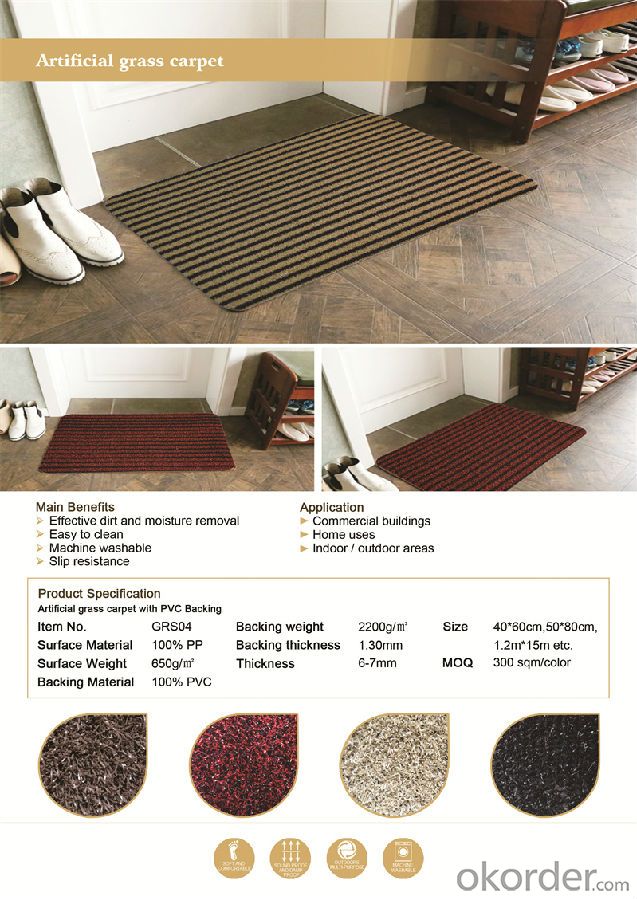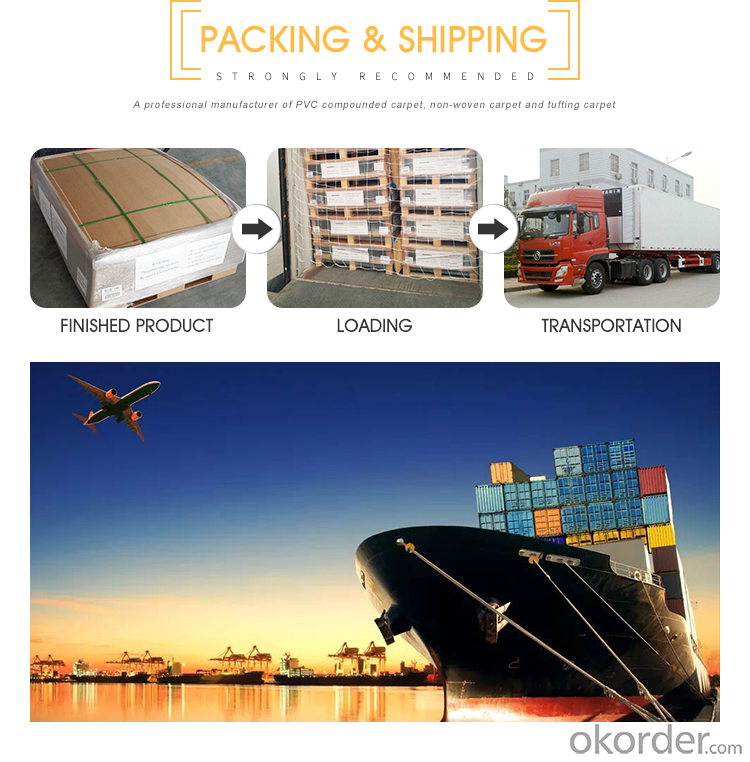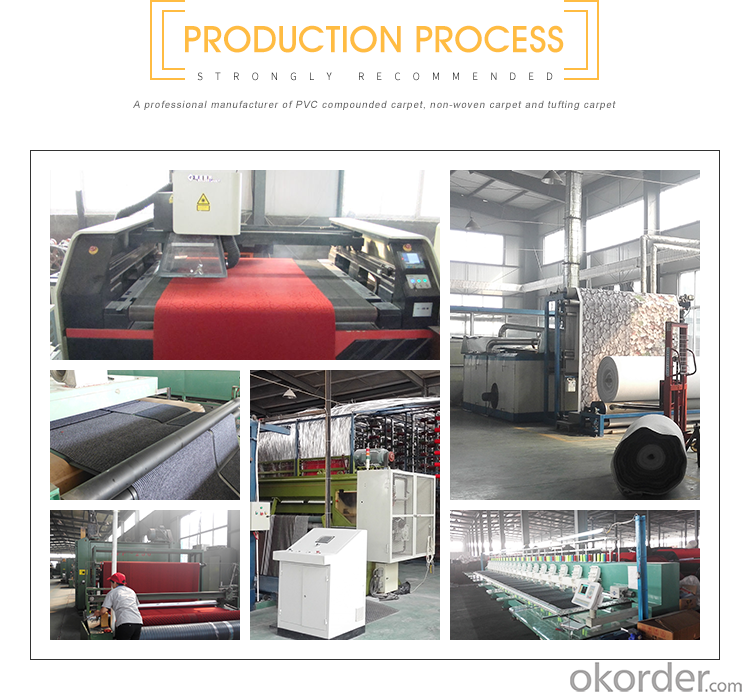 Q:I dropped small spots of bleach on my carpet. Does anyone know where I can purchase dye for carpet?

We have a large selection of carpet bleach spot repair dye pens and color dye chemicals.
Q:I'm looking for a rug to cover up the dining room carpet, just to lay on top but everything I find is very expensive. The rug doesn't have to be anything exotic, anyone have any affordable ideas? Or creative ways of turning something into a rug?

Check out the instructables website
Q:My daughter just spilled some Sunny D onto the carpet and it is not coming out. Any suggestions. I tried Oxy Clean, Resolve Carpet cleaner, and that other Duel Action one. NOTHING helped. Any home remedies..........Please help! This isn't the first time this happened. And still a light orange stain on my carpet. I would have thought that this would have came out easily considering that it is orange juice.

The problem that most people have when they spill some liquid on the carpet, they grab all these different carpet cleaning agents and try to clean it. This is the worse thing that you can do. Always flush the spill with plain water first, if this does not take it out do not mix all the different chemicals together, they can interact with each other and actually set the stain instead of removing the spot. The Sunny D has a dye in it and has to be neutralized, hopefully you have not permanetly set the stain. Flush the area with plain water to remove all that you have put into the carpet, then try a Detergent Solution - Mix one fourth teaspoon of a liquid dishwashing detergent per one cup of lukewarm water. NEVER USE A STRONGER CONCENTRATION! Thorough rinsing is necessary to remove detergent residues that may cause rapid soiling. It may be necessary to rinse with warm water several times to completely remove residues. Care should be used in selecting a detergent. Never use a laundry detergent of any type, because laundry detergents may contain optical brighteners that dye the fiber. Do not select an automatic dishwashing detergent because many contain bleaching agents that destroy dyes and some fibers. Work from the outside of the stain inwards so as not to spread it, and be sure to only use a white rag. Carpet fibers are absorbent and can pull coloring out of rags
Q:burgandy nail varnish on a cream carpet, help??

Window cleaner, of all things. It took black nail polish off my white carpet without a stain remaining.
Q:what kind of carpet should be used when making a subwoofer box? what thickness is needed

Is this a home application? If it is don't carpet it. If it is a car audio question you are in the wrong category. However there are some specifics we need first to help you. Is it a fiberglass enclosure, MDF? box cu in size dimensions. all these factors are needed to determine best material.
Q:I have a new apartment with wood floors and need to soften up part of it for sitting, yoga, stuff like this. I love Persian rugs but can't afford one. I'm wondering, what about an area rug that is basically carpet you would find in somebody's house... only not installed or glued to the floor. Just a roll of carpet. I don't know the terminology. This doesn't have to be fancy. What is the best way to go about getting such a thing? Do carpet stores have surplus carpeting laying around if you don't particularly care about style or size? Thanks for any replies.

A carpet remnant (back of store) cut to the size you want with the edges bound (the store will do it) is quite acceptable. If you want, you can have, say, a 4x6 piece of carpet in one color, then, say 12-wide strips, of a second color on the edges. An example: cream area with brown border. I did that for a very nice rug. It can be any two colors you find in the remnants section of the store. Carpet comes in standard widths, one of which is 12'-wide. If you want a rug that large, you can buy the length you need (say 9' for a 9x12 rug) and have the edges bound. This lets you buy any color of carpet they have, not just what's available in remnants. If you want two rugs, one for the LR and one for the DR, the 12' can be cut any width, so you could have two 6x9s or a 6x9 and a 5x8 (with some left over), etc. If the carpet is still on the roll, you must buy the entire 12' width. The carpet store will do all of this for you, for a small price, even help you figure out sizes. You can check OKorder for persian and persian-type rugs -- some are new, others are older but still beautiful. (Some older persians are worth more than new ones because they're better quality (more knots per square inch) and/or have the patina of age.) Check the listing's wording carefully as to its condition (you want at least good, and they'll tell you if there are any worn ares, and look at the pictures (there'll be a pic of the worn area if there is one). I've bought several, all in good or excellent condition, and they looked new, are beautiful, and will outlast me. If you have any questions, ask the seller. Also, stores like Wal-Mart and Sears sell persian-type rugs that are machine made for a lot less than a real persian. Put a good pad under any rug, 4 smaller so it doesn't show, for greater softness.
Q:I purchased this house last year Sept. 17 2010. From day 1 I had severe problems. The ceilings in the back fell from a Norway rat eating the pipes. I did a mold test and Black Mold was a positive. The walls have been removed and replaced. The rat problem stopped after a Professional Trapper was hired. The house has been completed changed. All big mirrors are gone. That is were mold was too. Now I have Conjunctivitis in both eyes and I keep itching. Is this possibly the carpet in the back rooms? I have been cleaning them out so they can be tiled next week. Is tile a good idea? The AC unit could also be an issue. I would appreciate any advice. Owning a home is great. Most of the house has been completely remodeled. Carpet. AC unit. Any advise would be greatly appreciated.

yes okorder /...
Q:So in one room of my house, the carpet is ****** up. Long story short bleach stains were better than blood stains, so one corner is all discolored while other areas have Kool Aid stains or just dirty. The room is roughly 15'x15', so around 225 sqft. In your opinion how much am I looking at if I want to replace it altogether?Thanks

Not too much if you go mid-grade. Also concider putting flooring down, they have nice linonium that looks like wood or stone nowadays, easy to clean, put area rug ontop. Go to Lowes or a Home Depot, ask questions...they can give you rough estimates.
Q:nan

wool carpet is not suitable for wet house, because it is easy to mildew and become smelly. you can try plastic carpet, but it is not beautiful
Q:We have our carpet cleaned once a year and after 6 months all the stains are back. A carpet cleaner told me if it was cleaned properly the stains wouldn't return. My carpet is a type of berber, but not the good berber. I have always used steam cleaning. My question is would a chem clean be better. Another carpet place told me probably the stains were down in the pad. Is there a cleaning that would go deep into the pad otherwise I am faced with getting 1200 yards of new carpet. You imput would be greatly appreciated.

The best carpet for cleaning is nylon. Most inexpensive berber is made from Olefin, which by it nature is very difficult to clean. Olefin is an oil derivative and once anything greasy goes down it kind of binds to the carpet. As to why the stain reappears, the answers that you have gotten are correct. All carpet cleaning methods only clean the fibers of the carpet not the base. Once it is cleaned it looks clean only to have whatever is down there wick right back to the surface. There is no system that cleans the pad or the backing unfortunately. There are some powders that once placed on the carpet will pull the stain to the surface for better cleaning, but it is a very time consuming expensive process and probably not worth the trouble. The only thing that I can recommend is to make sure when you do have your carpets cleaned that they are using truck mounted steam cleaning. That is the most powerful method in the business and if anything has a chance of sucking up the dirt that is it - Good Luck!
1. Manufacturer Overview

Location
Year Established
Annual Output Value
Main Markets
Company Certifications
2. Manufacturer Certificates

a) Certification Name
Range
Reference
Validity Period
3. Manufacturer Capability

a)Trade Capacity
Nearest Port
Export Percentage
No.of Employees in Trade Department
Language Spoken:
b)Factory Information
Factory Size:
No. of Production Lines
Contract Manufacturing
Product Price Range