No1 EPDM Rubber Roofing Waterproof Membrane
Loading Port:

Qingdao
Payment Terms:

TT or LC
Min Order Qty:

5000 m²
Supply Capability:

300000 m²/month
Inquire Now
Customer Service
OKorder Service Pledge
Quality Product
Order Online Tracking
Timely Delivery
OKorder Financial Service
Credit Rating
Credit Services
Credit Purchasing
---
Add to My Favorites
---
EPDM Waterproof Membrane
Introduction for EPDM Waterproof Membrane
This waterproof coiled material is of high elasticity with best performance among high polymer waterproof coiled material in the world.It is also the most typical one in the world.Waterproof coiled material made of ternary ethylene-propylene rubber of 'CHEN SHENG' brand is produced with the use of the most advanced continuous extrusion and vulcanization technology and related equipments which are specially designed for production of such product.It is good in compactness,without bubble and performance difference in length and breadth,performances reach or exceed the demands of GB18173.1-2012 standard.
Characteristics for EPDM Waterproof Membrane
1.the excellent anti-aging, in the long term light, humidity, cold use of the natural environment, small changes in physical properties, used in the temperature. From -50 degree Celsius to +150degree Celsious.
2.with outstanding ozone resistance, resistance to ultraviolet and atmospheric corrosion of many chemical corrosive substances.
3. high tensile strength, high elongation, high flexibility, capable of sustaining a puncture of hard material, good anti-crack and deformation and give full play to extend the performance, playing the role of waterproofing.
4.long lifetime, high durability can achieve more than 25 years.
5.the cold construction operation, no environment pollution and simple operation.
Application for EPDM Waterproof Membrane
1) Roofs, Basement, Toilet
2) Industrial and civil building waterproofing
3) Geo-synthetic liner for swimming pool, channels, irrigation system
4) Especially suit for projects with high requirements in durability, anti-corrosion and deformation

Specification for EPDM Waterproof Membrane
| | | | | |
| --- | --- | --- | --- | --- |
| Item | Thick(mm) | Width | Length(m) | Color |
| Spe | 1.0—2.0 | 1.2m/2m/3m/4m | 20 | Black |
| Deviation | -1 +15 | --1 | | Multicolor |
Technical Sheet for EPDM Waterproof Membrane
EPDM Waterproof Membrane ASTM Standard : D-7465

Property

Test Method

Units

Mininum ASTM

D-7465

Sl

Eng

Specific Gravity

ASTM D-792

gm/cc

1.1

1.1

Unit Weight

ASTM D-751

kg/m2

1.3

0.27

Thickness Type 1

ASTM D-412

mm(in)

1.02
+15/-10%

0.04
+15/-10%

Tensile Strength. Die C

ASTM D-412

Mpa(psi)

9

1305

Ultimate Elongation,Die C

ASTM D-412

%

300

300

Tear Resistance,Die C

ASTM D-624

Kn/m(lbf/in)

26.27

150

Puncture Resistance

ASTM D-4833

N(lbs)

133

30

Shore A Durometer

ASTM D-2240

65-10

65-10

Ozone Resistance

ASTM D-1149

No Crack

No Crack

Multiaxial Elongation

ASTM D-5617

%

100

100

Heat Aging 28 days at 240 degrees

ASTM D-573

Tensile Strength, Die C

ASTM D-412

MPa(psi)

8.3

1205

Ultimate elongation, Die C

ASTM D-412

%

200

200

Tear Resistance, Die C

ASTM-624

Kn/m(lbf/in)

21.9

125

Accelerated Aging Xenon Arc

ASTM G-155/G-151

Pass

Pass

Brittleness Point

ASTM D-2137

-45 °C

-49 °C F

Water Absorption

ASTM D-471

%

+8,-2

+8,-2

Water Vapor Permeability, max

ASTM E-96

Permils

2.0

2.0

Linear Dimensional Change,max

ASTM-D-1204

%

+/-1.0

+/-1.0

Chronic Toxicity Screening

EPA/600/4-89/001
ASTM E-729

Method 1000.0

Pass

Pass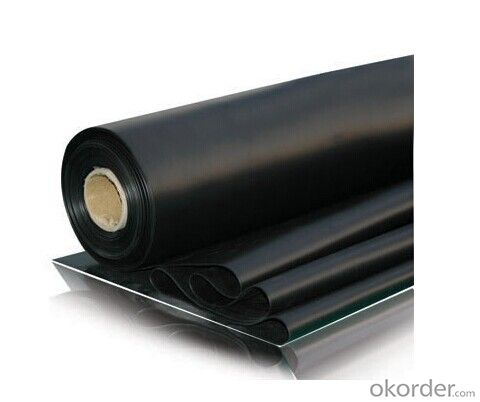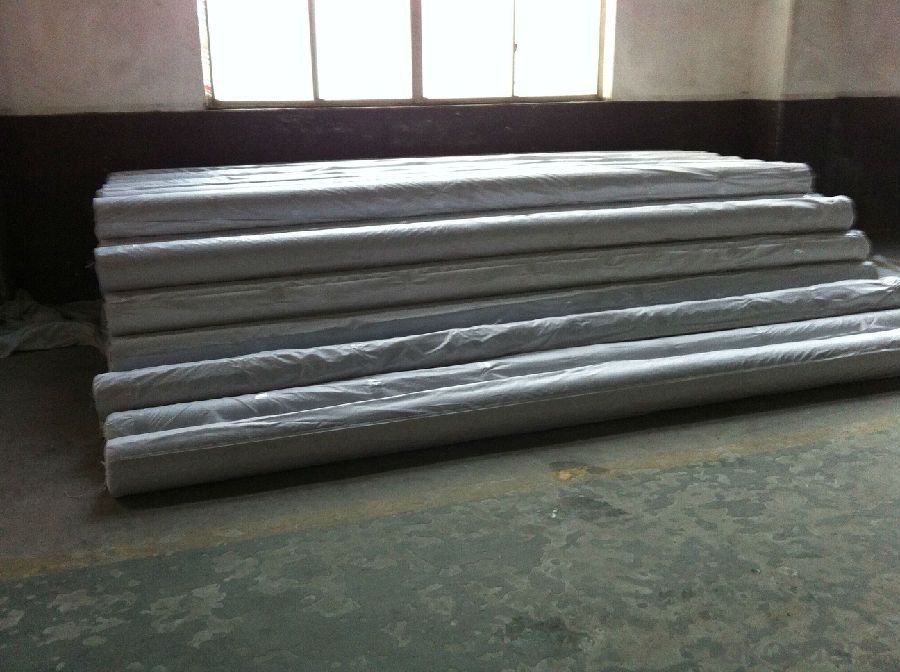 Vulcanization Production Line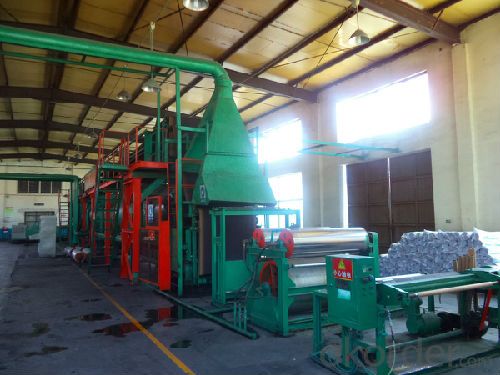 Weldable Production line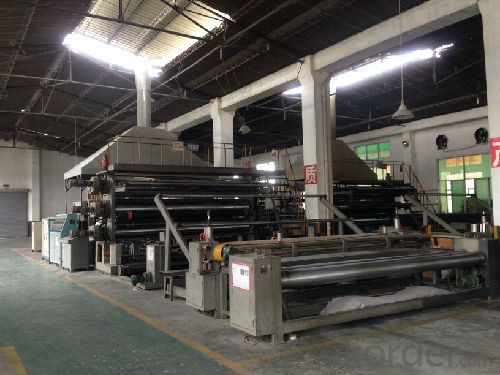 FAQ:
Can you produce 4m width?

Yes, no problem for us. We have four bases in China, largest one in this field.

How many quantity in one 20'' container for 1.2mm and 1.5mm?

480rolls, 11520m2 for 1.2mm and 400rolls, 9600m2 for 1.5mm

Can you provide free samples?

Yes, our samples are free, but express fees usually on buyer's account.
Q:What is the difference between SBS and APP rolls?

First, SBS modified asphalt waterproofing membrane (polyester tire): Features: The use of polyester felt (filament polyester non-woven) mechanical properties, water resistance, corrosion resistance is also very good; elastic and low temperature performance has improved significantly, the effective range of (-25 ~ 100) ℃; Excellent fatigue resistance. Use: for high-level and high-rise buildings of the roof of the single-layer laying and composite use, can also be used for basement and other waterproof and moisture, more suitable for the northern cold areas and structural flexibility of the building waterproof.
Q:Construction Measures for Waterproof Coil in Winter

2. Master the hot melt paving points. Hot melt coil construction requirements of the heating width should be uniform, heating nozzle from the coil surface to be appropriate, 0.5m or so. Winter construction temperature is low, hot-melt time than the room temperature to be more, hot-melt to the surface of the membrane is bright, or melting is not enough. Such as beyond the degree of light overheating melting, the polymer modified asphalt easy to aging zoom, adverse bonding, but can not penetrate burned, grasp the hot melt to be strong bonding. When the sheet is rolled, the seam must be spilled over the adhesive to verify that the paste is tight, and the spilled adhesive is scrapped and the necessary measures to strengthen the seam. Coil large hot melt paving the same attention should be paid to the air inside the coil.
Q:Waterproof membrane in the escape when the full shop, empty shop, shop, shop what is the difference?

3, point shop paving the membrane, the membrane and the base layer with point-like bonding. Requires no less than five points per square meter of bonding. Each paste area of 100mm * 100mm. Between the point and the point should be equidistant plum-like distribution (the method can be used at the grass-roots level coating, coiling point of the membrane point coincidence).
Q:Roof SBS waterproofing membrane can not empty shop

Whether the waterproofing membrane is empty is determined by two aspects. 1, the construction site requirements. Such as the basement of the bottom of the membrane waterproof specifications require empty shop; deformation of the steel roof can be a small amount of sticky open shop or shop shop to adapt to structural deformation, but the coil to have a certain pressure.
Q:Polyethylene polypropylene waterproofing membrane forming. Secondary molding, what does it mean? How to distinguish?

In the appearance and mechanical analysis, these two processes is difficult to distinguish, a composite also has poor quality, the second compound can also be done better. So, only in the approval of the production line, to control.
Q:Modified asphalt waterproofing membrane SBS I G PE4 What does it mean?

Waterproof membrane is mainly used for building walls, roofs, as well as tunnels, highways, landfills, etc., to resist the external rain, groundwater leakage can be curled into a roll of flexible building materials, as the basis for engineering And no leakage between the building connection, the entire project is the first waterproof barrier, the entire project plays a vital role. The main products are asphalt waterproofing membrane and polymer waterproofing membrane
Q:The difference between high polymer modified asphalt waterproofing membrane and sbs

High-polymer modified asphalt waterproofing membrane: synthetic polymer modified asphalt coating layer, fiber fabric or fiber mat for the carcass, powder, granular, sheet or film material made of cladding material can be curled Of the sheet material. Thickness is generally 3mm, 4mm, 5mm, asphalt as the main body.
Q:It is good for black roof with waterproof paper

No film or PE film (black surface) coil is generally not used for the roof; if the roof is often on the need to lay in the coil above the 5 cm thick cement mortar to do the protective layer or the choice of sand and shale surface waterproof Coil. Lough membrane (silver surface) The role of the membrane to play the radiation can be used directly for the roof without any protection.
Q:Is the asphalt waterproofing membrane facing the side?

Because there are many types of self-adhesive waterproofing membrane, their use and construction methods are different, there are two main methods. 1, the normal self-adhesive paving method: the film directly paving or polymer cement cement wetting method, paste in the grass-roots level. The bottom of the floor floor of the building, in the concrete cushion with cement mortar leveling, and then the coiled surface of the membrane down, paste in the leveling layer, the roll surface pouring 50 thick stone concrete protective layer, Floor concrete. Wall construction, the film directly attached to the basement wall panels, and then do the protective layer on the outside. Commonly used modified asphalt self-adhesive waterproofing membrane, modified asphalt wet sheet is usually used in this method.
Q:SBS waterproofing membrane how to sample

EPDM membrane, rubber waterproofing membrane: the same manufacturers, specifications are not more than 5000m2 for a group, each batch of 2m2 Rubber water stop: the same manufacturers, specifications taken 2m long Modified asphalt polyethylene tire waterproofing membrane: the same specifications are not more than 1000m2 for a group, each batch of 1 volume
1. Manufacturer Overview

Location
Year Established
Annual Output Value
Main Markets
Company Certifications
2. Manufacturer Certificates

a) Certification Name
Range
Reference
Validity Period
3. Manufacturer Capability

a)Trade Capacity
Nearest Port
Export Percentage
No.of Employees in Trade Department
Language Spoken:
b)Factory Information
Factory Size:
No. of Production Lines
Contract Manufacturing
Product Price Range
Hot Searches
Related keywords