Suspension Ceiling Grid(Plain)
Loading Port:

Shanghai Port,China
Payment Terms:

TT or L/C
Min Order Qty:

1X20'FCL pc
Supply Capability:

26 Ton/Tons Per Day pc/month
Inquire Now
Customer Service
OKorder Service Pledge
Quality Product
Order Online Tracking
Timely Delivery
OKorder Financial Service
Credit Rating
Credit Services
Credit Purchasing
---
Add to My Favorites
---
Specification of Suspended Ceiling Grid :
1. There are Flat system, Groove system and Slim system for t grid
2. Four kind of tee make up of a ceiling frame. those are main tee, long cross tee, short cross tee and wall angle
The height normally is 38 or 32, thickness from 0.20-0.40MM
The normal size as belows(pls mainly focus on the lenghth we have):
main tee:38*24*3600mm or 38*24*3660mm
main tee:32*24*3600mm or 32*24*3660mm
long cross tee:26*24*1200mm or 26*24*1210mm
Short cross tee:26*24*600mm or 26*24*610mm
wall angle:24*24*3000mm or 24*24*3050mm
wall angle:21*21*3000mm or 21*21*3050mm
Applications of Suspension Ceiling Grid:
1.commercial ceiling suspension grid for false ceiling
Characteristics of Suspension Ceiling Grid:
1. easy to clean and install
2.good quality, best price with good sales-after service
Package of Suspension Ceiling Grid
1.main tee:30 pcs in one carton
2.long cross tee: 50 pcs in one carton
3.short cross tee:75 pcs in one carton
4.wall angle:50 pcs in one carton
Production Line of suspension ceiling grid
We have 6 production line for ceiling grid, 30 containers per month.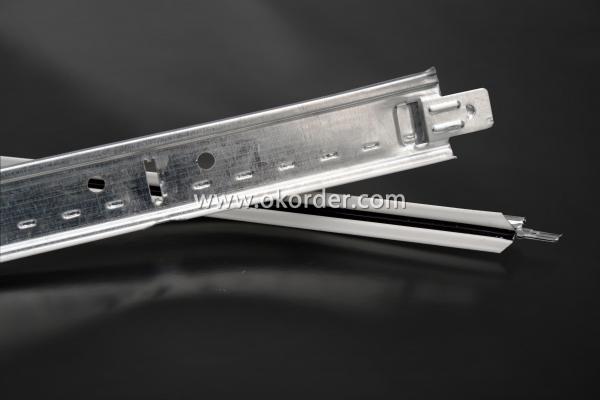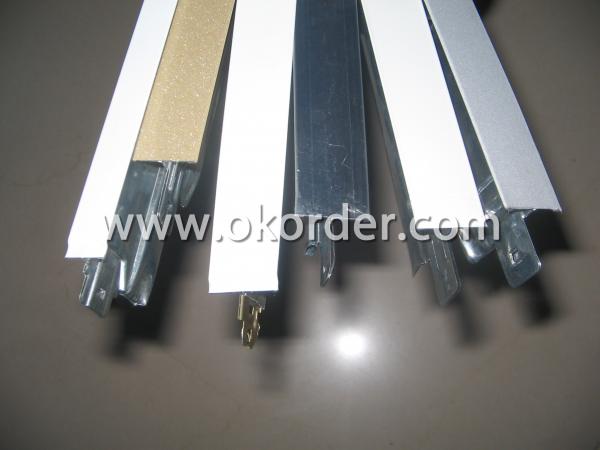 Q:75 light steel keel wall below to do a guide wall?

No special requirements, and now generally do not do this wall, light steel keel directly to the ground.
Q:What is light steel keel arch? Under what circumstances need to be arch?

Light steel keel if too long, then the middle will sag, just like you pull a straight line, pull straight again, it will also be sagging in the middle
Q:Do cut off the wall, with light steel keel, the cost of various materials how to calculate?

It depends on what you use the board (gypsum board or silicon calcium board), single or double-sided partition (to add the other side of the plate Caixing, keel per square on only a memorable), with the keel thickness To what extent? With 50.75.100 has three series, commonly used 75 series.
Q:National norms Light steel keel wall can not do high? What is it?

In recent years began to have, mainly design drawings clearance
Q:Light steel keel gypsum decorative board ceiling need to do what information

Light steel keel gypsum board, is a combination of gypsum board and light steel keel, construction attention when the plate specifications, pull line correction, the installation of fixed to ensure that straight and straight.
Q:Commonly used! Is the use of engineering, hope to tell, thank you!

Light steel: refers to the use of relatively small steel made of steel, it is characterized by relatively light, but the hardness is great.
Q:That is, light steel keel in the remaining after the use of the remaining material, waste recycling station after the recovery, what manufacturers to buy to do what? What is the value of use? What is the main use of light steel keel what ingredients? Hope master Xiangjie, thank you! Correct it, is the remaining corner of the remaining material, not "zoom" more than Kazakhstan, playing the wrong word, so as not to affect your answer to consider more questions

Basically, the scrap price is slightly higher.
Q:Gypsum board ceiling with light steel keel how much material. Roof a total of 90 square feet. In addition to gypsum board, 1 square, how much light steel keel, pay keel, hanging, hanging, the main then, pay, hanging gold and other accessories

Generally to design drawings construction, it is difficult to say how much, there are many types of keel, the installation method is also a lot of if it is their own decoration, then you can follow the "light steel keel partition, ceiling standard Atlas.pdf" construction
Q:What are the methods for fixing light steel keel?

The ceiling is fixed with the expansion of hanging bars, cut off can be directly nailed
Q:What is the distance between the main keel? How much is the distance between the keel? What is the spacing of the hanging bars?

According to the "building decoration construction specifications" provides: the main keel spacing 800 ~ 1200mm, vice keel spacing of not more than 600mm (generally determined by the width of the plate), hanging spacing 900 ~ 1200mm (generally set a hanging point per square).
1. Manufacturer Overview

Location
Jiangsu,China
Year Established
2005
Annual Output Value
Below US$1 Million
Main Markets
Mid East;Africa;North America
Company Certifications
third-party verification service provider
2. Manufacturer Certificates

a) Certification Name
Range
Reference
Validity Period
3. Manufacturer Capability

a)Trade Capacity
Nearest Port
Shanghai
Export Percentage
1% - 10%
No.of Employees in Trade Department
21-50 People
Language Spoken:
English;Chinese
b)Factory Information
Factory Size:
Above3000 square meters
No. of Production Lines
Above 9
Contract Manufacturing
OEM Service Offered;Design Service Offered
Product Price Range
Average;Low