Highest quality for Portland cement of GB 175-2007 GRADE P. II 52.5R
Loading Port:

China main port
Payment Terms:

TT OR LC
Min Order Qty:

1000 m.t.
Supply Capability:

500000 m.t./month
OKorder Service Pledge
Quality Product
Order Online Tracking
Timely Delivery
OKorder Financial Service
Credit Rating
Credit Services
Credit Purchasing
---
Add to My Favorites
---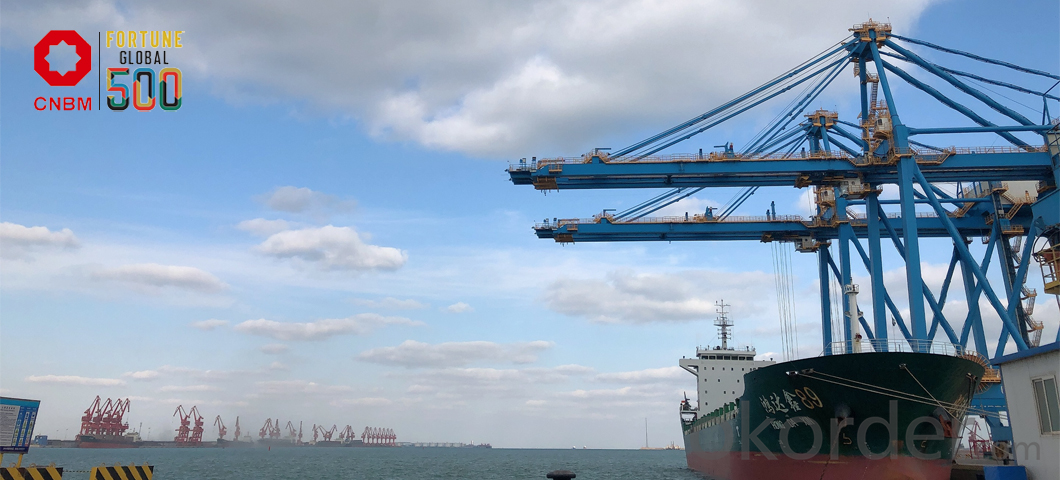 PORTLAND CEMENT

Portland cement is the most common type of cement in general use around the world, used as a basic ingredient of concrete, mortar, stucco, and most non-specialty grout.
It is a fine powder produced by heating materials in a kiln to form what is called clinker, grinding the clinker, and adding small amounts of other materials.
Several types of Portland cement are available with the most common being called ordinary Portland cement (OPC) which is grey in color, but a white Portland cement is also available.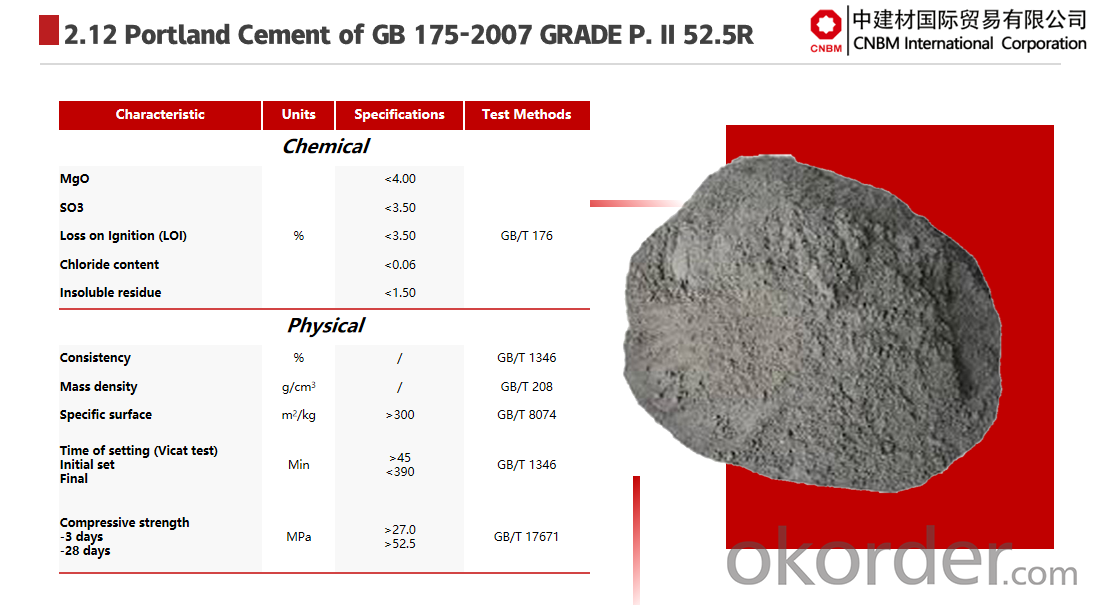 Application

CNBM Cement can be used for all types of architectural or structural concrete construction. Such application as pre-cast panels and systems, cast-in-place, masonry units, tilt-up panel systems, roofing tiles, terrazzo floors, highway median barriers, tile grout, swimming pools, stucco, culture stone,colored masonry products, cement paints and coatings, and ornamental precast concrete items.
CNBM INTERNATIONAL CORPORATION (short for the Company) is a subsidiary of China National Building Material Group Co., Ltd. (short of CNBM Group). China National Building Material Group is a state owned enterprise under directly management of the State-owned Assets Supervision and Administration Commission of the State Council, and ranked 187 in the world's top 500 in 2019. China National Building Materials Group is the world's largest comprehensive building materials industry group, the world's leading new material developer and comprehensive service provider, and has the strongest scientific research strength in the field of building materials and non-metal new materials. CNBM INTERNATIONAL CORPORATION is a brand-new platform built by China National Building Materials Group that focuses on non-metallic materials trading.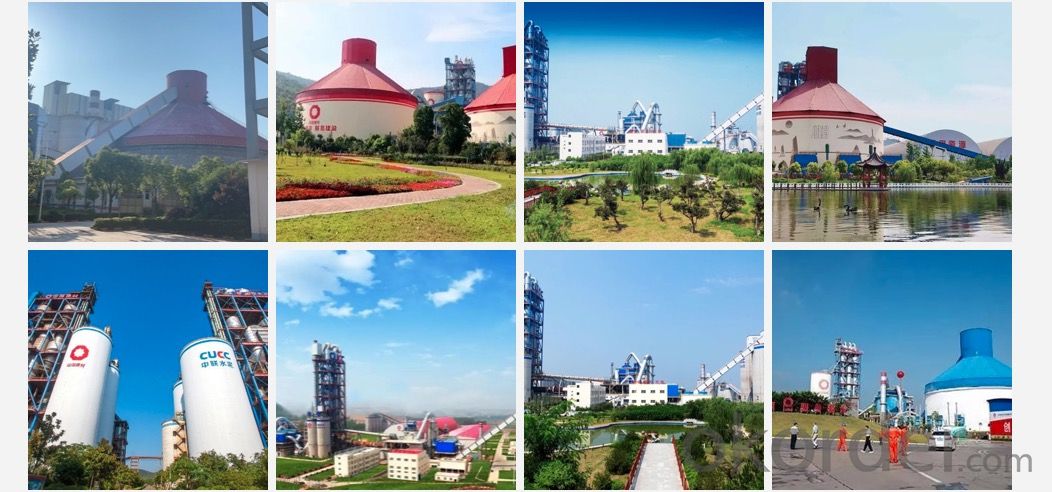 Q:Are you a trading company or manufacturer?
A:CNBM is a large-scale central governmental industrial group with its own manufacturing sector, research and development sector, trading sector and logistics sector.
Q:I have some special requirement about specifications.
A:We have a well-rounded product range, which endows us with the capability of applying many special specifications. Please feel free to contact us with yours.
Q:Do you accept OEM service?
A:Yes, we do.
Q:What is your delivery time?
A:It depends on the size/complexity of your order and our own production schedule. Usually we provide a faster delivery than the industry's average.
Q:What is the payment term?
A:TT and LC are both Okay.
Q:Can I have my own logo on the product?
A:Sure, we can apply your own logo on the products according to your drawings.
Q:i am looking for a cement supplier to ship cement to my country .truly speaking all factory i contact are sold out .the question is from whom can i buy the cement??There is many website with fake seller supplier , i need a real people who have the cement to sell. can anyone help???

Company (click on company name for more info) City, State Phone Website Email Holcim (US), Inc. Three Forks, MT (406) 285-3241 Buzzi Unicem USA, Cape Girardeau Plant Cape Girardeau, MO (573) 335-5591 Keystone Cement Co. Bath, PA (610) 837-1881 Lafarge North America, Inc. Buffalo, IA (563) 323-2751 Lehigh Southwest Cement Co. Redding, CA (530) 275-1581 QUIKRETE-Houston Raywood, TX (936) 587-4450 CEMEX, Inc. Wampum, PA (724) 535-4311 ESSROC Cement Corp. Essexville, MI (989) 894-4581 Lafarge Corp. Memphis, TN (901) 525-0311 Lafarge North America, Inc. Harleyville, SC (843) 462-7651 Lafarge North America, Inc., River Region, Fredonia Plt. Fredonia, KS (620) 378-4458 Mountain Cement Co. North Platte, NE (308) 532-8029 QUIKRETE Cos., Inc, The Columbus, OH (614) 885-4407 Buzzi Unicem USA Chesterfield, MO (636) 532-1060 Savannah Cement Co. Port Royal, SC (843) 521-4351
Q:This isn't for me, my bf is redoing his new house and he got cement on his hands, but didnt wash it off in time. it's been a couple hours right now, and he tried soap and water (like that'd work lol) and oil. I suggested a nail file to get it to flake off, but he doesnt have one.would that work?please tell me if there's anything that'd work. some sort of solution or a file or something? or will he have to go to the doctor and like, get it peeled off or something? lol

Yikes! Your boyfriend needs to go see a doctor for this. The cement on his skin can cause a chemical burn, and he needs to get it off. It's important that he go now, even if the only place open at this hour is the Emergency Room. If at all possible, he should bring the package that the cement was in so the doctors can see for sure what they're dealing with. Also, if your bf has access to the Material Safety Data Sheets (MSDS for short) for the cement, he should bring that to the hospital too. Actually, the MSDS would probably be the more useful thing to bring if that's all he has access to. He might insist that it's no big deal and that his hands will be fine. Guys like to act tough like that. Ignore him and drag him to the hospital if you have to. ;)
Q:i was told not to use anything that would seal the cement, and that the object needs to breath.

You can use the outdoor acylics that are in the craft stores. Just paint the top and leave some of the bottom open you won't see. I don't see the problem though- I painted a hopscotch on the sidewalk on the side of our home for my daughter-7 years ago. Its still there-no sealing. Check out liquitex and other main brands-ask the store/girls for suggestions.
Q:i know it's by adding water but what happenes to it tom make it turn into cement?Thank you!

First of all its Portland power and then aggregate (rock) and a little sand. when its mixed a chemical reaction occurs and it binds it all together and dries then its cement
Q:cement?a. 150 poundsb. 100 pounds c. 50 poundsd. 112.5 pounds

2/3 of 75 lbs = 50 lbs
Q:is a backhand spring on the grass any differant than a backhand spring on cement? does it hurt? i realy want to do it on cement after i get it on the grass. any help?!

yeah, cement is much harder it doesn't have as much give and if you fall and hurt yourself falling on the cement will hurt more.
Q:When preparing mortar, why in addition to cement, but also often add a certain amount of other cementitious materials

Gel material in the physical and chemical effects, from the slurry into a solid stone, and can cement other materials, made of a certain mechanical strength of the composite solid material
Q:i would like to know how the cement grade be checked? kindly let me know what other test can be done to know the quality of cement?

Don't usually check the portland cement, usually you test the concrete mix to assure it gives you the strength you desire. This is usually done with actual breaks of cylinders made from the mix you want to use, done before the mix design is approved. Then, additional cylinders are cast while placing the concrete and tested at intervals over a 28-30 day period to make sure the concrete strength meets your requirements. The exact number of cylinders is usually decided by the owner or engineer, based on the amount of concrete poured at one time. The minimum number of cylinders is usually 3, one to break at 3-7 days, one to break at 28-30 days, and one spare.
Q:Are they like the same...different? Idk

Cement is the stuff that binds the aggregate together. A common type of cement is Portland Cement. The stuff is like sand. It's not hard and it can come in bags. You can pour it out. When you mix cement with water and aggregate then let the mixture set, it becomes hard, almost like stone. It becomes concrete. After it has hardened, you can drive a tractor trailer over it or build a fairly tall building on top of it.
Q:And how would you do that?

Either a hobby shop or if you are near a major retailer (WalMart, Target, KMart, etc.); go into the toys section, find the models and you'll see tubes called model cement. It's a special glue.
1. Manufacturer Overview

Location
Year Established
Annual Output Value
Main Markets
Company Certifications
2. Manufacturer Certificates

a) Certification Name
Range
Reference
Validity Period
3. Manufacturer Capability

a)Trade Capacity
Nearest Port
Export Percentage
No.of Employees in Trade Department
Language Spoken:
b)Factory Information
Factory Size:
No. of Production Lines
Contract Manufacturing
Product Price Range