Highest quality for Portland cement of CEM II 42.5R
Loading Port:

China main port
Payment Terms:

TT OR LC
Min Order Qty:

1000 m.t.
Supply Capability:

500000 m.t./month
OKorder Service Pledge
Quality Product
Order Online Tracking
Timely Delivery
OKorder Financial Service
Credit Rating
Credit Services
Credit Purchasing
---
Add to My Favorites
---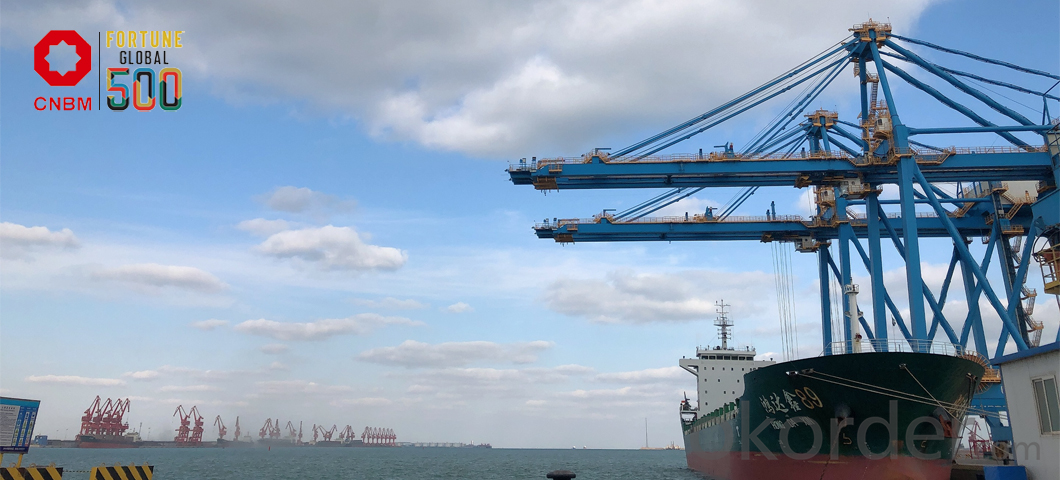 PORTLAND CEMENT

Portland cement is the most common type of cement in general use around the world, used as a basic ingredient of concrete, mortar, stucco, and most non-specialty grout.
It is a fine powder produced by heating materials in a kiln to form what is called clinker, grinding the clinker, and adding small amounts of other materials.
Several types of Portland cement are available with the most common being called ordinary Portland cement (OPC) which is grey in color, but a white Portland cement is also available.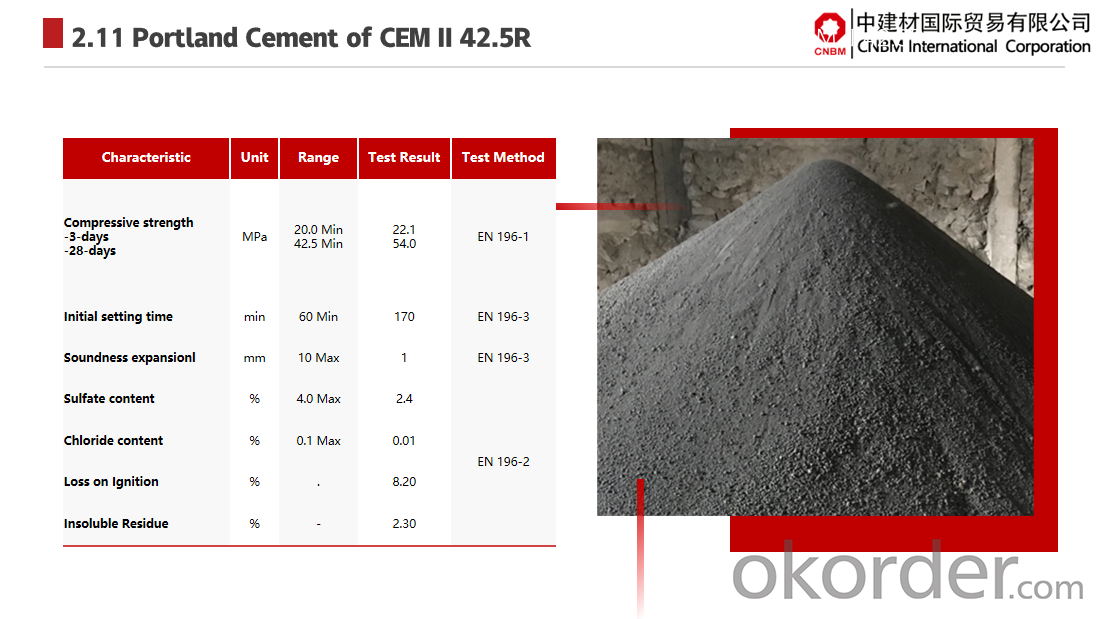 Application

CNBM Cement can be used for all types of architectural or structural concrete construction. Such application as pre-cast panels and systems, cast-in-place, masonry units, tilt-up panel systems, roofing tiles, terrazzo floors, highway median barriers, tile grout, swimming pools, stucco, culture stone,colored masonry products, cement paints and coatings, and ornamental precast concrete items.
CNBM INTERNATIONAL CORPORATION (short for the Company) is a subsidiary of China National Building Material Group Co., Ltd. (short of CNBM Group). China National Building Material Group is a state owned enterprise under directly management of the State-owned Assets Supervision and Administration Commission of the State Council, and ranked 187 in the world's top 500 in 2019. China National Building Materials Group is the world's largest comprehensive building materials industry group, the world's leading new material developer and comprehensive service provider, and has the strongest scientific research strength in the field of building materials and non-metal new materials. CNBM INTERNATIONAL CORPORATION is a brand-new platform built by China National Building Materials Group that focuses on non-metallic materials trading.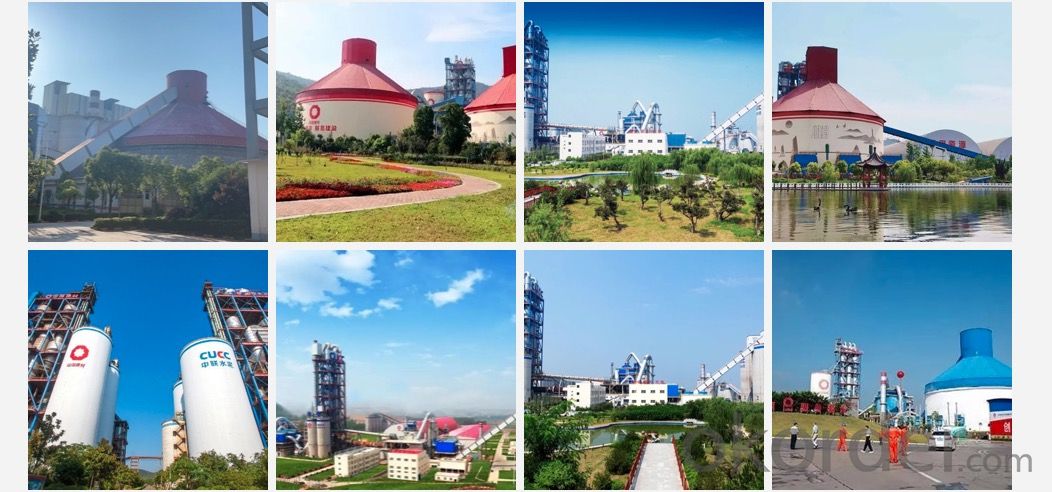 Q:Are you a trading company or manufacturer?
A:CNBM is a large-scale central governmental industrial group with its own manufacturing sector, research and development sector, trading sector and logistics sector.
Q:I have some special requirement about specifications.
A:We have a well-rounded product range, which endows us with the capability of applying many special specifications. Please feel free to contact us with yours.
Q:Do you accept OEM service?
A:Yes, we do.
Q:What is your delivery time?
A:It depends on the size/complexity of your order and our own production schedule. Usually we provide a faster delivery than the industry's average.
Q:What is the payment term?
A:TT and LC are both Okay.
Q:Can I have my own logo on the product?
A:Sure, we can apply your own logo on the products according to your drawings.
Q:This crack has caused a layer of cement wall, about 1/2 inch thick, to fall off. The area of the layer that has come off is about 1ft by 1ft. Do I need to add cement to the wall to fix it? My house is a 1920-40 era colonial so the house is pretty old. The basement wasn't finished, but there was drywall on the wall where the crack was. I removed the wall because of water damage and I found the crack. I am not going to finish the basement, I just want to waterproof the wall, paint it and have the exposed concrete. I plan on doing this myself if it is possible. Additionally I found some thin roots in the wall where the 1/2in layer of concrete came off. Should I be worried about that? Thanks in advance.

You can buy a two part poly injection system on line that will fix the crack.After the crack is fixed fix the 12x12 area with a vinyl concrete.
Q:What would it cost for 7 square yards of cement?

Concreate is sold in cubic yards, so it depends on how deep it will be. Measure the depth and convert to cubic yards. Concreate is anywhere from $65 to $125 a yard depending on your location.
Q:It's for my Science hw....

Cement is not poisonous (since it is made from burnt stone) but I have never heard of anyone tempted to eat it. It is definitely not flammable (and is used for fireproofing over steel beams). If there is a great cloud of cement dust in the air in an area that has a source of ignition that dust could explode (not very common and only applies to the dust.) It is mildly corrosive when wet before it cures (only a problem during first few days after pouring it).
Q:What is the best method for homemade Cement?(Not Concrete)?

I am pretty sure the Romans created cement and needless to say they didn't have a Home Depot to buy cement by the bag at. The guy is asking if you had to how can you make homemade cement. What you need is limestone, clay and bauxite which contains small amounts of iron and aluminum. Crush the limestone-(30%) into fine powder mix with clay-(65%) and add about 5% crushed bauxite. That's it you have cement! Like any homemade recipe ingredient quality will vary so there is sure to be some trial and error.
Q:How a cement solution is prepared;;what is effect of quick setting of cement;;?

cement is an ingredient in concrete. It sets with the chemical reaction of Calcium carbonate (limestone) and water to form a hard substance.
Q:i would like to know how the cement grade be checked? kindly let me know what other test can be done to know the quality of cement?

Don't usually check the portland cement, usually you test the concrete mix to assure it gives you the strength you desire. This is usually done with actual breaks of cylinders made from the mix you want to use, done before the mix design is approved. Then, additional cylinders are cast while placing the concrete and tested at intervals over a 28-30 day period to make sure the concrete strength meets your requirements. The exact number of cylinders is usually decided by the owner or engineer, based on the amount of concrete poured at one time. The minimum number of cylinders is usually 3, one to break at 3-7 days, one to break at 28-30 days, and one spare.
Q:I want to build a 5000 gallon pond using cement, but I am kind of having trouble finding resources on how to do this.I would like to know how to install an externail pump, and how do I do the drain???How do I put the plumbing in? Would this be buildt pretty similar to a pool?What has to be done to the cement to make it safe for fish?Would making it out of cement be cheaper than liner?There are no rocks in FL, so we are going to have a company come out and quot;makequot; the rocks for us. They do a FABULOUS job sculpting rocks from rebar and cement. I would have to have a cement pool in order to have them do this, though. So that is why it needs to be out of cement.If you can find ANY resources for me on how to do any of this, Id be eternally greatful! Im so excited to get my pond going!!!!

Ideas4Landscaping is a extensive multimedia resource database of in excess of 7000 large-resolution images and 300 systematic guides , themes and video tutorials for people seeking for landscape tips and inspiration all around their very own home. If you are a landscape gardening enthusiast of any sort , you need to by Ideas4Landscaping , a package with a lot of fantastic materials to stimulate undertaking suggestions.
Q:Wet CementAs I walk past the old sidewalkMemories race through my mindThose little kids; they wrote in chalkBut we, we wrote on wet cementYou took a stick and wrote our namesWith a cute little heart in betweenA smile spread on both our facesBut that was when we were fourteenThose words on wet cementWill never fade awayThough I cannot say the sameFor each word you say?2008====please give me some feedback and maybe how i can make the poem better. thanks :)

wow! that was great! i'd give it a 7 though i dont like the ending so much maybe elongate it? other than that it was very cute!
Q:My contractor put in a couple of feet of cement board around the lower tub region, but on the upper half of the tub (shower head portion) he put in drywall. He taped the joint where the drywall and cement board meet. A friend who has done some tiling told me that there could be movement on the joints between the cement board and the drywall, which would cause the grout to fail and start to come out. He also didn't like that drywall was used.

Yes, you should be able to just replace the area of wood that is bad. So assuming that this does not go under the shower, there is no reason to remove it. just cut the bad wood out, back to the center of the joist on either side. Add a couple blocks between the joist at the joints of the sub floor and put down a new piece of plywood.
Q:then how much ice will be requiredIf Specific heat of cement is 0.84 Kj/Kg KLatent heat of melting of ice is 334 KJ/Kg K

Not sure if this is a practical or theoretical question.If practical, the amount of ice must be calculated in advance, and the cement mix adjusted . If the mix is made regular, the addition of ice to cool it will make the final mix incorrect.
1. Manufacturer Overview

Location
Year Established
Annual Output Value
Main Markets
Company Certifications
2. Manufacturer Certificates

a) Certification Name
Range
Reference
Validity Period
3. Manufacturer Capability

a)Trade Capacity
Nearest Port
Export Percentage
No.of Employees in Trade Department
Language Spoken:
b)Factory Information
Factory Size:
No. of Production Lines
Contract Manufacturing
Product Price Range