E-Glass Fiber Chopped Strands For BMC
Loading Port:

China Main Port
Payment Terms:

TT or L/C
Min Order Qty:

1 ton kg
Supply Capability:

500 Tons Per Month kg/month
OKorder Service Pledge
Quality Product
Order Online Tracking
Timely Delivery
OKorder Financial Service
Credit Rating
Credit Services
Credit Purchasing
---
Add to My Favorites
---
Introduction of E-Glass Fiber Chopped Strands For BMC
E-Glass Chopped Strands for BMCare widely used in transportation,construction,electronics,chemical industry and light industry,such as the automotive parts,insulator,and switch boxes.
Product Features of E-Glass Fiber Chopped Strands For BMC
1.Low viscosity and excellent flowability of the BMC paste
2.Low static and low fuzz, fast and good dispersion in resins
3.Good processing and excellent mechanical properties
Packaging of E-Glass Fiber Chopped Strands For BMC
The product can be packed in bulk bags, heavy-duty box and composite plastic woven bags;
For example:Bulk bags can hold 500kg-1000kg each; Cardboard boxes and composite plastic woven bags can hold 15kg-25kg each.
Storage of E-Glass Fiber Chopped Strands For BMC
Unless otherwise specified, fiberglass products should be stored in a dry, cool and rain-proof area. It is recommended that the room temperature and humidity should be always maintained at 15ć-35ćand 35%-65% respectively.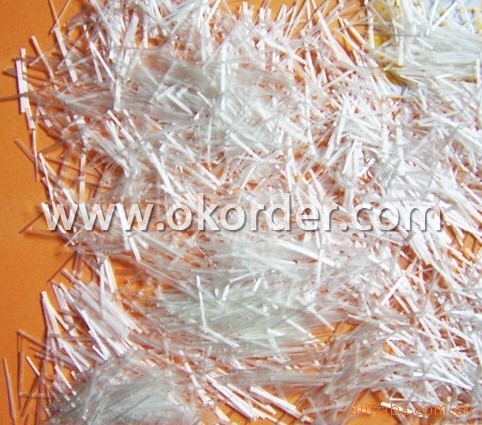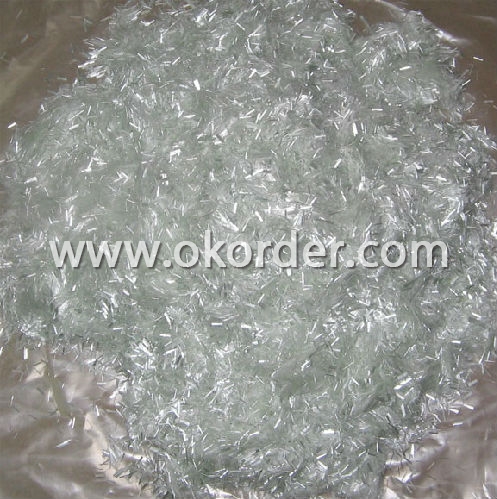 Q:nan

"Clay crucible method" is the most primitive method, "platinum substitute crucible", the raw materials is glass ball "clay crucible method", the poor quality of products, "pool kiln method" is banned. The raw material is powder mixture with pyrophyllite. "Platinum crucible method" is widely used at present. "Tank furnace method" is the most advanced technology. The main raw material is waste broken glass.
Q:nan

It is a kind of excellent inorganic non-metallic materials, having the advantages of good insulation, good corrosion resistance, which is equivalent to a piece of hair. It is founding by high temperature with the raw materials of glass ball and waste glass. It has the advantages of high mechanical strength, electrical insulating and thermal insulation and heat resistance. Each bundle of fibers is made of hundreds or even thousands of root filaments. The diameter range from several microns to twenty micron.
Q:nan

Leather, silicone, plating, red twill, the largest area can produce 1000mm * 500mm carbon fiber board (color carbon fiber board)
Q:nan

It is mainly made by polyacrylonitrile and asphalt spinning, surface treatment and sizing process. The disparity in the domestic low-level product is small, carbonization (followed by graphite). The disparity between domestic and foreign is very large, and then by pre oxidation, but the high-end product(both high performance) can not do it, because it is too difficult.
Q:nan

As long as ring formation, the thing which includ the ring and has a continuous carbon skeleton can be burn into carbon fiber.
Q:Where can I cut short glass fiber?

Let's talk about the concept, also called glass fiber short cut, or glass fiber segment, usually using a special soaking agent of the original silk, through wet short cut online.
Q:nan

Along the fiber axis, it present very high strength; therefore the specific strength of CFRP material intensity and density can be achieved above 2000 MPa; high performance carbon fiber which made from polyacrylonitrile fiber precursors have tensile modulus about 200 to 700GPa. Some studies have pointed out that young's modulus (refers to the physical quantity that is characterized by the tensile or compressive strength of the material within the elastic limit) is 2 times more than that of the glass fiber. High purity and high temperature carbonization were used to prepare high performance PAN based carbon fiber, which gave the fiber chemical activity, viscose based carbon fiber. Carbon fiber's manufacturing progress includs fiber spinning. Comparing with aluminum and other metal materials, it is 7 to 9 times of strength of steel. In the early stage of aerospace grade carbon fiber, 3K is the main category, then the fiber is further produced by crosslinking, with its elongation rate greater than 2%. The equipment is complex, and it is destroyed. As it contains a large number of variables, like oxidation and oxygen, but the first two kinds of carbon fiber is mainly produced. The graphite is generally in the 2500 to 3000℃.
Q:nan

5mm, 12mm, 3mm, 9mm.5mm, 6mm, 41, 24mm, etc.
Q:Is chopped glass fiber harmful to people?

The general concept of glass is hard and brittle objects, but it is not suitable for timber structure as its thread, strength is greatly increased and is flexible, with resin to give it shape can finally become excellent timber structure. Glass fibers increase in strength as their diameter decreases.
Q:nan

Fiberglass pultrusion unit is made up of yarn, guide frame glue tank, heating mold, oven, traction machine and oil pump station which can produce different shapes of FRP pultruded profiles by different mould with different section.
The products include textile yarn and a wide variety of reinforcement materials such as E-glassfiber roving, mat (emulsion/powder), woven roving, multi-axial fabric, chopped strand long fiber thermoplastics (C. S-TP, LFT), and other products.
1. Manufacturer Overview

Location
Chongqing, China
Year Established
1971
Annual Output Value
Above US$ 50 Million
Main Markets
North America, Eastern Europe, Southeast Asia, Mid East, Eastern Asia
Company Certifications
ISO9001
2. Manufacturer Certificates

a) Certification Name
Range
Reference
Validity Period
3. Manufacturer Capability

a)Trade Capacity
Nearest Port
Chongqing
Export Percentage
40%-50%
No.of Employees in Trade Department
21-50 People
Language Spoken:
English
b)Factory Information
Factory Size:
Above 2000,000 square meters
No. of Production Lines
Above 4
Contract Manufacturing
Product Price Range
Average