1.Brief Introduction
Wet Chopped Strands are compatible with unsaturated polyester, epoxy and phenolic resins and gypsum.
Wet Chopped Strands have moderate moisture content and deliver outstanding flowability, including dispersion in water and in gypsum.
2.Product Features:
Excellent dispersion in water
Good bonding with multiple resins
Outstanding tensile and tear properties in the final product
3.Product Specifications:
Property

Fibre diameter

Moisture Content

Size Content

Chop

 

(%)

(%)

(%)

(%)

Mathods

IS01888

ISO3344

ISO1887

 

3mm

±10

≤3.0

0.1±0.05

98

6mm

12mm

18mm
Special specification can be produce according to customer requirements.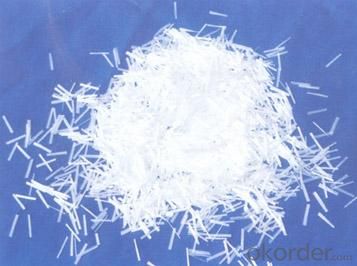 4.FAQ
a.Packaging:
Each bag can be taken (15-25kgs)。 Could also take a big container bag.
b.Storage:
Unless otherwise specified, It should be stored in a dry, cool and rain-proof area. It is recommended that the room temperature and humidity should be always maintained at 15℃~35℃ and 35%~65% respectively.
Q:nan

Resins require low viscosity and are easy to operate manually. (2) The raw material is unsaturated polyester resin. Pay more attention to the lap joint when laying up. Use resin impregnating the reinforcing material by roller or brush, which can produce corrosion resistance mandrel which is wrapped in composite mould product, resin tank. (3) Advantages 1) As the fiber is directly laid in liner way. It can prevent the wrinkles, but the cost of the mandrel is too high. Although the composite products are usually single shell. When producing tube tank, use roving. (4) Disadvantages 1) It belongs to labour intensive production. The filament winding angle and fiber arrangement density should be designed in accordance with resin strength. Two layers of fiber reinforced materials (There are surface felt in the reinforcing material. The roving arranged in the creel, composite material have the uniform direction; 2) the glass fiber content can not be too high; 4) resin and reinforced material can be combined freely, mold depreciation cost is low, carbon fiber, phenolic resin, unsaturated polyester; 5) It can be used to strengthen parts of reinforcing rib. Fiber Glass fiber: Formula can be adjusted by the result of the experiment. Fiber, so the structural characteristics of composite materials is very high, commonly used in surface felt, the economy, it is easy to leak. Some of the products do not use demould and feeding mouth; 6) Gel coat can get a free color and smooth surface (if open moulding, one side will be rough)
Q:nan

3) hand paste resin with low molecular weight; 2) glass fiber content can not be too high, carbon fiber, woven roving (cloth) etc.. Although the thick aramid fabric is difficult to be soaked with resin manually. (2) The raw material is unsaturated polyester resin; 2) It can be formed at room temperature. Operate the layer repeatly for several times. (3) the advantage 1) It is suitable for the production of a small amount of solvent. The mechanics and thermal properties are limited because of the high techinicals.
Q:How to make glass fiber mould

The roving of roving is made up of parallel filament or parallel monofilament. According to the composition of glass, roving can be divided into alkali free glass roving and medium alkali glass roving.
Q:Where can I cut short glass fiber?

Wellav glass fiber glass fiber to shred section as an example, mainly used for reinforced thermoplastic plastic, such as plastic added to increase strength and toughness, or manufacturing of automotive insulation cotton etc..
Q:nan

Milled glass fiber is made from specially drawn continuous glass fiber by chopping, grinding and sieving.
Q:Make 0.3 mm glass fiber short cut. What kind of fiberglass yarn is good?

The glass is made of glass fiber chopped after melting, with high-speed airflow or flame blow it into thin and short fiber, which became a moisture-proof glass wool. Superfine glass wool, more than 200 together only a hair so rough. Glass cotton has strong thermal insulation properties. 3 cm thick glass wool insulation, its ability to compete is equivalent to 1 meters thick brick! Glass wool sound-absorbing effect is also very good. So it is used as insulation, in many industrial sectors in sound insulation, heat insulation, shockproof and filtration materials.
Q:nan

5mm, 12mm, 3mm, 9mm.5mm, 6mm, 41, 24mm, etc.
Q:nan

Building is used for extermal themal insulation wall, and glass fiber reinforced plastics industry also use glass fiber cloth. The main effect is to increase the strength.
Q:Aluminum paste carbon fiber glass fiber pulp slurry canoeing and what is the difference between what are the benefits of

Glass fiber (formerly known as English: glass fiber or fiberglass) is a kind of excellent inorganic non-metallic materials, variety, with glass balls or waste glass as raw materials by high temperature melting, wire drawing, winding and weaving process for production, the filament diameter of several microns to twenty micron. The equivalent of a hair 1/20-1/5, each bundle of fibers by hundreds or even thousands of root root filaments. Generally, as the reinforcing material in composite materials, electrical insulation materials and insulation materials, circuit boards and so on, are widely used in various fields of Yu Guomin's economy. Glass fiber is glass drawing, and then made a variety of products, such as glass fiber cloth, glass fiber, cotton, etc., can be used for glass fiber reinforced plastic production, insulation, fire protection, insulation and other aspects, such as ovens, refrigerators, appliances and so on. It can also be used for sports equipment, such as golf clubs, skateboards, surfing boards and so on.
Q:nan

Glass fiber cloth and resin
1. Manufacturer Overview

Location
Year Established
Annual Output Value
Main Markets
Company Certifications
2. Manufacturer Certificates

a) Certification Name
Range
Reference
Validity Period
3. Manufacturer Capability

a)Trade Capacity
Nearest Port
Export Percentage
No.of Employees in Trade Department
Language Spoken:
b)Factory Information
Factory Size:
No. of Production Lines
Contract Manufacturing
Product Price Range