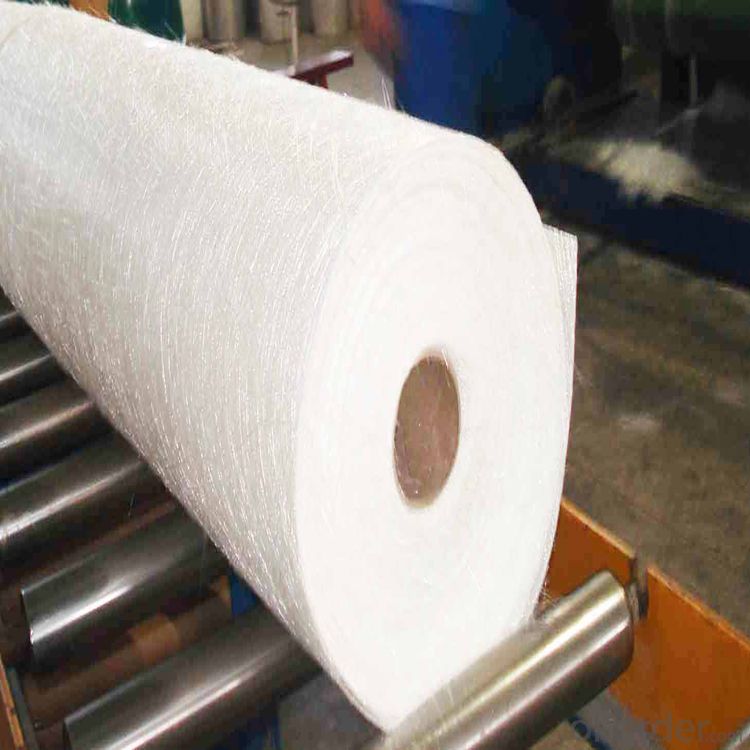 Product Description:
Fiberglass Chopped Strand Mat is fine strand reinforcement material made from E-glass cut fibers laid in a random pattern and bonded with powder or emulsion binder.
It is easy to handle and has excellent moulding performance.
Also, it has rapid resin penetration together with a fast strand wet out time.
The mat also brings a highly translucent finished laminates.
Also,the fine strand input makes the fiber prominence at the finished laminates surface extremely low.
Features
1.Excellent weight uniformity
2.Fast wet out
3.Easy air release
4.Excellent transparency of finished products
5.Excellent laminate
6.Low resin consumption
Application
1.Translucent roof panel
2.chemical storage tanks
3.FRP pipes
4.Boat hulls
5.Decks
6.Truck body panel
7.Cooling towers
8.Corrosion resistand
Specifications:

| | | | | | |
| --- | --- | --- | --- | --- | --- |
| Item | Over Density | Moisture Content | Chop Density | Polyester Yarn | Width |
| | (g/m2) | (%) | (g/m2) | (g/m2) | (mm) |
| EMK300 | 309.5 | ≤0.15 | 300 | 9.5 | 50-3300 |
| EMK380 | 399 | | 380 | 19 | |
| EMK450 | 459.5 | | 450 | 9.5 | |
| EMK450 | 469 | | 450 | 19 | |
| EMC0020 | 620.9 | | 601.9 | 19 | |
| EMC0030 | 909.5 | | 900 | 9.5 | |
Special products are available according to customer's requirement.
Product Packaging:
Each Surface Tissue is wound onto a paper tube which has an inside diameter of 76mm and the mat roll has a diameter of 330mm. The mat roll is wrapped up with plastic film,and then packed in a cardboard box or wrapped up with kraft paper. The rolls can be vertically or horizontally placed. For transportation, the rolls can be loaded into a cantainer directly or on pallets.
Quantity
20'GP Container:About 10000kgs
40'HP Container:Aboout 23100kgs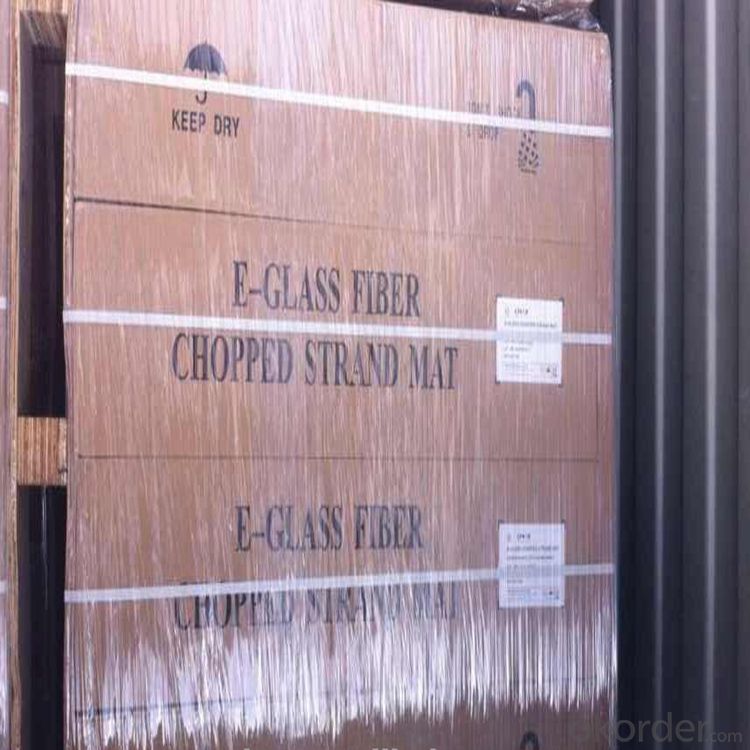 Product Storage:
Unless otherwise specified, Chopped Strand Mat should be stored in a dry, cool and rain-proof area. It is recommended that the room temperature and humidity should be always maintained at 15℃~35℃ and 50%~75% respectively.
Company Information
CNBM (China National Building Material) Group is the largest comprehensive building materials group in China that in integrate scientific research, manufacturing and logistics into one entity. The largest building materials and equipment specialists in China. Upon State Council approval, today CNBM owned more than 300 subordinate manufacturing factories and servicing companies. There are 6 fully owned public listed companies and 11 partially owned with substantial shares public listed companies. In many of these fields, CNBM is playing the leading role in the building industry in the country.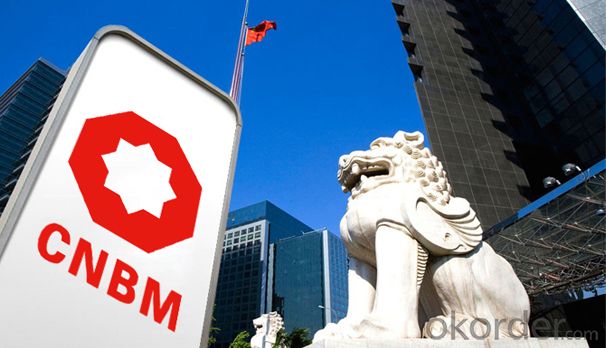 Our Service:
1.Any inquiry will be replied within 24 hours.
2.Professional manufacturer.
1) Print logo in the products;
2) The size and specification can be produce and design according to your demand.
3.High quality,fashion designs,reasonable and competitive price,fast lead time.
4.After-sale service
1) All products will have been strictly quality check in house before packing.
2) All products will be well packed before shipping.
3) All our products have 10 years rot resistance.
5.Faster delivery:sample order in stock,and 15-20 days for bulk production.
6.Payment:you can pay for the order via:T/T,Western Union,MoneyGram,L/C etc.
FAQ:
which kind of glass fiber sample and materials can you provide?
We can provide the glass fiber and glass fiber down stream products samples of E glass, C glass, ECR glass, High alkali glass. The products includes single end roving, assembled roving for different applications( Piping, SMC, panel, winding mill plate) , chop strand for BMC, engineering plastic (PA, PPA, PPT, POM, etc), chop strand mat (from 100gsm-900gsm) for automobile and water tank, etc, woven roving (270gsm-800gsm), surface tissue (25-50gsm), multi-axial fabric of different unit weight.
Q:nan

Leather, silicone, plating, red twill, the largest area can produce 1000mm * 500mm carbon fiber board (color carbon fiber board)
Q:nan

The simplest way is melting the glass and steel and then combining them together.
Q:nan

3) hand paste resin with low molecular weight; 2) glass fiber content can not be too high, carbon fiber, woven roving (cloth) etc.. Although the thick aramid fabric is difficult to be soaked with resin manually. (2) The raw material is unsaturated polyester resin; 2) It can be formed at room temperature. Operate the layer repeatly for several times. (3) the advantage 1) It is suitable for the production of a small amount of solvent. The mechanics and thermal properties are limited because of the high techinicals.
Q:nan

The former one is called carbon - carbon composite material which is made from carbon fiber.
Q:Where can I cut short glass fiber?

Let's talk about the concept, also called glass fiber short cut, or glass fiber segment, usually using a special soaking agent of the original silk, through wet short cut online.
Q:nan

Basically it does not increase the component section, and the increase of the self weight of structures can be ignored, which can ensure it can work with the original reinforced concrete members together and get good reinforcing effect. It is widely used in building structure reinforcement. 2 convenient construction: It boasts less occupied site, no need of large machines, no construction, no fire, no fixed site facilities, high construction efficiency. 3 high durability: It does not rust, and is very suitable for using in high acid, alkali, salt and corrosion environment. Also it has the ferte of high anti fatigue strength, wear resistance, anti-aging, etc.. The characteristics of carbon fiber composite material is a lightweight and high-strength, but processing is difficult. There are great differences among the carbon fiber production which adapt difernent technology, so as to the differences between different trade marks. But it certainly is in terms of strength, toughness and corrosion resistance are higher than the Aluminum Alloy steel and carbon fiber products. Once the damage is hard to repair, such as a piece of carbon fiber composite plate cracking, it must be replaced by a whole plate, but it can not be repaired by welding and other ordinary methods.
Q:nan

High-intensity Geonet, Geotextile, Uniaxial Plastic Geogrid, Steel-plastic composite Geogrid, Composite geomembrane, and two double to the grid line, Maree Modoo axial loom, Fiberglass geogrid, Polyester geogrid, Geonet, two one-way grille production line, Dornier loom.
Q:Plastic fiber content in how to detect, there are no professional instruments?

Glass fiber is a kind of inorganic non-metallic material with excellent performance. It has many advantages, such as good insulation, good heat resistance, good corrosion resistance, high mechanical strength, but its disadvantages are brittleness and poor wear resistance.
Q:Aluminum paste carbon fiber glass fiber pulp slurry canoeing and what is the difference between what are the benefits of

Carbon fiber (carbon, fibre) inorganic polymer fiber containing more than 90% carbon. Which contains more than 99% carbon fiber called graphite fiber. Carbon fiber axial strength and high modulus, no creep, fatigue resistance, between heat and electrical conductivity between the metal and non metal, low thermal expansion coefficient, good corrosion resistance, low fiber density, good permeability of X ray. But its impact resistance is bad, it is easy to damage, and it will oxidize under the action of strong acid. Metal carbonization, carburization and electrochemical corrosion will occur when combined with metal. Therefore, carbon fibers must be treated before they are used.
Q:nan

Among them, but the same plastic toughness will decrease, but after entering in 90s, glass fiber plain cloth, with the global glass fiber modified plastics: woven fabric called knitted mat or woven mat, wet mechanical strength shall meet the requirements of glass fiber joints, in line with the State Bureau of building materials in the requirements of the market development strategy. It also can prevent thecrack of the paint.
1. Manufacturer Overview

Location
Year Established
Annual Output Value
Main Markets
Company Certifications
2. Manufacturer Certificates

a) Certification Name
Range
Reference
Validity Period
3. Manufacturer Capability

a)Trade Capacity
Nearest Port
Export Percentage
No.of Employees in Trade Department
Language Spoken:
b)Factory Information
Factory Size:
No. of Production Lines
Contract Manufacturing
Product Price Range