Ductile Iron Flange Adaptor
Loading Port:

China Main Port
Payment Terms:

TT or LC
Min Order Qty:

20 PCS pc
Supply Capability:

1000 Ton Per Month pc/month
Inquire Now
Customer Service
OKorder Service Pledge
Quality Product
Order Online Tracking
Timely Delivery
OKorder Financial Service
Credit Rating
Credit Services
Credit Purchasing
---
Add to My Favorites
---
Product Introduction & Specifications of Ductile Iron Flange Adaptor
Flanged Adaptors are designed for pipelines, As a wide tolerance system.
It will fit most standard pipe materials and therefore dramatically reducesthe number of dedicated Flanged Adaptors which need to be stocked for maintenance purposes.
It is suitable for steel, GRP, PVC, PE, Ductile Iron, Cast Ironand Asbestors Cement.
When connecting PE pipes, It is important that pipe inserts are fitted to the PE pipes.
Body
DN50-DN300: Ductile Iron ASTM A536 65-45-12/GGG40/BS2789 450-12
DN350-DN600: Cast Steel
Gasket:
EPDM: for potable water
NBR: for natural gas, petroleum products, oil and compressed air.
Coating: Fusion bonded epoxy, thickness 250um up.
Fasteners:
T bolt with nut and washer.
Bolt to EN20898-1 Grade 8.8 with dachromate coating with thread protect cap.
Stainless steel fastener can be supplied upon request.
Pressure Rating: PN10/16
Fluid Temperature: 0°-50°C, excluding frost
Dimensions of Ductile Iron Flange Adaptor
SIZES

RANGE

U.WGT

BOLT SIZE

BOLT

kgs

QTY

DN40

48-60

3.00

M12 X 115

2

DN50

59-72

3.30

M12 X 115

2

DN65

72-85

3.80

M12 X 115

2

DN80

88-103

4.80

M12 X 115

4

DN100

105-122

4.90

M12 X 115

4

DN100

109-128

4.90

M12 X 115

4

DN125

125-140

5.50

M12 X 115

4

DN125

132-146

6.75

M12 X 115

4

DN125

138-153

6.75

M12 X 115

4

DN150

155-175

7.50

M12 X 115

4

DN150

159-182

7.55

M12 X 115

4

DN175

192-210

9.60

M12 X 115

4

DN200

218-235

8.70

M12 X 115

4

DN225

230-247

11.80

M12 X 115

6

DN225

250-267

13.50

M12 X 115

6

DN250

265-280

13.90

M12 X 115

6

DN250

272-289

13.60

M12 X 120

6

DN300

315-332

15.00

M12 X 135

6

DN300

322-339

15.50

M12 X 135

6

DN300

332-349

16.60

M12 X 135

6

DN350

340-360

40.00

M14 X 160

8

DN350

351-368

36.00

M14 X 160

8

DN350

374-391

36.00

M14 X 160

8

DN400

394-412

36.00

M14 X 160

8

DN400

400-429

36.00

M14 X 160

8

DN400

410-436

36.00

M14 X 160

8

DN400

425-442

38.00

M14 X 160

8

DN450

455-472

48.00

M14 X 160

8

DN450

476-493

46.00

M14 X 160

8

DN450

480-500

46.00

M14 X 160

10

DN500

500-535

49.00

M14 X 160

10

DN500

526-546

49.00

M14 X 160

10

DN500

555-572

55.00

M14 X 160

10

DN600

566-583

55.00

M14 X 160

10

DN600

582-599

55.00

M14 X 160

10

DN600

600-635

58.00

M14 X 160

10

DN600

630-650

58.00

M14 X 160

10

DN600

645-662

66.00

M14 X 160

10

DN600

662-679

66.00

M14 X 160

10
Packing and Installation Instructions of Ductile Iron Flange Adaptor
1. Examine the pipe ends and ensure they are round, smooth, free from bulges, dents and score marks and within the outside diameter range given on the adaptor label. Weld beads mustbe ground flush maintaining correct surface profile. Ensure that pipe ends are free from scale rust or any loose debris or other surface defect that may affect coupling performance.
2. Check grade of gasket is suitable for conveyed medium.
3. If the adaptor has T bolts between the main flange body and end ring ensure that their heads are correctly located in the recesses in the back flange face.
4. Place the adaptor onto pipe end. Adjust the setting gap between pipe end and adaptor as necessary. Ensure that the pipe end is concentric with the bore of the mating flange.
5. Fit flange gasket and ensure it is concentric with the flange connecting bolts, procedures. Bolt the adaptor to the mating flange using standard bolting.
6. Tighten diametrically opposed T bolts/studs giving the nuts one or two turns at a time to thoroughtly draw up the end ring evenly. The nuts must be tightened, working around the flange adaptor as many times as necessary. On completion, radial gap between pipe and flange adaptor end ring should be even all the way round. Rubber may be seen to extrude into the gap.
Usage and Strict Quality Control of Ductile Iron Flanged Adaptor
We regards quality as an essential and integral part of our business success. To meet this, we have achieved all types of world-known certificates, making our brand products has evolved as a mark of quality!
An independent Quality Control is supervised directly by General Manager and responsible for following duties:
All inspections on raw material, semi-finished and finished products.
Tensile Strength, Hardness, Elongation and other Physical analysis.
Chemical Composition Analysis.
Dimension measurement, Visual, Conformation to standards.
Water Pressure Test.
Identifying, Recording and Disposing of rejected material.
Other Tests.
All of our manufacturing processes are strictly under control based on ISO 9001: 2008 Quality Management System.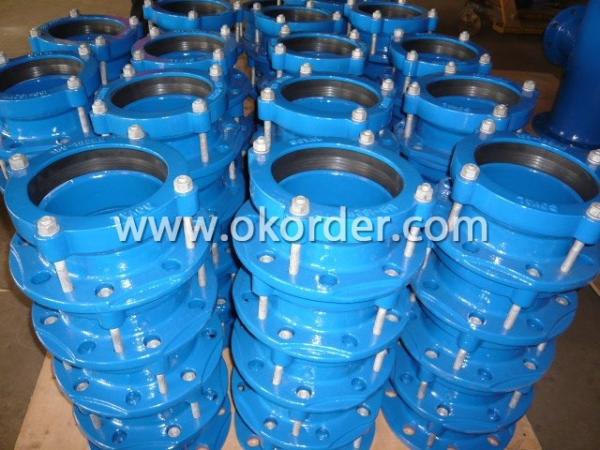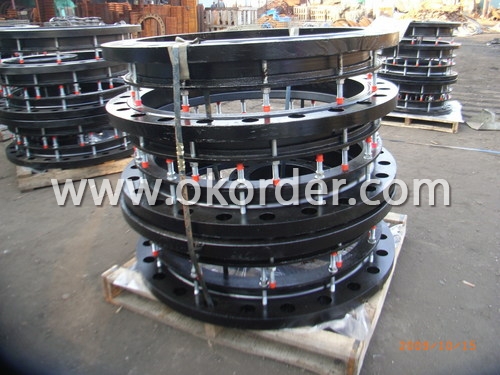 If you have other question, please feel free to contact us at any time.
Q:what is &curved space&?

1. The product. Are they making a product that has a market? They can make the best iron pipe fittings in the world, but if every body is using plastic pipe fittings, that company is not long for this world. 2. Customer base. Is 90% of their business generated by a single customer?? Stay clear! If that company would have financial difficulty, it could wreck the best companies.and if it were to lose that customer, lights out! 3. Debt to equity. Is the co heavy with long term debt, and are accounts payable current? Then, the co has adequate cash flow to pay its bills. 4. Legal issues. Not necessarily lawsuits, but are they disposing of waste in a questionable manner? Is their facility surrounded by fields that are giving way to housing developments? true, the co was there first, but all it takes in one person buying a new house who is going to complain about heavy trucks going in and out of your property. 4. Are their workers represented by a Union. Non union work forces are more flexible. 5. ifs there room for future expansion? There are others, but these , to me, are very important.
Q:okay. i just recently started masturbating. and i've only been using my finger but, once ur finger is in ur vagina, what do u do next? no rude comments, pleasethanks, and happy holidays!

I go with Shannon on the blood tests. This sounds like equine ME which has affected our dressage horses at one time or another over the years. It is a post viral syndrome and can last YEARS if not treated. If he used to be a dressage horse then he used to have energy. Once you have seen to the bloods and if needed put him on a blood tonic like RedCell. you ought to see an improvement. Also check he has no stifle pain. We have a horse with stifle problems and he will not go forward. He is about to become a field decoration as the treatment only worked for three months, so early detection is key to the problem. If all vet checks are clear then ask someone to ride him for you to see if he is more responsive to a stronger/taller/more experienced rider or not. Finally, I wonder why he was not worked for 5 years?? That answer may well give you the reason for your horses lack of oomph.
Q:I had a stack able washer and dryer and the dryer broke, so we never got another one. I have a standard washing machine and we hang out clothes to dry (we only have 210/220 plugs and can't get a dryer). I use Gain or Wisk detergent and my clothes rarely smell good. Should I buy a smell enhancer for laundry?

Shark branded brass fittings have worked nicely for me; they have a small C wrench that enables fast switch-out of the fitting, for pipe replacement, or fitting configuration changes and they fit CPVC as well as PEX (and K copper too I think?). Freezing is a problem no matter what material is used: all necessary prevention must be taken. Anything will be rendered useless if it gets frozen.
Q:I've never tested my fire alarm (yes I know i'm stupid) but i'm going to get in the habit of testing it each week. My fire alarm was making a strange chirping noise every so often so I changed the battery and its still chirping. There is a yellow light which is on constantly and a red light which flickers off and on. I want to see if it works so I pushed the button and nothing happened. I assumed that's how you tested it?

The water resistant, blue colored, glue is safe for water pipes for humans, so should be safe for the fish. Just give it extra cure time so it drys completely and use the smallest amount that you can to reduce exposure. Since you will be gluing it outside the pond, go ahead and run some fresh water through it after it has set up.
Q:The pipe joint model is 1/2 "-14 teeth / inch". What does this mean?

British thread is the size of the thread in English, marked by the shape of cylindrical, cone two, according to the tooth type angle of 55 degrees, 60 degrees, two kinds
Q:Sit by:the fire or a space heater?Drink:hot chocolate or coffee?tea or hot buttered rum?Eat:cookies or cheesecake?turkey or ham?stuffing or mashed potatoes?Wear:hat or earmuffs?scarf or turtleneck?mittens or gloves?Bundle up with:snuggie or blanket/quilt/throw/comforter/etc?socks or slippers?Weather:snow or rain?

Since you're talking about plumbing - no, there's no reason why a plumber would want to use a clear piece of plexi on the end of a pipe. They'd just put a cap to seal off the end. I don't actually know, but my suspicion is that plexiglass would probably bond to PVC with PVC cement. That's easily tested with scrap. If so, get your PVC pipe and there are lots of fittings that will fit on the pipe and still be open ended - unions, adaptors. Go to Home Depot or Lowes and just shop. Assuming the glue works - glue on the fitting and then just glue on the plexi. You COULD just cut the end of the pipe, but using a fitting will give you a machined-flat surface to glue to.
Q:So far they have wins over,Danny Bryan,Kane,Jawn Seena,Randy Orton,Sheamus,Big Slow,The Undertaker,Ryback,Chris Jericho,pretty much every top face in the company. Now that they've faced and beaten everybody there is to beat,who will they lose to without looking weak? I think a few loses here and there would have help so they could have future matches to avenge the loses.

The consequences may be that your pipe will have a totalitarian containment.
Q:Swagelok sells SWAK at $40 or more for an 8oz. tube. Then there's another brand, something like STALOCK or whatever it's called, and it runs for $68 for an 8oz. tube. On the other hand, you can buy a 16oz. bottle of RectorSeal 5 for $20-$30, and other PTFE dopes for less.So, how do you really evaluate which pipe dope will work for stainless? We had a horrifying time at one plant with 2 SS threaded fittings, seemed they all got galled and leaked. Any ideas? Can you really trust lower end pipe dope?

What is the question? How do they work? Or why doesn't YOURS work? Or some other question?
Q:Hydraulic hose joint is spherical and cone sealing, threaded connection, what is the form of joint?

Hydraulic joints are often spherical joints, concave and convex.2 types of teeth with imperial teeth and unf.
Q:Man, can you send me some national standards? Mainly for hydraulic use

Here you are, some European companies, but you need to download them on the Baidu Library
BENEFIT,is a leading largest and professional manufacturer for ductile iron fittings for water pipelines in China, Products for overseas markets covered all over the world.
1. Manufacturer Overview

Location
Dalian, China
Year Established
2004
Annual Output Value
Above US$ 8 Million
Main Markets
Mid East,Africa, South Aisa
Company Certifications
ISO 9001:2008;
2. Manufacturer Certificates

a) Certification Name
Range
Reference
Validity Period
3. Manufacturer Capability

a)Trade Capacity
Nearest Port
Dalian, Port
Export Percentage
20%
No.of Employees in Trade Department
150 People
Language Spoken:
English; Chinese; Spain; Alabic
b)Factory Information
Factory Size:
Above 3,000 square meters
No. of Production Lines
2
Contract Manufacturing
OEM Service Offered; Design Service Offered
Product Price Range
Average