Portland® Hydraulic coupling connecting motor and reducer
Loading Port:

China main port
Payment Terms:

TT OR LC
Min Order Qty:

1 unit
Supply Capability:

99 unit/month
Inquire Now
Customer Service
OKorder Service Pledge
Quality Product
Order Online Tracking
Timely Delivery
OKorder Financial Service
Credit Rating
Credit Services
Credit Purchasing
---
Add to My Favorites
---
Portland® Hydraulic coupling used for connection between hoist reducer and motor.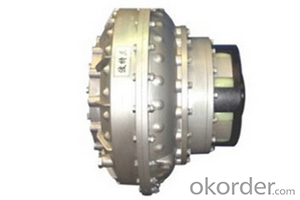 Hydraulic coupling
"The Portland yox" series hydraulic coupling is designed for the transportation of elevators. Professional design of lifting equipment. From the
concept of professional design and quality. The material selection and design of elastic plum blossom block, sealing ring and other accessories are
deeply studied and modified. Metal mold casting; Special heat and oil resistant material seals; Quincunx elastic coupling made of special materials;
Special temperature measurement alarm protection device.
"Portland" technology and equipment have been used in most of the domestic cement companies, and the cooperative relationship is great. We
have established a national professional spare parts warehousing and logistics center for steel cord belt elevators to ensure quality and direct supply
from stock. Besides,we are establishing the plate chain elevators spare parts center and the flender standard gearbox DH series stocking center.

For steel cord belt elevators, our company stocks various types of accessories. Including: steel cord belt, belt clamp, rubber plate, various types of
bucket bolts, head pulley assembly, friction liner, bucket, tail pulley assembly, hydraulic coupling, magnetic coupling and flender gearbox, etc.
1. Manufacturer Overview

Location
Year Established
Annual Output Value
Main Markets
Company Certifications
2. Manufacturer Certificates

a) Certification Name
Range
Reference
Validity Period
3. Manufacturer Capability

a)Trade Capacity
Nearest Port
Export Percentage
No.of Employees in Trade Department
Language Spoken:
b)Factory Information
Factory Size:
No. of Production Lines
Contract Manufacturing
Product Price Range