ceiling grid componets
ceiling grids
tee grid ceiling suspending
Plane T-Grid / T-Bar with Alloy-End
Product Applications:
1) Supermarket, marketplace
2) Service station, toll station
3) Underground, air port, bus station
4) School, office, meeting room
5) Hall, corridor and toilet
6) Sport center
7) Office, store, plaza
8) Hotel, restaurant, kitchen
9) Hospital
Product Advantages:
1. Convenience in installation, it shortens working time and labor fees.
2. Neither air nor environment pollution while installing. With good effect for space dividing and beautifying.
3. Using fire proof material to assure living safety.
4. Can be installed according to practical demands.
5. The physical coefficient of all kinds Suspension Ceiling T bar are ready for customer and designers' reference and request.
Main Product Features:
1) Surface smoothness and easy cleaning
2) High precision, lighter weight, higher strength, better rigidity
3) Strong corrupt proof, weather proof and chemical
4) Easy to match lamps or other ceiling parts
5) Flexible suspension system make each ceiling tiles easy install and disconnect
6) Various patterns are available according to your needs
Product Specifications: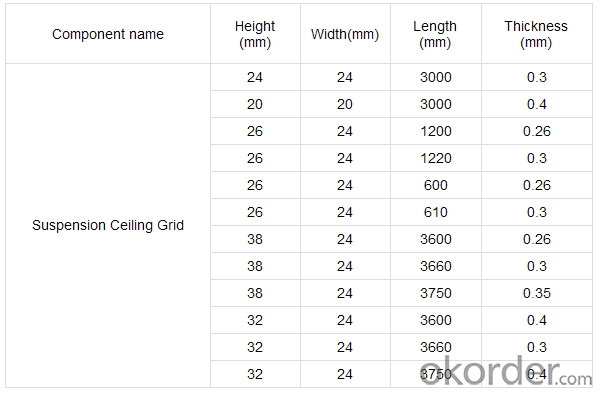 FAQ:
Q:How many the warranty years of your products?
A:15 years for indoor used,20 years for ourdoor used.

Q:Can you show me the installation instruction?
A:Yes,our engineering department is in charge of helping your installation.any question,you can let me know.
Images: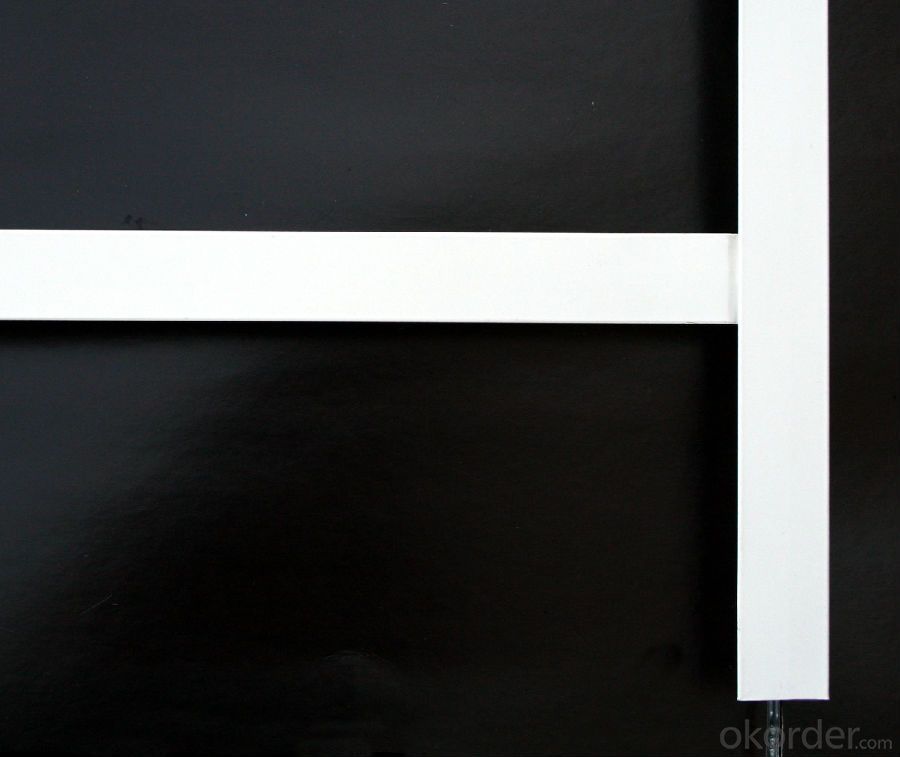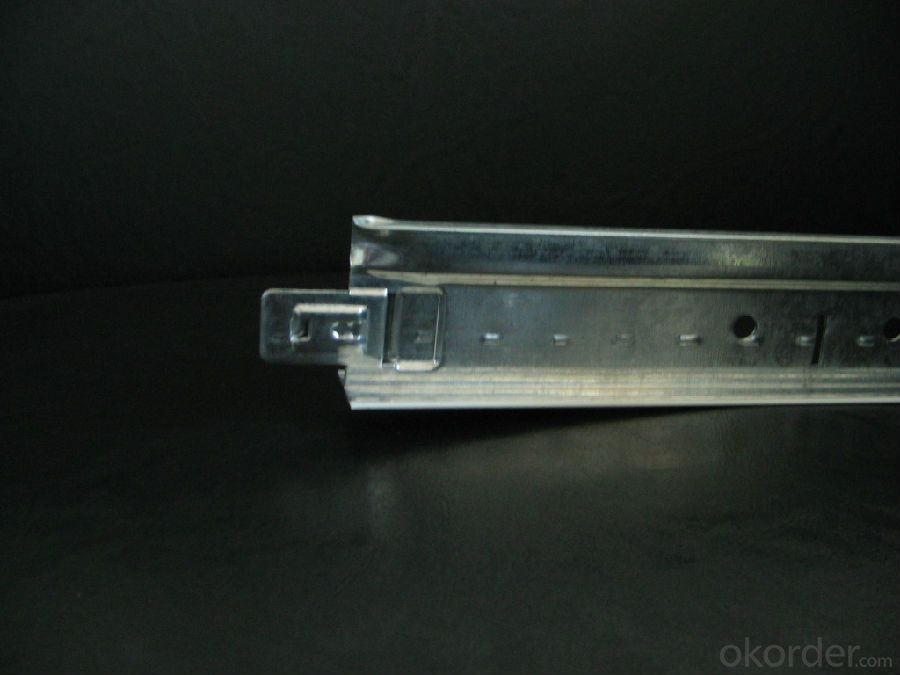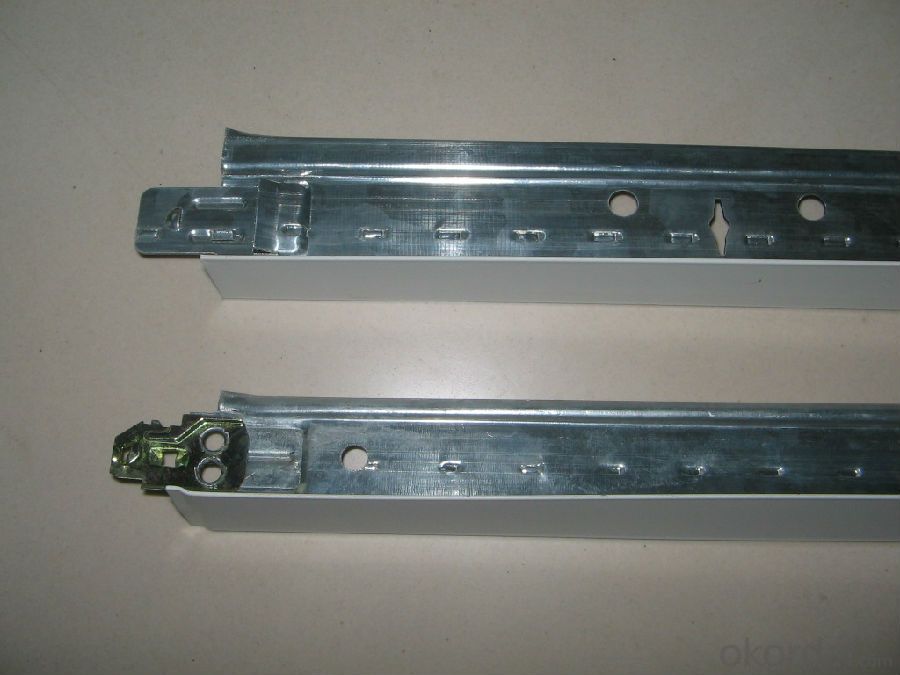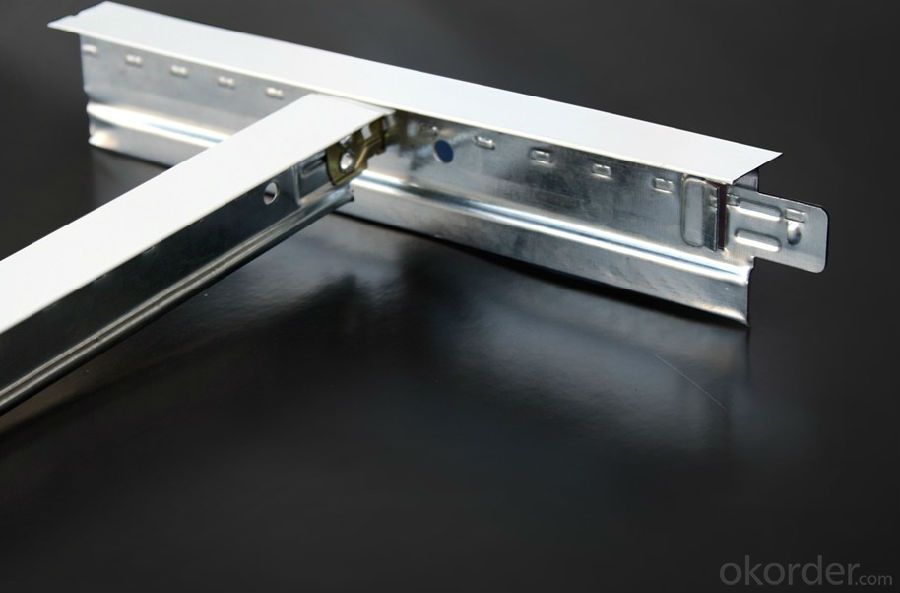 Q:Light steel keel paper gypsum board wall at the bottom of whether to concrete guide wall

If you do not have moisture, you can not do it.
Q:Ceiling with light steel keel

Light steel keel should be more reliable, but also depends on the thickness of the material. The thickness of the material is determined by the load-bearing strength required by the ceiling.
Q:How to use paint keel

Stereo Groove Paint keel. Three-dimensional groove paint keel to double-sided color coated steel strip as raw material, soft color, clear lines, three-dimensional sense of high dimensional accuracy, with tight, with metal ceilings and mineral wool acoustic board supporting the use of modern building interior Ceiling of the classic products.
Q:how do you level ceiling grid for acoustic ceilings?

Their are a couple of ways to level the grid. One is to buy a laser that shoots a level beam that you can measure from. Another is to use a plastic milk jug with a 3/8 clear flexible tube attached to the side near the bottom. Fill the jug 3/4 full of water. Unscrew the cap on the jug. Buy enough 3/8 tubing so that it will reach the entire room from one central spot. Hold the tube up to the wall, wait for the water to settle, and make a mark. Continue this until all marks are created. You may want to buy some blue or green food coloring to see the water line better.
Q:Want to do it yourself, read many times others do, I feel almost can get their own. To separate a few small rooms in the big room. 1, is not the first crossed positioning, heaven and earth keel. And then install the heaven and earth keel and vertical keel fixed, and then wear the heart bone, and then the card to the vertical keel and piercing the heart bone fixed. There are several questions, is not the roof and the ground with the heaven and earth keel, vertical and against the walls are used vertical keel? (What are the main accessories? Fixed use of plastic keel or expansion bolts?) 2, the keel all the good, then install the gypsum board? 3, gypsum board surface treatment is the easiest way to what? Office use, as long as the wall on the line, requiring simple and convenient construction. I know there is a direct wallpaper can be posted, do not know that effect is good. There is no master to stay a q number, so that I always consult, very grateful.

In fact, very simple, I believe you can understand a look. 1. Fixed the use of plastic keel to increase the round head screw (with fixed gasket) on the line. Roof and the ground with the heaven and earth keel, vertical and wall with a vertical keel, no accessories, the interface with a core pulling aluminum rivets or tapping screws. If you want to take a long keel, you can use 20CM long, suitable u-type keel rivets then. (Or open the keel on both sides of the plane rivets) In the crossed positioning, according to the width of the gypsum board, calculate the two plates combined with the size of the middle seam, hammer correction vertical keel vertical. 2. After all the keel is well fixed, fix the gypsum board with the countersunk head screw. 3. Fixed gypsum board, leaving the board interface, use sealing tape tape glue seal, and then painted white or stickers even if you're done.
Q:we had a company install this for us 2 days ago they said it would settle but it still has some falling into rooms. dont know if we made a mistake by blowing it and not just rolling it. someone help please

That is not acceptable. Call the company back and have them fix it. If they aren't willing, tell them you will make a claim against there bond. If you insisted on blown in and they wanted to use bats then it is your issue (not legally but rightly). They still should have made sure to only do things that would work. If your drop ceiling is a grid with acoustic tiles then bat insulation is what you should have used. Most companies will stand by their work. So I would talk with them first and ask them to fix it.
Q:How does the aluminum-plastic plate and the light steel keel connect?

Double-sided tape wrapped around the keel, then the aluminum plate can be affixed to it.
Q:Light steel keel ceiling models which

Wall steel ceiling keel specifications and information decoration materials Light steel keel wall materials are 50, 75, 100, 150 and several other Light steel keel thickness ranging from 0.4mm to 2.0mm.
Q:Living room ceiling, light steel keel gypsum board, the minimum can be hanging?

But depends on your living room size, and the room as a whole, the living room big, high between the high point, the living room small, appropriate low, but the best not less than 2.4 meters, or too depressed
Q:Light steel keel top ten are what

Thickness, zinc content,
1. Manufacturer Overview

Location
Year Established
Annual Output Value
Main Markets
Company Certifications
2. Manufacturer Certificates

a) Certification Name
Range
Reference
Validity Period
3. Manufacturer Capability

a)Trade Capacity
Nearest Port
Export Percentage
No.of Employees in Trade Department
Language Spoken:
b)Factory Information
Factory Size:
No. of Production Lines
Contract Manufacturing
Product Price Range
Hot Searches
Related keywords