Ceiling Grid Best Sale
Loading Port:

Tianjin Port
Payment Terms:

TT or L/C
Min Order Qty:

1X20'FCL pc
Supply Capability:

26 Ton/Tons Per Day pc/month
Inquire Now
Customer Service
OKorder Service Pledge
Quality Product
Order Online Tracking
Timely Delivery
OKorder Financial Service
Credit Rating
Credit Services
Credit Purchasing
---
Add to My Favorites
---
Product Attribute
Standard:GB,CE
Shape:Plane,groove,solid groove
Color:white,black line
Application: suspension ceiling component,for lay in ceiling tiles,mineral fiber board and metal ceiling tiles.
Surface Treatment: hot-dip galvanized and precoated strip steel strip
Height: 38mm,32mm,28mm
Width: 24mm,14mm,16mm
Length:600mm,1200mm,3000mm Type:Cold rolled
Name

Type

Dimension(mm)

Width(mm)

Length(mm)

Unit

Main tee

38T Flat

38×24

24

3000

Piece

32T Flat

32×14

14

3000

Piece

32T Flat

32×14

24

3000

Piece

Cross tee

28T Flat

28×24

24

600

Piece

32T Flat

32×14

14

600/610 1200/1220

Piece

Wall angle

L-shaped

22×22

3000

Piece

L-shaped

20×14

3000

Piece
Specifications of Ceiling Grid
*Quality ceiling T Bar.T grid, Main tee ,cross tee
*Easy installation
*Various sizes
*Hot-dipped galvanizedfree
Advantages of Ceiling Grid:
*rust and corrosion free ceiling,high durability and tensile strength.
*anti-oxidization,wear resistant.
*bearing demands of various ceiling systems and particular project requirement.

Packaging & Delivery
Packaging Detail:Export Standard packing
Delivery Detail:In 15days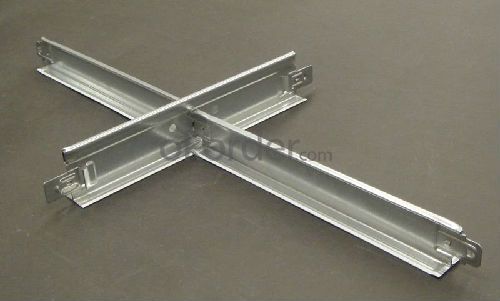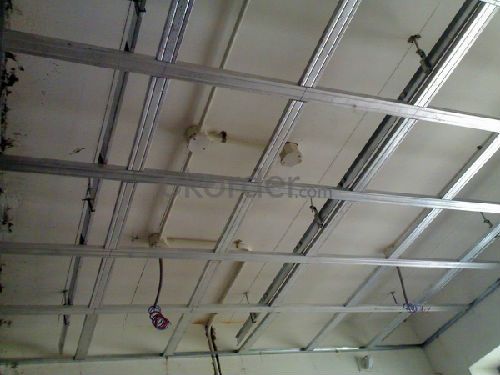 Q:Light steel keel gypsum board ceiling or aluminum-plastic plate ceiling good?

Which depends on where to use, the public places office aluminum-plastic plate is good, good family gypsum board, aluminum plate high cost.
Q:What is the meaning of H38 light steel keel on construction?

Light steel keel height of 38 mm
Q:75 series of light steel keel what are the specifications?

To distinguish between thickness and edge
Q:nan

Um, what does that mean? Specifically, it is clear?
Q:Can you touch up drop ceiling tile with paint ? I don't want to remove a tile for a scratch or scuff.?

This Site Might Help You. RE: Can you touch up drop ceiling tile with paint ? I don't want to remove a tile for a scratch or scuff.?
Q:Im looking to put one up in an area that is 20x22.... does any one know a round about price?

The grid work will run about $.90 per square foot and the tile from $.60 to $1.60 or more.Good Luck
Q:Light steel keel ceiling by which parts

Accessories are vertical hanging parts, vertical connectors and plane connections. Large keel vertical hanging pieces installed in the lower end of the boom to hang the big keel; in the keel vertical hanging pieces installed in the big keel to hang the keel; small keel Vertical keel mounted on the large keel for hanging keel. Long keel longitudinal connector for large keel to long; long keel longitudinal connector for the keel in the long; small keel longitudinal connector for small keel length In the keel plane connection for the keel at right angles to connect; small keel plane connection for small keel right angle connection:
Q:we have had rain damage to our ceiling, how do i replace it

If they are the ceiling tiles that lay in a metal grid that's easy. Pick them up and drop new ones in. If they are the smaller ones that staple to the ceiling then just pull them and restaple new ones up. If thy come down hard you can take your utility knife and cut around the perimeter and then replace them . If they are not bad but just stained you can repaint then with a stain blocker paint. Good luck and have fun!
Q:I feel the self-tapping screws do not drill into the light steel keel Hand drill use method is not directly to the back of the tapping screw inserted into the drill drill and then fixed on the light steel keel ah?

Gypsum board with the screw is not an ordinary self-tapping screws, its name is "dry wall nail", its structure and material and ordinary tapping screws are different, hardness, small diameter, long teeth, these features are easy It is easier to drill into hard objects. Although the light steel keel is steel, but the wall thickness is limited, the use of hand drill or wind can be easily approved by dry wall nails drill through it. On the dry wall nails to use a special batch of head, also known as the cross head, hand drill to use it to dry wall nails.
Q:Light steel keel can stand people?

Prerequisite for the upper type of ceiling can be placed in the main keel above the board of wood
Strongman,a well-known enterprise specializing in the production and sales of Ceiling grid & Drywall system, is a direct supplier for CNBM, the wold 500 strong enterprises. Since the establishment of our company, we have been devoted to setting up a good CIS and completely implementing ISO9001 quality management system.
1. Manufacturer Overview

Location
Hebei, China
Year Established
2003
Annual Output Value
Above US$ 10 Million
Main Markets
Mid East; South America; Southeast Asia;
Company Certifications
ISO 9001:2000
2. Manufacturer Certificates

a) Certification Name
Range
Reference
Validity Period
3. Manufacturer Capability

a)Trade Capacity
Nearest Port
Tianjin
Export Percentage
80% - 90%
No.of Employees in Trade Department
10 People
Language Spoken:
English; Chinese;
b)Factory Information
Factory Size:
30,000 square meters
No. of Production Lines
25 LINES
Contract Manufacturing
OEM Service Offered; Design Service Offered
Product Price Range
Average; Low