Stopping Angle with Good Quality
Loading Port:

China Main Port
Payment Terms:

TT or L/C
Min Order Qty:

20000 M pc
Supply Capability:

58000 M Per Day pc/month
Inquire Now
Customer Service
OKorder Service Pledge
Quality Product
Order Online Tracking
Timely Delivery
OKorder Financial Service
Credit Rating
Credit Services
Credit Purchasing
---
Add to My Favorites
---
Drywall steel profiles are widely used in buildings for ceiling & partition systems with different kinds of boards, such as gypsum board, calcium silicate board, magnesium oxied board, fiber cement board... Drywall steel profiles are made of galvanized steel, and can be installed easilly. Besides, thermal and acoustic insulation products maybe filled in partition system to provide a safe and fire-resistant wall, and create a quiet environment.
Specification of Drywall Steel Profile:
Size: Different series of sizes for different markets
Thickness: By production standard or to order
Length: normal 3m/piece
Zinc-coating: normal 50~60g/m2, or to order
Packing of Drywall Steel Profile:
Pcs into a bale (normally pack by tapes), bales into containers / wagon
Delivery of Drywall Steel Profile:
From Xingang (port) or Tianjin (station), 3 weeks in receipt of advance payment
Installation of Partition with Drywall Profiles and Accessories:
1. Marking
2. Fix the stud and track
3. Install the steel channel
4. Install the boards
5. Jointer application (accessories, screw, jointer, tape, insulation material)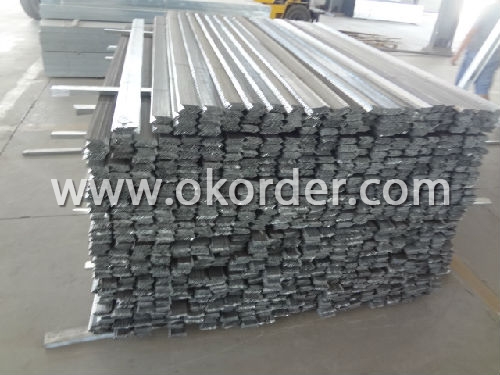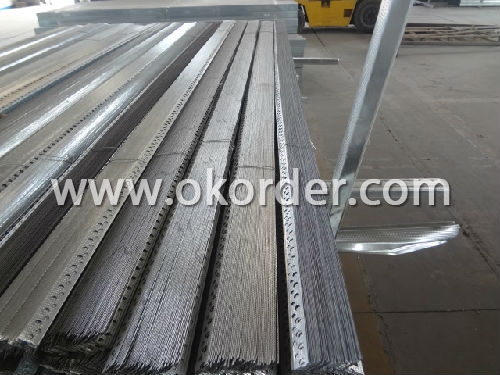 Q:what should I charge to install 1500 sq feet of drop ceiling

Depends on a lot of things, such as Ceiling height above. You must attach hanging wires to the structure above, so if you have to go up to 12' to attach the wires - it takes more time. And if the existing ceiling is really close 2-4 or less - it makes it harder to install the ceiling tiles,lights,etc. Grid pattern - 2'x4' is the normal grid pattern, but if it is 2'x2' pattern, that takes longer. The type of tile also matters. If it is regular flat panel type ceiling tile with no revealed edge - the tiles drop in quickly and the border tiles cut easily. If it is revealed edge tile that has a decorative edge that sticks down below the gridwork - this takes time to cut and fit, as it must be a really close fit to look right. A professional charges about $.90 per square foot for 2'x4' grid pattern with flat regular tile. For 2'x2' grid pattern-add $.20 per sq. foot. For revealed edge tile add $.30 per sq. foot. Obviously people who do this on the side and are not professionals will do it for a lot less.
Q:What is the world keel and light steel keel? What is the use of ah?

In the partition between the roof and the roof and the ground at the junction of the laying of the keel, called the heaven and earth keel, which will have a vertical keel to do support, as well as through the keel from the vertical keel interspersed into the middle, play a reinforcement
Q:Light steel keel wall hidden acceptance of what is the hidden content? (Not a ceiling)

1, whether the work of the wall itself in place. 2, pipe installation within the wall is in line with specifications. 3, whether the sound insulation placed in line with the requirements.
Q:What is ceiling called that has big moldings across it?

do u mean exposed beams? or do u mean those decorative ceilings with the artworks in them?
Q:Can the hotel light steel keel wall be used with plastic threading pipe?

Can, but it is best to install the sound insulation board, this light steel keel is very easy to resonate, so the sound will not be very good, it is best to please sound insulation construction to decorate the sound insulation,
Q:nan

Not less if the room too much too small, it may not be enough, need to consider the increase in the main vice keel! The main keel spacing in the 800-1200, vice keel 600
Q:It is good for wood keel or light steel keel

Sure to shop wood keel, because the trees themselves have Zhang, will be deformed. Pavement on the keel can control the deformation, and increase foot feeling. There is also a solid wood flooring. Europe and the United States are using this stuff, they not only pay attention to environmental protection, but also pay attention to environmental protection, is the entire ecological environment. Its structure is the biggest difference. Surface hardwood with long growth cycle. Core layer and the bottom of the selection of soft pine or fir criss-cross, generally multi-layer and three points, do not need to play keel. Its structure is enough to overcome the surface of the Zhang, and feet comfortable. But choose a solid wood flooring to choose a big brand, because the process requires high, and the need for strong liquidity
Q:Home decoration, the roof is a cement board, if the ceiling is light steel keel or better with a wooden keel better? Thank you

If the hanging gypsum board to do paint, it is best wood keel, no gap. Light steel keel retractable screws have a gap, a long time, gypsum board splicing will crack.
Q:The difference between wall steel keel and wall keel

The wall steel keel is composed of 75 main bone and 38 through the heart
Q:Light steel keel wall approach

Light steel keel gypsum board wall light steel keel wall material 50 type, 75 type, 100 type, 150 type several kinds.
1. Manufacturer Overview

Location
Bazhou,China
Year Established
1994
Annual Output Value
US$5 Million - US$10 Million
Main Markets
20.00% Mid East
20.00% Africa
20.00% South America
10.00% Southeast Asia
10.00% North America

Company Certifications
ISO 9001:2000
2. Manufacturer Certificates

a) Certification Name
Range
Reference
Validity Period
3. Manufacturer Capability

a)Trade Capacity
Nearest Port
Tianjin
Export Percentage
51% - 60%
No.of Employees in Trade Department
6-10 People
Language Spoken:
English;Chinese
b)Factory Information
Factory Size:
30,000-50,000 square meters
No. of Production Lines
10
Contract Manufacturing
OEM Service Offered Buyer Label Offered
Product Price Range
High and/or Average