We are one of the largest aluminum producer in China, and we also use of aluminum rod, billets, rod, foils, sheet, circles, embossed coil etc.We have produced Aluminum Coils over 10 years, and we have good reputation of the price and quality in North part of China
‍
High Quality and Factory Price Aluminum Coil
‍Specifications
Grade

1000 Series: 1050 1060 1070 1100 1200 1235 etc.

3000 Series: 3003 3004 3005 3104 3105 3A21 etc.

5000 Series: 5005 5052 5083 5086 5154 5182 5251 5754 etc.

6000 Series: 6061 6063 6082 6A02 etc.

8000 Series: 8006 8011 8079 etc.

Thickness

0.05~10mm

Width

‍<1600mm< p="">

Color

Metallic, Solid, RAL or by customer requirements

Coating paint:

PVDF(Polyvinylidene Fluoride), PE(Polyester )

Coating thickness

as per customer's request

Gloss

10-90%(EN ISO-2813:1994)

Total coating thick

Polyester18~27micron(EN ISO-2360:1995)

PVDF27 ~35micron(EN ISO-2360:1995)

Coating hardness

2H

Protective film

PVC film, Colorless transparent or White-black

Adhesion

5B (EN ISO-2409:1994)

Impact resistance

No cracking and peeling (A.S.T.M D2794-1993)

Flexibility (T-bend)

0T- 2T

Temper

H16, H18, H24, H26, H26

Certification

ISO9001:2000, CE, SGS

Coil's standard diameter

1100mm

Inner Diameter

405mm/505mm

Coil's standard weight

2000kgs

Payment

L/C ,T/T
.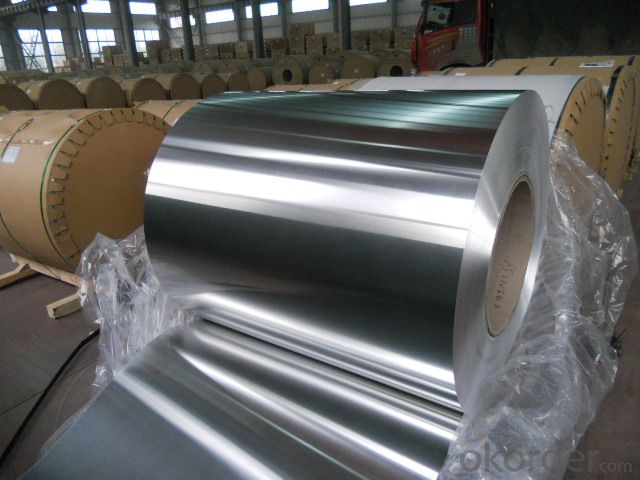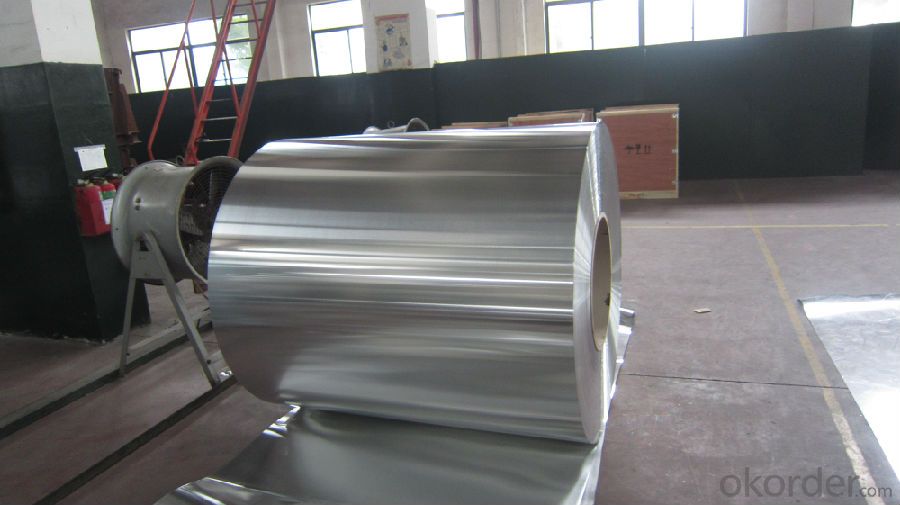 Q:how to find 0.6mm waste strake of aluminum sheet?

Heating wire is mainly used for electrical heating, has large power consumption. But aluminum sheet's cooling fin mainly uses steam or hot water to conduct Thermal dissipation, it needs hot water or steam boiler. Comparatively, Heating wire conducts Thermal dissipation quicker, but cools quicker after power outage. Aluminum sheet is in the opposite condition.
Q:What's the standard thickness of aluminum sheet?

the thickness of tobacco aluminum foil and red wine bottle cap is designed according to customers demands and manufacturer has no stated specification.
Q:What keeps things colder- plastic wrap or aluminum foil?

Aluminum foil. It is thicker, and metal retains heat/cold longer than the thin film of plastic would. I actually use both when I freeze things like lasagna...I use a layer of plastic wrap on it first, then a layer of foil over the top. It creates an extra (albeit fine) layer of insulation.
Q:Aluminum knowledge. What is the model 3003 H24? What does H mean?

H: work hardening state.(1) Hxx state:H1 * - hot rolling, Zhang Liqiang; H2 * - continuous casting and rolling, Zhang Liqiang, part of the toughening; H3 * - after stress treatment, stable performance; H4 * - after paint or coating; H x 2 - 25% x 4 - H hardness; hardness 50% processing; H * 6 - 75% hardness; H * 8 - 90 more than the hardness.(2) Hxxx state:H111: suitable for the final annealing, but also a proper amount of work hardening, but the degree of hardening is not as good as the H11 state of the product.H112: for hot forming products, the mechanical properties of the condition are specified.H116: made for magnesium content more than 4% 5 * * * alloy products. These products have specified mechanical properties and anti stripping corrosion resistance requirements.
Q:I am engaged in line cutting, because the cut aluminum plate conductive block wear more fierce, molybdenum wire is often broken card, I do not know that heroes have unique skills, say, we share. Thanks.

The contact position between the conductive block and the electrode wire is often changed
Q:I'm wanting to buy colorguard poles, and I found some good deals on aluminum and fiberglass ones. But what are the pros and cons of each one?

I'd say fiberglass because... - Durability - Aluminum is a very bendable metal. It dents, it bends, and it breaks easier than any other metal pole you'll find. This is because it's a very low density metal. - Flexibility = more dramatic twirling due to pole flex, and it's less breakable. - Counter Weight = A flag on one side of the pole would be harder to move around swiftly without a counterweight. Thus a heavier pole would entail having a center of gravity on the flag pole closer to the hand, making it easier to maneuver the flag, but the pole would be harder to lift as a whole. I'm no expert on colorguard poles, though. Fiberglass has come a long way. While aluminum is always the same material, fiberglass is a constantly evolving building material.
Q:6061-T6 can aluminum sheets be bent?

You ask if the two batch of aluminum material has been aging, the hardness of the aluminum after aging is higher than before the aging. Another aluminum material from the extrusion after the storage time and environment also related. You can measure the hardness of the two batch of aluminum.
Q:What paint is better to paint on the brushed aluminum sheet? Simple process and good adhesion!

Car paint is better, you can go to the auto paint repair department to buy a little, but pay attention to two points: 1., the oil on the aluminum alloy solvent cleaning. 2. can not spray thick, otherwise it will rise.
Q:which kind of abraser should be used for deburring of aluminum sheet?

you can use soft resin grinding stone.
Q:who knows the ceiling technology of aluminum sheet?

Different materials usually have difference in construction technology. The detailed ceiling construction technology process of aluminum buckle plate:1, snapping line: according to the elevation horizontal line of floor, designed elevation, surrounding ceiling elevation horizontal line, you can find the central point of your room. Then alone the ceiling's elevation horizontal line, take the central point of your room as focus, you can draw the grading line of keel. 2, install main keel boom: after ensuring the ceiling's elevation horizontal line and keel's location line, you can measure the elevation of the below ending of boom, and install the boom processed before. You can use expansion bolt to fix the boom on ceiling. Choose round steel as boom, control the gap of hanging bar under the range of 1200mm.3, install main keel: choose C38 light steel keel as main keel, control the gap under 1200mm. connect it with fitting and boom matched with main keel while installing. 4, install side keel: fix 25×25mm coated keel on the surrounding wall with cement nail according to net height of ceiling, control the cement nail's gap under 300mm. 5, install sub keel: install the sub keel matched with aluminum buckle plate according to the size of aluminum buckle plate, hang the sub keel on main keel through hanger. When the sub keel needs to be prolonged by several keel, use the adapting piece of sub keel, connect the two ends and fix them after straightening at the same time of hanging the sub keel.
1. Manufacturer Overview

Location
Year Established
Annual Output Value
Main Markets
Company Certifications
2. Manufacturer Certificates

a) Certification Name
Range
Reference
Validity Period
3. Manufacturer Capability

a)Trade Capacity
Nearest Port
Export Percentage
No.of Employees in Trade Department
Language Spoken:
b)Factory Information
Factory Size:
No. of Production Lines
Contract Manufacturing
Product Price Range
Hot Searches
Related keywords