Product Description:
OKorder is offering the Phc Concrete Piles with high quality
at great prices with worldwide shipping. Our supplier is a world-class manufacturer of steel, with our products utilized the world over. OKorder annually supplies products to European, North American and Asian markets. We provide quotations within 24 hours of receiving an inquiry and guarantee competitive prices.
Product Applications:
Phc Concrete Piles with high quality are ideal for structural applications and are widely used in the construction of buildings and bridges, and the manufacturing, petrochemical, and transportation industries.
Product Advantages:
OKorder's Phc Concrete Piles with high quality durable, strong, and resist corrosion.
Main Product Features:
· Premium quality
· Prompt delivery & seaworthy packing (30 days after receiving deposit)
· Corrosion resistance
· Can be recycled and reused
· Mill test certification
· Professional Service
· Competitive pricing
Product Specifications:
PHC Pile Details:
| | | | | | |
| --- | --- | --- | --- | --- | --- |
| Minimum Order Quantity: | | Unit: | m.t. | Loading Port: | |
| Supply Ability: | | Payment Terms: | | Package: | Bulk |
Product Description:
We mainly engaged in manufacturing Phc Concrete Piles with high quality with diameters of Φ600~Φ1400 for wharf. Every year, the company produces various types of concrete piles of over 150,000 meters with single-section pile of 41meter long and annual gross output value up to RMB 600 million.
With years' manufacturing experience of concrete piles and a great number of excellent technological and management talents, the company persists in technical innovation and research of new products. The large-diameter PHC concrete piles with merits such as good bending strength, large bearing capacity, fine resistance against the external force and so forth have been the preferential choice of structural materials for foundation engineering construction such as large ports, wharfs, shipyard, huge bridges, high-rise buildings, heavy factories, high-speed railway, etc.
The company holds the operation philosophy of "honest, practical and harmonious for win-win" and persists in the quality guideline of "constant improvement with prohibition of non-conforming products into construction site" to provide you sincerely with superior products and service.
Detailed introduction to PHC PILE:
PTC C70
Φ400 X 70mm ≤12m
Φ500 X 80mm ≤13m
Φ550 X 80mm ≤13m
Φ600 X 80mm ≤13m
PC or PHC(C70 A or C80 AB)
Φ400 X 90mm ≤14m
Φ500 X 100mm ≤15m
Φ500 X 120mm ≤15m
Φ500 X 125mm ≤15m
Φ550 X 100mm ≤15m


FAQ:
Q1: Why buy Materials & Equipment from OKorder.com?
A1: All products offered byOKorder.com are carefully selected from China's most reliable manufacturing enterprises. Through its ISO certifications, OKorder.com adheres to the highest standards and a commitment to supply chain safety and customer satisfaction.
Q2: How do we guarantee the quality of our products?
A2: We have established an advanced quality management system which conducts strict quality tests at every step, from raw materials to the final product. At the same time, we provide extensive follow-up service assurances as required.
Q3: Can stainless steel rust?
A3: Stainless does not "rust" as you think of regular steel rusting with a red oxide on the surface that flakes off. If you see red rust it is probably due to some iron particles that have contaminated the surface of the stainless steel and it is these iron particles that are rusting. Look at the source of the rusting and see if you can remove it from the surface.
Images: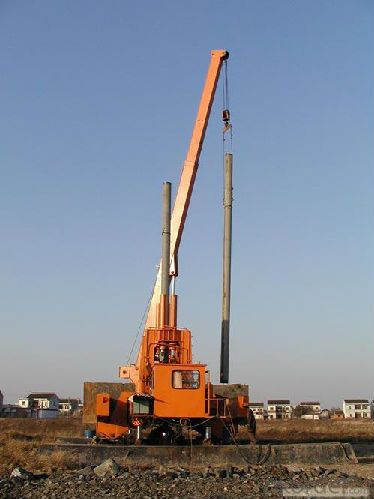 Q:My girlfriend is set on being a real estate agent after high school. She has always said that she doesn't want to go to college because she doesn't want to go into debt when she doesn't need to. She thinks that you don't need a degree to be competitive as a real estate agent. Is this in correct? And if she would be better off with a degree, what should she major in? I thought Real Estate would be the obvious one, but it doesn't seem like it's a degree widely offered in schools that aren't giving it online. Would something like a degree in advertising be better?

You ask if she would need a degree to be competitive...I would say no (and I'm a college professor that understands the value of a degree). The top broker in my city decided he wanted to be in real estate in high school...he enrolled in all the courses online and then moved to a larger city for one year to work under a top broker and learn the business. Then, he returned here and started his own agency. In less than two years, he owned the top agency in the city and was a millionaire several times over before the age of 21! A degree can be an asset, but in my opinion, real estate is a game of experience, contacts, and a sales personality (natural salesmanship)...the first two you can learn on the job...and the last is something you either have or you don't. ...and no, a degree in advertising would be a waste of time unless she wants to work in advertising. A degree in marketing would be better (more versatile)...but if she already knows that she wants to work in real estate, then she needs to get a job in the field as soon as possible so she can start learning what it takes. She can always go to college in a few years...perhaps when she's making enough in real estate to avoid going in to debt!
Q:I've looked online, and I got the general run down of the process. But I couldn't find anything that told me WHERE to take the 63 hour required course, or how to go about doing that. Nothing was very clear. I tried the Florida Department Of Business Professional Regulation like I was told, and that was even worse. I have no idea how I'm supposed to go about doing this. PLEASE help, and be as CLEAR as you can be. Also, links to where to go and all of that would be really appreciated. Thanks.

here are links to take the course online. I think my dad went to a community college or tech school.
Q:What is the difference in real estate prices in colorado and missouri. I live in missour but am thinking about moving to colorado. I dont have a specific city in mind yet tho. suggestions on that would be nice too. thank you

Jane is right - and that's putting it mildly. Housing is expensive here - even with the market slump.
Q:also after being a real estate agent for a couple years, can a person choose to be either one? or can he only be a real estate broker?

I'm a CA broker who owns both a real estate company as well as a mortgage company. The money can be great for both. Which makes more money for you depends on a number of issues, such as personality, work ethic, size of your sphere of influence, knowledge of the industry, and so on. I have made more money doing loans than I have doing real estate. However, I do very well on the phone - which is great for getting loans done. I have dozens of clients that I have great rapports with that I've never met face to face. I've received referrals from people that have only heard my voice on the phone and exchanged faxes and emails with me. Plus, I hate showing homes to buyers. Listing is OK, but I really don't care for the marketing and open houses. On the commercial side, where I spend most of my focus now, I work primarily the real estate side. Again, I play to my strengths of building rapport and sharing knowledge. The investors often travel to the properties that I recommend and never meet me. I work daily from my garage in shorts and a t-shirt and make more money than ever before -- doing real estate. It's economy of scale though. For me, I'm well suited to residential loans, and commercial real estate and loans. I don't really care for the residential real estate. My friend however is a stellar realtor. He would die doing loans. He loves going out to the homes, showing them to buyers, listing them and doing the marketing. He does his fair share of time on the phone getting listings, but thrives getting face-to-face with the clients. Loans would bore him to death. He's charasmatic. I'm.... not as much. I love the depth of knowledge about finance that I gather in doing the loans. He loves the thrill of the sale. If you love doing the work of which ever you choose, you'll excel in that area and make a better living - both financially, and personally. Sorry for the non-committal answer - but it's probably the most accurate one I could give.
Q:Okay, so I'm a little weird but I LOVE spending free time browsing redfin . And I'm not even in the market for a home! Real estate just fascinates me BIG time. I'm a stay at home mom but when my young ones get into school full time, I'd love to find a job in real estate. With that said, I'm not a huge people person so dealing directly with buyers/sellers doesn't interest me. I'd like to do something a little more behind the scenes, on the technical side. Not really sure if there's a profession for that. Obviously i don't want to just do data entry (I have an unrelated Master's degree) so is there something that is very real estate oriented that doesn't involve talking to people on the phone all day and meeting up with people for showings?

you can always get certified as an appraiser...gets you out to houses, do a little research, type up reports, and your personal interaction is minimal.
Q:I'm writing a book and the main character's fiance is a real estate agent. They're on vacation and on the second day of their 10-day trip he needs to return home because of something at work, but he expects it will only take a few days so she stays at their resort and he will come back to her for the end of their vacation.What is something in real estate that could be a cause for him to have to return for a few days? Any details you could give me would be great so I can write about it like I know what I'm talking about ;-)Thanks in advance!

Somebody calls and wants him to list their house. He goes back, lists the house, takes photos, has flyers printed and takes them around to the various real estate offices in the area and puts up his sign.
Q:What major should i do if my dad is buying half a million dollars in real estate? he is a doctor and will probabally end up owning it because i will go to school for it, so what should i major in for owning real estate and buying more and more

You don't need a degree or any formal education to be a real estate investor. Also, if your dad is a doctor and is really intelligent, he wouldn't be handing it over to you because he would already have done his research. No one drops 500K on something without doing the research. Also, 500K in real estate is really nothing in markets like New York, Dubai, London or Vancouver. I suggest you read up on real estate investment (there are tons of books on it). You should also familiarize yourself with mortgages (interest rates etc) and also get acquainted with several realtors that specialize in investment income so they can best optimize your purchase.
Q:Is there such thing as a real estate company? If there is then what do they do? How can I start a real estate company and how much will I make, will I be rich? What are the steps to opening up my own company and be the owner.

Ok, so you're obviously very young. It's good you're asking questions. First things first, you won't just be rich selling real estate, though you can certainly get rich if you want to. A real estate company employees real estate agents who represent both sellers and buyers in real estate transactions, i.e. selling homes, commercial properties, government properties and a lot of other types of properties. Traditionally you would first have to become an agent and get experience long before you would open up your own company and higher other people. A real estate agent gets a commission when a property is sold (usually 2%-4%), often the buyers agent and the sellers agent will split the commission. The agents work for or contracts with a Real Estate Company and the owner/s of the company get a piece of every agents commission. If you have a big agency or an agency which specializes in high-end homes or commercial properties (or other niche real estate services) and you are successful you can become very rich indeed. Then again, it's a lot of work, making a lot money is not easy, if it was everyone would be doing it. However, you can do it if you want to, most people don't believe in themselves or were brought up not to believe they could achieve great financial success. Do some googling to find out more information on real estate.
Q:i am considering getting a brokers license in massachusetts, its pretty easy. but since i know nothing about real estate i am wondering how exactly you make money with a brokers license. can someone take me through the process. ex: step 1, pass the test and get ur license....step 10, get paidalso im a student so i cant do anything full time with it.

one must become a sales person before becoming a broker. And it is anything but easy; 3/4 fail the test the first time. --to help someone sell property, a broker's agent will take a LISTING. to help someone BUY property, an agent will sign a buyer's agency agreement and find what the buyer wants. the seller pays the commission for the seller's agent and the buyer's agent, in most circumstances. the more agents that a broker has, the more likelihood that one or two will CLOSE deals monthly; that commission is split with the broker UNLESS the Agent pays a desk fee. can guide you further if desired; am licensed in a dif state
Q:How would i go about earning a real estate license in MI? How long would it take? Do i have to take the classes online or can i do them in person? Do you know of any accredited course, or are they all the same? If i move out of MI is would my real estate license still be valid? Thanks!

you need to check on your states website about the requirements and process.
1. Manufacturer Overview

Location
Year Established
Annual Output Value
Main Markets
Company Certifications
2. Manufacturer Certificates

a) Certification Name
Range
Reference
Validity Period
3. Manufacturer Capability

a)Trade Capacity
Nearest Port
Export Percentage
No.of Employees in Trade Department
Language Spoken:
b)Factory Information
Factory Size:
No. of Production Lines
Contract Manufacturing
Product Price Range