Fiberglass Acoustic Wall Panel
Loading Port:

SHANGHAI, CHINA
Payment Terms:

TT or L/C
Min Order Qty:

-
Supply Capability:

10000 M2 per month m²/month
Inquire Now
Customer Service
OKorder Service Pledge
Quality Product
Order Online Tracking
Timely Delivery
OKorder Financial Service
Credit Rating
Credit Services
Credit Purchasing
---
Add to My Favorites
---
Fiberglass Wall Panel is consist of a high-density fiberglass core and different items and colors of fabrics. The panel has perfect acoustic performance from low to high frequency noise absorbing, and excellent decorative effect. Available in various sizes / edges / fabrics, and for further digital printingon the fabrics.
Technical Data of Fiberglass Wall Panel:
Material: High density dry felt resin bonded fiberglass wool
Facing: Different items and colors of fabrics
Fire-resistant: Class A, non-combustible tested overseas
Humidity: Dimensionally stable with RH up to 95% at 40℃
Environmental: Panels and packing materials are fully recyclable
Main Characteristic of Fiberglass Wall Panel:
Excellent sound absorption
Fire-resistant
Moisture resistant
Cleanable and recyclable
Environmentally friendly
Application Areas of Fiberglass Wall Panel:
Offices, schools, libraries, hotels, cinemas, theaters, etc., where have special request for sound aborption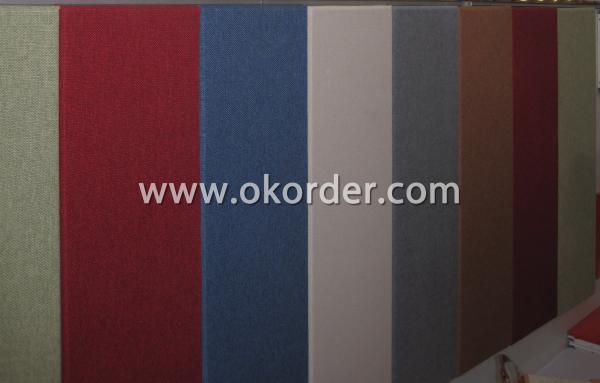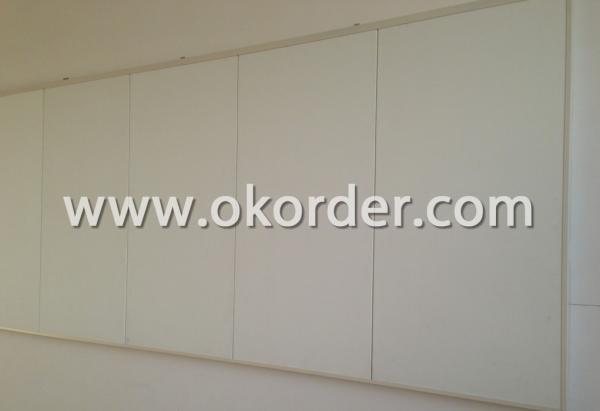 Q:FRP can be used to make walls

FRP can be used to make walls. FRP Product Category: Glass cans, glass cans, hydrochloric acid storage tanks, sulfuric acid storage tanks, reaction tanks, preservative tanks, chemical storage tanks, transport tanks, food cans, fire cans, etc. Glass fiber reinforced plastic pipe, glass fiber reinforced plastic pipe, glass fiber reinforced plastic pipe, glass fiber reinforced plastic pipe, glass fiber reinforced plastic pipe, Towers: drying tower, washing tower, desulfurization tower, acid mist purification tower, exchange column; Bathroom: bathroom chassis, bathroom roof.
Q:What are the lightweight wallboard materials?

Light wall material as a new type of product, technology is still in the process of the evening, this period inevitably there are some quality problems, affecting its promotion. In the long run, due to the wall material has embarked on a thin body, light, functional diversification (insulation, sound insulation) of the road of innovation, light wall panels will be developed as the country, as a wall material leading.
Q:What is the quality of the light barrier now?

. Increased use of building area: the wall can increase the use of an area of 8-10% or more, is the property development buyers and sellers are happy to accept.
Q:What is GRC and can I paint it?

GRC is the abbreviation of Glass Fiber Reinforced Cement, which is a new type of composite material invented in the 1970s. It is made of alkali-resistant glass fiber as reinforcing material, sulphoaluminate low basicity cement as cemented material and mixed with suitable aggregate Substrate, by jetting. Mold casting. Squeeze out. Flow pulp and other processes made of new inorganic composite materials. The It combines light, high strength, high toughness and water resistance, non-combustion, sound insulation, heat insulation, corrosion resistance, easy processing and other characteristics set in one, occupies a unique position in the building. In recent years, China's GRC technology to a new stage of development. The GRC technology can produce Roman column, eaves line, waist line, door cover, window cover, top set, window side column, light partition board, transformer Such as flue, railing, garden relief, Tibetan components, antique components, mountain flowers, corridor, cultural stone and other hundreds of varieties, smooth and exquisite appearance of the components, pattern smooth realistic, stereotypes perfect, strong sense of art. The following are the same as the " 2, construction, easy installation, short duration. Production of various GRC prefabricated components, with cement affinity. Nine blogs J o? ~?] 5Z?]?]? L 3, GRC components light weight, high strength, good toughness, no cracking, no layer, water, non-combustible, and housing with the life. Spray on the paint, with the stone fought. 4, no "waste" pollution, is conducive to environmental protection. 5, loss. If there is a small amount of damage in the transport can also be installed after the completion of the decoration with cement, to ensure that the utilization of components 100%.
Q:What is the difference between an ordinary partition board and a lightweight partition board?

The current state to promote the third generation of environmentally friendly energy-saving partition board, with moisture, earthquake noise, fire insulation, small footprint, good strength, fast construction and other advantages.
Q:Is the interior wall made of fiberglass mesh good or wire mesh?

If the walls of the cracks are more words, you can use the grid covered with paste, and then batch of putty construction;
Q:Does the wall paint the shear wall need to hang the fibrous web?

Fiber mesh, also known as reticular fiber, reticular polypropylene fiber, is a polypropylene as raw material, through a special process from manufacturing. The appearance of a number of fiber monofilament cross-linked from the network structure.
Q:How to do with glass fiber wall anti-crack

For glass fiber is also used to see you are used in the external walls or interior walls, wall materials are different, a lot of things are not applicable once. Do not apply their own norms. And a slap to shoot the whole law
Q:What is the difference between GRC reinforced concrete slabs and lightweight aggregate concrete partitions?

GRC reinforced concrete slabs and lightweight aggregate concrete partitions are lightweight wall panels that can be used to make walls. Should be selected materials and processing methods are not the same
Q:The difference between GRC lightweight partition board and ceramic plate

GRC lightweight partition board: glass fiber reinforced cement to do the board; GRC has a thin structure, high resistance to stretch, good impact resistance, low alkalinity, free expansion rate of small crack performance and reliable, stable quality, moisture, It is easy to avoid the wet construction, improve the construction environment, save the land resources, light weight in the building to reduce the load, (is the Clay brick 1 / 6-1 / 8 weight) to reduce the foundation and beam, Zhu reinforced concrete, reduce the total cost of the project, expand the use of area. Is the non-load-bearing parts of the building to replace clay brick the best material
1. Manufacturer Overview

Location
Shanghai,China
Year Established
1995
Annual Output Value
Main Markets
North America
South America
Eastern Europe
Southeast Asia
Africa
Oceania
Mid East
Eastern Asia
Western Europe

Company Certifications
ISO 9001:2000
2. Manufacturer Certificates

a) Certification Name
Range
Reference
Validity Period
3. Manufacturer Capability

a)Trade Capacity
Nearest Port
Shanghai
Export Percentage
51% - 60%
No.of Employees in Trade Department
6-10 People
Language Spoken:
English;Chinese
b)Factory Information
Factory Size:
1,000-3,000 square meters
No. of Production Lines
10
Contract Manufacturing
OEM Service Offered Design Service Offered Buyer Label Offered
Product Price Range
High and/or Average