Drywall steel profiles are widely used in buildings for ceiling & partition systems with different kinds of boards, such as gypsum board, calcium silicate board, magnesium oxied board, fiber cement board... Drywall steel profiles are made of galvanized steel, and can be installed easilly. Besides, thermal and acoustic insulation products maybe filled in partition system to provide a safe and fire-resistant wall, and create a quiet environment.
Specification of Drywall Steel Profile:
Size: Different series of sizes for different markets
Thickness: 0.40~1mm
Length: normal 3m/piece
Zinc-coating: normal 50~60g/m2, or to order
Packing of Drywall Steel Profile:
Pcs into a bale (normally pack by tapes), bales into containers / wagon
Delivery of Drywall Steel Profile:
From Xingang (port) or Tianjin (station), 3 weeks in receipt of advance payment
Installation of Partition with Drywall Profiles and Accessories:
1. Marking
2. Fix the stud and track
3. Install the steel channel
4. Install the boards
5. Jointer application (accessories, screw, jointer, tape, insulation material)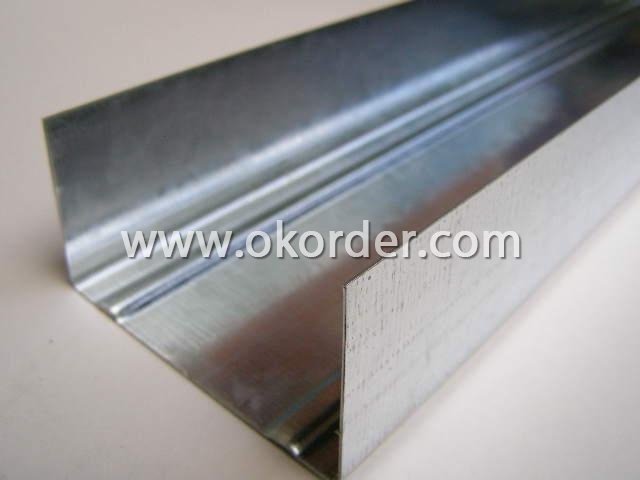 Q:How to remove the gypsum board cut off

To deal with the local property, to understand the removal of the area to be noted, such as the demolition of the mall will be sealed room, so that the impact of dust and garbage next door store business. And the parties to deal with more, will facilitate the back of the work.
Q:Home to do light steel keel partition sound insulation, dare not use glass wool, with sponge or benzene as a filler for what kind of noise, good environmental protection

Benzene board and extruded board can be, are more suitable for home improvement. I do with the noise is extruded board than the benzene board sound insulation is also very good environmental protection
Q:Light steel keel wall how much money a square

Labor costs: light steel keel: 9 yuan / square, gypsum board 3 yuan / square (single) material costs: light steel keel (vertical spacing 400mm, three meters or less two feet through the heart): 20 yuan / square, 9.5 Mm thick plaster board: 7.5 yuan / square.
Q:Light steel keel partition wall fire retardant coating shabu several surface

Grass-roots side of the wooden side need to brush four sides, the base liner is two sides, but the paste surface layer of decorative panels generally just brush a back, the front is usually not brush fire paint, or should be the quality of surface layer decorative plate paste.
Q:What is the difference between gypsum board partitions and lightweight partitions?

Gypsum board partition and lightweight partition the most important difference there are three points: First, the difference between the structure. Gypsum board is a skeleton-like partition, that is, to rely on the backbone of light steel keel can stand up, and light partition entirely by their own plate to cut off; Second, the difference between materials, gypsum board itself is only gypsum and pulp Composite products, and lightweight partition is made of sheet metal, wood chips, cement foam, additives, perlite composite wall;
Q:Has installed a wooden floor, you can do in the above light steel keel wall?

Do of course But I suggest do not do it! You do not want to move the floor, you put the floor cut off the partition of the piece. Directly to the disadvantages: 1: wooden floor flexible, partition instability. 2: you are not bad when the wall and the floor shut. 3: sound insulation is certainly worse
Q:Light steel keel to do a layer of gypsum board layer of nine layers of the wall how much money a square, the price is simple or double-sided?

Home improvement living room ceiling works, gypsum board force does not need to add nine per cent board. Recommendation: direct use of light steel keel or wood keel and then add gypsum board just fine. Tip: If the shape is complex, available blockboard to take advantage of the keel on it
Q:Lightweight wallboard light steel keel how to construction

Wood keel installation to keel cross-sectional area and vertical and horizontal spacing should meet the design requirements, lightweight partition plate skeleton horizontal, vertical keel should be used to open half a tenon plus glue, plus nail connection. Before installing the panel, the keel should be fire-treated, the wall should be in accordance with the design requirements, along the ground, the wall top wall and the width of the wall line, the width of the wall should be consistent with the thickness of the wall should be clear, Accurate, the installation of vertical keel should be vertical, keel spacing should meet the design requirements.
Q:75 series of light steel keel wall double-sided double-layer 12 thick plaster board filled with sound insulation noise can reach the number of decibels

Light steel keel gypsum board system is usually double-sided wall structure, that is, "plate - keel (cavity) - plate" structure, each side of the wall board for the single or double gypsum board, Light steel keel. In order to obtain better sound insulation effect, in the cavity filled with rock wool board or glass wool.
Q:Can the gypsum board be painted on the wall

If the light can be linked to the screw with a self-tapping screw, hanging 2-3 kg should be no problem
1. Manufacturer Overview

Location
Bazhou,China
Year Established
1994
Annual Output Value
US$5 Million - US$10 Million
Main Markets
20.00% Mid East
20.00% Africa
20.00% South America
10.00% Southeast Asia
10.00% North America

Company Certifications
ISO 9001:2000
2. Manufacturer Certificates

a) Certification Name
Range
Reference
Validity Period
3. Manufacturer Capability

a)Trade Capacity
Nearest Port
Tianjin
Export Percentage
51% - 60%
No.of Employees in Trade Department
6-10 People
Language Spoken:
English;Chinese
b)Factory Information
Factory Size:
30,000-50,000 square meters
No. of Production Lines
10
Contract Manufacturing
OEM Service Offered Buyer Label Offered
Product Price Range
High and/or Average