Descriptions of our tower crane:
Our Tower Crane is characterized by horizontal jib frame, trolley travel, slewing self-climbing, novel structure and reliable running. All accessories are adopted from home famous brands and electrical components from international famous brands. "Quality First" is not just a slogan, which has already deeply rooted in our soul, besides we will also make all your purchases in unlimited satisfaction with our star-rated after-sales service.
Advantage of our tower crane:
1, boom relief Angle is big, greatly widened the equipment capacity and scope of work.
2, suitable for the group of tower cross homework.
3, boom stability is good, combination amplitude range.
4, suitable for height have special requirements occasions construction.
5, lifting capacity big, effectively solve the high steel structure construction team crane big lifting capacity requirements.
Specification of our tower crane: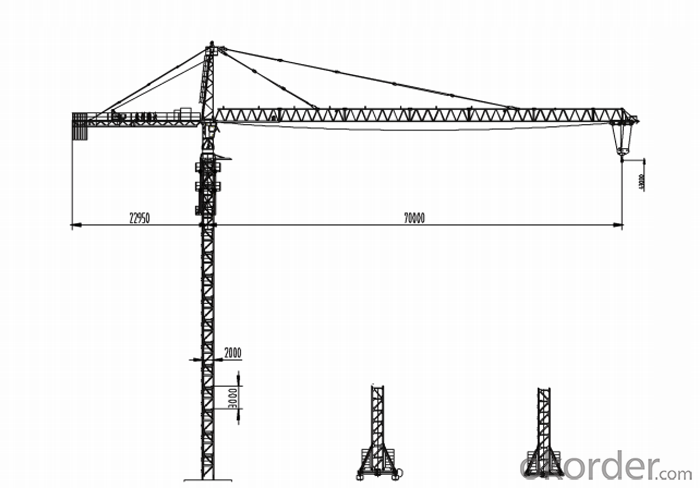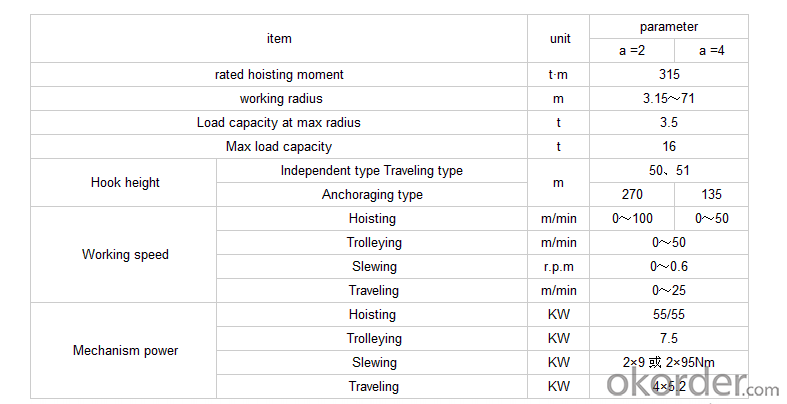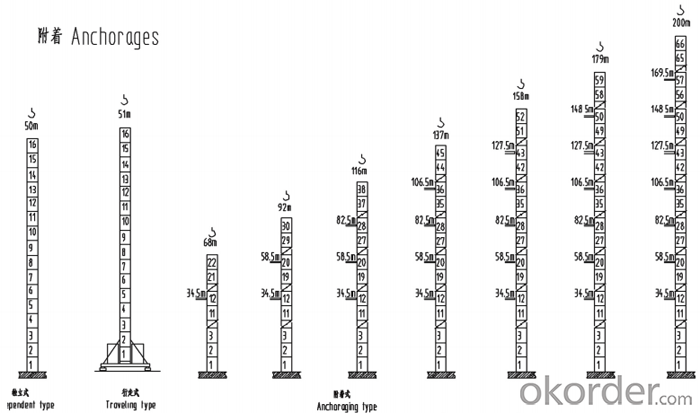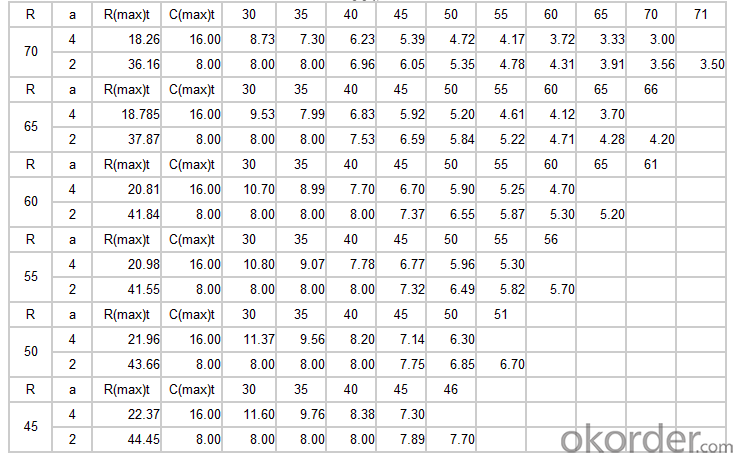 Q:Just curious... I'm not in construction and always wondered...

The top sections of the mast beneath the crane are removed one at a time and lowered to the ground. The top section of the crane has hydraulic rams that lower it down one mast section at a time. It is hard to describe without a diagram or photos. See photos at attached link. In some design, the jacking portion is at ground level. The crane jacks itself up so a 20' section of the mast can be unbolted and slide out. Then the jack is lowered so the process can be repeated. See second link for photos and a more detailed explanation.
Q:How did Romans make columns in roman times Without cranes?

They simply lay the stone down, chiseled out the column, then stood it up via an A frame, however the Romans did have cranes, (not the massive things of today) but mobile wooden ones with counter weights at the back that operated on a system of pulleys (they even had cranes that operated on water)
Q:I was wondering if this is possible. The wall we have designed is very close to an existing retaining wall. In order to properly form and waterproof the wall we would have to demo that existing retaining wall. My idea was to build it off site, waterproof it, and then crane it into its location. Is this possible? any similar methods? thanks

Possible but difficult. You could tell us what the wall is made of? Assuming stone, then you can't lift a stone wall unless you have a steel plate under it, as it will collapse otherwise. That gets complicated. Yes, you could build it with a 1/2 inch steel plate under it, and lift it that way, assuming it is not too long, and crane it into position, but you then have to slide the plate out without cracking the wall, also difficult. The plate is expensive, the crane is expensive. But what do you gain? You still have to demolish the old wall, you still have to build a new one, so what would you gain by building it somewhere else and moving it?
Q:Like the tall cranes on construction sites. I mean, suddenly they're just magically there!

No I can't say I have ._.
Q:In the poem "The Wayfarer", what is Crane's ironic comment on the pursuit of truth?

On a semi-close inspection, it would seem to me that Crane is saying that, ironically, the truth hurts. He's making a statement similar to Shakespeare in Hamlet. Hamlet is NOT muddled by indecision, as so many poor readers have often thought, but he sees much too much of the truth of the way of the world, and sees how futile and terrifying it is, and is embarrassed, or even humorously angered, that he should be asked to fix the world in the face of such impossible distress and futility. Similarly, the path to truth in Crane's The Wayfarer is overgrown with painful daggers which, if you step onto the path, will cut up your feet; if you take the path and find truth, you'll be hurt and dumbstruck and terrified by this path, so that the Truth (with a capital 'T') itself convinces the poem's 'hero' to turn to a different path, to choose something other than truth. And he doesn't even need to walk the path at all, only get a bit of a glimpse into truth, in order to be terrified by it.
Q:How many stops are there in a tower crane? Where are they located in the tower cranes?

The hook has an upper limit on the windlassThe car has front and rear spacing on the trolley hoistSlewing is limited to the slewing gearAnd the torque limit is on the spireWeight limit
Q:I'm into urban exploration and basically the one thing I haven't done is climb a crane. I don't actually know where one is that I could climb, but I definitely will do it someday. I'm just wondering how illegal it would be? Also, don't give me any it's not safe bull, I'm perfectly confident in my abilities and ready to accept the consequences if I get caught.

Unless you have permission from the owner, it would be considered trespassing.
Q:when a tall building is under construction you alwase see cranes on top. well i would like to know 1. how they move them up as the buildung gets taller and 2nd after there done how do they get them down?

bigger cranes
Q:If a friend folded a thousand paper cranes for you what would you think?

That they have too much time on their hands.
Q:any kind of sayings

You could just say whooping crane in another language, like Grue blanche (French) or Grulla blanca (Spanish). .
1. Manufacturer Overview

Location
Year Established
Annual Output Value
Main Markets
Company Certifications
2. Manufacturer Certificates

a) Certification Name
Range
Reference
Validity Period
3. Manufacturer Capability

a)Trade Capacity
Nearest Port
Export Percentage
No.of Employees in Trade Department
Language Spoken:
b)Factory Information
Factory Size:
No. of Production Lines
Contract Manufacturing
Product Price Range