Ceiling Grid with Remote Control Ceiling Light for Hotel
Loading Port:

Shanghai
Payment Terms:

TT or LC
Min Order Qty:

10000 pc
Supply Capability:

300000 pc/month
OKorder Service Pledge
Quality Product
Order Online Tracking
Timely Delivery
OKorder Financial Service
Credit Rating
Credit Services
Credit Purchasing
---
Add to My Favorites
---
Grille ceiling system enables open ceiling plane constructions, offering a wide variety of cells and patterns for maximum freedom of design. Our panels are created with a proprietary manufacturing process that ensures clean lines and durability.
Product Applications:
1) Supermarket, marketplace
2) Service station, toll station
3) Underground, air port, bus station
4) School, office, meeting room
5) Hall, corridor and toilet
6) Sport center
7) Office, store, plaza
8) Hotel, restaurant, kitchen
9) Hospital
Product Advantages:
1. Convenience in installation, it shortens working time and labor fees.
2. Neither air nor environment pollution while installing. with good effect for space dividing and beautifying.
3. Using fire proof material to assure living safety.
4. Can be installed according to practical demands.
5. The physical coefficient of all kinds Suspension Ceiling grid are ready for customer and designers' reference and request.
Main Product Features:
1) Surface smoothness and easy cleaning
2) High precision, lighter weight, higher strength, better rigidity
3) Strong corrupt proof, weather proof and chemical
4) Easy to match lamps or other ceiling parts
5) Flexible suspension system make each ceiling tiles easy install and disconnect

Product Specifications: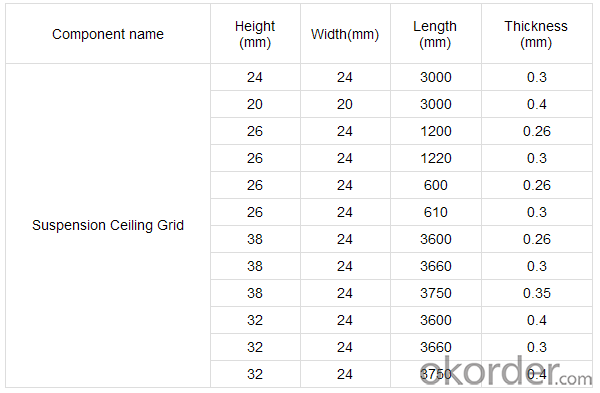 FAQ:
Q:How many the warranty years of your products?
A:15 years for indoor used,20 years for ourdoor used.

Q:Can you show me the installation instruction?
A:Yes,our engineering department is in charge of helping your installation.any question,you can let me know.
Images: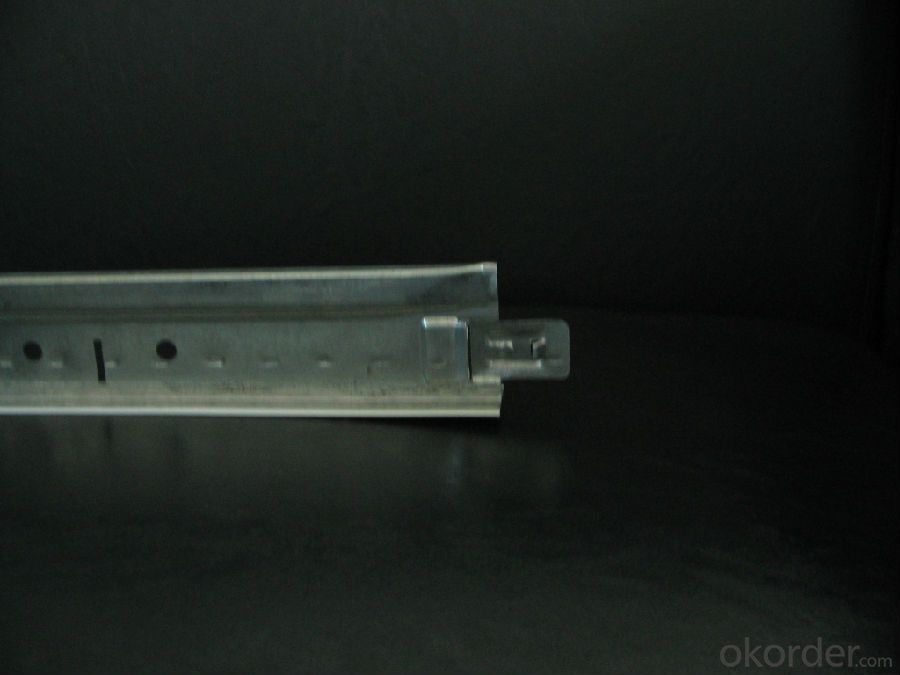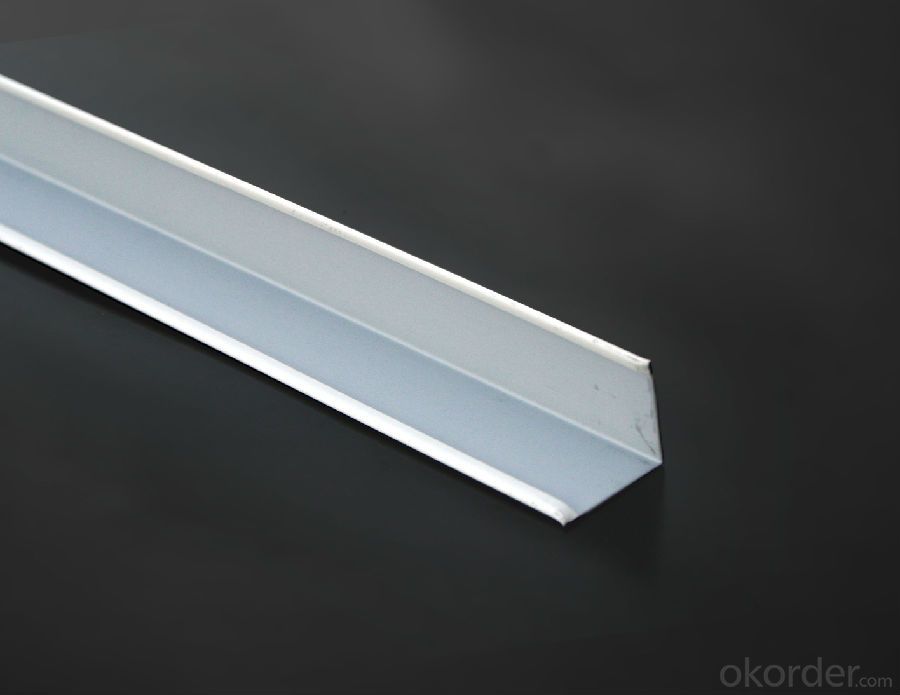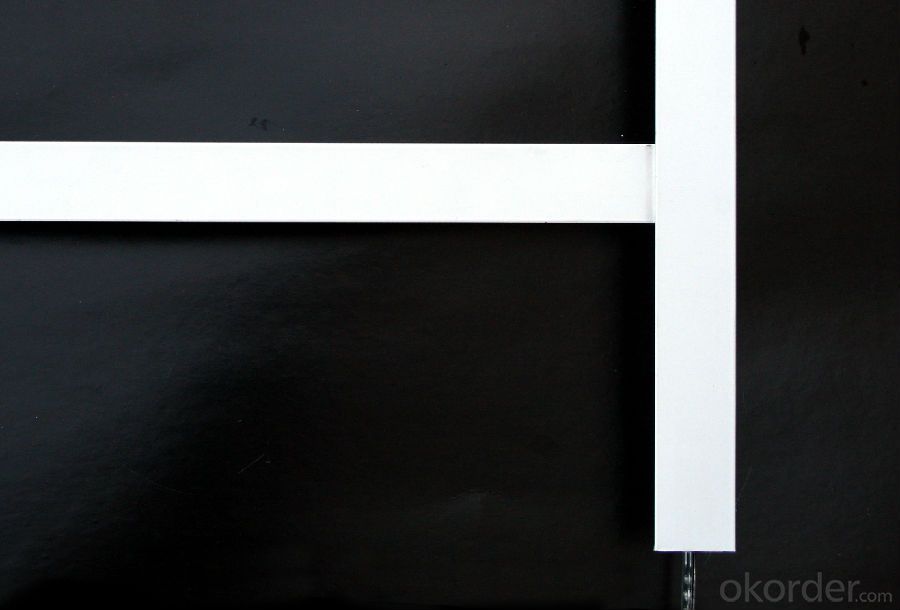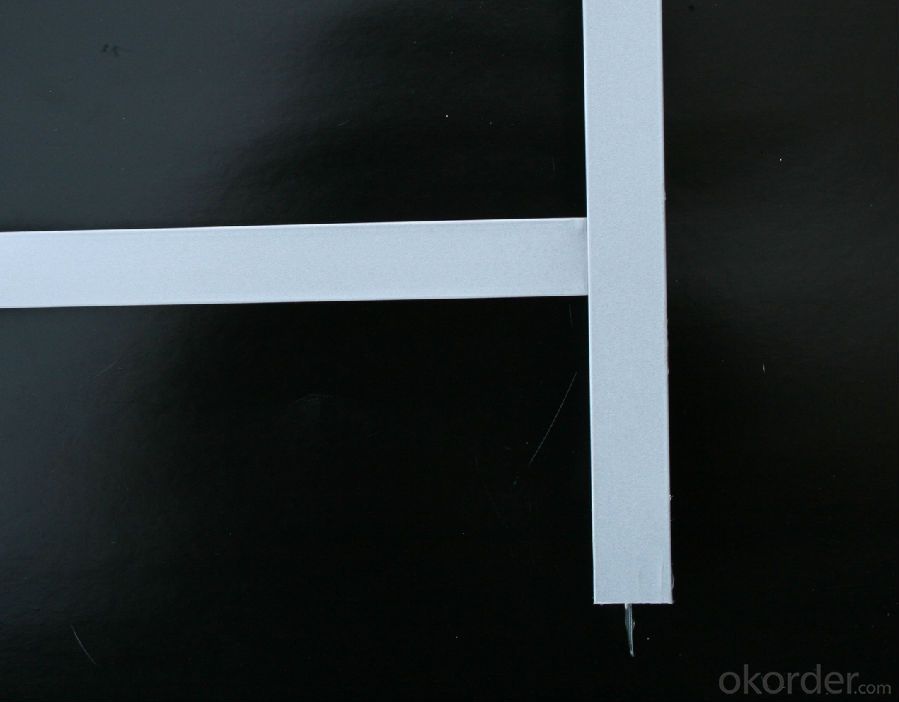 Q:Light steel keel CB38 * 12 What does it mean?

Light steel keel, is a new type of building materials, with the development of China's modernization drive, light steel keel is widely used in hotels, terminals, bus stations, stations, playgrounds, shopping malls, factories, office buildings, old buildings Building renovation, interior decoration, roof and other places. Light steel (paint) keel ceiling with light weight, high strength, to adapt to water, shock, dust, noise, sound absorption, constant temperature and other effects, but also has a short duration, easy construction and so on.
Q:Material used in False Ceiling?

A false or dropped ceiling can be made of various materials. Most commonly, they are made of ceiling tiles or panels that are suspended from a grid of wires and tracks.
Q:Light steel keel use method

This is the floor or roof pavement used to facilitate the decoration and lifting the structure of other equipment
Q:Do cut off the wall, with light steel keel, the cost of various materials how to calculate?

It depends on what you use the board (gypsum board or silicon calcium board), single or double-sided partition (to add the other side of the plate Caixing, keel per square on only a memorable), with the keel thickness To what extent? With 50.75.100 has three series, commonly used 75 series.
Q:What is a Ceiling Grid?

Do you know what a drop ceiling is? The tiles fit into the ceiling grid
Q:120mm light steel keel wall keel model is how much

Light steel keel routine with 75 partition keel, plus 2 layer 12 thick gypsum board is nearly 100 thickness
Q:Main beams for the ceiling grid come in 12' lengths. What if a room is twice that in length? Is there a way to interlock those things together? I know that the secondary 4' pieces lock onto the main beams, though.

Suspended Ceiling Dimensions
Q:Home furnishings are light steel keel + cement board + hanging network to do partition, but always listen to the craftsman said that this is not good, generally there are several bad, one is the rainy season will be anti-water, brush paint will peel off; Do not bear the weight, do not hang TV; third is to tear the wall will crack, or load not work. Is it in the line?

Can use brick as much as possible with brick, my home is used light steel keel, feeling bad.
Q:Light steel keel manufacturers is not only the production of light steel keel?

In addition to our light steel keel will produce paint keel, triangular keel, stone and so on. But small factories are generally only the production of light steel keel.
Q:The question says it all, I need to know this because I need to hang something up that weighs about 100-120 pounds. I need to know which section of the grid of ceiling girders holds the most weight. The long sections between the intersections?The short sections between the intersections?Or the intersections themselves?If you dont remember what that looks like, think of your elementary school or work office. Yeah. those kinds of ceiling tiles, just the plain old styrofoam style stuff.I need an answer from a legitimate source, not a guestimation.

It depends on the installation. I would expect 100-120 pounds to be too much for almost all installations. 20-30 pounds is easily possible on almost all if supported over several feet of the rail and not just hung from one or two of the grid clamps sold for the purpose of putting up signs or displays. For example, the circular air conditioning outlets used in some stores that are connected by flexible ducts to the main ducts and the fluorescent light fixtures that lay in the openings weigh about 10 pounds. The variation is due to the location of the hanging wires for the grid and what the weight is doing. I would expect a hanging point directly under a vertical 16 ga. wire running up to the building structure/roof would probably be able to take 40-50 pounds if the wire were well twisted at both ends - but the wires are often just pushed through the hole and bent with a single hook. I am certain that 100 pounds applied in the middle of a rail between two support points is going to bend the rail in any common installation. To hold that much weight safely, I think you are going to have to run a wire through a slot or hole in the tile, up through the upper structure and tie into the building directly, especially if there is any chance of movement by wind, AC air flow, or people bumping the suspended item.
1. Manufacturer Overview

Location
Year Established
Annual Output Value
Main Markets
Company Certifications
2. Manufacturer Certificates

a) Certification Name
Range
Reference
Validity Period
3. Manufacturer Capability

a)Trade Capacity
Nearest Port
Export Percentage
No.of Employees in Trade Department
Language Spoken:
b)Factory Information
Factory Size:
No. of Production Lines
Contract Manufacturing
Product Price Range
Hot Searches
Related keywords