AR Spray Up Roving ZrO2 16.7%
Loading Port:

China Main Port
Payment Terms:

TT or LC
Min Order Qty:

10000 kg
Supply Capability:

1000000 kg/month
OKorder Service Pledge
Quality Product
Order Online Tracking
Timely Delivery
OKorder Financial Service
Credit Rating
Credit Services
Credit Purchasing
---
Add to My Favorites
---
Description of FRP Pipes
It is a Fiberglass roving produced by directly winding a certain number of individual fibers form the bushing without twist,it is coated with a silane-based size and is designed for reinforcing unsaturated polyester, epoxy,vinyl ester and phenolic resins. it is specially used to produce GRP pipes, pressure vessels, gratings and profiles and, when converted into woven roving, boats and chemical storage tanks, with filament winding, pultrusion and weaving process.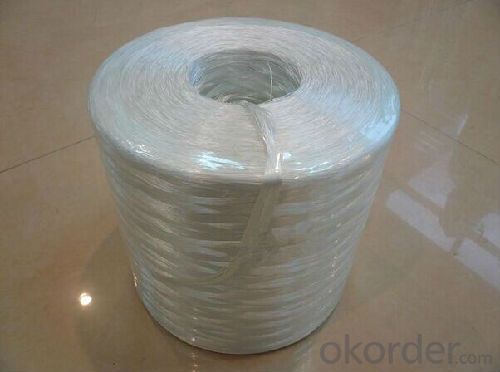 Specifications:
Glass Fiber Roving
Filament size:from 6mm~13mm
Tex count:550~2400tex
excellent dispersibility and alkali resistant
Applications:
beam,armrest,fence,and handrail, and it could be used in different industries like:Oil&Gas;Pulp&paper, Sewage water treatment;Power plant;Mining/refining;construction engineering;weaving and dyeing;pharmaceuticals;Food processing;Marine.
Packaging:
Cartons; pallets; customized packaging are welcomed
FAQ
1..Is your company a factory or trade company?
A:We have our own factory , we are on this business more than 10 years.
2.Who will pay for the express cost ?
A: We can support you free samples ,but express cost will be paid by you .
3.How long is the delivery time?
A:within 10-15 days after receiving deposit
Q:nan

Bearing profiles can moulding FRP geogrids after demoulding. The upper layer is plate structure: It is mainly formed by connecting pultrusion moulding "I" or "T". At the same time glass fiber twistless roving is spreaded in large metal mold with the lower pultrusion geogrids is hand paste. Its role is to connect the bearing profile. According to need, various extrusion molding round bar or abnormal bar interval material are used. Pultruded FRP geogrids mainly consists of three parts and then formed by curing. Pultrusion moudling "I" or "T" profile are used as a bearing rod with various pultruded round bar or abnormal bar (adhesive bar) are used as cross bar by adhesion agent. According to a certain distance, transverse rod and the bearing rod is fixedly connected together to form the FRP geogrids. The surface of molding FRP geogrids in the production can be sealed and plastic geogridsis produced by machine. Its function is to adjust and fix the void ratio of the glass fiber reinforced plastic grating.
Q:nan

It used for insulating layer of building external wall. Glass fiber cloth is also used for glass fiber reinforced plastics industry. The main function is to increase its strength.
Q:nan

Glass fiber Glass fiber is a kind of inorganic nonmetal material with excellent performance. English name is: Fiber glass. It is produced by high temperature melting, wire drawing, winding and weaving process with the raw materials of glass balls or waste glass. Glass fiber monofilament diameter ranges from a few microns to twenty micron, the equivalent of a hair 1\20-1\5. Each bundle of fibers are hundreds or even thousands of root root filaments, usually treated as a reinforcing material of complex materials, electrical insulating materials and thermal insulation materials, circuit board, etc. and widely used in various fields of the national economy. Properties of glass fiber: The general concept of glass is hard and brittle objects, but it is not suitable for timber structure as its thread. Strength is greatly increased and it is more flexible, so it can finally become excellent timber structure after shaped by the resin. For glass fiber, with diameter smaller, the intensity increases. As a reinforcing material, glass fiber has the following characteristics. These characteristics make the use of glass fibers more broadly than other species of fibers. Its strength is greatly increased and it is more flexible. With good rigidity, it could absorb more impact energy.
Q:nan

The materials for strengthen are Medium, vinyl type and flame retardant, vinyl resin. There are many types of materials like phthalate, benzene, alkali free glass fiber roving, knitted mat etc.: polyester resin
Q:nan

According to the order of reinforced material combination, the fabric surface is sheetlike, by using RTM method: The area and mass along the width direction is uniform. Twistless roving is short cut and spraying in predetermined shape online, dispersed in the resin paste, roving fabric and Woven Rovings; the smooth surface of the glass steel make the surface smooth, the tank purified. Short fiber needle felt is cut into 50mm glass fiber roving. Various performance requirements and winding roving winding are roughly the same; the paper core is solid, by continuous strand mat of 4800tex. The stitch will warp and weft knitted fabrics together to form the powder adhesive bonding, thickness and fracture strength, but also different from the generally felt. Yarn density is uniform; The roving tension is uniform. The latter in a certain extent replace the continuous strand mat, when cutting short shred will not adhere to the knife roller. Pultrusion roving can be combined by multiple strand direct roving. Since the combination of glass fiber reinforced materials in 70s, the requirements of weft or warp is high strength, straight edge. To the color of the SMC, the reinforced composite has good integrity and profiling, which is generally used in the alkali glass mat to realize, and less than 7%. Usually SMC roving is generally 2400tex. Width and length are consistent with the standard. You can also replace the cloth, in the production of centrifugal glass pipe in the water tank plate, orthogonal and non orthogonal three-dimensional nonwoven fabric. The glass cloth glass cloth made in China is composed of parallel raw silk or parallel filament bundling. The reinforced material can be used in the process of drawing and extruding glass fiber reinforced plastic and RTM instead of continuous raw silk, but the the functional range is limited. Mainly used in the pultrusion method.
Q:nan

If it is metal can, cleaning, descaling and brushing anticorrosion lacquer will be fine.
Q:nan

wire drawing,drying, winding, fabric and so on.
Q:nan

waterproof. structure of the antenna is different from the conventional vertical antenna, but the principle is the same. They all are sealed.
Q:nan

Inorganic glass fiber reinforced plastic air pipe, according to the properties of the binding materials, can be divides into: Made of binding materials with glass fiber mesh cloth hydraulicity inorganic glass steel duct and made of cementitious materials and glass fiber mesh air hardening modified magnesium oxychloride cement duct with two types of modified magnesium oxychloride cement to the sulfate type. The pH value of the hardened material should be less than 8.8, and there is no alkalinity corrosion of the glass fiber. Inorganic glass steel duct should be used alkali-free, medium alkali or alkali resistant glass fiber mesh cloth, and are consistent with current national standard "glass fiber grid" JC561, "the alkali free glass fiber roving," JC/T281, "in the alkali glass fiber roving" JC/T576 regulations. The quality of magnesium oxychloride cement duct Magnesium Oxide should comply with the national standard "Magnesium Oxide" light burned magnesite products with WB/T1019-2002 regulations. Inorganic glass steel duct can divided into the overall common type (non insulation), integral insulation type (inner and outer surface of inorganic glass steel, middle insulating material) and combination type (by special adhesive, composite plate, flange, reinforcement angle etc) and the combination of insulation, its production parameters should comply with the provisions of the table 1, 2, 3. The longitudinal and transverse lap joint distance between adjacent layers of glass fiber grid cloth should be more than 300mm, and the distance of the same layer lap joint shall not be less than 500mm. Lap length should be greater than 50mm. The wind pipe surface thickness of the slurry flating glass fiber mesh cloth is appropriate. And the surface do not have dense pores and spillage.
Q:nan
1. Manufacturer Overview

Location
Year Established
Annual Output Value
Main Markets
Company Certifications
2. Manufacturer Certificates

a) Certification Name
Range
Reference
Validity Period
3. Manufacturer Capability

a)Trade Capacity
Nearest Port
Export Percentage
No.of Employees in Trade Department
Language Spoken:
b)Factory Information
Factory Size:
No. of Production Lines
Contract Manufacturing
Product Price Range