QTZ160 Description
Feature: Tower Crane Condition: New
Application: urban construction Rated Loading Capacity: 10T
Rated Lifting Moment:400KN.M Max. Lifting Load: 10T
Max. Lifting Height:200M Span: 65M
Model Number:QTZ160
Certification: ISO9001:2000; CE;Ukraine & Belarus Certificate
Colour: Orange/ Yellow
After-sales Service Provided: Overseas third-party support available
QTZ160 Features
1. Export to more than 20 countries with CE/ISO/GOST Certificates.
2. Stationary/Travelling, external/ internal climbing tower crane
3. Impeller blasting/rust protection paint
4. Advanced painting process
5. Potain masts designed with dismountable panels, making teansport easier and cheaper.
6. New designed mast, can be used to Internal and external climbing tower crane
7. Engineers available to service machinery overseas.
QTZ160 Specification

QTZ160 Pictures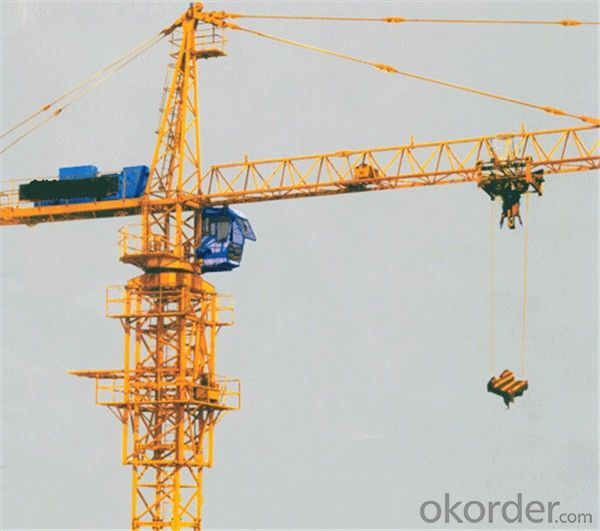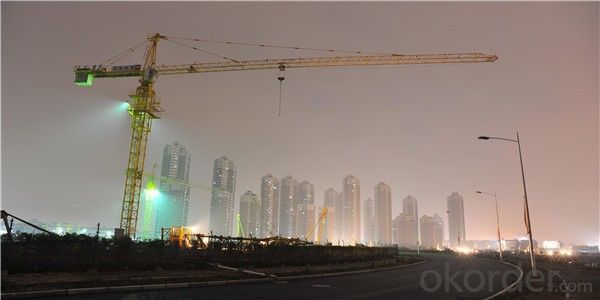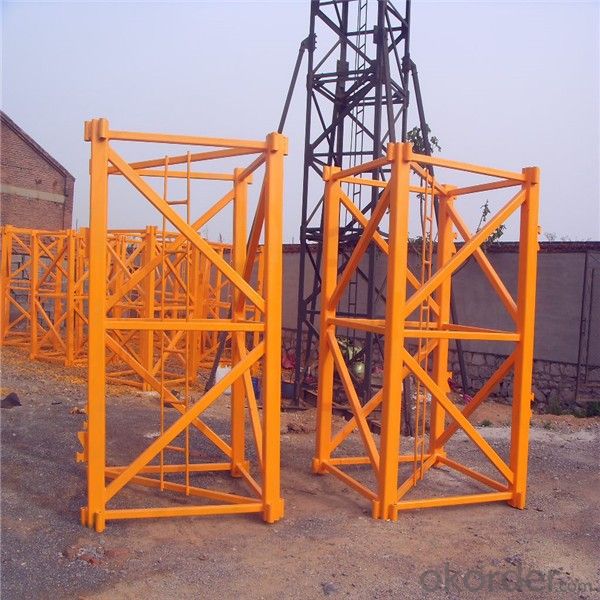 QTZ160 FAQ
Q: What is the difference between working wire rope and safety wire rope?
A: There are two kinds of rope using for suspended platform, working wire rope is for working up and down, the other is safety wire rope, just for safe, if the working wire rope broke and fell down, the safety wire rope will locked immediately.
Q: What about our tower crane's warranty?

A: Usually there is one-year quality warranty including main electronic parts (not including consumable parts). There are consumable spare parts together with whole machine and normally they are enough for one year.
Q: Can you equip with light on tower crane jib, monitor, remote control and anemometer?
A: Sure. All of these could be provided with extra cost upon the clients' requirements. But according to general practice, remote control is not suggested because most of the operator feedback operation in the cabin will provide a wide working view.
Q:Can Ichabod Crane defeat the Headless Undocumented Worker before he prunes someone's bushes into hedges?

Ichabod Crane was a tall, lanky man, with feet like shovels. He may be able to do it. I thought of this story too, when I heard about the mysterious headless bodies.
Q:Hello, i am goin in on Dec 5 to write the millwright C of Q for the 3rd time. On the test there was a question that went something like this The crane is rated 40Ton, with a boom lenght of 40ft and at an angle of 70 deg. The jib is 8ft long on a 10 deg angle. What is the sefe working load. The numbers are not correct but that is how the question is phrased. Please help me with the formula. I cannot find it anywhere.

Safe Working Load Formula
Q:my 7 year old son swears that a crane jumper is a type of animal...any one heard of this??

I googled crane jumper and came up with nothing. Not to say there isn't such a creature, that could be a regional name for it, it might be called something else.
Q:How many meters does the tower crane installation height require expert proof?

Circular of the Ministry of housing, urban and rural construction on Issuing the measures for the safety administration of sub hazardous and sub divisional projectsAnnex No. [2009]87 [Annex two]"More than a certain size of the risk of larger sub sub project scope."Three, lifting and installation, demolition works(1) lifting projects with unconventional lifting equipment and methods with single lifting weights of 100kN and above.(two) lifting equipment installation with lifting weight 300kN and above; demolition work of climbing crane within height 200m and above.The installation and disassembly of the tower crane in accordance with the provisions of the above provisions shall be verified by the expert panel.
Q:how much does a whooping crane eat per day?

To figure out exactly how much they eat you would have to know the exact weight of the bird, the calories in the food, and the condition of the bird. Which is a very long way of saying that I don't know the answer to your question, but there is a mathematical way to figure it out if you are really interested.
Q:↑ pretty much explains itself. (:~Animal_Lover

Probably okorder /
Q:I will soon have folded my 1000th paper crane. What should I do with them after I am done?

first of all, you have to make a wish! (after all that hard work!) then... make mobiles or garlands, and pictures out of the cranes (pasting them onto another paper in the shape of something else) give them to friends, (i know my friends love getting cranes, they think they're cool) put them in scrapbooks, use them in cards, use them as bookmarks or decoration for a party, (a i'm done folding 1000 cranes party) so many possibilities!
Q:how do you make an electromagnet crane?

For okorder /
Q:A Korean kid at my school made me one in a new kid meeting. Sadly, he made it with my hall pass that needs to be signed with the teacher that organized it. But when she had to sign it she ripped it up and he won't make me another one! How can i make one myself?

Here are some links to pages that show you how to make the crane. You might also like to look for some general Origami pages, they will help you understand the directions if you run into a problem. Sometimes in origami you need to make a fold and then unfold it - the crease that was created by the un-fold will be used later - the instructions for this type of fold can be confusing. The first link is a step by step instruction site for the crane - very good illustrations with instructions accompanying each photo - it spans multiple pages so you need to click the next button at the bottom of the page as you finish each set of instructions. The second link is a full view of drawings of each fold on one single page - the instructions aren't as detailed, but it does give you the opportunity to see how each fold is supposed to look in one view. The third link is a link to a japanese site that explains the significance and history of the crane and what it means - it's very interesting. Good luck.
Q:I've heard of people making 1000 origami cranes as a wedding gift or decoration. I am making them as a gift for my sister-in-law and her husband, whose new baby is due next month. I'm up to 730, so I need to keep plugging away! My question is how should I display them? I've heard of putting them in a gallon jar. I was also thinking of making strings of 100. Do you put the string through the pointy part on the back? Can I arrange them into a mobile? Any ideas would be appreciated.

What the heck?! One thousand origami cranes?! Whoa! Your fingers must be sore, you poor thing! Good work! I could never have that patience and endurance. This is what to do. Pick a room - any room they use often, like a living room - and swathe the whole thing in white curtains and drapes and tablecloths. Then spread the cranes out. Artistically perch them on shelves and rim the couches with them and arrange them in circle and diamond patterns on the coffee table. Make the whole room a sea of origami cranes, and then put up a big sign in the middle: CONGRATULATIONS! Or you could make a pi?ata. When whacked, the pi?ata will explode into one thousand origami cranes. Or put them all in a bucket on the rim of a door that is slightly ajar. When they fling it open, the buckets will dump a tremendous shower of paper onto their heads! Attach a bucket to a rope so that the buckets don't clank onto their heads and hurt them.
1. Manufacturer Overview

Location
Year Established
Annual Output Value
Main Markets
Company Certifications
2. Manufacturer Certificates

a) Certification Name
Range
Reference
Validity Period
3. Manufacturer Capability

a)Trade Capacity
Nearest Port
Export Percentage
No.of Employees in Trade Department
Language Spoken:
b)Factory Information
Factory Size:
No. of Production Lines
Contract Manufacturing
Product Price Range