QTZ5013A Tower Crane QTZ5613 Used Tower Crane
Loading Port:

China main port
Payment Terms:

TT or LC
Min Order Qty:

1 set
Supply Capability:

1000 set/month
Inquire Now
Customer Service
OKorder Service Pledge
Quality Product
Order Online Tracking
Timely Delivery
OKorder Financial Service
Credit Rating
Credit Services
Credit Purchasing
---
Add to My Favorites
---
Product Description:
CMAX Tower Crane is one of the main products of CNBM and is suitable for all kinds of construction project and a variety of work condition. CMAX Tower Crane adopts standard section hydraulic lifting, connecting, fast-pace working speed, quality speed-adjusting performance, steady operation and high efficiency. CMAX Tower Crane also has Three-speed motor and mono-speed ratio decelerators are applied in the lifting instructions and complete set of safety devices. CMAX Tower Crane machine is equipped with lifting height limiter, dolly range-change limiter, moment limiter, weight limiter, and so on. CMAX Tower Crane has a scientific layout and an elegant appearance. CMAX Tower Crane operator's room is set independently on one side, with good range of vision.
Main Product Features:
1. Widened equipment capacity and working scope.
2. Suitable for the groups of tower cross framework.
3. Noise relief stability with and combination amplitude range.
4. Can sustain height adjustment for occasional exceptional height construction procedures.
5. Large weight capacity, effectively solving high steel structure construction lifting capacity requirements.
Product Specifications:
| | | | | | |
| --- | --- | --- | --- | --- | --- |
| Minimum Order Quantity: | 1 set | Unit: | set | Loading Port: | China main port?xml:namespace> |
| Supply Ability: | 1000 set/month | Payment Terms: | TT OR LC | Package: | set |
Product Images: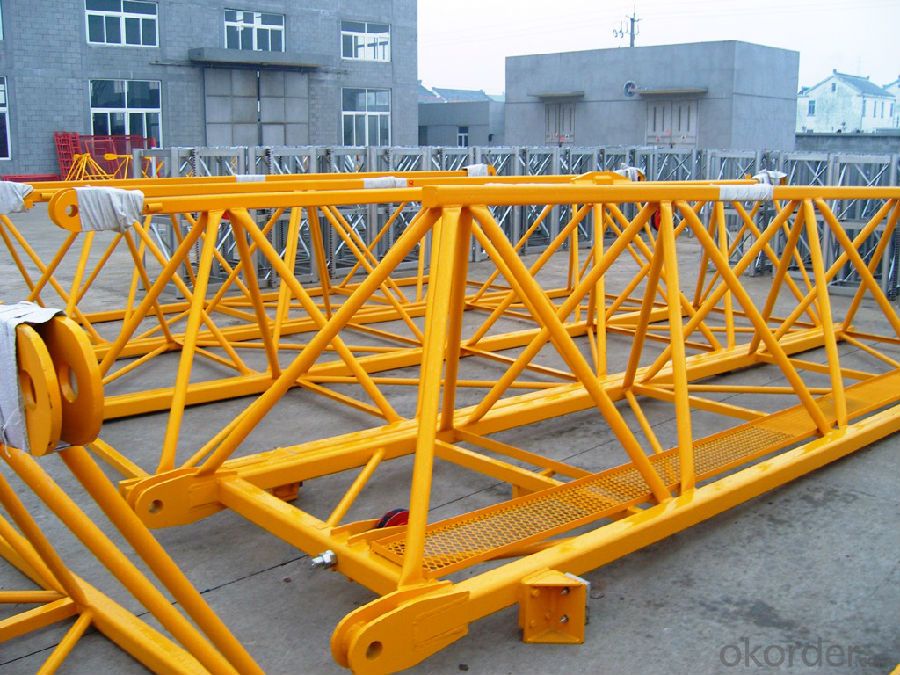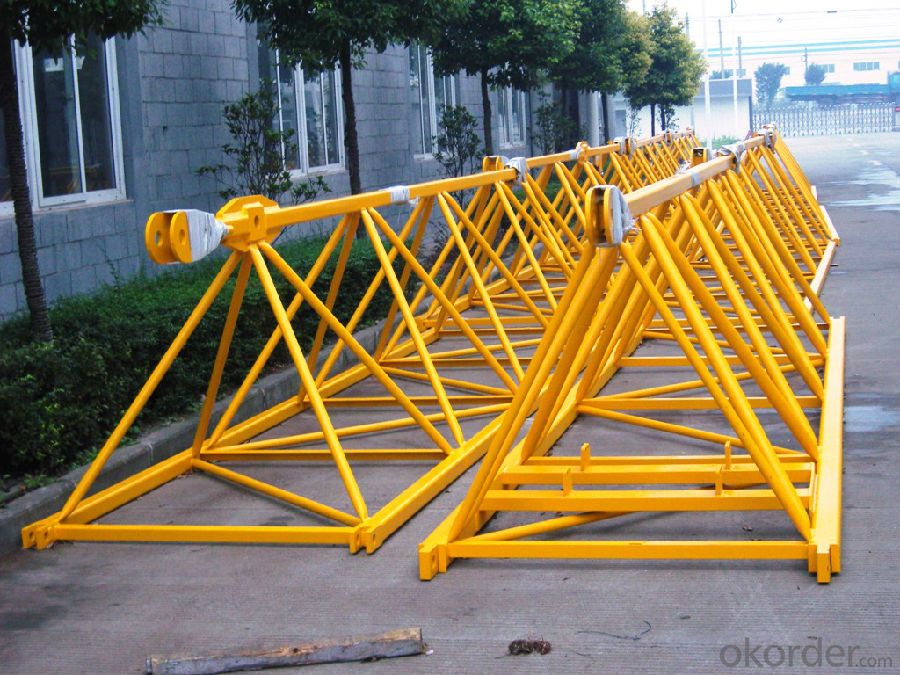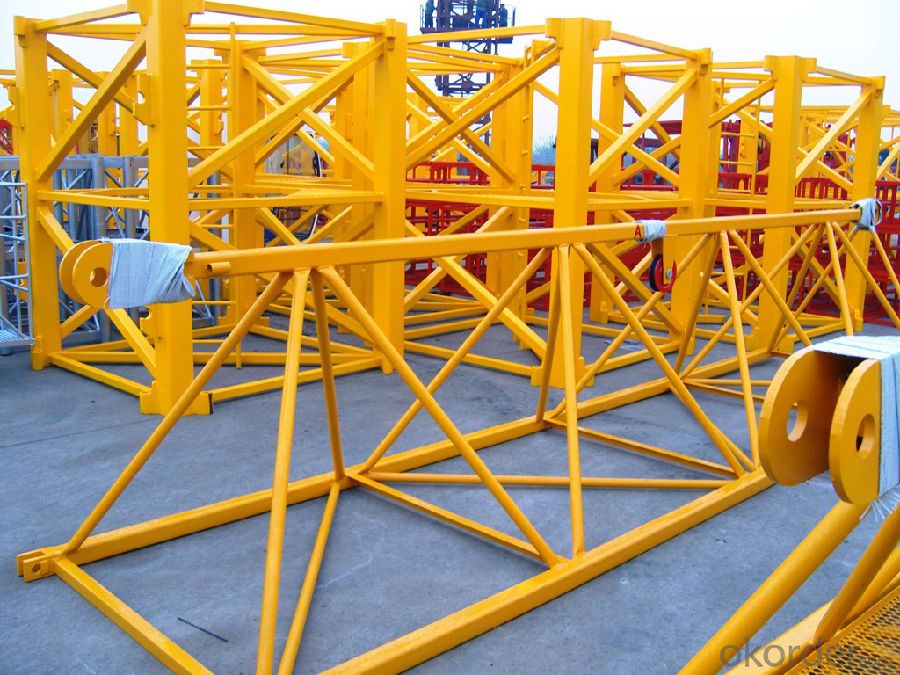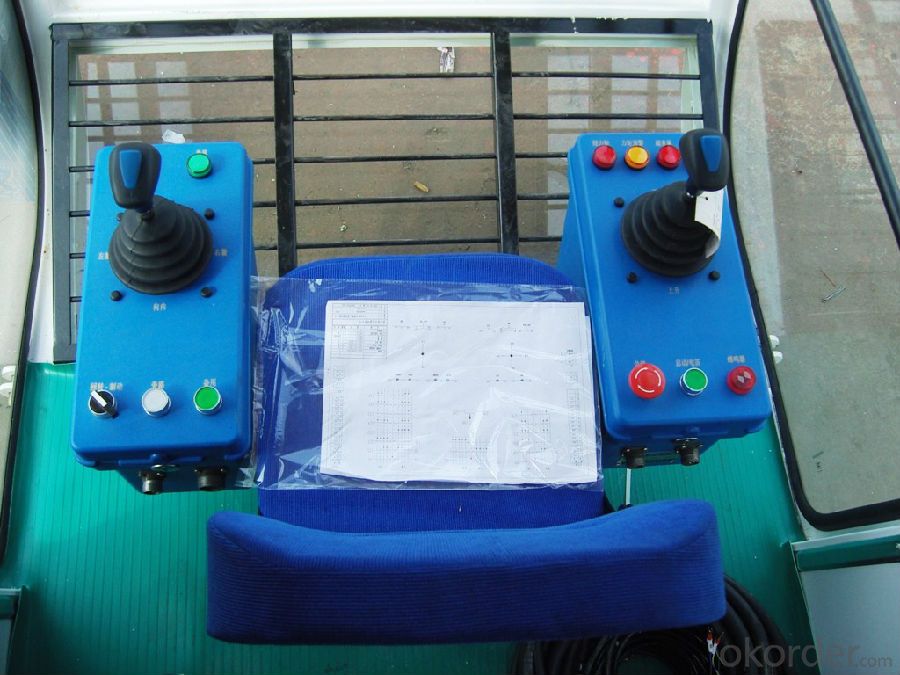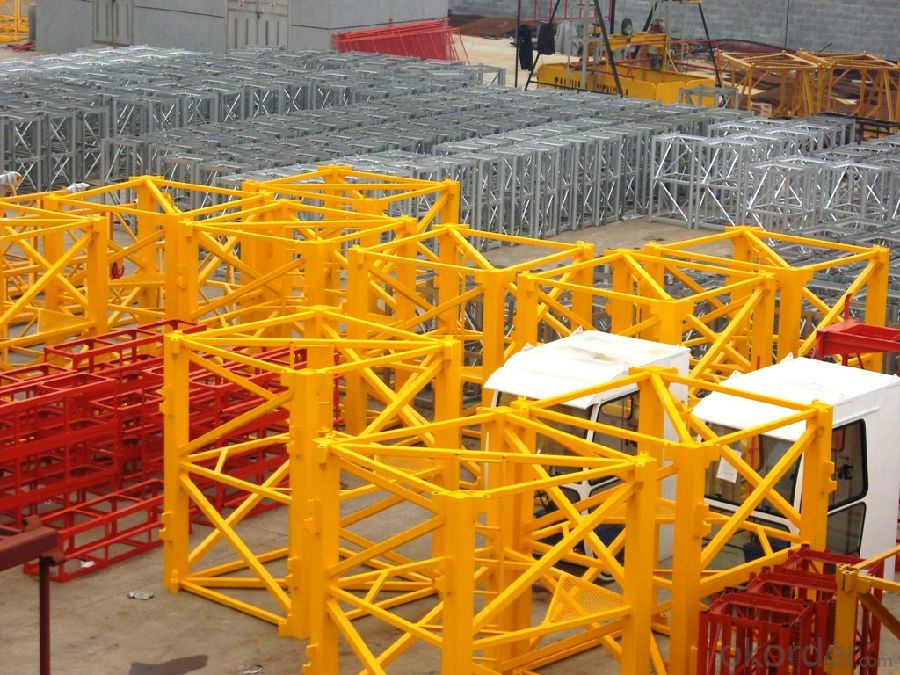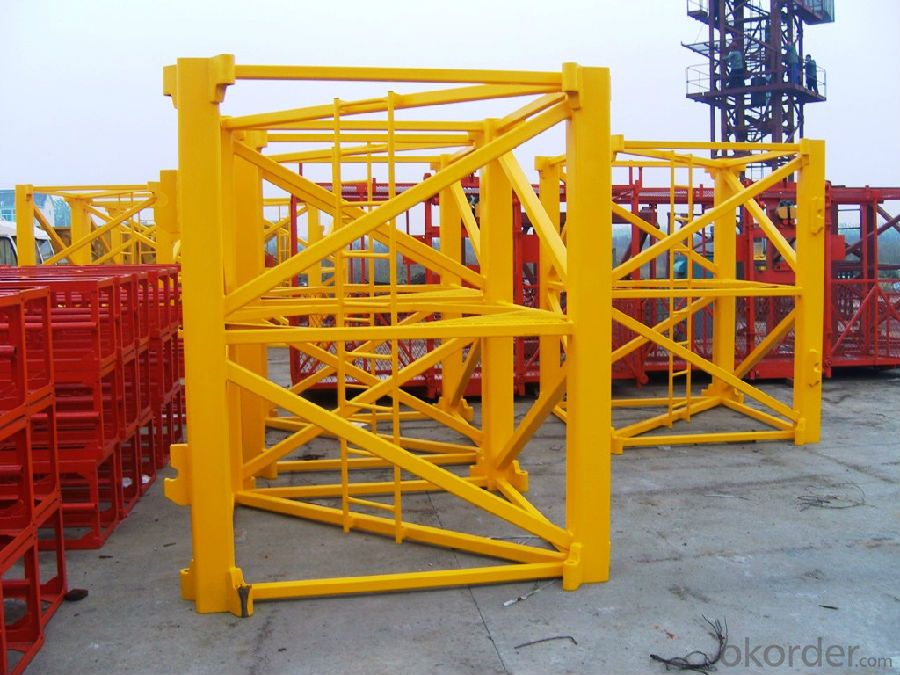 tower crane Specifiction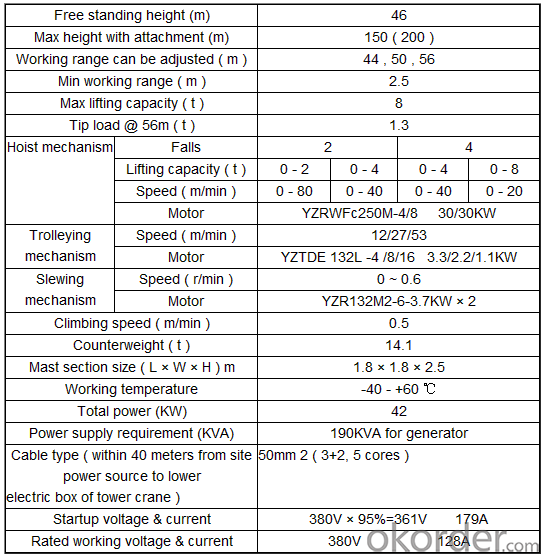 FAQ:
Q1: What is shipment procedure?
A1: You can put two sets of wheel loaders in one 40HQ container. The spare parts are packed with boxes. Also can be delivery within 20 days.
Q2: How is your service?
A2: With our company we hold our client's needs as top property. We have first rate professional technology and provide excellent after-sales services.
Q3: What is your after sales service?
A3: We provide Preventative Maintenance and After Sales Service. We strongly feel the importance of supporting our customers and the product solutions we provide. Consequently we offer comprehensive maintenance options to prevent equipment issues before they become problems. Also we offer a one year warranty to our customers. .
Q:who has played their respective character the longest ? i'm pretty sure it's kelsey grammer but was hoping to get a few responses.

Kelsey Grammer has been Dr Frasier Crane for much longer he played him in Cheers for nine years and in Frasier for eleven years.
Q:some people call it a crane, others say claw but the point is...where can i get one? i dont want a huge one, and i dont want a small one. A medium size one. the shops have to get them from somewhere right? oh, and i'd rather not get one from Ebay. is there a business or something? thank you!

You can buy that stuff at gamig stores that sells alot of gaming equipment
Q:What is the most likely reason that Crane never tells us the lieutenant's name in episode of war?

The Stephen Crane Society Stephen Crane did not have a middle name. Stephen Crane is buried in ... Would a person be more likely to receive a wound when bravely charging the enemy .... I would be most grateful if you could tell me where I could find this please? .... An Episode of War. How does the facts that the lieutenant is rationing ..
Q:I am having trouble thinking of girls names that go well with my last name, Crane.my favorite name is lily but i think it sounds bad with my last nameand i like the name emma and i think that it goes well with crane but i think it might be too commonso if any of you can think of names that are not super common (not unheard of either) that go well with crane that would be awesome. Thanks!

How about Emma Liliana Crane? I think that's really beautiful!!! Or to make the name Lily flow better with the last name, what about Liliana Crane? This way, when people say her name, it will flow really well, but you can still call her Lily all of the time. I think that would be absolutely BEAUTIFUL!!!!! Liliana Faith Crane would be gorgeous if you need a middle name suggestion. Hope this helped and best wishes =)
Q:Do cranes, the bird, have any significance in Egyptian or Chinese mythology?

Yes, they do. Look it up over an Internet search engine.
Q:I'm folding 1000 origami cranes for my upcoming wedding. It's a tradition. I'm trying to find a website that can show me how to make the cranes into a large picture or an idea for a mobile. I found some sites that show pictures of each, but nothing with a how to on it.

from most of the pictures i saw, it seems pretty simple to figure out thinking of it logically. Origami cranes, string, wood sticks, Love and care. And with a bit of your own creativity and whatever supplies you can gather I think you will do a great thing. (making a paper crane now :)
Q:Hi there!I was planning on making an electromagnetic crane, and I already understand how the electromagnet works. Its for the science fair in two weeks, but they asked us to make our projects soon.But I not sure hot to build the crane itself, any ideas?

Electromagnetic Crane Science Project
Q:I saw da construction of the upcoming tallest building in da world in Dubai,how did da crane get on top of it?

it climbs the tower as the tower goes higher. the crane has 8 mechanical legs that it lift it self mechanically.like a spider in a tree or as the tower goes higher workers add a piece at the bottom of the crane using hydraulics
Q:what is the difference between rigging, wire rope and rope?

Crane rigging usually refers to the cable that actually is attached to a cylinder in the crane and the motor turns the cyl. and either take up cable or vice versa. The cable is reeved thru the long (arm) boom of the crane and thru pulleys and then at the end of the cable there is a hook.
Q:how tower crane extend it heights?

A tower crane is actually physically attached to the structure it is helping to build. As the building goes up, they raise the tower crane using a series of jacks that are attached to the floors, so the crane can go as high as the building does.
1. Manufacturer Overview

Location
Year Established
Annual Output Value
Main Markets
Company Certifications
2. Manufacturer Certificates

a) Certification Name
Range
Reference
Validity Period
3. Manufacturer Capability

a)Trade Capacity
Nearest Port
Export Percentage
No.of Employees in Trade Department
Language Spoken:
b)Factory Information
Factory Size:
No. of Production Lines
Contract Manufacturing
Product Price Range