Products Introduction
Main datas:
Capacity( flow rate) :35 ~ 310m3/h
Head :5~58 m
Speed:850 ~ 1950rpm
Impeller diameter:317.5mm
Pump weight:413kg /437kg
Power:5 ~ 75 hp
Advantage :
Big pump body pass 31.75mm solid ,high suction head 7.6 m
Convenient repair and clean (a person ten minutes)
Removable cover plate ,replaceable wear plate
OEM ,L/C ,TT ,O/A ,D/P,D/A and so on
CE ,TUV .ISO
NAME: 6 inch diesel water pump
Standard Self-Priming pump units are available for Solids Handling or Clear Liquid service. Typical mounting configurations are Engine Driven for Skid or Trailer Mounted packages and Frame Mounted Electric Driven. Pumps also are available in a variety of different metallurgies.
1) Main Character
1.Beautiful shape and fine structure,reliable performance.
2.With strong capacity of delf priming, no need to equip with flap valve.
3.Non-clog, and with powerful capacity of passing big solid..
4.The hole can make sure that stronger sewage can be cleaned quickly when pump is jammed.
5.The unique lubrication oil mechanical seal cavity makes the performance more reliable.
6.Special check valve structure can make the pump working quickly.
7. When working, the gas and liquid works together .
8. Low rotary speed,reliable operation,long time usage, easy to maintenance.
9.Advanced pressure protector make pump the pump work safe.
2) Application Area
1. Municipal project, sewage project, instruction project.
2.Uptown,hospital, hotel sewage transportation.
3.Classification of municipal sewage factory treatment and concentrate system engineering.
4. Factory and contaminated water delivery.
3) Industries Served
| | | |
| --- | --- | --- |
| ♦ Construction | ♦ Industrial | ♦ Municipal |
| ♦ Agricultural | ♦ Mining | ♦ Dewatering |
| ♦ Industrial Waste | ♦ Sewage | ♦ Oil Field |
| ♦ Petrochemical | ♦ Paper Mills | ♦ Processing |
4)Parameter
1.Inlet/Outlet
2''(50mm), 3''(75mm), 4''(100mm), 6''(150mm), 8''(200mm), 10''(250mm), 12''(300mm)
2.Impeller Diameter
158.74mm-457.2mm
3.Rotary Speed
550RPM-2150 RPM
4.Flow Rates
8m3/h-1275m3/h
20GPM-5500GPM
5.Head
6m-63m
6.Horsepower
1HP-125HP
7.N.W
92KG-998KG
8.G.W
114KG-1066KG
9.Solid Passing
20.63mm-76.2mm
10.Material
Cast Iron, ADI, CD4MCU, 316 SS, Alloy 20, C276.
11.Diesel Driving
Water cooled or air cooled
12.Method of Connection
Self-priming pumps are available as basic units or may be flex-coupled, V-belt driven or engine mounted.
13.Drive Variation
Cummins, Deutz, Ricardo, Perkins or Chinese Diesel, Electric Motor
14.Skid Mounted on Trailer
2 or 4 wheels Trailer/Trailor,Cart
15.Package
Exporting plywood case
16.Certification
CE , ISO9001:2008 ,TUV
5) Mounting Configuration
♦ Frame Mounted
♦ Base Mounted Electric Driven
♦ Engine Driven SAE Mounted
♦ Engine Driven Skid or Trailer Packages
♦ Horizontal or Vertical V-Belt Driven
Prameter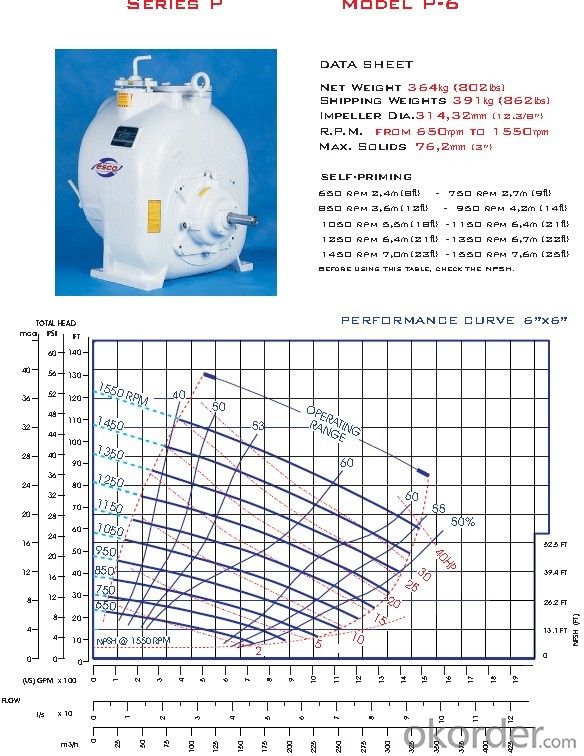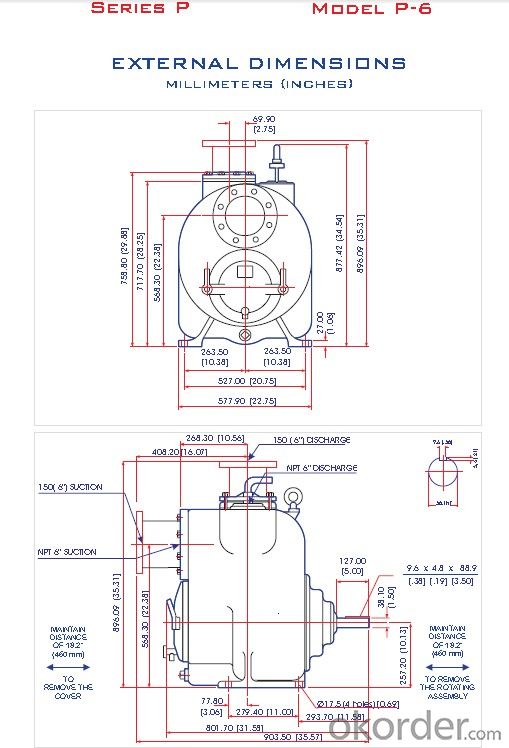 5) Mounting Configuration
♦ Frame Mounted
♦ Base Mounted Electric Driven
♦ Engine Driven SAE Mounted
♦ Engine Driven Skid or Trailer Packages
♦ Horizontal or Vertical V-Belt Driven
Samply available: 7~10days.
Qty: 1pc, only pump head is provided.
Price: US$100~200
OEM is welcome
OEM expierence: more than 10 years.
Countries: Germany, U.S.A, Spain, Italy, United Kingdom etc
Warranty: the whole pump is guaranteed within 1 year, the pump's spare parts are guranteed for 3 months from the date of delivery.
For more information, please do not hesitate to contact me.
The information should be including inquiry as following:
1.Pump's flow rate
2.Pump's Head (Pressure)
3.Driven Mode: By electric motor or diesel engine or bare shaft etc
4.Power and rotary speed
5.Suction lift for self priming pump
6.Temperature of liquid if you can provide
Upon the receipt of the pump's parameter, we can send our quotation to you within 24 hours.
Or the condition of pump station would be provided.
♦FAQ:
1. Q: Can I know more about your products?
A: Pls view our website: www.lanco.cc.
2. Q: What's your MAQ of this item?
A: 1~2PCS
3. Q: What is the lead time?
A: 10~30 days after receiving your payment,depends on pumps.
4. Q: where is your loading port?
A: Ningbo, China port
5. Q: Are you a manufacturer or trading company
A: We are a manufacturer specialize in water pump and other pumps more than 20 years.
For more information, please contact me.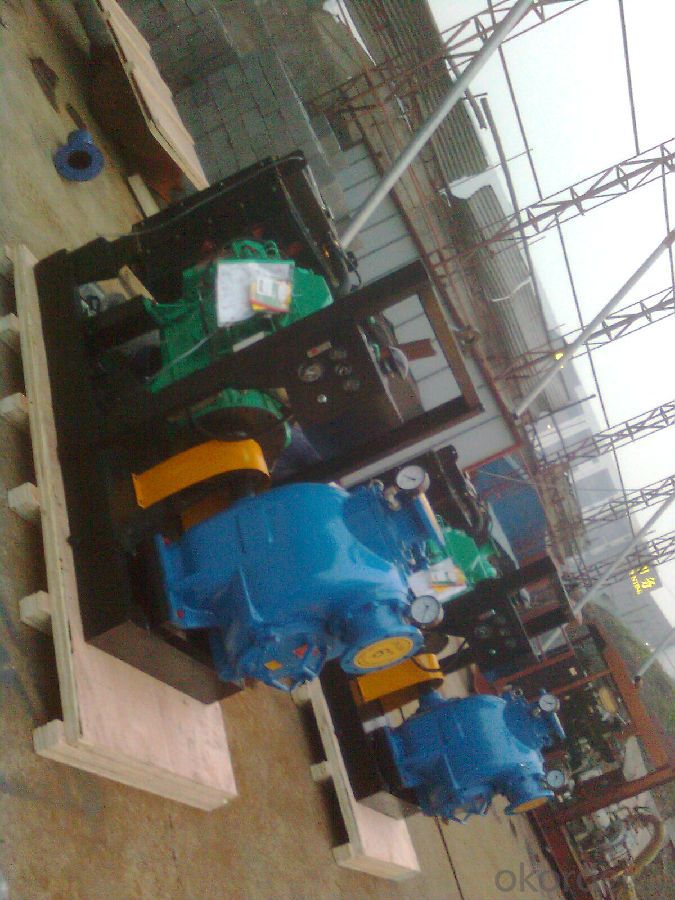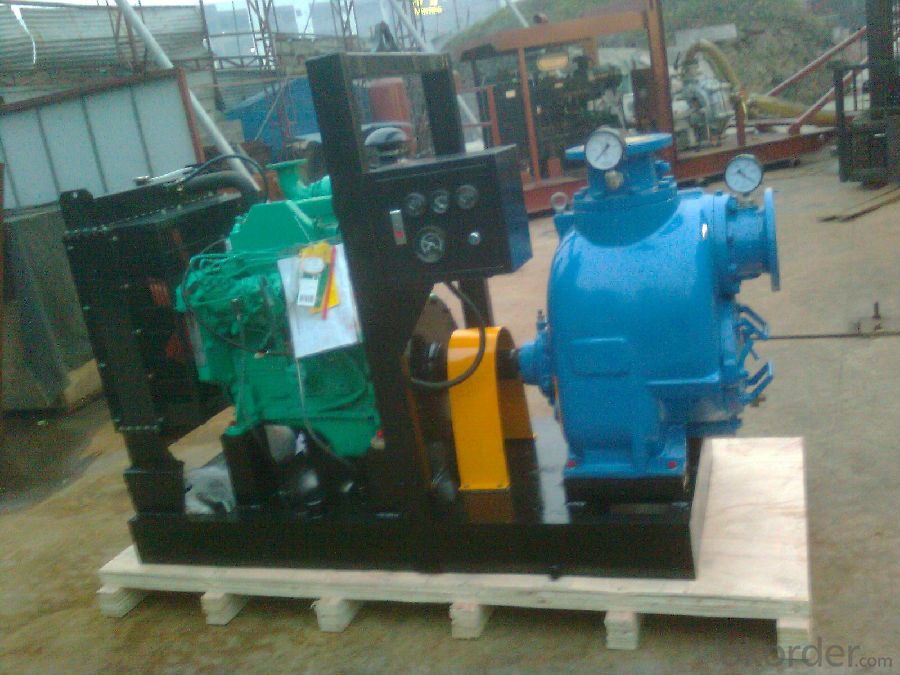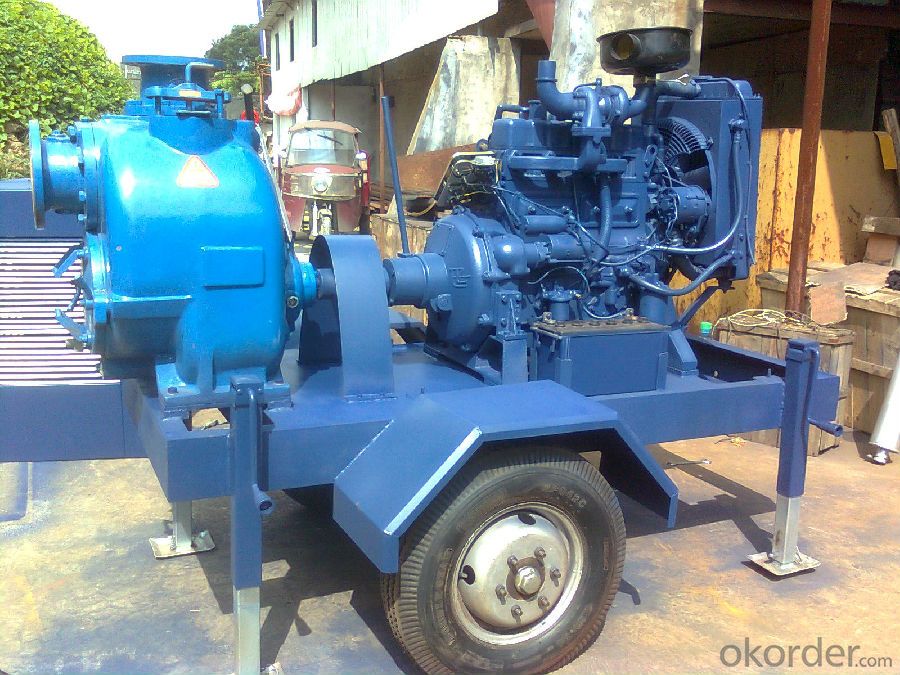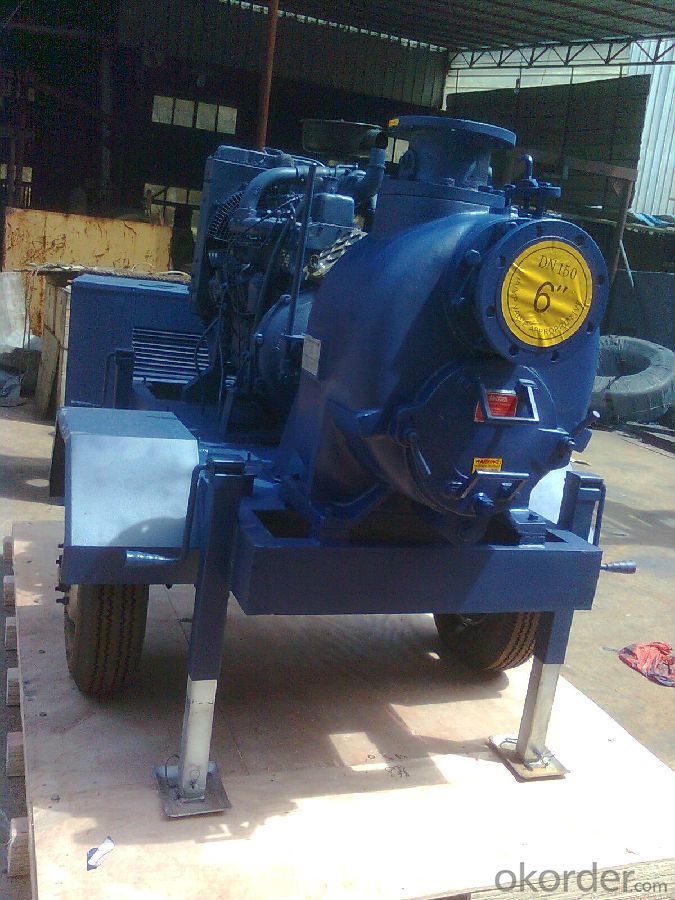 Q:What should I pay attention to when buying a pump?

Two, the first choice of large and medium-sized professional manufacturers, and through the quality identification of relevant departments, the market credibility of the better models, but also to the professional quality inspection institutions consultation.Three, check the motor grounding device for electric pump, water pump and motor axis, the motor should be in a proper position is provided with a grounding screw, and the grounding screw are arranged near the ground; grounding device of small submersible pump should be reliable and grounding wire, grounding wire cables should have the obvious grounding mark the flag should be in use; the motor is not easy to be worn during the period. This is one of the important safety indexes of electric pumps.
Q:What kind of motor does the hydraulic pump need?

Hydraulic pump is a power component of hydraulic system. It is driven by an engine or an electric motor. It draws oil from the hydraulic tank to form a component of the pressure oil which is sent to the actuating element. Hydraulic pump according to the structure is divided into gear pumps, piston pumps, vane pumps and screw pumps.
Q:What is the name of the day pump and ground pump? Specific introduction

Day pumpDay pump is called "day pump", the main reason is that it can deliver concrete to a certain height, make up for other concrete pump transportation shortage. Compared with other concrete pumps, the pump has its own boom, and the concrete can be transported without the use of artificial cloth. It is very convenient for use. At present, China's longest boom pump is 101 meters, which means that 101 meters under the floor can be completed with the help of day pump concrete delivery. In addition, the pump is equipped with a chassis, so compared with the ground pump, it can walk independently, moving very convenient, you can quickly move from one site to another location.
Q:What is the working pressure of the hydraulic pump in the hydraulic transmission system?

The operating pressure of the hydraulic system depends mainly on the load. Generally speaking, the working pressure of the hydraulic system means the highest working pressure of the system. If the pressure is higher than the value of the equipment, the relief valve works to relieve pressure. The actual working pressure of the hydraulic system is determined by the load, which refers to the actual pressure of the hydraulic oil and can be read directly from the pressure gauge. The pressure increases with the increase of the load. You Li's balance can know: the thrust of the cylinder = the load, the thrust of the cylinder = the working pressure of the hydraulic oil, the working area of the cylinder, the working pressure = the load / the area of the cylinder.
Q:There are second cutting, third cutting, why three times?

There are 2 situations, first, for example, a XXXX-160 type pump head 32, flow 100, motor 15kW, according to the model we need to cut a become head 28, flow rate of 88, this time, in addition to cutting the impeller, the pump or the original pump motor, became 11kW this is, re designed a new model, namely XXXX-160A, but most structural components did not change. In the same way, we want to design a XXXX-160B that makes the head 24 and the flow rate 80, then we just need to cut the impeller again and match the smaller (7.5kW) motor (the motor bracket needs to be redesigned). In general, multiple cutting impellers are designed to expand and enrich the model. Second, the actual use, if you think the flow head is too large, but also can be cut to make it smaller to adapt to practical applications. But the 2 and 3 cuts you ask are the first.
Q:Does vacuum pump oil belong to dangerous goods?

Of flammable substances, but not included in dangerous goods!Does not belong to dangerous goods,
Q:How many kilograms of water pump are there in the automatic washing machine on the market?

High pressure pump pressure can reach 4--8kg, flow 5 liters, work current 4 or so.
Q:Brief description of centrifugal pump on / off operation

First, the preparation before the start(1) carefully check the inlet and outlet pipe line, valve, flange and pressure gauge joint of the pump, whether the installation is safe, comply with the requirements, whether the flow is correct, whether the anchor bolt and other connecting parts are loose or not.(2) add lubricating oil to the bearing case, and the oil level is 2/3 of the gauge of the bearing box.
Q:What are the ways of hydraulic pumps?

There are several ways:Direct flow mode, such as external gear pump;Port plate, such as vane pump, axial piston pump, etc.;
Q:What is a water pump coupling device?

The water pump coupling device comprises a coupler, a coupling flange, a guide rod and an upper fixing plate, wherein the contact surface of the coupling base and the coupling slide plate is provided with an annular groove, and a soft sealing gasket is tightly fixed on the groove. By adopting the structure, the coupling contact surface of the coupling slide plate and the coupling base is sealed firmly by an annular sealing groove
1. Manufacturer Overview

Location
Year Established
Annual Output Value
Main Markets
Company Certifications
2. Manufacturer Certificates

a) Certification Name
Range
Reference
Validity Period
3. Manufacturer Capability

a)Trade Capacity
Nearest Port
Export Percentage
No.of Employees in Trade Department
Language Spoken:
b)Factory Information
Factory Size:
No. of Production Lines
Contract Manufacturing
Product Price Range
Hot Searches
Related keywords