Portable Floss roll clean environmentally friendly floss roll for house
Soft tape to ace the tight space
No break, no shred floss
Helps remove plaque between teeth
Helps prevent gingivitis between teeth
Unique handle design, makes it easy and comfortable to floss. Removes trapped food debris.
Extra bristled pick for hard to get bits,even gets behind hard-to-reach molars.
Gently slides smooth between tight teeth. Freshen breath with flavor.
Recommends you use OK flosser after every meal and snack to have a fresher, cleaner mouth. For a completely daily clean, use with a OK flosser to easily reach back teeth.


Brand OEM/Ok Floss
Floss materialCharcoal ,UHMWPE ,nylon
Floss length7.4*2.2cm/25-30M/OEM
WaxImport germany wax/american wax/bee wax/candelilla wax/customized wax
FlavorMint / green tea / lemon / peach / fruit / aloe / gin
ColorFloss original color
Floss original colorIndividual bulk PP bag/individual paper box/as customized
ApplicationsFamily,Hotel,Travel,Supermarket
DeliveryBy sea,By air,By express.
Lead time20-30days
Why we need use dental floss??
Because it can reduce your chances of 60% ofadjacent dental caries and 70% of periodontal disease.
It allows you to have a healthy tooth of your own at the age of 80.
Flossing your teeth in the right way will remove food particles and growing plaque from spots where your
toothbrush can't reach, generally between your teeth and under the gumline.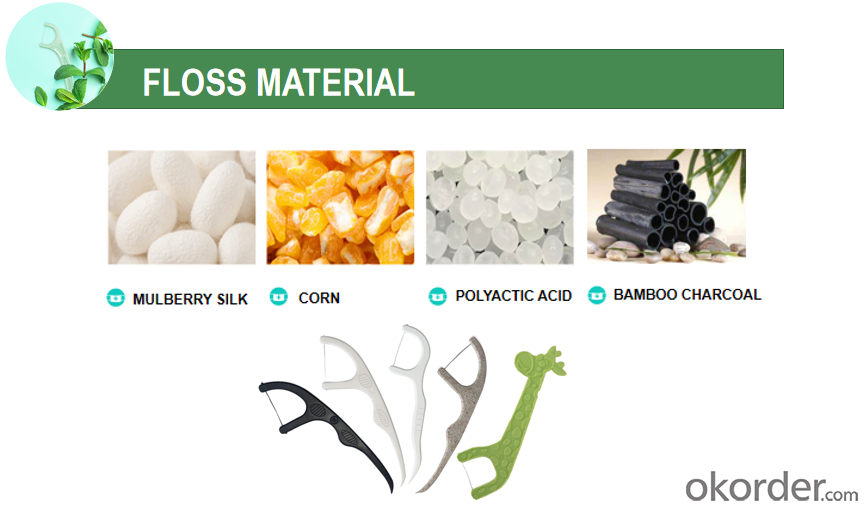 Various flavors to choose:Mulberry Silk,Corn, Polyactic Acid, Bamboo Chacoal, and any flavor you want.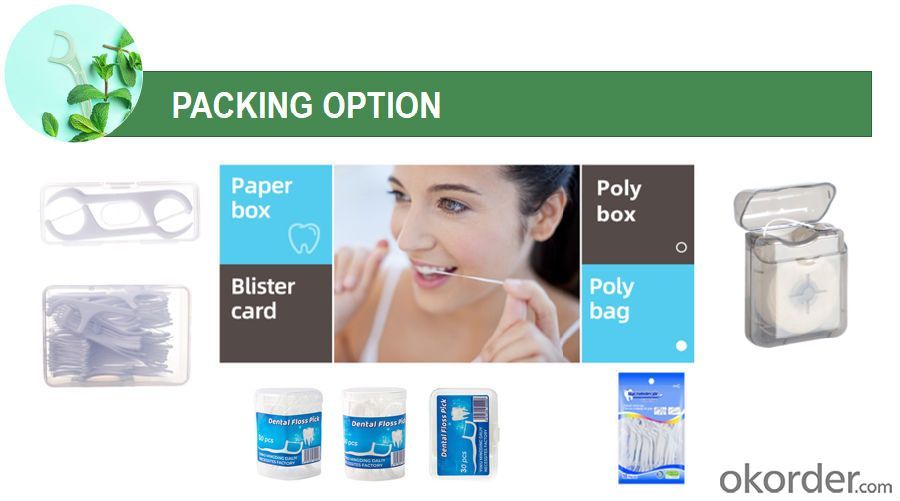 Many kinds of packaging options are available.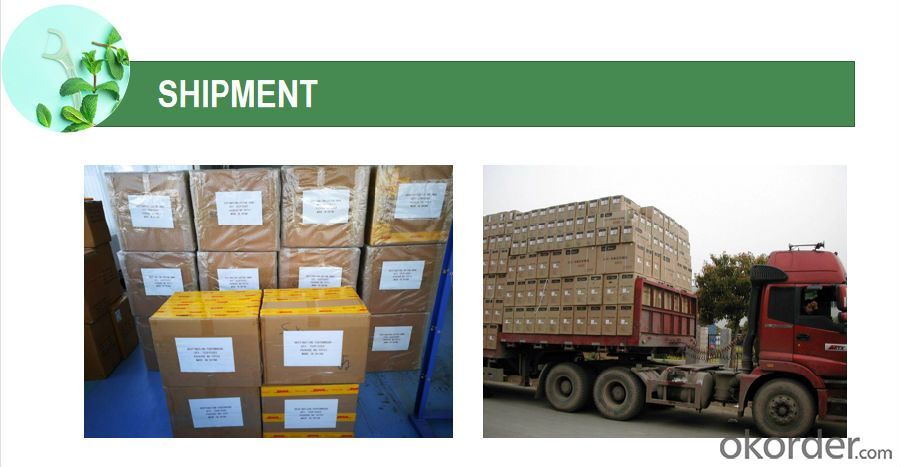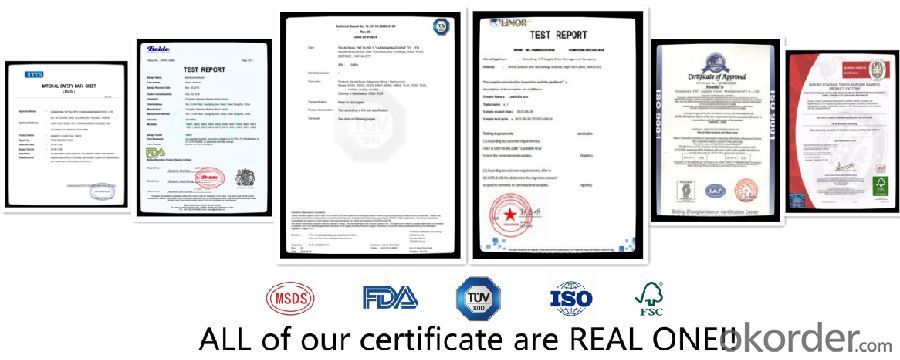 Suggested use
Directions for flossing: While holding the handle, gently guide the floss between your teeth using a zig-zag motion. Move floss away from the gumline in a gentle back and forth, up and down motion alongside each tooth to remove food particles and plaque. Rinse floss as needed and repeat for each tooth.

Warnings
Adult supervision recommended under age 10.
FAQ
Q: Can you accept OEMcan make your customize can make your customized brand and design blister card, inner box and master carton, and also pack as per your request.
2. Q: Where can I put my logo?
A: We can print your logo on the sticker, blister card, inner box and master carton.
3. Q: What are your MOQ?
A: Blister card packing: 10000 pcs/item.
Bulk packing: 5000 pcs/item.
4. Q: How can I get Samples?
A: Samples are free, while the shipping cost to be collected.
5. Q: What are your terms of payment?
A: 1) T/T(30% in advance, the balance by the copy of B/L).
2)For small order less than USD 3000, in order to save bank commision for both of us, we need 100% in advance.
6. Q: How long is the delivery time?
A: For the MOQ, the leading time is about 20-30 days.
Q:

Yes, medical plastics are designed to be resistant to aging. They undergo rigorous testing to ensure durability and longevity, allowing them to maintain their properties and performance over time.
Q:

Yes, medical plastics can be colored or tinted.
Q:The difference between metal and plastic in ureter

Aromatic nylonThe benzene ring structure is introduced into the main chain, which has high temperature resistance, radiation resistance and corrosion resistance
Q:

Medical plastics play a crucial role in the development of point-of-care testing by providing essential components such as microfluidic chips, biosensors, and disposable devices. These plastics are lightweight, durable, and cost-effective, allowing for portable and convenient point-of-care testing devices to be developed. Additionally, medical plastics can be easily molded into various shapes and sizes, enabling the miniaturization and integration of multiple functions into a single device. This contributes to the advancement of point-of-care testing by improving accuracy, speed, and accessibility of diagnostic tests, ultimately leading to better patient outcomes and reduced healthcare costs.
Q:

Medical plastics play a crucial role in the development of personalized implants by providing a versatile and biocompatible material that can be easily customized to fit each patient's unique anatomical needs. These plastics can be molded into complex shapes and sizes, allowing for precise and tailored implant designs. Additionally, medical plastics are lightweight, durable, and resistant to corrosion, making them ideal for long-term implantation. Their compatibility with imaging techniques such as CT scans and MRIs further aids in the creation of personalized implants, as these plastics are transparent to these imaging modalities, enabling accurate preoperative planning and postoperative monitoring. Overall, medical plastics facilitate the advancement of personalized implants, enhancing patient outcomes and improving quality of life.
Q:Is it made of plastic, titanium or metal titanium?

One of the medical errors is in violation of the provisions of the law on tort liability and the regulations on the administration of medical institutions.
Q:Questions about medical plastics

Non medical banned plastic waste refers to is not disposable plastic utensils with blood, body fluids, waste (including plastic infusion bag, infusion bottles, but does not include a transfusion tube and a syringe) after sorting, crushing and collecting agents, cleaning out the residual pulp separation label, rubber and aluminum cap, separating bag (bottle) and body bag (bottle) nozzle, separation polyurethane foam and nearly nine processes can produce pure medical grade recycled polypropylene PP, medical grade recycled composite membrane particles, polyisoprene rubber and polyurethane foam, its reproduction degree up to two level of first-class plastic materials (can be used for in addition to food and drug packaging uses all other industrial applications).
Q:

Yes, medical plastics can be used for fertility treatments or reproductive health. Medical plastics are commonly used in various reproductive health procedures such as in vitro fertilization (IVF), embryo transfer, and intrauterine insemination (IUI). These plastics are used in the manufacturing of medical devices like catheters, syringes, and embryo culture dishes, ensuring safety and sterility during these procedures.
Q:

The limitations of medical plastic in terms of temperature and pressure resistance vary depending on the specific type of plastic used. Generally, medical plastics have a lower resistance to high temperatures and pressures compared to materials like metal or glass. They may start to deform or melt at elevated temperatures, and their structural integrity can weaken under high pressure. Therefore, it is crucial to select the appropriate medical plastic that can withstand the specific temperature and pressure conditions encountered in medical applications to ensure patient safety and device functionality.
Q:

Medical plastic is used in rehabilitation equipment to provide durability, flexibility, and hygiene. It is commonly used in the manufacturing of braces, splints, and prosthetic devices, as well as in the construction of wheelchair components. The lightweight and moldable nature of medical plastic allows for customized and comfortable fit, facilitating the rehabilitation process for patients. Additionally, medical plastic is resistant to moisture and can be easily cleaned, ensuring a safe and sterile environment for patients during their rehabilitation journey.
1. Manufacturer Overview

Location
Year Established
Annual Output Value
Main Markets
Company Certifications
2. Manufacturer Certificates

a) Certification Name
Range
Reference
Validity Period
3. Manufacturer Capability

a)Trade Capacity
Nearest Port
Export Percentage
No.of Employees in Trade Department
Language Spoken:
b)Factory Information
Factory Size:
No. of Production Lines
Contract Manufacturing
Product Price Range