Item specifice
Brand Name:
Ok Floss
Type:
Clean teeth
Floss material:
Bamboo charcoal
Wax:
As per customer request
MOQ:
300 PCS
Packing:
Customized Packaging
Case material:
PP
Log:
Customized
Flavor:
Mint,Strawberry or Customized
---
Dental Flossing Eco Bamboo Charcoal Strong Teeth Floss Cleaner Picks
| | |
| --- | --- |
| Brand | OEM/Ok Floss |
| Floss material | Charcoal ,UHMWPE ,nylon |
| Floss length | 7.4*2.2cm/25-30M/OEM |
| Wax | Import germany wax/american wax/bee wax/candelilla wax/customized wax |
| Flavor | Mint / green tea / lemon / peach / fruit / aloe / gin |
| Color | Floss original color |
| Floss original color | Individual bulk PP bag/individual paper box/as customized |
| Applications | Family,Hotel,Travel,Supermarket |
| Delivery | By sea,By air,By express. |
| Lead time | 20-30days |
Soft tape to ace the tight space
No break, no shred floss
Helps remove plaque between teeth
Helps prevent gingivitis between teeth
Unique handle design, makes it easy and comfortable to floss. Removes trapped food debris.
Extra bristled pick for hard to get bits,even gets behind hard-to-reach molars.
Gently slides smooth between tight teeth. Freshen breath with flavor.
Recommends you use OK flosser after every meal and snack to have a fresher, cleaner mouth. For a completely daily clean, use with a OK flosser to easily reach back teeth.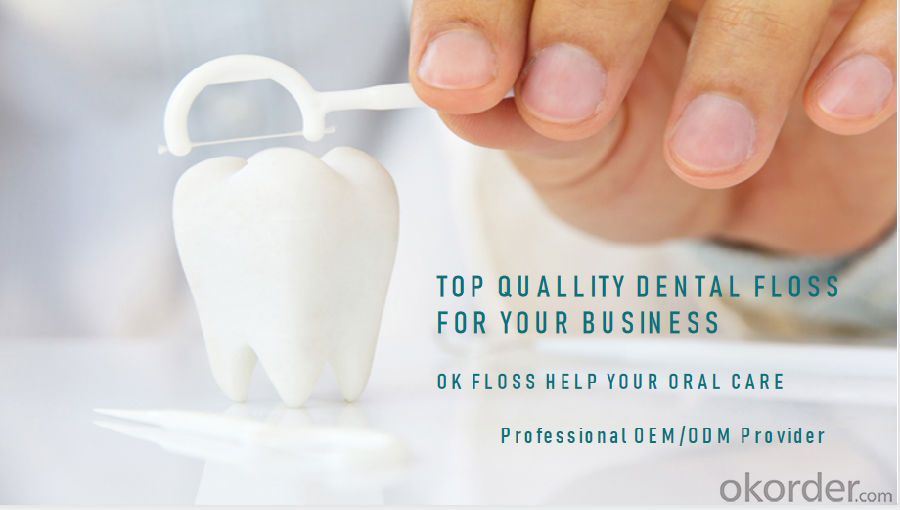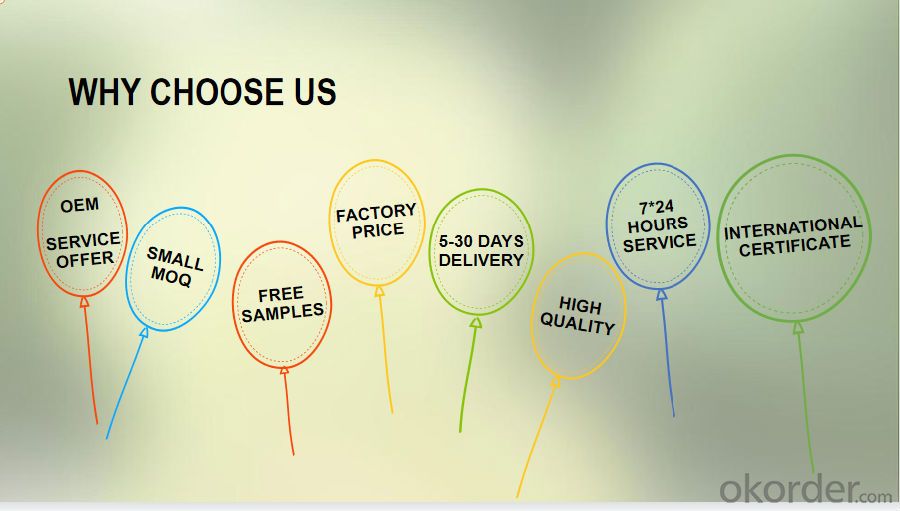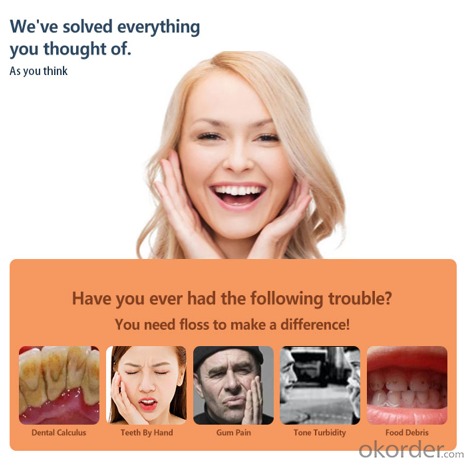 Why we need use dental floss??
Because it can reduce your chances of 60% of adjacent dental caries and 70% of periodontal disease.

It allows you to have a healthy tooth of your own at the age of 80.Flossing your teeth in the right way will
remove food particles and growing plaque from spots where your toothbrush can't reach, generally between
your teeth and under the gumline.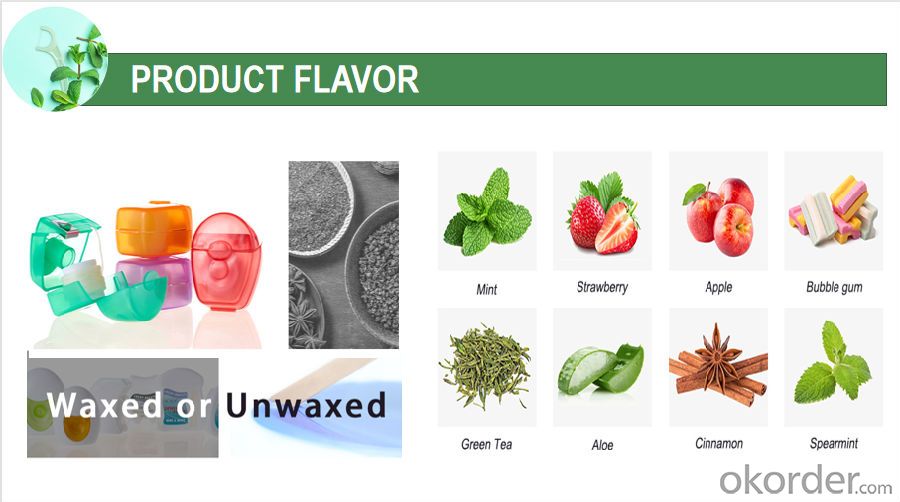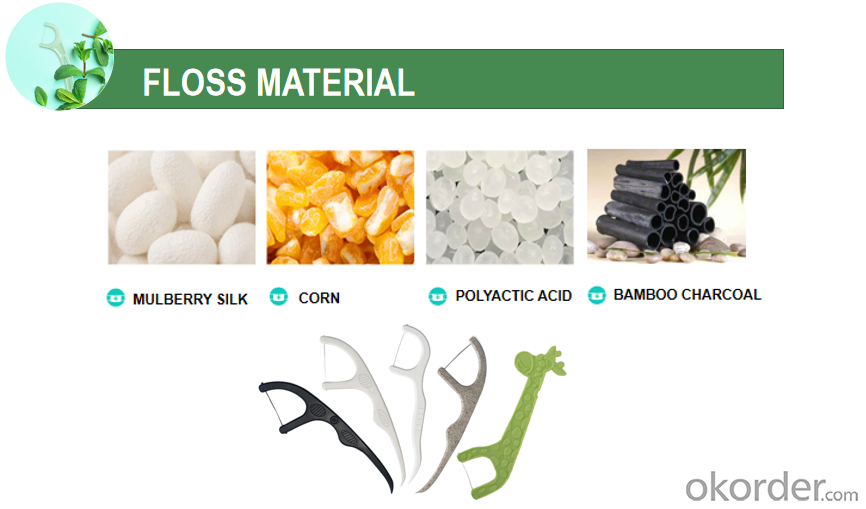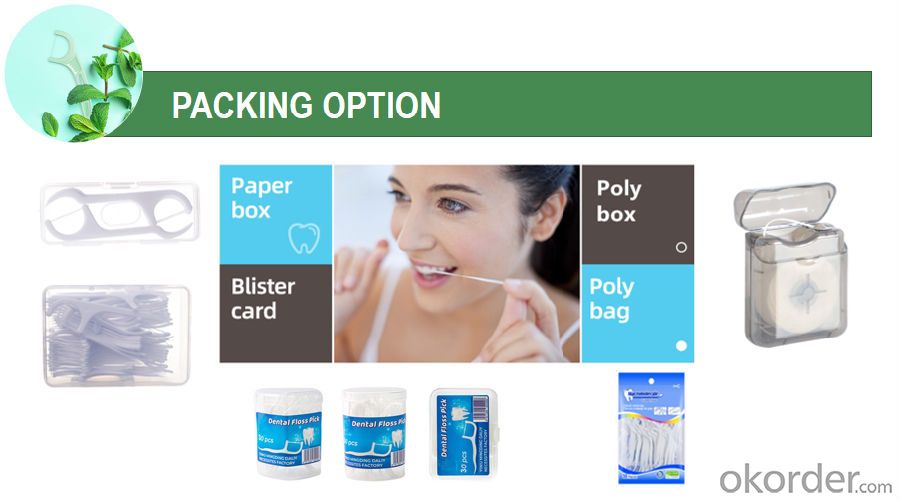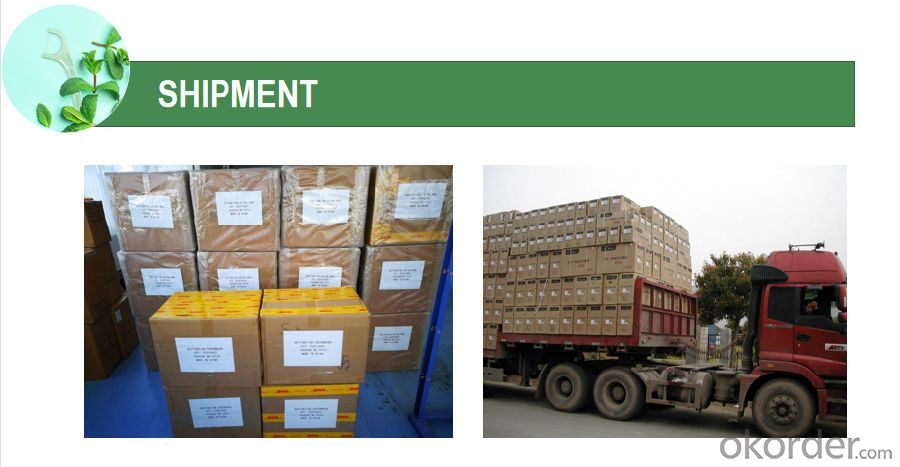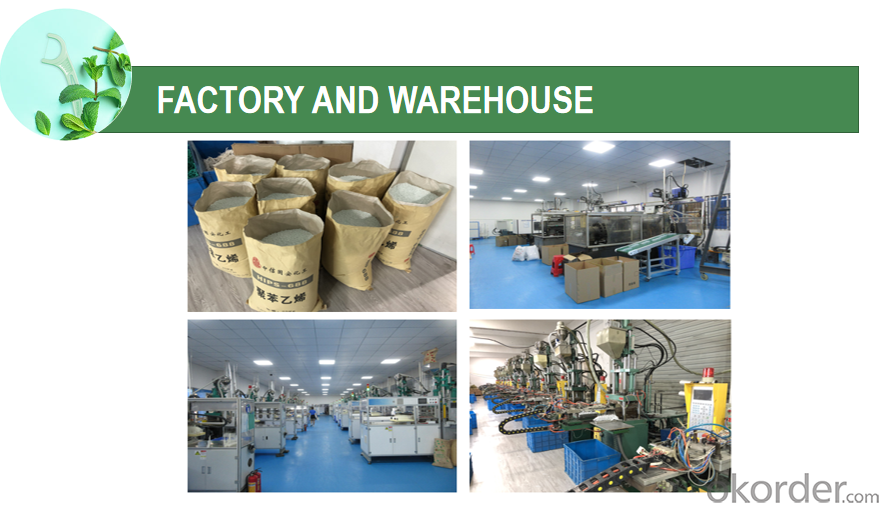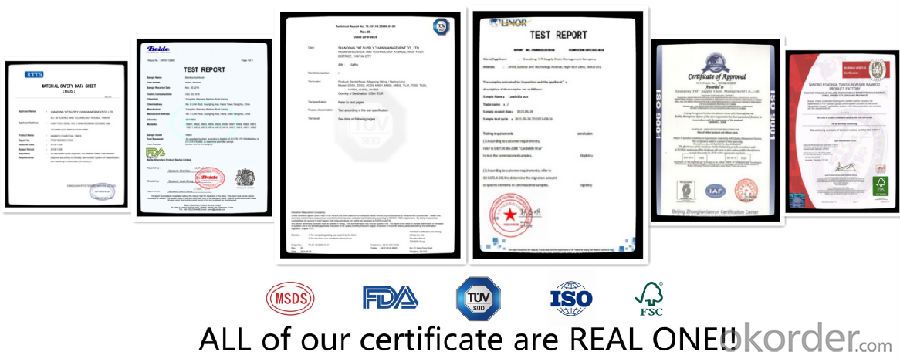 FAQ
Q: Can you accept OEM make?
A: Sure.We can make your customized brand and design blister card, inner box and master carton, and also pack as per your request.
2. Q: Where can I put my logo?
A: We can print your logo on the sticker, blister card, inner box and master carton.
3. Q: What are your MOQ?
A: Blister card packing: 10000 pcs/item.
Bulk packing: 5000 pcs/item.
4. Q: How can I get Samples?
A: Samples are free, while the shipping cost to be collected.
5. Q: What are your terms of payment?
A: 1) T/T(30% in advance, the balance by the copy of B/L).
2)For small order less than USD 3000, in order to save bank commision for both of us, we need 100% in advance.
6. Q: How long is the delivery time?
A: For the MOQ, the leading time is about 20-30 days.
Suggested use
Directions for flossing: While holding the handle, gently guide the floss between your teeth using a zig-zag motion. Move floss away from the gumline in a gentle back and forth, up and down motion alongside each tooth to remove food particles and plaque. Rinse floss as needed and repeat for each tooth.

Warnings
Adult supervision recommended under age 10.


Q:

Medical plastics can have a detrimental impact on the environment due to their production and disposal processes. The manufacturing of medical plastics involves the extraction and processing of fossil fuels, contributing to carbon emissions and climate change. Additionally, improper disposal of these plastics can lead to pollution of land, water bodies, and harm to wildlife. Furthermore, the slow decomposition rate of medical plastics further exacerbates their environmental impact, as they persist in the environment for hundreds of years.
Q:

Medical plastic disposal is regulated through various laws and regulations implemented by government authorities, such as the Environmental Protection Agency (EPA) and the Food and Drug Administration (FDA). These regulations aim to ensure the safe and proper disposal of medical plastics to minimize environmental impact and prevent potential health hazards. Medical facilities are required to follow specific guidelines for segregating and disposing of medical plastics, including the use of designated containers, proper labeling, and adherence to waste management protocols. Additionally, there are regulations in place for the transportation, treatment, and final disposal of medical plastics to ensure compliance with health and environmental standards.
Q:

Medical plastic is used in wound dressings as it provides a protective barrier against external bacteria and contaminants, while allowing the wound to breathe and heal. It is also flexible and comfortable, conforming to the shape of the wound, and can be easily adjusted or removed without causing further damage.
Q:

Yes, there are several risks associated with the breakdown of medical plastics over time. One significant risk is the release of harmful chemicals and toxins into the environment, which can have adverse effects on human health and ecosystems. Additionally, the degradation process can weaken the structural integrity of the plastic, leading to potential failures or malfunctions in medical devices or equipment. Contamination of medications or medical samples may also occur as a result of the breakdown, compromising their effectiveness or accuracy. Therefore, it is crucial to carefully manage and dispose of medical plastics to mitigate these risks.
Q:What is made of plastic medical bottle

No accident. It should be made by medical grade PP, and maybe PE too
Q:What's the material of the lunchbox? Now there are plastic, stainless steel, wooden, experienced to say

Ordinary plastic Bento boxes are easy to release toxic substances, and of course, there are completely environmentally friendly non-toxic medical plastic texture, but the cost is high, and good even more expensive than stainless steel.
Q:What kind of adhesive tape is attached to the surface of a smooth plastic, and after a while it will not leave any glue on it?

The paper tape is often used in art class, there are two kinds, one is water after the sticky, another possibility is what you want
Q:

Yes, medical plastics can be made shape memory. Shape memory polymers (SMPs) are a type of medical plastic that can be programmed to remember their original shape and return to it when subjected to specific stimuli, such as temperature or light. This property makes them highly suitable for various medical applications, including minimally invasive surgeries, stents, and drug delivery systems.
Q:

Yes, medical plastics can be used for gene therapy or genetic engineering. Medical plastics, such as polymeric materials, can serve as carriers for delivering genetic material into cells. They can be used to encapsulate and protect therapeutic genes, allowing for controlled release and targeted delivery to specific cells or tissues. Additionally, medical plastics can also be utilized in the development of gene editing tools, such as gene delivery vectors or gene editing devices, which are essential in genetic engineering applications.
Q:

Medical plastics play a crucial role in the field of dermatology by providing various tools and products that enhance treatment and patient care. Dermatology procedures often involve the use of disposable instruments made from medical plastics, such as scalpels, forceps, and syringes, ensuring sterility and reducing the risk of infection. Additionally, medical plastics are used in wound dressings and bandages, providing a protective barrier and facilitating optimal healing conditions. Furthermore, dermatological creams and ointments are often packaged in plastic tubes or containers, allowing for precise and controlled application. Overall, medical plastics contribute to the field of dermatology by improving hygiene, efficiency, and patient comfort.
1. Manufacturer Overview

Location
Year Established
Annual Output Value
Main Markets
Company Certifications
2. Manufacturer Certificates

a) Certification Name
Range
Reference
Validity Period
3. Manufacturer Capability

a)Trade Capacity
Nearest Port
Export Percentage
No.of Employees in Trade Department
Language Spoken:
b)Factory Information
Factory Size:
No. of Production Lines
Contract Manufacturing
Product Price Range