Product Brief Introduction
Polished Porcelain Tile Yulip Stone Serie Beighe Color CMAX68617 is one of the most popular color of Yulip Stone Serie, which is one popular serie of Polished Porcelain Tile in the present market. Just like other series, it could be used for interior floor for apartment, villa, super market as well as other public areas, due to its being high glossy and clean, homogeneous color shade as well as the reasonable price compared with natural stones.
Product Features
Polished Porcelain Tile, Double Loading
Only Grade AAA available
Strict control on color shade, deformation, anti-pollution, surface glossy degree as well as packing
Competitive price
Standard export packing: Pater Carton+ Wooden Pallet
Fast delivery
OEM service could be offered
Marketing support on samples, catalogues as well as carton designing
Professional sales team for product, document and schedule of importing and exporting.
Product Specification
Tile Type: Polished Porcelain Tile
Quality standard: GB/T4100-2006, ISO13006, ISO9001
Water Absorption Rate: 《0.5%
Breaking Strength: 》 1800 N
Rupture Modulus: 》40 MPa
Length and Width Tolerance: ±0.1%
Surface Smoothness: ±0.15%
Edge Straightness: ±0.15%
Wearing Strength: 《1600 mm3
Glossiness: 》 85 Degree
Resistance to Chemical: Class UA
Resistance to Staining: Class 3.
Packing Information (For 27.5 Tons heavy 20'Fcl)
For 600x600mm, 4pcs/Ctn, 40 Ctns/Pallet, 960 Ctns/20'Fcl, 1382.4m2/20'Fcl
For 800x800mm, 3pcs/Ctn, 28 Ctns/Pallet, 616 Ctns/20'Fcl, 1182.72m2/20'Fcl
Production Line&Packing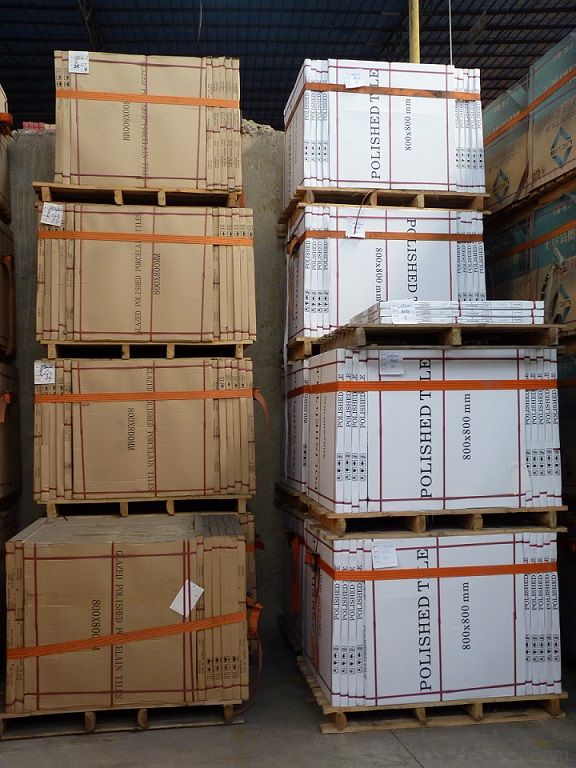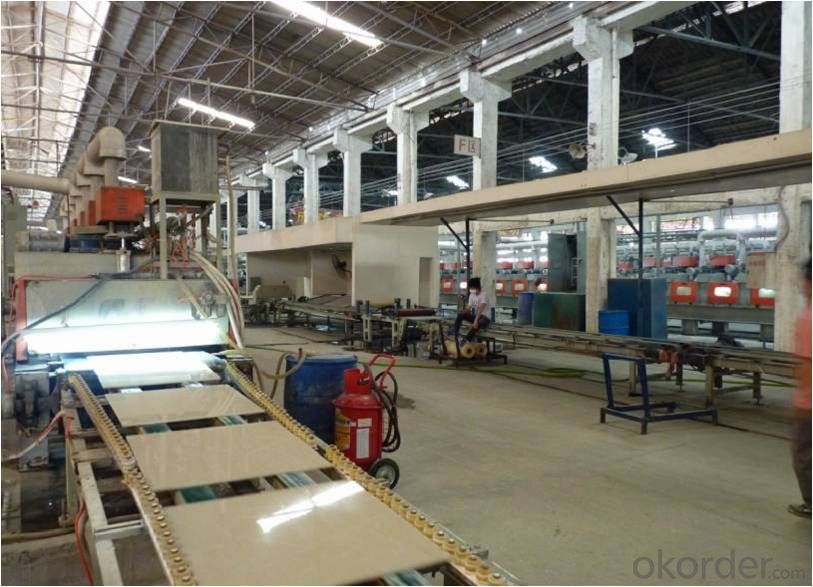 FAQ
1. For Polished Porcelain Tile, is the 30*60 available?
—— Yes, 30*60 is available. Due to the basic size is 60*60, we need to cut 60*60 tile into 30*60. 6 pcs are packed into one carton.
2. What is the MOQ for this tile?
—— Normally the MOQ is 1382.4 m2 for one 20' container. To support our clients, we could go with 3 models to fill one container at most.
3. Can we use the carton with our own design and brand name?
—— Yes. Normally we go with Neutral Carton or our Carton with our CMAX brand name. But for carton of client's own design, the MOQ for one size is 5 containers, due to the carton factory can't arrange production if quantity is below 5000 pcs.
Q:My husband and I bought a house where most of the rooms (kitchen, dining room, entertainment room, den, and laundry room) are all tiled with these Terra cotta like tiles. They are a southern type rusty red and stain easily. My husband loves the tiles and wants to keep them. He's concented on changing the color if I want though, as long as I keep the origional tile. I'm trying to make the house look a bit more elegant/country (Blues, silvers, whites, golds, dark greens, etc. Elegant and formal but still bright and airy) While keeping the tile, is there any way to stain it another color and do some kind of glossy seal? What color might keep that feel? What kind of products work best?

I wouldn't bother doing it. You could get a sealer the seal the tile because I think I remember my dad saying Terra Cotta tiles are very porous. But I don't think that trying to put paint or changing its color would give you satisfactory results.
Q:I have a light colored ceramic tile floor that I would like to refinish with a different look - perhaps a darker color with some textured look to it. Is there some way to do this, or am I better off replacing the tile?

Ceramic tile can not be refinished to have different look. If you do not like the tile, you will need to tear it out and put new tile down. There are many choices available. I would reccomend a porcelaine tile, beacuse they are stronger and more durable than cearmic.
Q:How easy is it to tile a kitchen floor. Plus would you lay the tiles directly onto the concrete sub floor or lay concrete boards or chipboards underneath. I would also like to continue this to the hallway and under stairs. Thanks.

Depending on the age of the cement subfloor, it would be my first choice, even if I had to prep it first to insure a good bond. Definitely not cement board, it's not designed or engineered to be walked on, the results downstream would be disastrous. There is a grade of board specifically called underlayment, and it would be my second choice. It needs to be nailed down to cement subfloor about every 6 inches in both directions, very tedious. Not so bad on wood, can be screwed down.This is not hard job, just hard work. Hands and knees, get up to cut a piece, back down to hands and knees. Spread mortar or adhesive, set tile, check for level, spread - set - level, over and over. And level in both directions, North - South, and East - West, and level from tile to tile as well. Really good tile setters make very good money. Very important for you to know: floor tile is thicker than wall tile. It should be 3/8 inch minimum, or 9 mm. Wall tile is generally thinner, and will crack under the stress of weight on it.
Q:I am purchasing a home and need to change the flooring before moving in. It is a 1500 sq foot house including garage, laundry room etc. I have already picked out carpet for the 3 bedrooms but am trying to decide on laminate wood floors or tile? It would be in the rest of the house including hallway, living room, and kitchen. I have heard tile floors are great, yet hard to clean, and hurt people's legs. I haven't heard too much about the laminate floors.Any opinions, suggestions, stories?? I would really appreciate it!

Like the guy above suggested, if it was my house I would stay away from the laminate.Laminate wears quickly and can look bad fast.If your money is a little funny that may be the best way to go but if you have it I would recommend the carpet in the bedrooms tile in the baths and Hardwood in the rest of the areas.Hardwood or tile could work in the kitchen.Laminate flooring is not a good investment in the house but tile and hardwood are. I install for a living and that is the route I would go.
Q:The ceramic tile in my kitchen is cracked at a lot of different spots. My guess is the previous owner didn't put a thick enough plywood before installing the ceramic tiles. I want to replace them, but I just realized that right now my floor is perfectly leveled with the hallway and living room and adding more plywood would screw it all up. What options do I have to get around this issue?

Tear it up and maybe you can level it without adding more plywood if not replace the plywood too. Or you can tear it up and put some thin plywood down and put a threshold in the doorway that will cover up the height difference.
Q:tiles on back splash, work done in south florida, 4x4 inch tiles

The price of tiling depends mostly on who's installing the tile and things like. extra for a diagonal, a basic install price starts at around $5-$10 sq ft and have heard of up to $25 sq ft depending on the complexity of the pattern.
Q:2nd bathroom, rarely used. Not sure if I want to spend the time to remove the tile (200 sq ft) or just put a think underlayment over it and then laminate.Anything that I should be concerned with doing it this way?

Yes! You would be raising the floor by the thickness of the under layment and the laminate. Your flooring would end up against the side of your tub not to mention raising your toilet which may result in the need for longer bolts and may not be able to make a seal because of the distance between toilet and drain. You are asking for problems.. At the very least it would throw your baseboards off and they wouldn't match the ones in the hallway where they meet at the door!
Q:Would they be easy to remove and not damage the floor (ugly linoleum) when I have to move out at the end of the year?

no the damage would be hreat every thing would have to be removed down to the bare wood. thats what peel and stick tiles do STICK.
Q:Home selection tiles, which brand to choose that good?

Marco Polo, but the price is high, the new source can also be.
Q:a few tiles are cracked near the sink. How can i fix it temporarily ( is it worth it?) or should i replace the tiles or the whole thing? how would i go about doing that?

see if you can find new tile same color at store, then chip it out, buy some thin set or use liquid nails, then mix up a small amount of grout or buy the liquid squeeze out of a can grout,
1. Manufacturer Overview

Location
Year Established
Annual Output Value
Main Markets
Company Certifications
2. Manufacturer Certificates

a) Certification Name
Range
Reference
Validity Period
3. Manufacturer Capability

a)Trade Capacity
Nearest Port
Export Percentage
No.of Employees in Trade Department
Language Spoken:
b)Factory Information
Factory Size:
No. of Production Lines
Contract Manufacturing
Product Price Range
Hot Searches
Related keywords