High quality FRP tanks and vessels made in China of different styles
Loading Port:

Tianjin
Payment Terms:

TT OR LC
Min Order Qty:

44 m.t.
Supply Capability:

15000 m.t./month
Inquire Now
Customer Service
OKorder Service Pledge
Quality Product
Order Online Tracking
Timely Delivery
OKorder Financial Service
Credit Rating
Credit Services
Credit Purchasing
---
Add to My Favorites
---
INSTRUCTION
FRP tanks and vessels can be largely used in many areas of the light industry, petroleum, chemical, food brewing, transportation and so on. Such product can resist the corrosion of various acids, alkalis and salts.
CHARACTERISTICS
• High mechanical strength
• High mechanical inertness
• Resistance to weathering
• Low thermal and electrical conductivity
• Long Life
• Non-toxicity
• No need for maintenance
• Light weight
DESIGN PHILOSOPHY
The correct structuring of any kind of G.R.P. tank consist of three distinct types of layers:
• Chemical Resistant Layer
• Mechanically Resistant Layer
• Outer Protective Layer

CHEMICAL RESISTANCE
Resistance to corrosion in aggressive environments is one of
the primary reasons for specifying GRP tanks. These, resists a
wide range of chemicals and temperatures and can be built to
provide additional abrasion, weathering and fire resistance. The
chemical resistance of GRP tank depends primarily on the resin/
glass matrix used. Other factors can affect laminate resistance
including liner construction, cure, and fabrication methodology
and installation techniques.

EXECUTIVE STANDARD
FRP small-scale storage tank
JC/T587-1995 (Glass fiber reinforced plastic storage tank)
Large-scale storage tank
HG/T3983-2007 Industry standards of Chemical Corrosion-resistant jobsite Winding FRP Large-scale storage tank
HG/T20696 Design Requirements of FRP Chemical Equipment
COMPANY INTRODUCTION

CNBM International Corporation is one subsidiary of CNBM, we focus on offering good-quality products, professional service and complete solution to our customers. Strong delivery capacity, advanced technology
& management, strong financing capability and excellent after-sale service are our advantages in sharing international market.
PICTURE S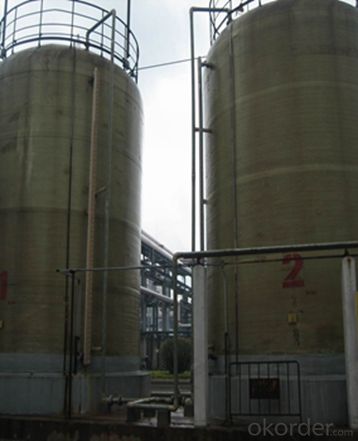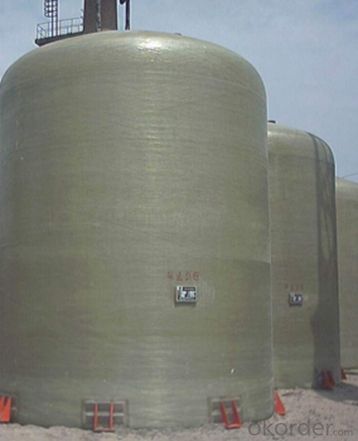 FAQ:
Q1:How Can I Get A Sample?
A1:You can get samples by communicate with our export sales.
Q2:How Long Is Delivery?
A2:Delivery time will be30-45days according to order quantity.
Q3:What Is The MOQ?
A3:MOQ depends on different items.
Q:How is the head made of glass fiber reinforced plastic storage tank made?

Process: the head is made by vacuum introduction and pneumatic demoulding process.
Q:What aspects of FRP tanks are used in general?

Cooling tower, methane tank, storage tank (non domestic water), etc.
Q:What are the technical standards for FRP tanks?

The resin content in the inner layer, the surface layer and the inner layer of the cylinder varies according to the storage medium.
Q:Glass fibre reinforced plastic water storage tank

The use of glass steel tank industry: ferrous metallurgy industry, nonferrous metallurgy industry, electric power industry, coal industry, petrochemical industry, chemical industry, mechanical industry, textile industry, automobile and motorcycle manufacturing industry, railway industry, shipbuilding industry, construction industry, light industry, food industry, electronic industry, telecommunications industry, culture, sports and entertainment industry, agriculture, aquaculture, commercial, medical and health industry, application field and military and civilian applications etc..
Q:Can FRP withstand 15% of sulfuric acid and nitric acid mixture?

The glass fiber reinforced plastic or its products as materials, the title of glass fiber reinforced plastic, steel or fiberglass. Because the resin used in different varieties, so the polyester glass steel, glass steel, epoxy phenolic glass steel said.
Q:How long is the normal service life of FRP cans? How long will it take if I use it in harsh conditions?

The quality of the resin will directly affect the service life of your product, and the specific environmental factors need to be analyzed in detail. Suggest you contact specific supplier, put forward your requirement, just can provide the product that you need according to your requirement
Q:Should I pay attention to those details when using FRP tanks?

One of the measures to prevent leakage is to make the double wall oil storage tank and the inner surface of the tank glass fiber reinforced plastic oil resistant impermeable layer. As a concrete method, the prepared oil storage tank is placed in the tank of underground reinforced concrete oil tank, and the glass fiber reinforced plastic oil resisting impervious layer is made on the surface of the tank. Thus, when the oil leakage occurs in the glass fiber reinforced plastic storage tank and the pipeline, the oil is not leaked in the impermeable layer of the glass fiber reinforced plastic, and the pollution of the underground water resource is avoided.
Q:My unit recently needs 3 large tanks for hydrochloric acid. The tank, which was made of fiberglass before, is of poor quality and cannot be used for three years

In a few years, I think it's important for me to choose a good manufacturer, although I don't want to advertise for the manufacturer here, but considering the hydrochloric acid tank, if an accident occurs, it will be a fatal blow to the enterprise
Q:What are the characteristics of FRP softened water tank?

1, beautiful appearance, beautiful.2, the water quality is good, there is no two pollution.3. The inner part of the water tank is provided with tension bars to solve the pressure problem of the super capacity water tank.
Q:Is glass steel transparent? Transparent and opaque glass steel have?

Glass fiber reinforced plastic to be pure and transparent is not possible, pervious to light can also be, pervious to light is to use transparent resin, without any filler and pigment, and the other is opaque glass fiber reinforced plastic
1. Manufacturer Overview

Location
Year Established
Annual Output Value
Main Markets
Company Certifications
2. Manufacturer Certificates

a) Certification Name
Range
Reference
Validity Period
3. Manufacturer Capability

a)Trade Capacity
Nearest Port
Export Percentage
No.of Employees in Trade Department
Language Spoken:
b)Factory Information
Factory Size:
No. of Production Lines
Contract Manufacturing
Product Price Range