FRP Tank Fiberglass Reinforced Plastic Tank Corrision-resistance
Loading Port:

Lianyungang
Payment Terms:

TT OR LC
Min Order Qty:

1000 pc
Supply Capability:

100000 pc/month
Inquire Now
Customer Service
OKorder Service Pledge
Quality Product
Order Online Tracking
Timely Delivery
OKorder Financial Service
Credit Rating
Credit Services
Credit Purchasing
---
Add to My Favorites
---
FRP Tank Description
Made from the high quality corrosion resistant resin and continuous fiber winding without alkali, filament winding FRP tank possesses the characteristics of lightness, high strength, distinguished corrosion resistance and expedient installation and maintenance etc.,
FRP tanks were applied widely in the oil-field system of sewage treatment, electrical plant water circulation, water pipe with electric magma and projects of chemical engineering, metallurgy, and medicine processing etc.
This FRP tank has been tested and well-operated till now in the oil-field of Zhongyuan, Shengli, Daqing, Jianghan and Liaohe long distance conveying pipeline and the system of sewage treatment and Tibet Yangbajing Electrical Plant, Pakistan Feisalamade & Keteli Electrical Plant and Qinshan Nuclear Power Station, and therefore enjoyed the applause of the customers.
Main Features of the FRP Tank
Light, high strength

Corrosion and waterresistance

Heat preservation

Little liquid of resistance.
FRP Tank Images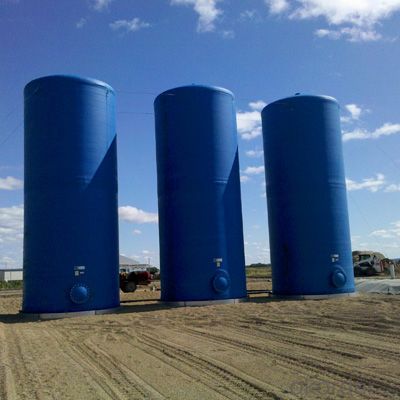 FRP Tank Specification
diameter: DN300-4000
pressure:PN0-25
stiffiness: SN2500-10000
standard length:1m,3m,6m,12m
execute standard:Q/320700QB06
FAQ of FRP Tank
Q: What is fiberglass composite?
A: Fiberglass composite is a laminate made from glass fibers or filaments and thermosetting resin. It is commonly known as RTRP, RTMP, FRP, GRP, GRE and GRV.
Q: Are fiberglass tanks fragile?
A: Due to the elastic nature of the resin which holds the clothlike glass fibers together, fiberglass is strong and flexible. FPI products meet the rigorous "Impact Test" requirements of the international standard e.g. BS, API, ...
Q: Are fiberglass tanks an 'off the shelf' item?
A: No. FPI's fiberglass pipes are bespoke products engineered to the highest international standards and specifications.
Q:The production process of FRP tanks

More than 90% of our FRP products are produced by hand paste. Other methods are pressing, winding, laminating and so on. Japanese hand cream still accounts for 50%. From the point of view of the world, hand paste still accounts for a considerable proportion, indicating that it still has vitality. Hand paste method is characterized by the use of wet resin molding, simple equipment, low cost, once more than 10m paste the whole product. The disadvantages are low mechanization, long production cycle and unstable quality. Our country has introduced extrusion, spraying, winding and other equipment from abroad. With the development of FRP industry, new process methods will continue to emerge.
Q:How can we produce qualified FRP tanks?

Glass fiber reinforced plastic storage tank should first consider what he is used to store, and then the winding process of glass fiber reinforced plastic storage tanks, now generally winding, the intensity will be much better than the long hand process!
Q:Is fiberglass tank good for gasoline? Would you like to use fiberglass jars to store gasoline in the ground?

Ordinary FRP tanks are not resistant to gasoline, but are specific resins, and specific glass fibers are perfectly resistant to gasoline storage, and fiberglass tanks require special customization.
Q:FRP tank what is impermeable layer?

By increasing the content of resin and air bubbles and so on control technology, effectively blocking liquid leakage, I FRP tanks Guangzhou Weibo company is to do so
Q:How much water glass grit filter tank with import pressure?

FRP can withstand the pressure and structure, according to the pressure you ask for design and production.
Q:What should we pay attention to when installing FRP tank for hydrochloric acid?

Because some of the hydrochloric acid tank plastic flange because of material than steel plate soft, in connection with other flanges, should pay attention to strengthening. The flange of the company supporting the factory general is tightening, in the transportation, loading and unloading may cause loose, check the user in the sealing performance should be used before the anti-corrosion tank, and observe whether liquid leakage. Tank containing hydrochloric acid for chemical liquid, it is best to test it with water to prevent loss.
Q:Can FRP tanks be used as food storage?

Yes, in the production of glass fiber reinforced plastic tanks, the choice of food grade resin, according to the stability of glass fiber reinforced plastic, security features, you can store liquid food.
Q:Can formaldehyde be used in FRP tanks?

FRP has good organic solvent resistance and can be used as formaldehyde storage tanks
Q:What are the advantages of FRP tanks?

FRP tanks with corrosion resistance, high strength, light weight, long service life, because of its can be designed flexibly, process features strong, flexible design can be used in different industries such as chemical industry, environmental protection, food, pharmaceutical and other industries, is gradually replacing carbon steel, stainless steel parts market
Q:The thickness of the coating of glass steel tank initiations how detection

Before examination, the fire coating, dust, oil stain on the surface of test points should be removed.
1. Manufacturer Overview

Location
Year Established
Annual Output Value
Main Markets
Company Certifications
2. Manufacturer Certificates

a) Certification Name
Range
Reference
Validity Period
3. Manufacturer Capability

a)Trade Capacity
Nearest Port
Export Percentage
No.of Employees in Trade Department
Language Spoken:
b)Factory Information
Factory Size:
No. of Production Lines
Contract Manufacturing
Product Price Range