High Density Fiber Cement Board Prices for Building
Loading Port:

Shanghai
Payment Terms:

TT or LC
Min Order Qty:

10000 m²
Supply Capability:

300000 m²/month
OKorder Service Pledge
Quality Product
Order Online Tracking
Timely Delivery
OKorder Financial Service
Credit Rating
Credit Services
Credit Purchasing
---
Add to My Favorites
---
The raw materials of fiber cement board are cellulose fiber, silicate cement, quartz sand, water and some additives. It's a kind of high-tech product which formed through accurate dosing by computer program, hatschek craft and compressed by 14000tons hydraulic machine and autoclaved under high temperature and pressure.
Product Applications:
1.Indoor ceiling of industrial and resident building.
2.Partition of industrial and resident building.
3.The ceiling and partition of the bathroom and other wet condition building.
4.Indoor ceiling and partition as base board of the decoration for operation room,clean room of hospital or laboratory .
5.The fireproof board of the air passage.
6.Furniture or furniture's accessories.
Product Advantages:
1)excellent fire-proof
2)excellent damp-proof
3)Durability and long service life
4)high strength
5)stable dimensions
6)good heat and sound insulation
7)non-asbestos
8)mould resistant
9)no deformation
Main Product Features:
1) Elegance and excellent decoration
2) Easy installation and convenient maintenance
3) Best Surface processed with PVC Lamination
4) Heat insulation, thermal insulation, moisture proof, mould proof, sound absorption and noise reduction
5) Incombustibility / Fireproof
6) No dust / no pollution
7) Stucturally strong
8) Over 15 years no transmutation
Product Specifications: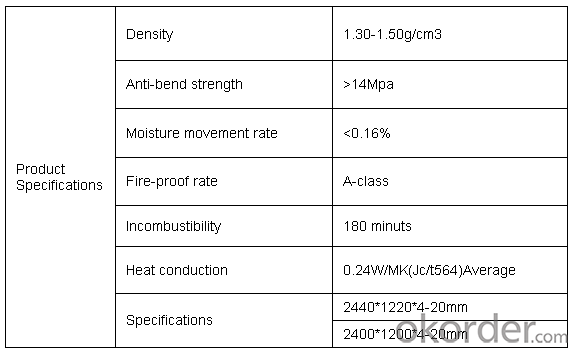 FAQ:
1. Q:What is the different and most important point from other supplier?
A:We guarantee No asbestos if it has asbestos density will be more than 1.4g/cm3 what's more
3.2mm*3000*1220mm can be produced by us other suppliers can not do this size
2. Q:What are the advantages of your board?
A: outstanding light weight ,heat insulation, waterproof, fireproof, sound insulation, fast construction.
3. Q: Is the board fire resistant?
A: Yes, fire resistant 4 h , in the heat of 1000℃.actually it is noncombustible Class A1.
4. Q: Do you have any certificate to help us get government's approval?
A:China testing report and our laboratory' s testing by ourselves as your supporting document.
Because building standards are different in different countries, most of our customers buy the boards for testing and get approval by themselves.
5. Q: If we need samples for customer approval, will it be possible?
A: Of course we can.
6. Q:How to guarantee the quality?
A:Laboratory, integral testing process from raw materials to finished product until loading containers will be done by our factory.
Images: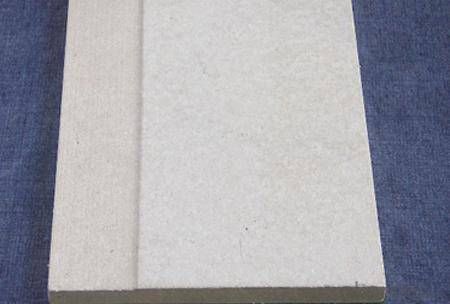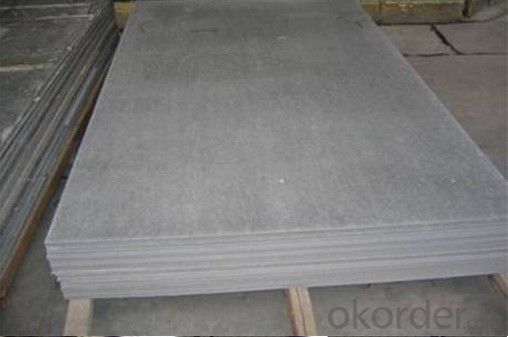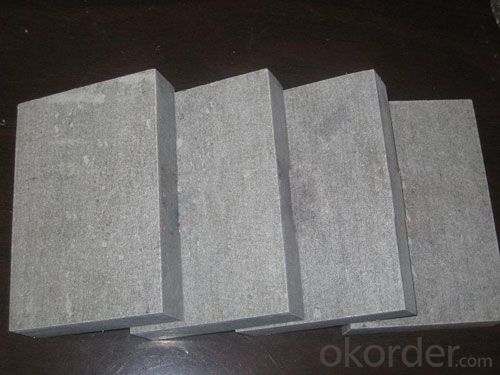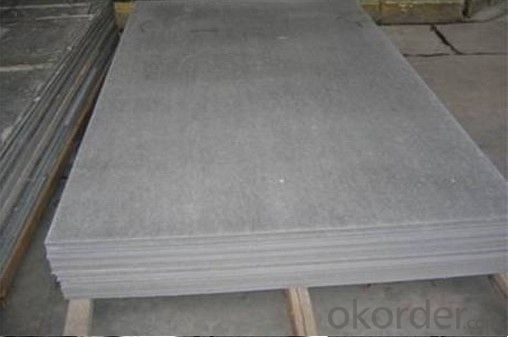 Q:We have an older house (1957) that has 1 thick beams as a substrate floor. Currently, there is 1/2 plywood on top of the substrate floor. We are going to rip this up so that we can apply mortar to the substrate for leveling purposes. We would put the porcelain tile directly on top of the cement board.The guy at Home Depot (a former contractor) said we can just use 1/2 cement board directly on top of the substrate floor without a layer of plywood underneath. The substrate is old, but sturdy real-wood diagonal beams that lay on top of the joists. He said they are plenty strong and we don't really need to add a plywood subfloor if we use 1/2 thick cement board.What do you think? Do you think we could get away will laying down cement board on top of the substrate floor without plywood for added strength?Thanks!

Cement Board Subfloor
Q:Is there a easy method to apply hydraulic water stop cement to the area where the wall meets the floor without making a mess. Thank you very much

No easy way that I know of. Work Fast and only mix a small batch at a time. I've used it and it sets very quickly. It heated up the can I mixed it in, to where I could not hold it without a pot holder glove. It works excellent, but you have to mix and spread quickly.
Q:FC sound-absorbing board is what material

FC board is made of pressurized fiber cement board as panel, with sandwich material in the factory processing production of composite wall panels.
Q:Our (rented) townhouse has a very bleak cement block basement. Right now the blocks are painted white and cream (and not in a pretty pattern) and the floor is painted dark gray. We want to use the basement as a fitness room and a crafting area for scrapbooking. The lighting is also terrible. What are some ways we can brighten up the space and make it more hospitable without doing any permanent construction (remember we are renting) or spending a lot of money?

Because of your scrapbooking and since it is a basement you are going to want to consider storage options. Inexpensive shelving, either metal shelves or even sturdy boards and cinder blocks can be concealed behind curtains. I've even seen decorative shower curtains used for this. Curtains might help hide or break up some of the longer expanses of wall too. Take your time and watch clearance sales. You are probably going to want mirrors for your work out area. Inexpensive long, narrow dressing mirrors would be perfect for this and would also increase your lighting. They could be taken out of the cheap frames they come in and hung side by side or left in the frames for a more focused area. Some could even be hung side ways for a different effect on an adjoining wall. For the lighting I would think that an overhead in the work out area and halogen in your craft area would suffice and wouldn't be too expensive. You don't want to scrimp on the lighting for your craft area, you will see the difference in the end product of your work if you do. All of these ideas leave you where anything you do have to purchase can easily be converted to another use in a new home. Good luck in your new place!
Q:Is it a decoration material? What's the difference?

Wood and Miyan cement board is a decoration material, like a large piece of gypsum board, the size is 1220X2440 (MM), wood grain cement board is more delicate, more beautiful rock.
Q:I guess i should shouldn't use the old spackle and tape. what should i use for cement board?

Use mesh tape and thinset mortar. They make a special tape for this that is wider than the mesh you use for drywall. Hope this helps.
Q:There is no special interior wall putty powder coated ceilings cement board does not blister

Buzzing interior wall putty powder: mainly used for gypsum board, plywood and other joints between the patch, as well as other non-structural and active cracks in the repair, which is characterized by high reliability of filling cracks, the construction convenient and cost Bottom
Q:5mm cement fiber board how much money a square?

The price of cement fiberboard is not fixed, and according to the density of the board, the thickness of the gap is very different, usually the conventional board from 6mm-24mm between about 10-37 per square meter
Q:I am in the process of purchasing a townhome and I am looking to tear up the existing 12 ceramic tile that covers the entire main level... an area close to 600 sq. ft. to make way for laminate flooring. Thinset has been used to bond the tile to the cement backer board, and the backer board has been screwed to the wooden subfloor. There is also some sort of adhesive/mortar bonding the cement board to the wooden subfloor. What tools will I need. Are there any techniques that would make it easier? Would trying to remove the cement board damage the subfloor? If so, would it be acceptable to repair damage with some sort of floor leveling compound?

big *** crow bar, thats how i did my kitchen, yep it sucks. you can get a nice one for this in the garden section its made for digging holes but has a nice flat section, for what I dont know but it teats a floor up,
Q:how do i install stone veneer over cement board?

Use thin set and stick them right to the c-board. If they are bigger pieces you should screw wire mesh to the cement board for a good bond then tuck point joints After it sets or use a bakers bag.
1. Manufacturer Overview

Location
Year Established
Annual Output Value
Main Markets
Company Certifications
2. Manufacturer Certificates

a) Certification Name
Range
Reference
Validity Period
3. Manufacturer Capability

a)Trade Capacity
Nearest Port
Export Percentage
No.of Employees in Trade Department
Language Spoken:
b)Factory Information
Factory Size:
No. of Production Lines
Contract Manufacturing
Product Price Range
Hot Searches
Related keywords