FRP Pipe Glass Fiber Reinforced Plastic and Fitting
Loading Port:

Tianjin
Payment Terms:

TT OR LC
Min Order Qty:

100 pc
Supply Capability:

1000 pc/month
OKorder Service Pledge
Quality Product
Order Online Tracking
Timely Delivery
OKorder Financial Service
Credit Rating
Credit Services
Credit Purchasing
---
Add to My Favorites
---
1.Introdiction
FRP Pultrusion profile is a kind of composite which made by reinforced fiberglass materials (fibers, mat,etc.) and combination withresins and other auxiliary materials(binders). It has very excellent characteristics such as high temperature resistance, corrosion resistance, high strength, light weight, low moisture absorption, good insulating, large-span etc.Pultrusion profiles has very high designability, it can be made into diverse FRP products by appropriate connection and combination of various kinds shaped pultrusion profiles, and it is widely used in different fields such as light industrial products, construction platform, handrail, crawling ladders, pedestrian walkways, cable bridge, cooling tower support, electrotechnical products, etc.We can supply many kinds of FRP pultrusion profile such as Angel beam, I beam, U channel, round tube/rod, square tube, rectangular tube, solid rod, other special shaped profiles etc, and we can also make customized designs.
2.Product Features:
1. High strength.
2. Light weight.
3. Excellent corrosion resistance.
4. Good electric insulating.
5. Fire resistance.
6. Structurally strong.
7. Anti-aging and low maintenance.
8. Easy to fabricate and install.
9. Various Colors available.
10. High designability, can make customized designs.
11. Cost-effective.
3.Specifications
1) adopted the glass fiber and products as its reinforced material,
2)saturated polyester resin as its body material,
materials:
3) adopted the glass fiber and products as its reinforced material,
4)saturated polyester resin as its body material,
5)sand as its filler and equipped with the stipulated length winding technique,
features:
6)lightness and high strength,
7)distinguished properties of water-fast and corrosion resistance,
8)excellent hydraulic property,
9)good hermetical property of joint without poison.
Application:
1) for water -leading projects
2) reduction of the transportation cost and therefore ensured the high quality of the drinkable water.
3)sewage pipes,rainwater pipes
Diameter: DN300-4000
Pressure: PN6-25
Rigidity level: SN2500-10000
Length: 6m, 12m
4.Pultruded Fiberglass Pipe, FRP pipe, GRP pipe of high strengh
The fiberglass reinforced plastic rod is made from high strength glass fibers along withextremely durable resin. The glass fibers impart strength to the rod while the resin impartsexcellent corrosion resistance properties in harsh chemical and alkaline environments.
5.Advantages
1) Long Working life
2) Light weight
3) High strength
4) Good flexibility
5) Beautiful appearance
6)Good Insulation
7) Corrosion resistance
8) Good comprehensive benefits.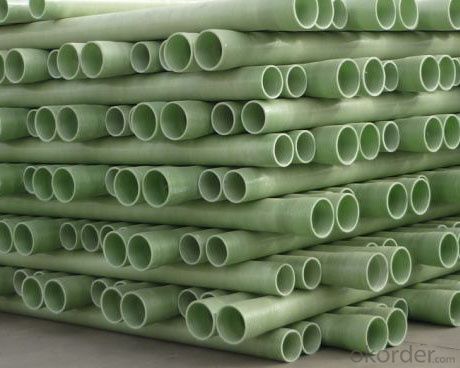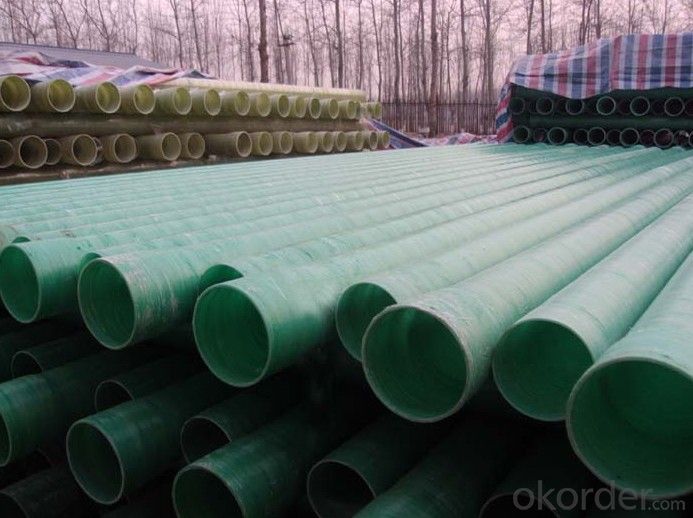 Q:Uneven settlement of the foundation, can lead to glass fiber reinforced plastic underground water pipes burst, what is the principle?

Can cause rupture. FRP material originally resistant to pressure better, tensile, shear resistance is poor, the foundation sinking is shear, I want to sink more than 5 cm, if the soil around the pipeline is compacted, it may break
Q:FRP pipe and 0.7 thick galvanized pipe which cost is low?

The best material in glass steel mould rubber production 20 years, customers in all aspects
Q:Is the installation of FRP pipes required qualification?

However, some industries may have corresponding requirements, and some owners may also require it. For example, apply fiberglass pipes to shipyards
Q:What epoxy resin is used for anticorrosion of pipeline glass fiber reinforced plastics?

3PE has been anti-corrosion principle, there is no need for anti-corrosion, but now the domestic situation. Directional drilling pipe cannot be detected and repaired, the anticorrosion layer cannot have serious damage to the pipeline, long-term safety operation, it should be required for coating directional drilling: scratch resistance, abrasion resistance, impact resistance, high hardness, strong adhesion and pipeline, corrosion resistance, water resistance have a good soak, matching and cathodic protection system.
Q:What is the heat preservation of the plumbing pipe now? I'd like to use fiberglass Seek help from a master

The simplest economy is the use of rock wool insulation. A little higher cost is polyurethane foam insulation, and the shell is made of PE yellow jacket. FRP insulation effect should not be too good
Q:Which is better, PVC pipe and GRP pipe?!

Depends on location, and design requirements. Nowadays FRP is in the majority.
Q:Raw material and mix ratio of inorganic glass fibre reinforced plastic wind pipe

Glass, reinforced with filler, the general ratio is 1 to 0.001
Q:What is the compressive strength of all kinds of FRP materials?

Heat resistance, frost resistance: at -30 DEG C, still has good toughness and high strength, can be used for a long time in the range of -50 DEG C 80 DEG C, the temperature of resin with special formula can be more than 110 DEG C. 4) of light weight, high strength, convenient transportation and installation by fiberglassreinforcedplastic pipe winding fiber production, the proportion of 1.65 - 2, 1 / 4 only of steel, but the glass steel hoop tensile strength is 180 300MPa, the axial tensile strength of 60 150MPa, similar to alloy steel. Therefore, its specific strength (strength / density) is 2-3 times that of alloy steel, so that it can be designed according to different requirements of users to meet all kinds of internal and external pressure requirements of the pipeline. For the same diameter of single FRP tube, only carbon steel (steel plate) 1 / 2.5, 1 / 3.5 of the cast iron pipe, about 1 / 8 of prestressed reinforced concrete pipe, so the transportation is very convenient for installation. The GRP pipe is 12 meters per length, and can be reduced by 2/3 from the concrete pipe. The socket connection mode of the utility model has the advantages of quick and simple installation, low hoisting cost and improved installation speed. 5) small friction resistance, high transport capacity: glass tube wall is very smooth, roughness and friction resistance is very small. The roughness coefficient is 0.0084, while the n value of concrete pipe is 0.014, and the cast iron pipe is 0.013. Therefore, glass fiber reinforced plastic pipe can significantly reduce the loss of fluid pressure along the course and improve the conveying capacity.
Q:Glass fiber reinforced plastic pipe to withstand 1.0MPa pressure, pipe wall to do how much thickness?

This depends on the size of the pipe diameter, the greater the diameter, the thicker the wall.
Q:What are the posts of glass fiber reinforced plastic sand pipe and the corresponding occupational hazards and protection?

Glass reinforced plastic underground sand pipe has long service life without operation and maintenance, which is the biggest advantage of this product. Since pipe jacking is an underground concealed project, its service life is undoubtedly the very important consideration of decision-makers. The service life of glass fiber reinforced plastic sand pipe jacking is more than 50 years, which is incomparable to the products such as steel pipe, concrete pipe and so on.
1. Manufacturer Overview

Location
Year Established
Annual Output Value
Main Markets
Company Certifications
2. Manufacturer Certificates

a) Certification Name
Range
Reference
Validity Period
3. Manufacturer Capability

a)Trade Capacity
Nearest Port
Export Percentage
No.of Employees in Trade Department
Language Spoken:
b)Factory Information
Factory Size:
No. of Production Lines
Contract Manufacturing
Product Price Range