Chinese factory solar panels 680-700w high efficiency solar module panels for Sale NCQ
Loading Port:

SHANGHAI
Payment Terms:

TT OR LC
Min Order Qty:

10 pc
Supply Capability:

100 pc/month
Inquire Now
Customer Service
OKorder Service Pledge
Quality Product
Order Online Tracking
Timely Delivery
OKorder Financial Service
Credit Rating
Credit Services
Credit Purchasing
---
Add to My Favorites
---
Item specifice
Material:
Monocrystalline Silicon
Max. Power(W):
700
Number of Cells(pieces):
132
---
Ø OPERATING PARAMETERSOPERATIN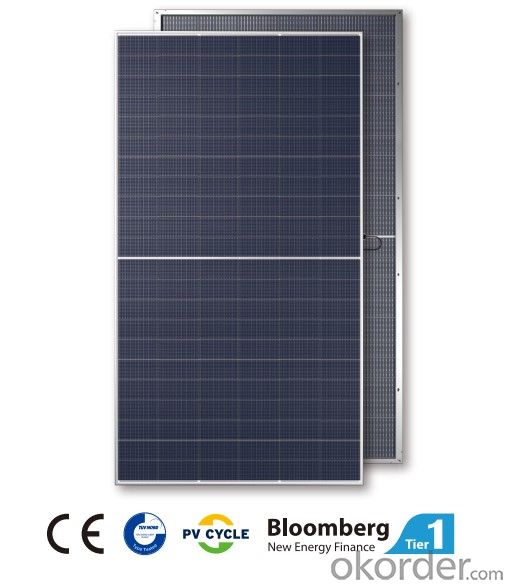 | | |
| --- | --- |
| Maximum System Voltage | 1500V/DC(IEC) |
| Operating Temperature | -40°C-+85°C |
| Maximum Series Fuse | 35A |
| Maximum Test Load,Push/Pull | 5400Pa/2400Pa |
| Conductivity at Ground | ≤ 0.1Ω |
| Safety Class | Ⅱ |
| Resistance | ≥100MΩ |
| Voc and Isc Tolerance | ±3% |
| Bifaciality | 80±5% |
Ø MECHANICAL DATA
| | |
| --- | --- |
| Solar Cell Type | Mono 210×105 mm(8.3×4.1 inches) |
| Number of Cells | 132 [2 x (11 x 6) ] |
| Module Dimensions | 2384×1303×35 mm(93.9×51.3×1.4 inches) |
| Weight | 38.7 kg(85.3 lb) |
| Front Cover | High transmission, AR coated tempered glass, 2.0mm |
| Back Cover | High transmission, Tempered, White Grid Glass/AR coating(optional), 2.0mm |
| Frame | Silver, anodized aluminium alloy |
| J-Box | ≥IP68 |
| Cable | 4.0 mm2 solar cable, ≥300 mm(11.8 inches)/customizable |
| Number of diodes | 3 |
| Connector | MC4 EVO2 compatible |
Ø PACKAGING CONFIGURATION
Module per pallet :31 pieces
Module per 40'HQ container: 17 pallets, 527 pieces
Ø QUALIFICATIONS & CERTIFICATES
ü IEC 61215, IEC 61730
ü ISO 9001: Quality Management System
ü ISO 14001: Environment Management System
ü ISO 45001: Occupational Health and Safety
ü IEC 62941: Design and Manufacture of Crystalline Silicon Photovoltaic Modules
Ø JETION SOLAR
As a member of CNBM - a Fortune 500 company, Jetion Solar provides various product solutions, global EPC service and financing. Its standard and high- efficiency product offerings are among the most powerful and cost-effective in the industry. Till now, Jetion Solar has cumulatively more than 10 GW module shipment and 1 GW global EPC track records.
Installation instruction must be followed.See the installation manual or contact our technical service department for further information on approved installation.
The specification and key features described in this data sheet may deviate slightly and are not guaranteed. Due to ongoing innovation, R&D enhancement, Jetion.
Solar (China) Co., Ltd. reserves the right to make any adjustment to the information described herein at any time without notice. Please always obtain the most.
recent version of the data sheet which shall be duly incorporated into the binding contract made by the parties governing all transactions related to the purchase and sale of the products described herein.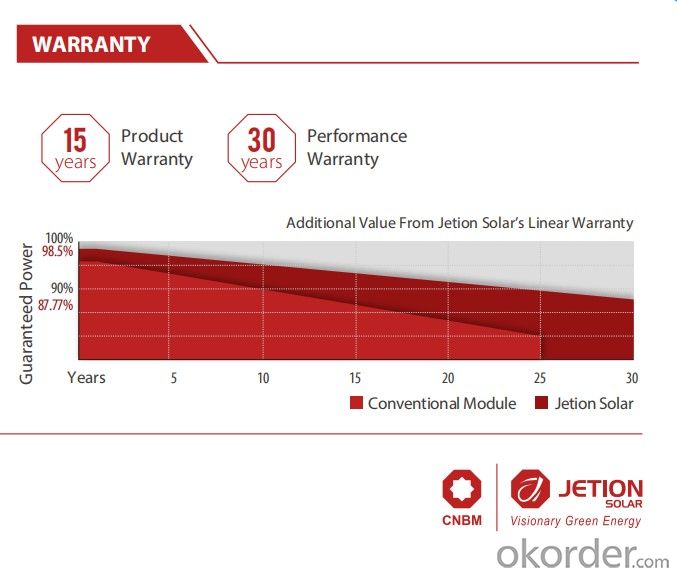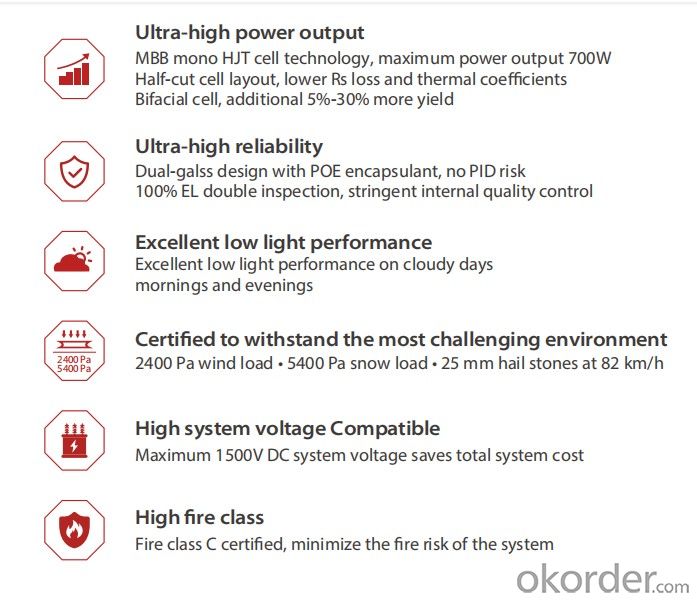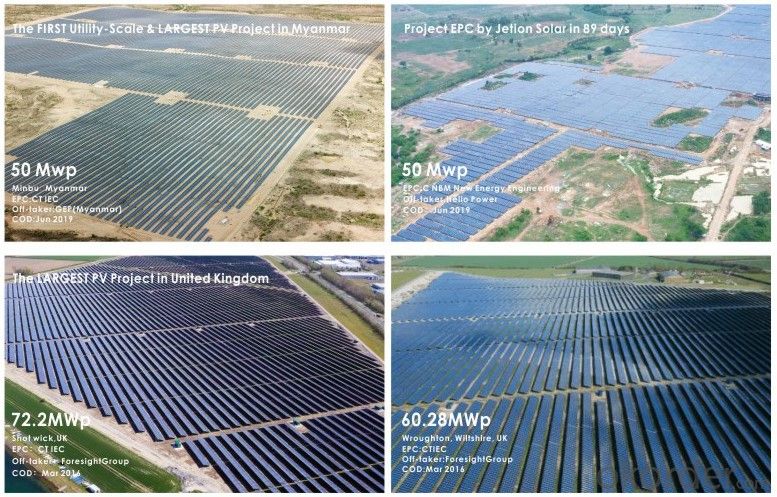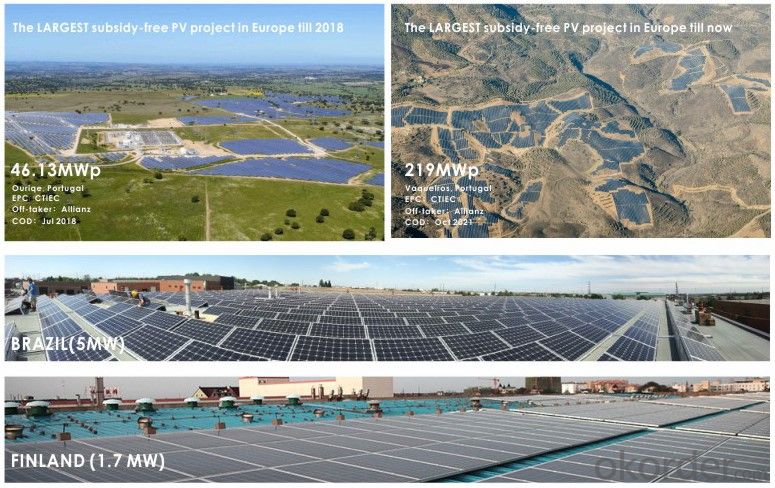 Ø FAQ
Q:How can we guarantee the products quality?
A:Always provide the esteemed buyer a pre-production sample before mass production; Always testing every product before despatching the shipments;
Q:What products we can supply you?
A:Solar Panel,Inverter,Mounting System,Battery,Pv Cable,Distributor Box,Pv Connector,Etc
Q:Where is your Manufacturer located? How can I visit there?
A:Our factory located in 501, Building 1, No. 600, Tongjiang Middle Road, Changzhou City, Jiangsu Province,China
Q:Can the products pricing be cheaper?
A:Of course, you will be offered a a very good discount with large quantities.
Q: Can print our company's logo on the pv panels?
A:Yes! And we accept the OEM&ODM orders.
Q:Solar Panels not working very well, they have faded. Is there any paint or anything else I can do to restore them? Thanks Eileen

Unfortunately Eileen the panels are bound to fade as its par for the course. Over time much like everything else (from an AC condenser to your knees and hips) everything starts to go south. When did you purchase and install your panels? If this was done within the past few years then something is definitely wrong, and you should have the manufacturer and installer come back and replace the panels....on their dime of course. Is the warranty on your panels still in effect? If so then its definitely something that they have to come back and take care of. There is a company I know of called Sun Electronics that has a 20 year warranty on their products, so if its worth anything you might want to buy your new panels/system from them. The panels around today are more efficient than those of years past, and with the cost coming down due to economies of scale and the tax incentives you might want to consider getting a new system. Sorry to let you down though Eileen!
Q:I would like to know how much a solar panel would cost for a wingspan of 208 ft for a plane

2,000 that we have used 4 project , its based on the cell size
Q:I'm about to buy one but I don't really know which one is best for my home.

Talk okorder has good info. What state are you in?
Q:Solar panels do good more then bad?

Like any other materials, solar panels need to be manufactured. These components are usually imported, they use energy to produce and transport. However, once you install solar panels, they need little or no maintenance (except cleaning to maintain efficiency) and they use no other resources to produce power. Over their lifespan, they'll produce more energy than was used to be made, so on the whole good for the environment.
Q:I am doing a report about solar power and I need to know what determines the amount of electricity produced?example: exposure to sun, angle of panel, qualityplease tell me as much as you canmuch appreciated

It depends on what you mean by amount of electricity. Normally that would mean the total energy produced over a given period. In that case, the main factors are ) Efficiency of the solar cells 2) Total irradiation received: incident radiation density times the solar panel area, and the angle of the incident radiation. Item ) is determined by the materials and method of construction of the solar cells Item 2) depends on the location of the panel, both on earth's surface (latitude), time of year, and how the panel is oriented with respect to the horizontal. Altitude of the location can also be a factor. Prevailing weather conditions, number of cloudy days, etc. are important. Independent of these parameters, larger area means more electricity.
Q:What makes them stop working after a while?

could be temperature, poor design and U-V damage If they are outdoor lamps like mine it is more likely the rechargeable batterys are bad.
Q:was looking at a few different sites, here is one of them

There okorder
Q:What would it take to make a heater for a small solar panel. I am looking into making a heater for a livestock tank to keep ice melted. I know that heaters take alot of energy to run, but my theory is that if heated mirrors on a car can melt ice with low voltage and im sure not extreme heat (40-60 degrees) then making a heater with just high enough temperature to keep from icing over and melting ice is possible. Where do I start? I would like to use an inexpensive solar panel that will generate enough heat to keep ice from forming and melt it at the beginning of the day. How can you make such a heater and apply Ohms law so that it will function correctly, what Wattage will the pannel need to produce to generate enough heat for the heater. The device will only have to be large enough to melt a spot large enough for an animal to drink.

Short answer is yes. Good to start out a large tank, or big rock to mount your collectors on. Something the stock won't eat or push over. I would start with a swimming pool solar collector. It is just a big piece of black plastic aimed at the winter sun. A collector with insulation and covers will give more heat per sq foot and cost more. Big mirrors and a black painted stock tank might be enough. Insulation of the tank might help a lot. Is the water liquid when pumped up the tank? Do you truck the water in? Is there any electric power wired there or near by? Electric solar collectors can pump and heat water and charge batteries, but it is also possible to circulate water using a thermosyphon set up. You don't have to use photocells. If it gets cold enough some collectors can freeze solid and damage themselves. There are collectors that contain two loops one water the other antifreeze.
Q:All I know is they check for amps watts voltage and everything... they dont have to be used for solar panels but um they have like alittle spinny thing in the middle of them. you spin it around to what you wanna test such as the amps watts voltage and stuff.... idk what their called but im looking to buy one to test my solar panels when they come in

They're called...Electric Testers, or Voltage Testers, or whatnot, they don't really have a special name in my experience. Just go to your local hardware store and buy one.
Q:I've run out of things to keep me entertained recently and as part of a larger project, I was curious if its possible to 'McGuyver' up a solar panel out of common materials?

It okorder /
1. Manufacturer Overview

Location
Year Established
Annual Output Value
Main Markets
Company Certifications
2. Manufacturer Certificates

a) Certification Name
Range
Reference
Validity Period
3. Manufacturer Capability

a)Trade Capacity
Nearest Port
Export Percentage
No.of Employees in Trade Department
Language Spoken:
b)Factory Information
Factory Size:
No. of Production Lines
Contract Manufacturing
Product Price Range
Hot Searches
Related keywords