70W Efficiency Photovoltaic Chinese Solar Panels For Sale 5-200W
Loading Port:

China main port
Payment Terms:

TT OR LC
Min Order Qty:

11000 watt
Supply Capability:

100000 watt/month
OKorder Service Pledge
Quality Product
Order Online Tracking
Timely Delivery
OKorder Financial Service
Credit Rating
Credit Services
Credit Purchasing
---
Add to My Favorites
---
Item specifice
Material:
Polycrystalline Silicon
Max. Power(W):
200
Number of Cells(pieces):
1
---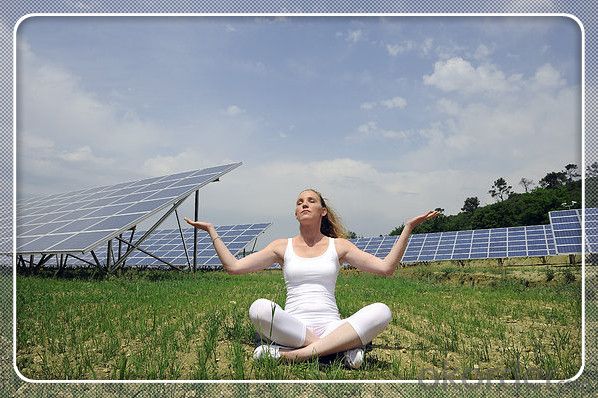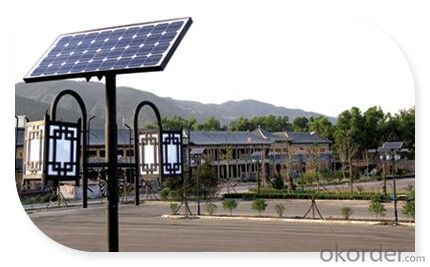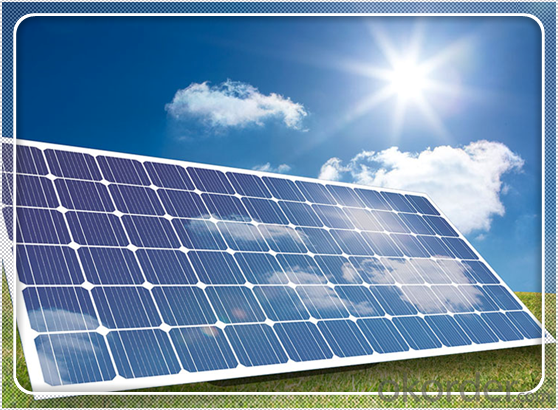 Solar Module Introduction
Solar Module is the core part of solar PV power systems, also is the highest value part of it. The function of Solar Module is to convert the sun's radiation to electrical energy, or transfer it to battery and store in it, or to drive the load running.
The Product has been widely used in space and ground, it mainly used for power generation systems, charging systems, road lighting and traffic signs areas. It could offer a wide range of power and voltage, and with high conversion efficiency, and long service life.
Solar modules use light energy (photons) from the sun to generate electricity through the photovoltaic effect. The majority of modules use wafer-based crystalline silicon cells or thin-film cells based on cadmium telluride or silicon. The structural (load carrying) member of a module can either be the top layer or the back layer. Cells must also be protected from mechanical damage and moisture. Most solar modules are rigid, but semi-flexible ones are available, based on thin-film cells. These early solar modules were first used in space in 1958.
Electrical connections are made in series to achieve a desired output voltage and/or in parallel to provide a desired current capability. The conducting wires that take the current off the modules may contain silver, copper or other non-magnetic conductive transition metals. The cells must be connected electrically to one another and to the rest of the system. Externally, popular terrestrial usage photovoltaic modules use MC3 (older) or MC4 connectors to facilitate easy weatherproof connections to the rest of the system.
Secification
| | |
| --- | --- |
| Model Type | |
| Peak Power-Pmax(W) | 5-200W |
| Open Circuit Voltage-Voc(V) | 44.2 |
| Maximum Power Voltage-Vmp(V) | 36 |
| Short Circuit Current-Isc(A) | 5.4 |
| Maximum Power Current-Imp(A) | 5 |
| Maximum System Voltage | 1000V DC |
| Maximum Series Fuse Rating | 10A |
| Power Tolerance | -1~+3% |
| Temperature Coefficients of Pmax | -0.45%/℃ |
| Temperature Coefficients of Voc | -0.348%/℃ |
| Temperature Coefficients of Isc | 0.031%/℃ |
| Nominal Operating Cell Temperature | 44.5±2℃ |
| Standard Testing Condition(STC) | Irradiance:1000W/m²;Temperature:25℃;AM=1.5 |
| Qualification Test Parameters | |
| Operating Temperature | -40℃~+85℃ |
| Storage Temperature | -40℃~+85℃ |
| Pressure Bearing | ≥5400Pascal/m² |
| Wind Bearing | ≥5400Pascal/m² |
| Mechanical Characteristics | |
| Cell Size | Mono 125*125mm±0.5 |
| No.of Cells | 72pcs(6*12) |
| Dimension | 1580*808*40mm |
| Weight | 15.5Kg |
| Glass | 3.2mm High Transmission,Low Iron |
| Frame | Anodized Aluminum Alloy |
| Junction Box | IP65Rated |
| Internal Diodes | 3 Bypass Diodes |
| Cable | 1*4.0mm² Length 900mm |
Images
Packing & Shipping:
We have rich experience on how to pack the panels to make sure the safety on shipment when it arrives at the destination.
The normal size is packed by 25pcs/ carton / pallet. Paper carton for FCL shipping and wood carton for LCL shipping.
Warranty:
For c-Si panel: 25years output warranty for no less than 80% of performance, 10 years output warranty for no less than 90% of performance. Free from material and workmanship defects within 5 years.
For a-Si panel: 20 years output warranty for no less than 80% of performance, 10 years output warranty for no less than 90% of performance. Free from material and workmanship defects within 2 years.
FAQ:
(1)What price for each watt?
It depends on the quantity, delivery date and payment terms.
(2)What is your size for each module? Can you tell me the Parameter of your module?
We have different series of panels in different output, both c-Si and a-Si. Please take the specification sheet for your reference.
(3)Can you provide the peripheral products of the solar panels, such as the battery, controller, and inverter? If so, can you tell me how do they match each other?
Actually we are only manufacturer of solar panels, but we could try to source them for you in China if you need. We could provide you an optimal system design to instruct you how to install.
(4)Do you have the CE, TUV, UL Certification?
We've already passed all the tests, and any certificate is available.
(5)Have you ever sold your products to companies in my country?
Of course, we have customers in all general PV markets, but I think we should expand our market share along with the market growth.
(6)When did your company set up? You are a new company, how can I believe your quality?
We entered into Solar PV industry in 2005, now we have several plants in manufacturing of a-Si and c-Si panels, and our capacity is 220MW per year. Till now we have already passed all the tests by authorized laboratories, e.g. TUV, VDE, UL.
(7)Can you help us install the module if we cooperate with you?
We haven't entered into installation sector, but we have the plan in near future.
(8) How do you pack your products?
We have rich experience on how to pack the panels to make sure the safety on shipment when it arrives at the destination.
(9) Can you do OEM for us?
Yes, we can.
(10)Can we visit your factory?
Surely, I will arrange the trip basing on your business schedule.
Q:

Yes, solar panels can be installed on data centers. In fact, many data centers are increasingly adopting solar energy solutions to reduce their carbon footprint and dependence on non-renewable energy sources. Installing solar panels on data centers helps generate clean and sustainable electricity, thereby promoting environmental sustainability and cost savings in the long run.
Q:

Yes, solar panels can be used to power a satellite. Solar panels are commonly used in satellites to convert sunlight into electricity, which is then stored in batteries for use during periods when the satellite is not in direct sunlight. The efficiency and reliability of solar panels make them an ideal choice for powering satellites in space.
Q:

Solar panels can be used in areas with high levels of vandalism, but additional precautions may need to be taken to protect them from potential damage.
Q:

The efficiency of modern solar panels typically ranges from 15% to 20%, with some advanced models reaching up to 22%.
Q:

Yes, solar panels can be used in areas with high temperatures. In fact, solar panels are designed to withstand a wide range of temperatures, including high heat. While excessive heat may slightly reduce their efficiency, modern solar panels are equipped with cooling mechanisms that help maintain their performance even in hot climates.
Q:hey, i am wanting to help our earth a little bit, and I was wondering how to do a solar panel connection for powering my home.... i just want to reduce my energy bill a little bit, Would these solar panels work?and how would i connect them?

Hello, Yes you definitely can use this kind of panels. Powering your home entirely will be an issue if you are not familiar with solar energy and electricity in general. If it's the case I'm afraid you'll need a specialist. The basic principle of a solar power system: - Solar panel to charge the batteries - DC to AC converter that will convert the DC voltage from your battery to AC voltage so that you can connect regular home appliances like lights or TV.
Q:

Yes, solar panels are designed to withstand extreme weather conditions. They are built to be durable and can withstand hail, heavy rains, high winds, and even snow loads. Additionally, they are made with materials that can resist corrosion and damage from prolonged exposure to sunlight.
Q:I am interested in solar energy, but am not sure how eficiant it would be in the northwest? Any comments would be apriciated.

This okorder
Q:What's your opinion on solar power? More specifically, having panels installed on your roof to reduce your electric bill. I'm having a consultation tomorrow to get more details. I live in the SW, so it's always crazy sunny here. I don't know what the cost will be yet. Is it something you'd consider if the situation was right? If not, why?

You dont say where you live? you need to consider average sunshine hours. There are some sites on the net that will work out for you what percentage of nameplate capacity you could expect to receive for different areas. Usually the capital cost wont be paid off for at least ten years, so money wise you would do much better by investing the cash. I once asked a guy (climate warmer) whether his solar panels had paid off or would do in the future, his answer was no but it was the right thing to do morally.
Q:I hooked up a 2V solar panel to a small relay. The relay switches at 9V. When I have light shining on the panel it puts out aorund 3-4V, but when I hook it up directly to the relay it drops to V and doesn't switch the relay. Why? and How do I fix it?-2V Mono-Crystalline Solar Panel -JWD 7 4 reed relay

There is no ampere output listed for the solar panel. There is specs indicating the relay has a 200 ohm coil. This means the current required for the relay is 0 ma. The solar panel should supply that much. Check the resistance of the relay coil. It sounds like you have the relay coil in series with another resistance, such as a loose connection or a corroded connection. If you can, disconnect the wires from the solar panel and twist the two wires connected to the relay coil, and read the resistance of the two wires connected at on end. A high resistance will indicate a problem in the wires. TexMav
1. Manufacturer Overview

Location
Year Established
Annual Output Value
Main Markets
Company Certifications
2. Manufacturer Certificates

a) Certification Name
Range
Reference
Validity Period
3. Manufacturer Capability

a)Trade Capacity
Nearest Port
Export Percentage
No.of Employees in Trade Department
Language Spoken:
b)Factory Information
Factory Size:
No. of Production Lines
Contract Manufacturing
Product Price Range
Hot Searches
Related keywords