Mono Solar Modules 300W
Loading Port:

Shanghai
Payment Terms:

TT or LC
Min Order Qty:

1 pc
Supply Capability:

1000000 pc/month
OKorder Service Pledge
Quality Product
Order Online Tracking
Timely Delivery
OKorder Financial Service
Credit Rating
Credit Services
Credit Purchasing
---
Add to My Favorites
---
Product Description:
Size: 1956*992*40mm
Power: 300W MONO
Cells: 72 cells 156mm
Certificagte: CE/CSA/TUV..
10 years warranty for materials and workmanship.
15 years (90%) and 25 years (80%) life time power output guaranteed.
SPECIFICATION:
Rated maximum power (Pmax) 300W
Open circuit voltage (vOC) 4.80
Short circuit current (Isc) 8.52
Maximum power voltage (Vmp) 36.10
Maximum power current (Imp) 8.32
Cell efficiency (%) 17.50%
Max system voltage (VDC) 1000V DC
Temperature coefficient of Vm -0.241%/K
Temperature coefficient of Im +0.03%/k
Temperature coefficient of power -0.37%/K
Maximum Series Fuse Rating 18A
Solar cell and configuratiou 72pcs(6*12)in series,156*156mm monocrystalline
Junction box IP65,1000VDC,TUV certified;6 pcs Schottky By-pass diodes
Cable type & CONNECTOR 4m㎡,TUV certificated,0.9m length;MC4
Encapsulation low iron tempered glass,3.2mm thickness,light transmission above 91%;TPT and fast cure EVA
Farame clear anodized aluminum alloy,50/45mm thickness,silver
Dimension (l*W*H) 1956*990*50mm/45mm
Weight 23.5KG/22.5KG
Heavy mechanical load salient features 5400Pa (ACCORDING TO ICE61215)
Hail impact test lce ball dianeter 25mm,23m/s
Operating temperature -40℃~+85 ℃
Standard test conditions: STC:AM=1.5,1000W/m2,cells temperature 25℃
Power tolerance:±3% (can be provided 0~±3%)
IMAGES: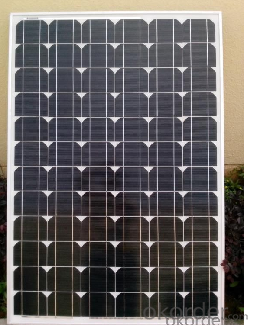 FAQ:WHAT'S THE ADVANTAGES OF CNBM?
1.CNBM is a state-owned company under jurisdiction of central goverment , one of Fortune 500 .Just because of this ,we can get more support and resources from our government.So ,it is realiable .

2.CNBM's solar products are high-qualified with TUV,UL,VDE,CE,ISO certificates. Our products ranges top in China.
3.Just as I mentioned in attahment ,we signed 500MW project with Urkan under the witness of our chairman Xi Jinping ,CNBM has ability to meet your large quantity needs,Our annual capacity is 1GW.
4.We can offer you a competitive price .Because you are our potential and valued customer .
Q:We've been considering solar panels for a while now, and we'd like to know a little more about them. Please answer to the best of your knowledge. Thanks.

I have had my system for almost a year and love it. I got a 3.74 kwh/dc system, my highest electric bill was $35 in the dead of winter and last month was $6.. I paid $6K for the system and was told I would break even in my 6th year, that was factoring in a 5% annual rate increase. In my area the last few rate increased have been well over 5% and they are talking up to 2% next year. Just keep in mind the amount of energy you use will determine how large of a system will work best for you. My system is tied to the grid, so I don't need a storage system. My utility has net metering, so I sell them my excess during the day and buy back what I need at night.
Q:will at least consider them for their home electricity? I've seen several articles that new technologies are now being used, but it doesn't seem to be promoted to residential apps. I've even seen that the solar technology will be used in paints in the near future.

Solar panels are cost effective if they are used over their payback period. The problem is that the down payment is expensive, and the payback period is maybe 0-20 years, so very few people actually expect to own their homes for 0-20 years. It also only really makes sense in areas that buy back electricity generated during the day when you're not using it. In Germany and other european countries, power companies are required to buy back electricity at a higher price than they sell it for--this reduces the payback period and is a great incentive for solar panels. For this reason, they are much more popular over there. Given a little time for the price to fall and given some change in energy policy, solar panels will become more cost effective in the future. Depends on who gets elected, though. There is a solution to the payback period problem, though. Rather than homeowners taking on the long payback period in homes they may not own long enough, some companies are buying panels and leasing them to homeowners. In exchange, homeowners get reduced electric bills, that pay off the lease payments, plus a little extra. I think this is the way to go. check out the link below.
Q:Is this true in a dc system? What if my battery current is negative?

I am not sure about your question ? If your Q is, what is the solar panels current output, it is 8.73A regardless of the load. If the Q is, How much extra current is available in this circuit, the answer is 3.58A ( 8.73 - 4.32-.83= 3.58)
Q:i would like to hook up a power outlet to a solar panelmy light system is 500watts will run for 8 hours/day between noon to 8PM.So what is the most effective system do I need?

Most efficient manner would probably be to use solatubes, or sun tunnels during lighting hours, then replace the 500 watt lighting system (assuming it's incandescent) with LED's, that should give you about the same light output for around 00 watts or a little less even. Then you need a solar panel that can produce 00 watts for as long as you want (at a 00 watt lighting system) or 200 watts for /2 the time you want, etc, etc. Allow a good 0% or so for inverter inefficiencies, and 0% or so for reserve, so 20 watt's per 00 watts. After you have this, you will want a charging controller, a battery, or battery bank (These should at very least be deep-cycle, or better yet golf-cart batteries with series between 2, and parallel between banks of 2 for the 2-volt portion of the system), with enough amp-hours to support your system, plus a good 0% or so reserve, plus another 0% or so for inverter inefficiencies (remember the over sized solar panel above, this is why), than of course you also need a 2-volt DC to 20-volt AC, 60 Hz system (or 240 volt AC 50 Hz system, depending on your AC system) inverter.
Q:why don't we take a cue from mother nature and make our soar panels like trees? thousands of leaves or needle (like a pine tree) instead of one big flat panel? I mean it seems to work pretty good for all the plants i see why would it not work for us. It would be aesthetically pleasing and with the right engineering wouldn't it make them not have to worry about tracking the sun? i already have some ideas about the process of making them just no available labratory.

Because we and the trees are trying to solve a different problem. We want electricity, a tree wants light (and some heat) for photosynthesis. In getting the electricity we use Silicon for solar panels. (Sometimes Gallium Arsenide). And we exploit the same thing in Silicon that allows them to be computer chips. The fact that they conduct differently when voltage is applied. But for a solar panel that is done essentially in reverse. We GET a voltage difference (electricity) from shoving energy through it. Look up junction bias on google or yahoo for explanation. But the DESIGN problem is: You have to couple these panels together the right way - according to their bias. You can't string them up willy nilly. There is a pattern. And when one breaks in this pattern. (I mean when the actual panel cracks, which they do easily as they are brittle). It can change the overall bias. This can make even be worse than if it was removed, it can actually fight against the working ones. The efficiency is there in arranging them like a tree, but the practicality of maintenance would be daunting.
Q:

Solar panels can be expensive upfront, but they are a long-term investment that can save money on electricity bills in the future. The cost of solar panels has decreased significantly in recent years, making them more affordable for many homeowners and businesses. Additionally, there are various financing options available that can help make solar panels more accessible to a wider range of people.
Q:

Yes, solar panels can be used to power a train. Solar panels convert sunlight into electricity, which can then be used to power various applications including trains. Solar-powered trains have been successfully implemented in some parts of the world, showcasing the feasibility and environmental benefits of this renewable energy source.
Q:

Yes, solar panels can be used in areas with high levels of dust or dirt. However, regular cleaning and maintenance of the panels may be required to ensure optimal performance. Dust or dirt accumulation on the panels can reduce their efficiency and affect the amount of sunlight they can convert into electricity.
Q:

Yes, solar panels can be installed on historical or protected buildings. However, the installation process may require careful planning and consideration to preserve the building's historical integrity. This typically involves working closely with preservation experts, architects, and local authorities to find suitable installation methods that minimize visual impact and potential damage to the structure.
Q:we are planing to move out of the grid. we need to operate constantly 2 laptops online - does any one can tell us how much solar panels we shall need to make sure of that?

My guess is that you might find everything concerning solar power at www.okorder .
1. Manufacturer Overview

Location
Year Established
Annual Output Value
Main Markets
Company Certifications
2. Manufacturer Certificates

a) Certification Name
Range
Reference
Validity Period
3. Manufacturer Capability

a)Trade Capacity
Nearest Port
Export Percentage
No.of Employees in Trade Department
Language Spoken:
b)Factory Information
Factory Size:
No. of Production Lines
Contract Manufacturing
Product Price Range