Mono Solar Panels CNBM 240W-260W
Loading Port:

China Main Port
Payment Terms:

TT or LC
Min Order Qty:

100 watt
Supply Capability:

10000 watt/month
Inquire Now
Customer Service
OKorder Service Pledge
Quality Product
Order Online Tracking
Timely Delivery
OKorder Financial Service
Credit Rating
Credit Services
Credit Purchasing
---
Add to My Favorites
---
Characteristics of Mono Solar Panels CNBM 240W-260W
I.Solar Cell : High efficiency crystalline solar cell. Even if under the weak light, the solar module can produce maximum power output.
II.Tempered glass (toughened glass): Anti-reflecting coating and high transmission rate glass increase the power output and mechanical strength of solar module.
III.EVA and TPT: Using high quality EVA and TPT to prevent destroying and water.
IV.AI frame: Without screw, corner connection. 6 holes on the frame can be installed easily.
V.Junction box: Multi function junction box with water proof.
VI.Long lifetime: ≥25 years; Less power decrease.
VII.Good performance of preventing from atrocious weather such as wind and hails.
VIII.Resisting moisture and etching effectively, not effected by geology.
IX.The certificate issued by international authority: UL, TUV, IEC, VDE, CE.
Standard Test Conditions of Mono Solar Panels CNBM 240W-260W
The opto-electrical specifications shown below are stabilized values being measured at Standard Test Conditions, Irradiance: 1000W/m2, Spectrum: AM1.5 at 25°C, The info below is subject to manufacturing tolerances. Where appropriate minutes of measurement are available and are used for the dimensioning of the installation.
Advantages of Mono Solar Panels CNBM 240W-260W
• CNBM Solar performance guarantees for 25 years
• 10 years guarantee for workmanship
• Timeliness of delivery
• Quality Products certified (TÜV, UL, CE, VDE, ISO)
CNBM International Corporation's products including Monocrystalline Solar Panel, Polycrystalline Solar Panel have received and enjoyed famous reputation in many countries and regions in the world .As a solar panel manufacturer in China, we strive to provide our customers with excellent service, superior products and unmatched value.
Datasheet of Mono Solar Panels CNBM 240W-260W
Characteristics of Mono Solar Panels CNBM 240W-260W

Max Power Voltage Vmp(V)

50.0

50.5

51.0

51.5

52.0

Max Power Current Imp(A)

4.80

4.85

4.90

4.96

5.01

Open Circuit Voltage Voc(V)

60.4

61.1

61.7

62.3

62.9

Short Circuit Current Isc(A)

5.30

5.35

5.40

5.45

5.50

Max Power Pm(W)

240W

245W

250W

255W

260W
Temperature Coefficient of Mono Solar Panels CNBM 240W-260W

NOCT

45℃±2℃

Temperature Coeffucients of Isc (%/℃)

0.0981

Temperature Coeffucients of Voc (%/℃)

-0.5186

Temperature Coeffucients of Voc (%/℃)

-0.4601
Mechanical Data of Mono Solar Panels CNBM 240W-260W

Dimension

1580 × 1069 × 45 mm

Weight

25.8 kg

No. of Cells and Connections

96 (8 × 12 )

Tolerance

0~5W

Cell

Monocrystalline Cell 125 × 125 mm

Packing

616 Pcs / 40ft(H) Container
Limits of Mono Solar Panels CNBM 240W-260W

Operating Temperature

-40℃ to +85℃

Storage Temperature

-40℃ to +85℃

Max System Voltage

1000VDC(IEC)/600VDC(UL)
Guarantees of Mono Solar Panels CNBM 240W-260W

Products Guarantee

10 yrs free from defects in materials and workmanship

Performance Guarantee

No less than 90% within 10yrs and no less than 80% within 25yrs

Certificates

TUV(IEC61215&IEC61730),VDE(IEC61215&IEC61730),UL,CE
The IV Curve of Mono Solar Panels CNBM 240W-260W

Picture 1. The factory of Mono Solar Panels CNBM 240W-260W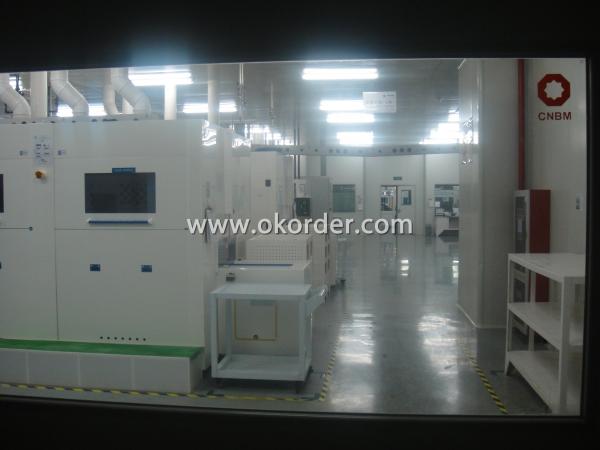 Picture 2. Production of Mono Solar Panels CNBM 240W-260W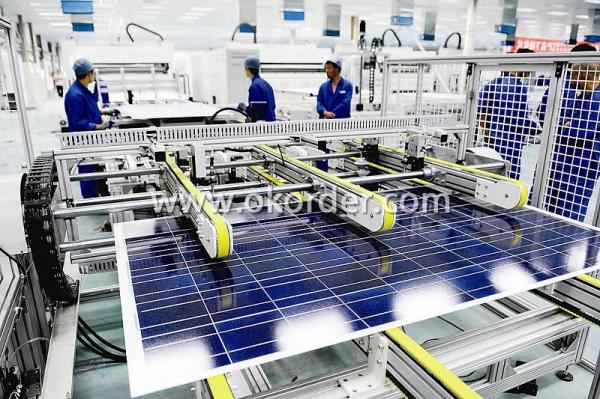 Picture 3. Packages of Mono Solar Panels CNBM 240W-260W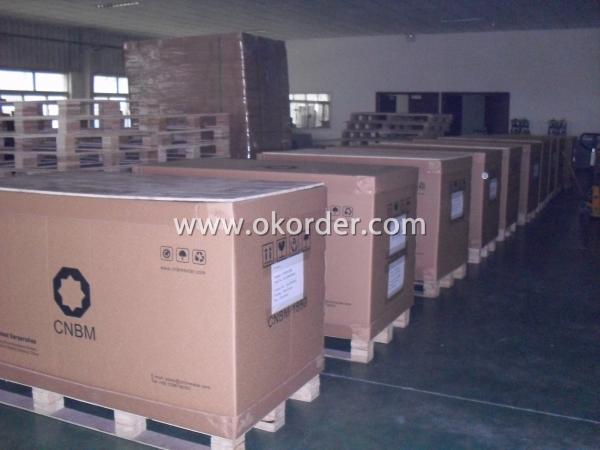 WHY CHOOSE US?
1. Excellent efficiency, Easy Installation & Maintenance
2. Outstanding performance in Low-Light
3. High transparent, Low-Iron, Tempered Glass
4. Ability to withstand High Wind-Pressure and Snow-Load
Q:Didnt solar panels use to cost around $250,000 5 years ago?

For just 5 years ago, certainly not! Perhaps you are thinking of 50 years ago, the kind that was put on the early communication satellites? 5 years ago, there was a glut of polysilicon, so modules were actually a little cheaper than today. Solar cell makers were basically using the scraps thrown away by chipmakers. But today, more silicon goes into making solar cells than computer chips, so that bonanza is gone. We will see prices going lower this year, possibly 20% from last year, because of improvements in technology, but also an increase in polysilicon supply, and a slowdown in demand due to worldwide recession. Later this year is a good time to buy panels, if you have the cash. The industry site below tracks module prices. They used to have more data, but I guess the old data rolls off the screen with time. If you want to see the details, they'll charge you for the report.
Q:How long does it take a 5 watt, 2 volt solar panel to charge a 2 volt R.V. battery?

Most solar panels have something called a charge controller on them. This prevents electricity from going backwards from the battery to the panel. Solar panels are rated at 2V but they do put out a little more than that during full sun operation. You didn't specify the size of your battery but it really doesn't matter. It comes down to your consumption of power. If you are only charging the RV battery so it maintains a charge when you don't use it very much, a 5 watt panel is fine. It will charge the battery and keep the small drains on the battery from making it go dead ( the clock radio, the theft deterrent system, etc use power even when RV is off) But if you are using the battery to run things when you are parked, you probably don't have a big enough panel. If you use a 30watt fluorescent light and a 00 watt laptop, you need 30 watts of power saved up every hour in your battery and that's with no inefficiencies. So if your panel puts out 5 watts an hour and you are using 30 watts an hour, you need 30 watts/ 5 watts = 9 hours minimum of charge time to run your stuff for just one hour. You probably need a panel of around a 00 watts to get any meaningful use of your battery. Plus, you never want to run your battery to full drain because it ruins the plates inside the battery. Watts = volts x amps. If you have 2 volts panels, you would charge at 8 amps with a 00 watt panel. This is a good charge rate. Any more than this and you risk warping the plates with too much heat.
Q:this solar panel i saw was for 500 dollars(i get a 25% discount)and i was curious will they produce electricity? or just heat?what do they do?is it a good investment?here is a link to the one i would like, no reviews but it looks new to the site.

You need a plan as to what you are going to with 80 watts of power. 80w at the best, it will usually be less. One problem I have is the limited specs, you don't even know the voltage. And you get a Sharp Module but nothing else is mentioned about it. I wouldn't buy it unless you can get full specs on it and on the Sharp Module. With no specs, it's difficult to get a refund if it is defective. If you are going to store it and use it for an AC appliance, a small one, you will need: a charge controller (to control the charge into the battery) a lead acid battery (to store energy for when the sun is out) an inverter (to convert 2 volts DC into 20 VAC) and all of these cost. .
Q:Is it possible for the everyday person to increase the efficiency of solar panels that they own? If so, how is it done?

If you have a way to keep silicon panels cool, that really helps. On a hot summer day, our array was down 20% in production. I sprayed a hose to wash the panels, and for a few minutes, the power spiked to 20% ABOVE normal. The usual thing to do is mount the panels exposed to the wind if you can, or at least 8 off the roof otherwise. A few lucky souls with access to free stream water on their property have been known to use water cooling under their panels.
Q:How do you make solar panels and do you need a lot of them to make electricity?

It's possible to put together pre-made solar cells into your own panels, but the result will be far less durable, and more costly than simply buying commercial panels. You may encounter some websites offering to sell you information on how you can power your home cheaply with homemade panels. Every one of those I've seen is a scam. Save your money. Do you need a lot of panels to make electricity? To make a system that is worth it generally takes at least a dozen panels, although I'm sure exceptions exist. Also, it generally needs a professional install to meet legal requirements, although a few skilled homeowners do manage to do their own.
Q:Ok so if i wanted to put a solar panel on my house and i live where it snows, will that be a problem? If the snow covers the solar panel will that be a problem? If so then do i have to climb on my roof and clear it off or what?

Yes, snow will reduce the amount of energy the photovoltaics recieve and convert to electricity. Because the panels usually have a very flat glass surface, and because the slope for the panels is usually fairly high, snow will often slide off. Freezing rain, esp freezing rain changing to snow can make a covering that's difficult to get off. If you don't usually get freezing rain, and if you usually have nice sun after snow storms, your panels should be clear most of the time.
Q:My Grandfather just purchased a cheap solar panel kit for his ranch that could not muster enough power to run his mini fridge.He has two 6 volt batteries running positive to negative and would like to add more batteries. Probably 2volt. How would he go about hooking up the other batteries and what kind of wire or coil should he use.Also, I saw on youtube a guy recommending a lead-acid battery from walmart for under $20. I was just going to go to ecology and just pick up some used batteries but I may be wrong.Any help for a first timer might help me and my gramps out will be appreciated.Thank you

If he is going to be running off batteries at night, he would be better off with traction batteries. Traction batteries are true deep cycle and can better withstand deep discharge. Golf cart batteries at Sam's Club (the other half of Walmart) are traction batteries. If your grandfather needs safe refrigeration, a mini fridge won't do it. A 0 fridge takes too much power to run off solar panels and most won't hold their cold very well if unplugged for long. I run a fridge off grid with hybrid deep cycle marine starting batteries. It's an Engel 40. The price has gone up over $00 since I bought mine. It's a real fridge with a compressor and freon 34a. But it runs on 2v dc or 0vac and only uses 36 watts running because of a special compressor design. It will freeze food if you turn the dial down to 2 out of 5. It can also deep freeze. I use mine to keep eggs, milk, cheese and fruit juice. Your grandfather would need 400 amp-hours name plate rating of batteries at 2v to run the Engel, and probably 00 real watts of panels to recharge his battery bank. The Harbor Freight 45 watt panel set only puts out 30 watts on a clear cool day. That won't do it.
Q:The voltage and power problems of solar panels

Because the MPPT controller has a wider input voltage range, it can also convert multiple voltages into current charge and better protect the battery.
Q:3.8 volts is required to fully charge a battery. But at 3.8 volts, the battery can be overcharged without the use of a controller correct? What if I don't care if the battery is fully charged? In the case of our family boat, I just installed a new radio, so I'm a little worried about power consumption. So now for the real question; If I hook a 2 volt panel to the batteries, do I need to worry about overcharging them? Or will the batteries stop the charging process once they reach 2 volt?I built the panel myself, it's 8 volts at 3.5 amps open circuit. I have tabs at every 3 volt increment on the panel so that I can use less voltage than 8 if I want to power something directly, (ex:2 volt radio)So I'm using the 2 volt tab at 3.5 amps(approx) for a total of approx 48 watts

Batteries will not stop charging on their own. The will stop charging when the battery voltage equals the supply voltage. Solar panel open circuit voltage is typically around 20V. Batteries will just boil dry before reaching 20V. One rule of thumb, above 0W you need a controller for sure.
Q:I'm doing a project for school and I'm a little confused about energy and solar panels. I'm looking to propose installation of solar panels to power the computer lab at my school. From what I've read a computer and monitor use roughly 350 watts per hour. I was looking at solar panels and it says they produce various wattage. For example, I was looking at one rated at 200 watts. Does that mean 200 watts in a day? Or per hour? Please help.

The rating of a solar panel is a maximum continuous rating. A 200 Watt panel will give a maximum of 200 watts under ideal conditions. A computer and monitor use about 400 Watts. not per hour - watts is Volts * Amps and a measure of Power. In hour a computer and monitor uses 400 Watt hours (Wh). Wh is a measure of Energy. To power a lab of 0 computers you will need 0* 400 = 4000 Watts. To run this from solar panels through the day only you would need a 4000 Watt panel. Except - its cloudy, the sun is in the wrong place - many factors reduce the output. To be reasonably safe you would need about a 2000 Watt panel. Then you would need batteries to store power through dull periods AND a voltage converter to change from low voltage DC from the solar panels to the mains voltage for your computers.
1. Manufacturer Overview

Location
Jiangsu, China
Year Established
2004
Annual Output Value
Below US$1 Million
Main Markets
Australia;Asia;South East Asia; South America;North America; Europe;Africa
Company Certifications
ISO 9001:2008; CE; TUV; UL
2. Manufacturer Certificates

a) Certification Name
Range
Reference
Validity Period
3. Manufacturer Capability

a)Trade Capacity
Nearest Port
Shanghai
Export Percentage
1% - 10%
No.of Employees in Trade Department
200-300 People
Language Spoken:
English;Chinese
b)Factory Information
Factory Size:
Above 8,000 Square meter
No. of Production Lines
6
Contract Manufacturing
OEM Service Offered;Design Service Offered
Product Price Range
Average