Aluminium Foil for Baking Cooking Restaurant Hotel
Loading Port:

Shanghai
Payment Terms:

TT OR LC
Min Order Qty:

1 m.t
Supply Capability:

5000 m.t/month
Inquire Now
Customer Service
OKorder Service Pledge
Quality Product
Order Online Tracking
Timely Delivery
OKorder Financial Service
Credit Rating
Credit Services
Credit Purchasing
---
Add to My Favorites
---
Our aluminium foil are mainly used for food packing.
Below are our best sellers specification for your reference.
9mic*29/30cm*75m

10mic*29cm*75m

10mic*29cm*150m

10.5mic*29cm*100m
| | |
| --- | --- |
| Alloy | 8011 |
| Temper | O |
| Thickness | 0.0065-0.02 mm / 6.5-20 micron |
| Width | 120 / 290 / 300 / 450 mm |
| Length | 7.62-200 meters |
According to different market, we offer below different packing ways.
Sell to restaurants or hotel: Each roll is wrapped with bubble film, 4/6 rolls per outer carton.

Sell to shops, stores or supermarkets: Each roll is wrapped with BOPP film, 24/36 rolls per outer carton. Or each roll is packed with color paper box with metal cutter, 6/12/24/38 rolls per outer carton. Outer carton has white and brown color.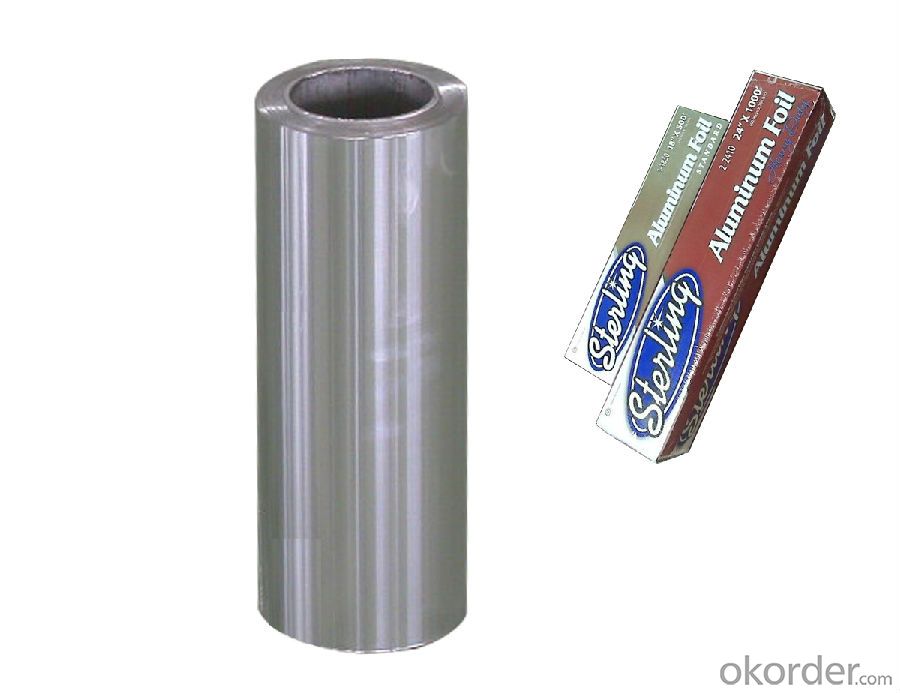 Q:do recycling centers take already compacted aluminum cans? Link is below. if not then why are so many people making homemade can crushers?

Yes, they do. My Recycling Center accepts whole, torn-up, or compacted/crushed aluminum cans. We even accept aluminum pet-food cans. Since they are shredded to prepare them for recycling, it doesn't matter. The only time you should not compact or crush your aluminum cans is if you are using one of those automatic can-munchers that you can find in some parking lots that pays you immediately. Compacted aluminum cans will jam those machines. Aluminum can be recycled over and over, unlike other recyclables such as plastic, which can typically only be recycled once.
Q:HI! I have a few of my most favorite aluminum baking pans and lids that are brown with baked on grease etc...and I have not the strength or endurance to stand and buff them with a scratchy pad til they gleam....are there any cleaning chems or soaps that will do this for me?? Thanks!! Mama never told me there'd be days like this!

Do you want the lecture why you shouldn't be using aluminum utensils to cook with? Aluminum leeches out and is associated with dementia, birth defects, and heavy metal poisoning. In future, line your baking pans with parchment paper for 1) easy clean up and 2) to prevent metal leeching. Okay, now how to clean-to-gleam without scrubbing (which is pretty close to impossible). Method 1: Put your empty pans on the stove and heat them up until they are super hot (a baking sheet will need to cover two burners). Once they are really hot, stand back and pour water in them. This should at least loosen all the crud so you only need to to minimal swishing to remove most of it. Method 2: Put boiling water in your sink, a good dishwashing liquid such as Dawn de-greaser, and let your pans sit for an hour or so. Neither method will get your pans gleaming, only scrubbing will do that. But again, you don't want to scrub as you are then wearing away the surface of the metal which leads to more leeching. Many chemicals react negatively with aluminum, leaving dark stains on the metal. Mama never told you there'd be days like this because she thought you'd get yourself a set of stainless-steel Revereware cookware. Seriously, consider dumping all your aluminum (not just because of easy clean up, but for health) and replacing with stainless, glass, or steel or porcelain-coated. I know, standard baking sheets ALWAYS come in aluminum unless you're Gordon Ramsay and can afford over-the-top-quality stuff, so this is why god invented parchment paper.
Q:My frame snapped and I want to fix it by welding it back together. In order to do that, I need to know what all is in the aluminum.

You can NOT weld back an aluminum frame unless you have the facilities to anneal and heat treat the frame again. Rewelding without the post treatments will result in a very soft area around the new weld causing sudden catastrophic failure... this means if you are riding it could fail at any time causing injury or death. EDIT: Wait just a durn minute. The 2100 and 2300 had carbon fiber tubes bonded to aluminum lugs and stays. If your bike failed then you ABSOLUTELY should not try to weld it. The heat from welding (even if you had post treatment facilities) would destroy the bond between the CF and aluminum. Fair warning- cut the frame apart and throw it away.
Q:What does aluminum plate "3003-H24" mean?

3003 refers to manganese as the main alloying elements of aluminum alloy"H24" is a condition in which aluminum alloys increase their strength by working hardening
Q:Okay guys i need to rapir a crack on an aluminum pipe , would durafix do the job ?? If so where can i get this durafix ? at my local home depot ?

I've only found these type products online or at flea markets. It works quite well after a little practice.
Q:there is a magnet for other type of nails except aluminum nails

Not that I have heard of. The best way is manual hand pick up. If it is on concrete you might try making a pad out of a good stickey tape (turning the stickey part to the outside) that might speed up the process.
Q:I need to make an aluminum cylinder out of 1/8 6061 plate and tube. I don't have a TIG setup and was considering using Bernzomatic aluminum soldering rods. The cylinder will be pressurized from 20-60 psi. Assuming a clean job, is this pressure ok? How much pressure can the joint take? Also, although the solder does not need flux, should i use it anyway?

to your setup i might merely persist with the iron. It would not sound like the burden mark downs is going to be properly actually worth the greater suitable probability for a on a regular basis motive force. forged iron is merely greater rugged and can take greater abuse than aluminum. Aluminum has its place yet its no longer in a on a regular basis motive force like it variety of feels you're development.
Q:Hey.How come iron rust and aluminium does not?DETAILED ANSWER PLEASE.I want to understand this...THANKS.

Iron is the only metal that rusts (apart from steel which is made from iron), aluminum just like titanium forms an oxide of 3 or 4 atoms on the surface, while rust is the oxide of iron ) rusting is an example of corrosion -- an electrochemical process involving an anode (a piece of metal that readily gives up electrons), an electrolyte (a liquid that helps electrons move) and a cathode (a piece of metal that readily accepts electrons). When a piece of metal corrodes, the electrolyte helps provide oxygen to the anode. As oxygen combines with the metal, electrons are liberated. When they flow through the electrolyte to the cathode, the metal of the anode disappears, swept away by the electrical flow or converted into metal cations in a form such as rust. For iron to become iron oxide, three things are required: iron, water and oxygen.
Q:The real bumper/ reinforcement bar that is behind the plastic bumpers. Magnet don't stick to it and it don't rust which both types of metal are pretty much like that.

i agree, the main bumper support under the plastic bumper skin, is aluminum.
Q:We just bought a house with aluminum wiring and we knew about it in the inspection report, but everyone kept telling us it's no big deal. There was so much going on and I didn't look into it myself and now I just surfed the web on it and I am filled with anxiety! Please help! Did we make a huge mistake? How common are the dangers? Also, my insurance company didn't ask me about wiring, but some sites said that they don't cover aluminum wiring. Should I ask them? I am so overwhelmed and scared. I do not want a fire for my family!

The aluminum is a soft metal and compresses and tends to loosen at the wire connections. It was probably installed properly with the semi compound and is probably ok. But the connections could be loose and cause a hot junction over heat in your service breaker box (Load Center). Every connection in the panel could be tightened a Quarter or half turn to snug them up by an electrician in just thirty minutes or so. and ease your concerns. Pay attention when he does and see if they turned or were still snug. this will give you insight into when to re check them a year or so down the line.
1. Manufacturer Overview

Location
Year Established
Annual Output Value
Main Markets
Company Certifications
2. Manufacturer Certificates

a) Certification Name
Range
Reference
Validity Period
3. Manufacturer Capability

a)Trade Capacity
Nearest Port
Export Percentage
No.of Employees in Trade Department
Language Spoken:
b)Factory Information
Factory Size:
No. of Production Lines
Contract Manufacturing
Product Price Range