Solar Monocrystalline Series Panels
Introduction of Solar Monocrystalline Series Panels
CNBM Solar photovoltaic (PV) Panel is designed for large electrical power requirements. It is the optimal choice for both on-grid and off-grid power systems. CNBM Solar panel offers high performance of power per square foot of solar array. Monocrystalline silicon(c-Si): often made using the Czochralski process. Single-crystal wafer cells tend to be expensive, and because they are cut from cylindrical ingots, do not completely cover a square solar cell module without a substantial waste of refined silicon. Hence most c-Si panels have uncovered gaps at the four corners of the cells.
Characteristics of Solar Monocrystalline Series Panels
I Solar Cell : High efficiency crystalline solar cell. Even if under the weak light, the solar module can produce maximum power output.
II Tempered glass (toughened glass): Anti-reflecting coating and high transmission rate glass increase the power output and mechanical strength of solar module.
III EVA and TPT: Using high quality EVA and TPT to prevent destroying and water.
IV AI frame: Without screw, corner connection. 6 holes on the frame can be installed easily.
V Junction box: Multi function junction box with water proof.
VI Long lifetime: ≥25 years; Less power decrease
VII Good performance of preventing from atrocious weather such as wind and hails.
VIII Resisting moisture and etching effectively, not effected by geology.
Standard Test Conditions of Solar Monocrystalline Series Panels
The opto-electrical specifications shown below are stabilized values being measured at Standard Test Conditions, Irradiance: 1000W/m2, Spectrum: AM1.5 at 25°C, The info below is subject to manufacturing tolerances. Where appropriate minutes of measurement are available and are used for the dimensioning of the installation.
Advantages of Solar Monocrystalline Series Panels
• CNBM Solar performance guarantees for 25 years
• 12 years guarantee for workmanship
• Timeliness of delivery
CNBM International Corporation's products including Monocrystalline Solar Panel, Polycrystalline Solar Panel have received and enjoyed famous reputation in many countries and regions in the world .As a solar panel supplier in China, we strive to provide our customers with excellent service, superior products and unmatched value.
Characteristics of Solar Monocrystalline Series Panels
| | | |
| --- | --- | --- |
| Max Power Voltage Vmp (V) | 18.4V | 17.6V |
| Max Power Current Imp (A) | 6.52A | 7.39A |
| Open Circuit Voltage Voc (V) | 23.0V | 22.2V |
| Short Circuit Current Isc (A) | 6.97A | 7.90A |
| Max Power Pm (W) | 120W | 130W |
Temperature Coefficient of Cells


| | |
| --- | --- |
| NOCT | 47℃±2℃ |
| Temperature Coefficients of Isc (%/℃) | 0.064 |
| Temperature Coefficients of Voc (%/℃) | -0.33 |
| Temperature Coefficients of Pmp (%/℃) | -0.45 |
Mechanical Data Solar Monocrystalline Series
| | |
| --- | --- |
| Power | 120W/130W |
| Dimension | 1190/1470×670×30mm |
| Weight | 9.5kg/11.7kg |
| Tolerance | ±3% |
The dimension of the modules can be changed according to the demand of clients
Limits
| | |
| --- | --- |
| Operating Temperature | –40 °C to +85°C |
| Storage Temperature | –40 °C to +85°C |
| Max System Voltage | 700V |
Guarantee Solar Monocrystalline Series Panels
| | |
| --- | --- |
| Products Guarantee | 2 yrs free from defects in materials and workmanship |
| Performance Guarantee | No less than 90% within 10yrs and no less than 80% within 20yrs |
| Certificates | IEC, ISO, TUV, CE |
The Examination of Solar Monocrystalline Series Panels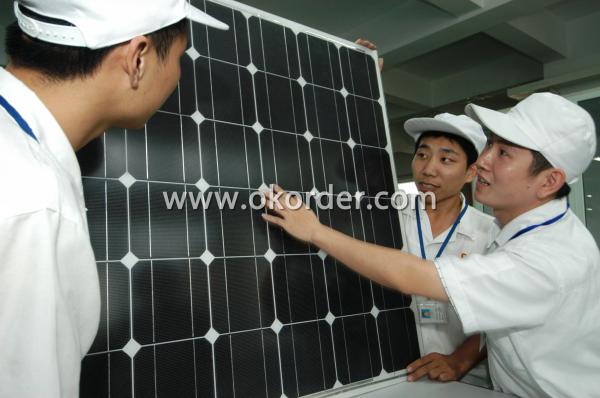 The Usage of Solar Monocrystalline Series Panels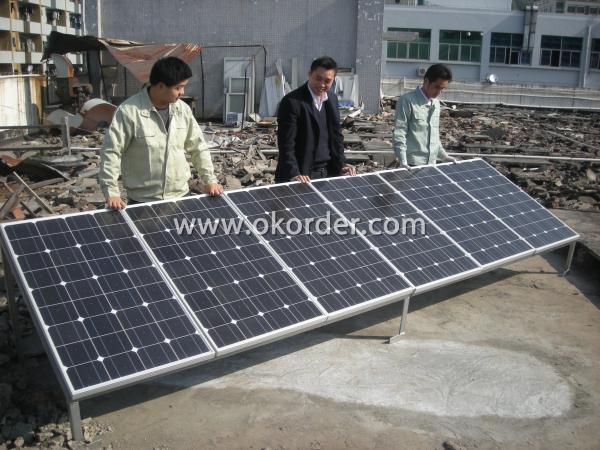 The Equipment in the Production Line of Solar Monocrystalline Series Panels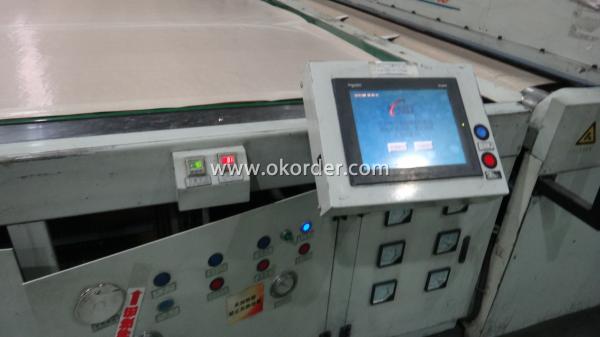 Q:

Yes, solar panels do require some maintenance. Regular cleaning of the panels to remove dirt, dust, and debris is recommended to ensure optimal performance. Additionally, it is important to inspect the panels for any signs of damage or wear, and if necessary, have them repaired or replaced. Monitoring the system's performance and checking the connections regularly is also crucial for identifying any issues.
Q:

No, solar panels do not work at night as they rely on sunlight to generate electricity.
Q:

Yes, solar panels can be installed on a sloped roof. In fact, sloped roofs are quite common for solar panel installations. The angle and direction of the slope can affect the efficiency of the panels, so it is important to consider the roof's orientation and shading when planning the installation.
Q:I heard that solar energy has a lot of advantages but are there any drawbacks in using the solar panels?

There okorder /... ). These systems provide relatively high efficiency, since they don't convert sunlight to electricity, and they can be used to supplement or replace energy used for space and hot water heating - some of the largest residential uses of energy. Like any other appliance or household system, solar panels used to collect heat will require periodic maintenance. Hope this helps.
Q:

Yes, solar panels can be installed in areas prone to hurricanes or tornadoes. However, additional precautions and engineering considerations need to be taken to ensure their durability and resistance against strong winds and potential impact from debris. This can include using reinforced mounting systems, implementing proper anchoring techniques, and selecting panels that meet stringent wind load requirements.
Q:Why can't they put solar-panels on the blades and sides of the 300-500 foot tall turbines? Wouldn't this increase effeciency? Therefore, boosting pay-back time, profits, energy-output?

Good to know someone is thinking and coming up with original ideas, so thanks for contributing... Put a large powerful solar collector on the end of the turbine too i.e. facing the sky! Far as I know, solar works on day-light (doesn't have to face the sun). So your idea is not to be put down. Metal blade turbines - are heavy - wooden windmills - heavy... so some added weight to the wind-turbine's paddles would be OK robably. Great if solar device not made of glass (so unbreakable). I think panels on the roof are old hat...
Q:And I'm tring to decide if I should buy it. Let's say my house would need Megawatt per hour. That's 000 megawatts per hour. This solar panel produces 36 watts. I don't know how if that means per hour or what???

Build okorder /
Q:My solar panel is 24long..It is set at 45deg..the arms are 8quot;long to achieve that angle for winter. I need to get to 7deg for summer..how long will the new arms need to be?..in layman's terms please...thx

2.20 approximatey (2 /4 -- ish) X = (tan7)(8/tan45)
Q:Why can not the solar panel load directly?

Power supply must be a number of individual battery strings, connected in parallel and tightly packaged into components.
Q:

Yes, solar panels can still be used in countries with limited sunlight. While solar panels are most effective in areas with abundant sunlight, they can still generate electricity even in regions with less sunlight. Advances in solar technology and the ability to capture diffuse sunlight have made it possible for solar panels to be used in countries with limited sunlight. Additionally, the efficiency of solar panels has improved over time, allowing them to generate electricity even in low-light conditions.
1. Manufacturer Overview

Location
Jiangsu, China
Year Established
2004
Annual Output Value
Below US$1 Million
Main Markets
Australia;Asia;South East Asia; South America;North America; Europe;Africa
Company Certifications
ISO 9001:2008; CE; TUV; UL
2. Manufacturer Certificates

a) Certification Name
Range
Reference
Validity Period
3. Manufacturer Capability

a)Trade Capacity
Nearest Port
Shanghai
Export Percentage
1% - 10%
No.of Employees in Trade Department
200-300 People
Language Spoken:
English;Chinese
b)Factory Information
Factory Size:
Above 8,000 Square meter
No. of Production Lines
6
Contract Manufacturing
OEM Service Offered;Design Service Offered
Product Price Range
Average