Solar Monocrystalline (210W-225W)
Introduction of Solar Monocrystalline (210W-225W)
Solar modules use light energy (photons) from the sun to generate electricity through the photovoltaic effect. The majority of modules use wafer-based crystalline silicon cells or thin-film cells based on cadmium telluride or silicon. The structural (load carrying) member of a module can either be the top layer or the back layer. Cells must also be protected from mechanical damage and moisture. Most solar modules are rigid, but semi-flexible ones are available, based on thin-film cells. These early solar modules were first used in space in 1958.
CNBM Solar photovoltaic (PV) Panel is designed for large electrical power requirements. It is the optimal choice for both on-grid and off-grid power systems. CNBM Solar panel offers high performance of power per square foot of solar array. Monocrystalline silicon(c-Si): often made using the Czochralski process. Single-crystal wafer cells tend to be expensive, and because they are cut from cylindrical ingots, do not completely cover a square solar cell module without a substantial waste of refined silicon. Hence most c-Si panels have uncovered gaps at the four corners of the cells.
Characteristics of Solar Monocrystalline (210W-225W)
I. Solar Cell : High efficiency crystalline solar cell. Even if under the weak light, the solar module can produce maximum power output.
II. Tempered glass (toughened glass): Anti-reflecting coating and high transmission rate glass increase the power output and mechanical strength of solar module.
III. EVA and TPT: Using high quality EVA and TPT to prevent destroying and water.
IV. AI frame: Without screw, corner connection. 6 holes on the frame can be installed easily.
V. Junction box: Multi function junction box with water proof.
VI. Long lifetime: ≥25 years; Less power decrease.
VII. Good performance of preventing from atrocious weather such as wind and hails.
VIII. Resisting moisture and etching effectively, not effected by geology.
IX. The certificate issued by international authority: UL, TUV, IEC, VDE, CE.
Standard Test Conditions of Solar Monocrystalline (210W-225W)
The opto-electrical specifications shown below are stabilized values being measured at Standard Test Conditions, Irradiance: 1000W/m2, Spectrum: AM1.5 at 25°C, The info below is subject to manufacturing tolerances. Where appropriate minutes of measurement are available and are used for the dimensioning of the installation.
Advantages of Solar Monocrystalline (210W-225W)
• CNBM Solar performance guarantees for 25 years
• 10 years guarantee for workmanship
• Timeliness of delivery
• Quality Products certified (TÜV, UL, CE, VDE, ISO)
CNBM International Corporation's products including Monocrystalline Solar Panel, Polycrystalline Solar Panel have received and enjoyed famous reputation in many countries and regions in the world .As a solar panel manufacturer in China, we strive to provide our customers with excellent service, superior products and unmatched value.
Technical Data of Solar Monocrystalline (210W-225W)
| | | | |
| --- | --- | --- | --- |
| Max Power Voltage Vmp (V) | 27.6V | 27.9V | 28.2V |
| Max Power Current Imp (A) | 7.6A | 7.7A | 7.8A |
| Open Circuit Voltage Voc (V) | 33V | 33.3V | 33.7V |
| Short Circuit Current Isc (A) | 8.48A | 8.61A | 8.71A |
| Max Power Pm (W) | 210W | 215W | 220W |
Temperature Coefficient of Cells
| | |
| --- | --- |
| NOCT | 47℃±2℃ |
| Temperature Coefficients of Isc (%/℃) | 0.0492 |
| Temperature Coefficients of Voc (%/℃) | -0.3374 |
| Temperature Coefficients of Pmp (%/℃) | -0.4677 |
Mechanical Data of Solar Monocrystalline (210W-225W)
| | |
| --- | --- |
| Dimension | 1482×992×40mm |
| Weight | 17kg |
| Tolerance | 0~+5W |
The dimension of the modules can be changed according to the demand of clients
Limits of Solar Monocrystalline (210W-225W)
| | |
| --- | --- |
| Operating Temperature | –40 °C to +85°C |
| Storage Temperature | –40 °C to +85°C |
| Max System Voltage | 1000VDC(IEC)/600VDC(UL) |
Guarantee of Solar Monocrystalline (210W-225W)
| | |
| --- | --- |
| Products Guarantee | 10 yrs free from defects in materials and workmanship |
| Performance Guarantee | No less than 90% within 10yrs and no less than 80% within 20yrs |
| Certificates | IEC, ISO, TUV, CE |
The Application of Solar Monocrystalline (210W-225W)
The Pakage of Solar Monocrystalline (210W-225W)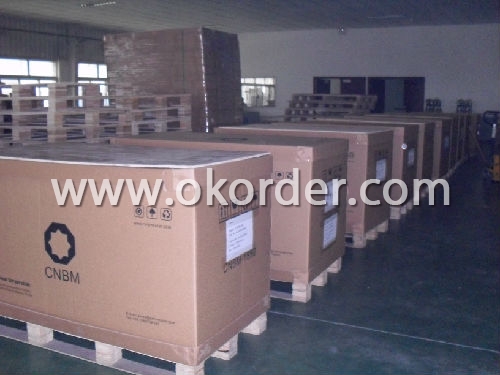 Q:

Solar panels require minimal maintenance. Regular cleaning of the panels to remove dirt, dust, and debris is recommended to ensure optimal efficiency. Additionally, inspecting the panels for any damage or signs of wear and tear is important. It is also advisable to monitor the performance of the solar system regularly. Overall, solar panels are known for their durability and reliability, requiring little ongoing maintenance.
Q:

Yes, solar panels can be installed on a sloped roof. In fact, many residential and commercial buildings with sloped roofs have successfully installed solar panels to generate renewable energy. The angle of the slope can affect the efficiency of the panels, but with proper installation and positioning, solar panels can still effectively harness sunlight and produce electricity.
Q:Im looking at making a self build iPad solar panel charger, Is it possible to get a small solar panel, a battery to hold charge and then a USB output? nothing fancy, just power in and power out?

Yes you can. You would need to look up and see the voltage output by a USB port and the current rating. You should be able to find it on the web. I have found it in the past. Check several sites to make sure that you have the correct values. Then wire up the solar panels to get the correct voltage and current capabilities. You may need to learn how a LM7805 works and wire one of them up to the circuit if you can't wire the solar panels to get the correct voltage. Make sure that you protect the solar panels from the weather and have some kind of protection for your iPad so that it does not get rained on and ruined.
Q:what is a solar panel?

The term solar panel is best applied to a flat solar thermal collector, such as a solar hot water or air panel used to heat water, air, or otherwise collect solar thermal energy. But 'solar panel' may also refer to a photovoltaic module which is an assembly of solar cells used to generate electricity. In all cases, the panels are typically flat, and are available in various heights and widths. An array is an assembly of solar-thermal panels or photovoltaic (PV) modules; the panels can be connected either in parallel or series depending upon the design objective. Solar panels typically find use in residential, commercial, institutional, and light industrial applications. Solar-thermal panels saw widespread use in Florida and California until the 920's when tank-type water heaters replaced them. A thriving manufacturing business died seemingly overnight. However, solar-thermal panels are still in production, and are common in portions of the world where energy costs, and solar energy availability, are high. Recently there has been a surge toward large scale production of PV modules. In parts of the world with significantly high insolation levels, PV output and their economics are enhanced. PV modules are the primary component of most small-scale solar-electric power generating facilities. Larger facilities, such as solar power plants typically contain an array of reflectors (concentrators), a receiver, and a thermodynamic power cycle, and thus use solar-thermal rather than PV. You could get more information from the link below...
Q:Ok so I am planning on buying a solar panel. I am doing it to possibly sell the energy that it stores. It is a 20 watt panel so I am just wondering if every week or month if I sold that energy that it stored would make me a good profit. I am not hoping for thousands of dollars a month..just like 00? The solar panel cost me $,00 so if so, how long do you think it would take to make good profit. Also, how much would I make every week or month?

I will give you the tools to answer your own question. Here is the solar resource map: rredc.nrel /solar/old_data/nsr... Use it to look up the hours of peak equivalent sunlight per day in your area. For example, let's say it's 5 hours / day. Then per year you get 365 x 5 = 825 hours of sun Your panel is 20 watts, or 0.2 kW So the energy produced per year is 825 x .2 = 383 kWh You'll have to use the proper numbers for your own area, of course. Anyway, you can take that 383 kWh and determine how much it would cost at local electric rates. Never know, on some islands, it's $.00 per kWh. Check with your local electric company for rates.
Q:Could anybody give some review about Homemade Solar Panel.

Have okorder . It may extremely teach everyone!
Q:

Yes, solar panels can be installed on a rental property. However, it ultimately depends on the landlord's consent and willingness to invest in the installation.
Q:

Solar panels generate electricity through the photovoltaic effect. When sunlight hits the solar cells within the panels, the photons from the sunlight excite the electrons in the cells, causing them to move and create an electric current. This current is then captured and converted into usable electricity for various applications.
Q:

The time it takes to recoup the cost of solar panels through energy savings varies depending on various factors such as the cost of installation, the amount of sunlight received, the energy consumption of the household, and any applicable rebates or incentives. On average, it can take anywhere from 5 to 20 years to recoup the initial investment. However, with the decreasing costs of solar panels and the rising energy prices, the payback period is becoming shorter, making solar panels a more financially viable option for many homeowners.
Q:lately i have been interested in solar power. i own my own home and in Texas it's HOT, so my A/C is always on and that light bill is like $300.00 a month. i was looking at other light companies but then i remembered that there are the so called solar power but i dont knowknow to start or how it would work to power the a/c machine...pls help

Then search the internet for the best prices on a GTS grid tie system.
1. Manufacturer Overview

Location
Jiangsu, China
Year Established
2004
Annual Output Value
Below US$1 Million
Main Markets
Australia;Asia;South East Asia; South America;North America; Europe;Africa
Company Certifications
ISO 9001:2008; CE; TUV; UL
2. Manufacturer Certificates

a) Certification Name
Range
Reference
Validity Period
3. Manufacturer Capability

a)Trade Capacity
Nearest Port
Shanghai
Export Percentage
1% - 10%
No.of Employees in Trade Department
200-300 People
Language Spoken:
English;Chinese
b)Factory Information
Factory Size:
Above 8,000 Square meter
No. of Production Lines
6
Contract Manufacturing
OEM Service Offered;Design Service Offered
Product Price Range
Average