Interior partition wall or veneering wall of hotels, theaters, emporiums, factories, office, house, airplane-terminal buildings, bus stations, waiting lounge, etc.
Product Applications:
1.Indoor ceiling of industrial and resident building.
2.Partition of industrial and resident building.
3.The partition of the bathroom and other wet condition building.
4.Furniture or furniture's accessories.
5.The fireproof board of the air passage.
6.Indoor partition as base board of the decoration for operation room,clean room of hospital or laboratory .

Product Advantages:
1.Light,good strength,cauterization resistance and water resistance;
2.Matching magnesium fire-proof board,gypsum board,and many other wall and ceiling board;
3.Moisture -proof,shock-resistance,high-effecient,environmentally-friendly and so on;
4.Easy and fast for installation,time-saving;
5.prompt delivery,high quality,competitive price and complete sets of style;
6.We can supply you the products based on your specific requirements;
Main Product Features:
metal drywall system galvanized steel profile c channel
Our drywall studs are made of galvanized steel sheet with good rust-proof function. The thickness is strictly according to the international demand.
Product Specifications: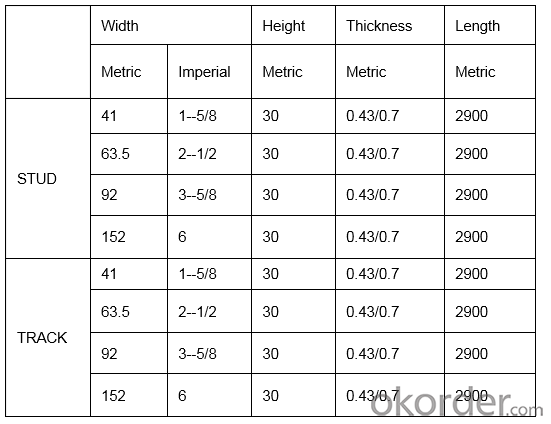 FAQ:
1:.How can I get your prompt quotation?
A: we can give you reply with quotation quickly if you kindly send the inquiry with specification.
2.What's the MOQ of the order?
No limit, we can offer the best suggestions and solutions according to your condition.
3. Which payment terms can you accept?
T/T,LC,Western Union,moneygram are available for us.
4. After an order is placed, when to deliver?
15-25days after confirming the order.
Images: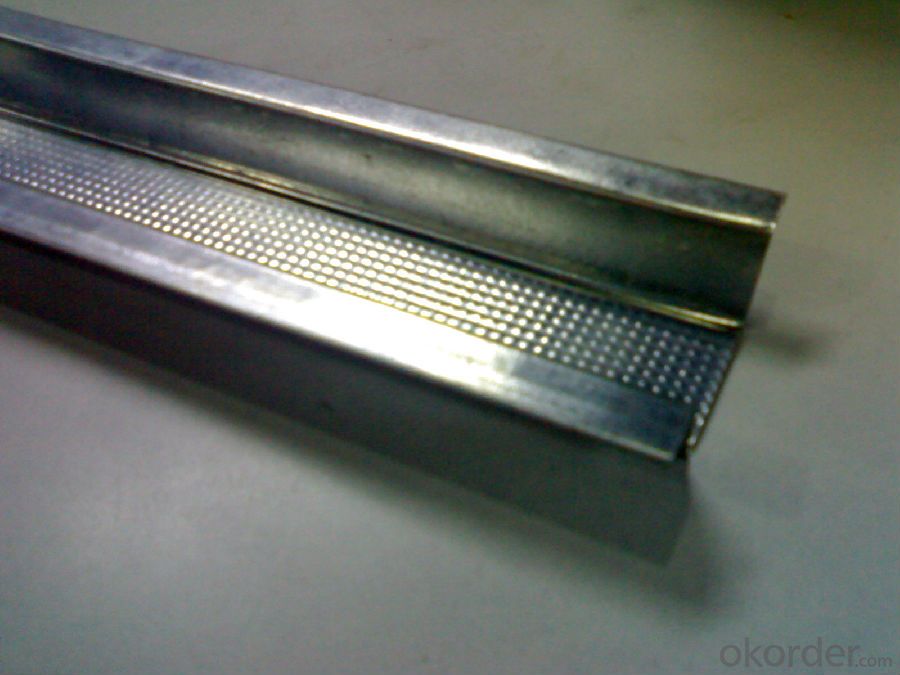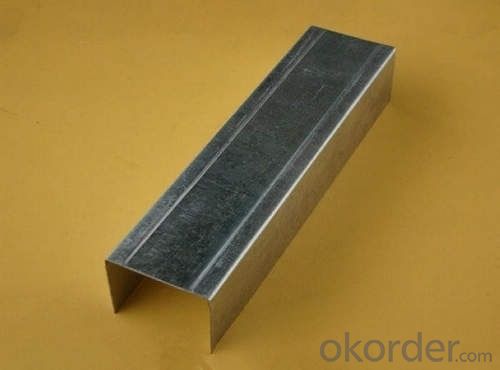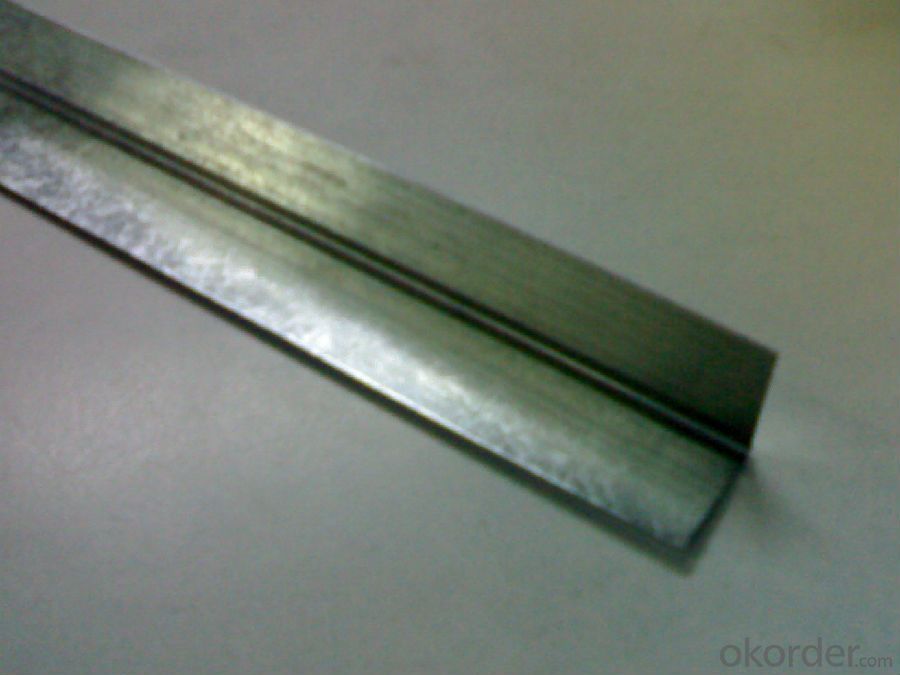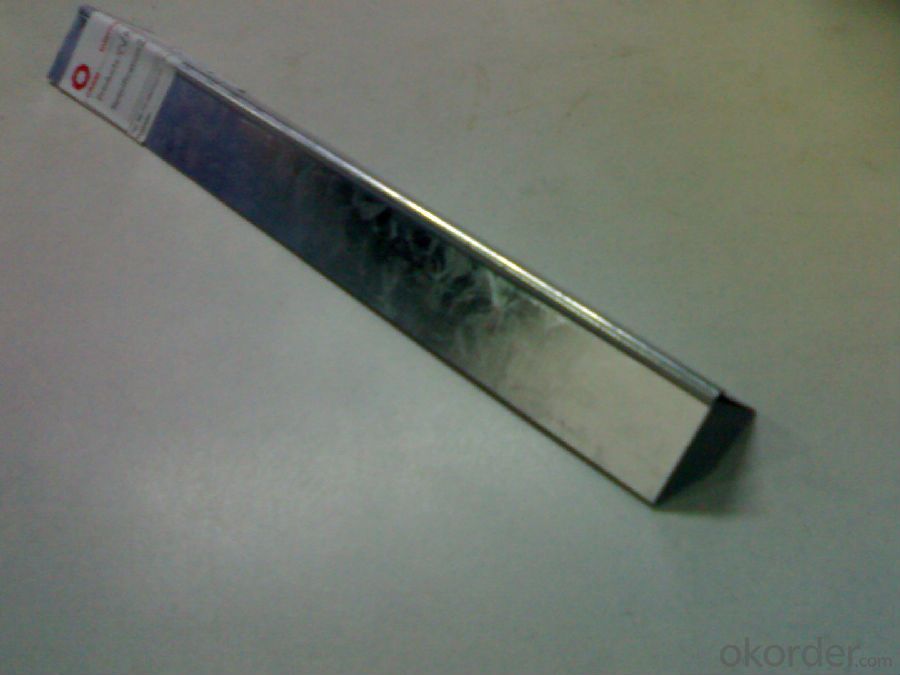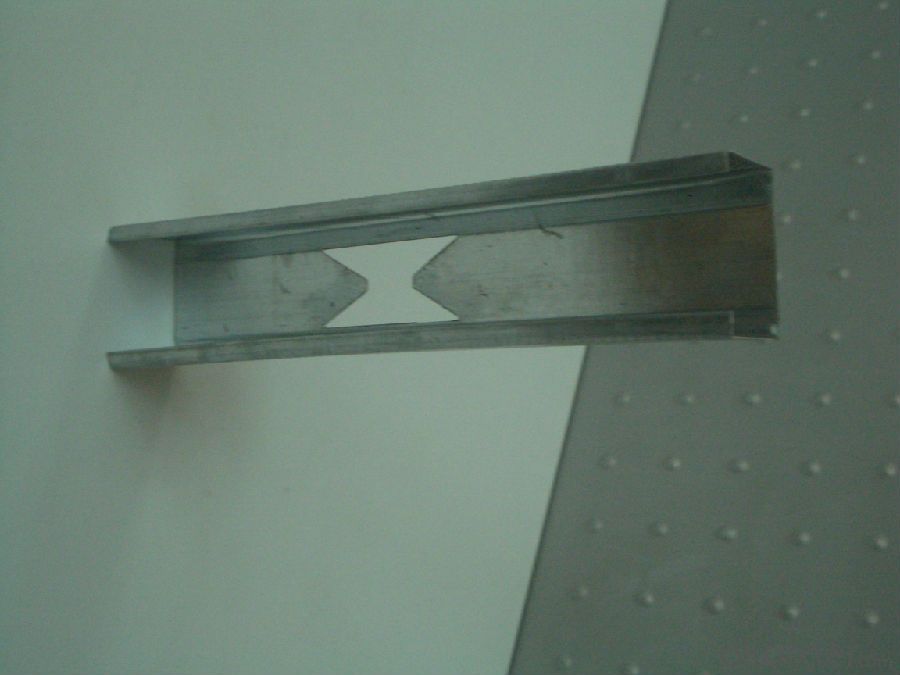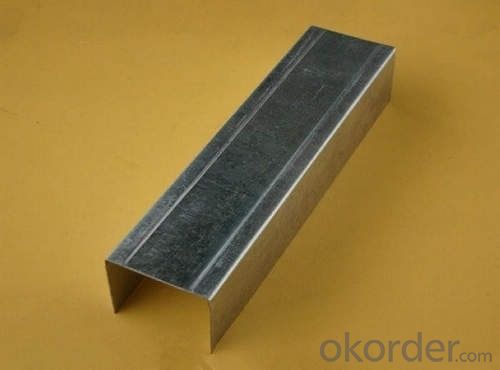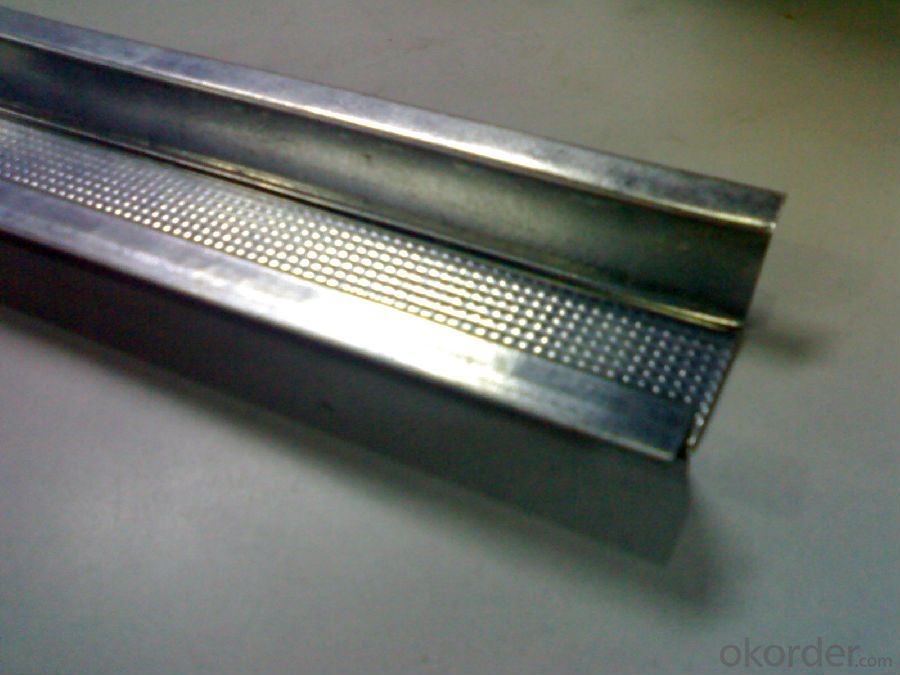 Q:How to remove the gypsum board cut off

Partition may be a metal structure, can not be sparks in the environment, can not use cutting machine, can not use metal hit metal. Can not use the fire.
Q:What is the pros and cons of a brick or a gypsum board?

See you cut off where to do the general office and hotel and other public places with light steel keel gypsum board is better to save space easy to do easy to dismantle can also be modified at any time if you feel bad sound can be in the middle of the board to add rockwool to noise but light steel Keel gypsum board cut off the poor degree of poor partition itself can not be hit by a strong impact can not be damaged There are two kinds of brick and light to do the body to turn the two kinds of if the family can be used to cut off the light to solid and heavy light noise effect is also good now the district's house to do with the red brick is illegal because of the impact of the floor The overall load-bearing now do the partition is generally light-weight brick to do part of the decorative partition is the glass tiles do light steel keel and light brick, the two kinds of cut off on the cost of the basic difference is almost
Q:Who used the light steel keel gypsum board to do the wall?

Not compare province, province, then you buy bricks more province, just better installed than brick light
Q:Light steel keel to do a layer of gypsum board layer of nine layers of the wall how much money a square, the price is simple or double-sided?

Home improvement living room ceiling works, gypsum board force does not need to add nine per cent board. Recommendation: direct use of light steel keel or wood keel and then add gypsum board just fine. Tip: If the shape is complex, available blockboard to take advantage of the keel on it
Q:100 light steel keel 9.5mm thick gypsum board double double-sided partition three times, three times latex paint.

The following is the decomposition of the material (no loss), vertical wall keel spacing is generally @ 400, vertical keel is 2.5m / m2; along the top edge (heaven and earth) keel is 2/3 = 0.67m / m2; Piercing board is 4m2 / m2 partition wall area; large white putty is about 2.5kg / m2 partition wall area, latex paint is 0.5kg / m2 partition wall area. Brush twice to consider; the rest Is the card pieces, nails, bandages, white latex, high-strength nails and oblique support cable-stayed material (wood can be) and other auxiliary materials Usually the wall should also have rock wool, 50 thick or 75 thick
Q:Light steel keel + gypsum board + surface brush latex paint partition wall per square meter offer is how much?

Light steel keel about 12-13 yuan, enough to do a square, gypsum board per square 16 yuan (double) or so, paint workers wages about 25 yuan. / Square (package workers package material); Labor costs about 18 yuan, all offer for 75 yuan or so.
Q:With light steel keel gypsum board do partition wall price how to count?

Double-sided labor costs more than 20 yuan per square meter, the material to see the grade of gypsum board and the thickness of the keel. Generally not more than 20 yuan per level. Plus freight and handling costs, loss. Offer 60 yuan per flat can be.
Q:Decoration decoration works Light steel keel wall, layer 4 meters high thickness What are the requirements? There is no specific specification?

Save material, reduce human input The use of the fixed screw of the keel and the angle of the fixed support column are used as the reinforcement of the ridge of the ridge, which changes the traditional construction method of embedding steel and fixed expansion bolts in the ridge, saving the material and reducing the manpower Of the input.
Q:Can the interior walls be made of light steel keel partitions? Bathroom wall and interior wall with light steel keel wall is good or brick wall good?

Light steel keel wall moisture resistance is poor, even with glass magnesium board, Ette board and other moisture-proof sheet, but still not suitable for high water requirements of the bathroom, there will be hidden.
Q:9 + 9 double gypsum board is what it means

Gypsum board is a kind of material made of building gypsum as the main raw material. It is a light weight, high strength, thinner thickness, easy processing and insulation and fire insulation and other properties of better building materials, is currently focused on the development of one of the new lightweight sheet. Gypsum board has been widely used in residential, office buildings, shops, hotels and industrial plants and other buildings within the wall, wall panels (instead of wall plaster layer), ceilings, sound-absorbing panels, ground floor boards and the Such as decorative plates. Gypsum board gypsum board (divided into ordinary gypsum board (commonly used), fiber gypsum board, gypsum decorative plate "interpretation") it to gypsum as the main material, adding fiber, adhesive, modifier, Dry from. With fire, noise, heat, light, high strength, low shrinkage and other characteristics and good stability, not aging, anti-moth, available nails, saws, planing, sticky and other methods of construction.
1. Manufacturer Overview

Location
Year Established
Annual Output Value
Main Markets
Company Certifications
2. Manufacturer Certificates

a) Certification Name
Range
Reference
Validity Period
3. Manufacturer Capability

a)Trade Capacity
Nearest Port
Export Percentage
No.of Employees in Trade Department
Language Spoken:
b)Factory Information
Factory Size:
No. of Production Lines
Contract Manufacturing
Product Price Range
Hot Searches
Related keywords