Key Specifications/Special Features of Glazed Tile :
1. Material: glazed porcelain
2. Antique feel, Metal Image
3. Low water absorption
4. Strong in hardness
5. Coordination in color and luster
6. Usage Area: home, office, hotel, government and corporate projects, flooring tiles, deluxe clubs flooring
7. Style: simple, classic, elegant and splendid in color
8. Good in abrasion and chemical corrosion-resistant
9. Resistance to thermal shock
10. Available in various sizes and colors
Primary Competitive Advantages of Glazed Tile:
1. All product of rustic ceramic tiles are of top grade AAAA
2. CE certificate, ISO9001:2008 and ISO14001:2004
3. OEM accepted.
4. Speial dimensions available according to your floor tiles request.
5. Best Quality with best price, strictly quality control.
6. On time delivery, in general 7-10days.
7. Best after sale service, customer can follow their porcelain tiles order situation any time. no matter on product line, warehouse or shipment.
Main Export Markets:
1. Asia
2. Australasia
3. Central/South America
4. Eastern Europe
5. Mid East/Africa
6. North America
7. Western Europe
Specification:
Tile type:

Ceramic tile

Material:

Porcelain

Size(MM) :

600x600mm

Thickness(MM):

9mm

Water Absorption:

≤0.5%

Color:

Available in all designs and colors

Usage:

Used in floor

Surface treatment:

Glazed surface

Features:

Professional triple-burning in oven, which makes our tiles more excellent quality.

Function:

Acid-Resistant, Antibacterial, Heat Insulation, Non-Slip, Wear-Resistant, Anti-fouling easy to clean

Packaging:

600x600mm: 4pcs/box,28kg/box,standard cartons and

wooden pallets packing

Remark:

All kind of designs can be produced according

to your requirements

Quality

Surface quality:

95% tiles no defect from 0.8 away uprightly

Breaking strength:

As require

Resistance to thermal shock:

Without crack and flaw after 10 times anti heat shock test

Brightness:

≥55

Frost-resistance:

No crack or spalling after frost resistance test
Packing Information (For 27.5 Tons heavy 20'Fcl)
For 600x600mm, 4pcs/Ctn, 40 Ctns/Pallet, 960 Ctns/20'Fcl, 1382.4m2/20'Fcl
For 800x800mm, 3pcs/Ctn, 28 Ctns/Pallet, 616 Ctns/20'Fcl, 1182.72m2/20'Fcl
Product Picture: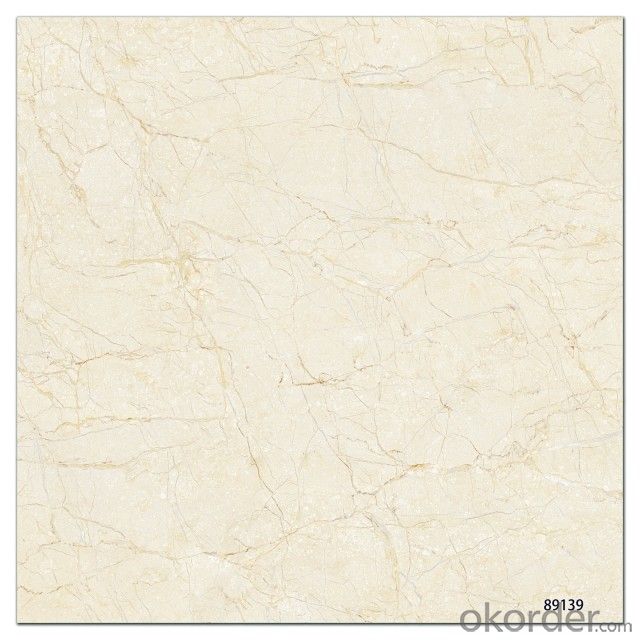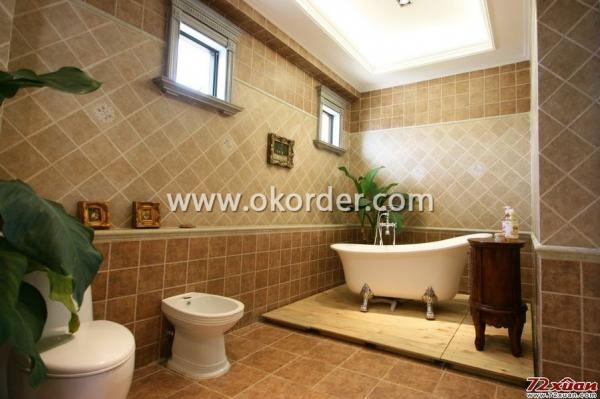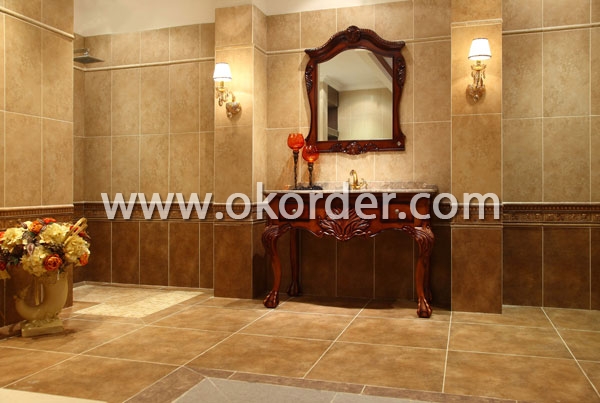 Packing Pictures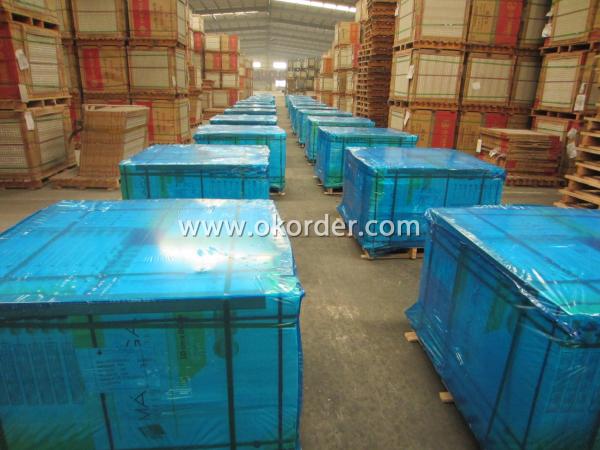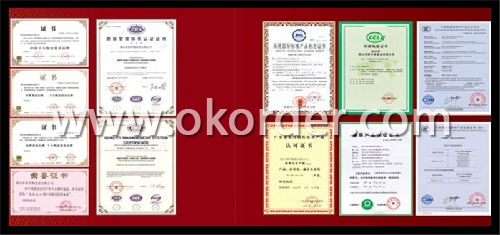 Q:Ceramic tile a square with how much, how to buy ceramic tile, the price is how much

First need to see how flat the base surface? Simply said that if the flatness difference (+ -10 mm), then the consumption of about 10 kg, if the flatness consumption (+ -5 mm), then the consumption of about 6 kg. Tile glue three types: one for the standard type, two for the strong type, three for the tough type. A type of price of about 40 yuan per package (20 kg packaging). Type 2 price of about 55 yuan per package, the price of 68 yuan each type of package Need to look at the size of tiles to choose ceramic tile material: less than 300 * 300 tiles with a type, 300 * 300 - 600 * 600 tiles with two, more than 600 * 600 tiles with three types.
Q:is it hard to do a tile back splash for someone that has no experience it is a small area in the kitchen

absolutely not!.....first there are easier ways to tile a backsplash other than cement board, grout, and mud (you know, the stuff contractors use).First, figure out your tile. Make sure that if this tile will come in contact with a lot of oil or dirt that you either get glazed tile or glass tile, or know that you will have to apply a sealer. Second, go to your local Lowes, Home Depot, etc and ask the tile dept guy or girl about tile mastic......it is a thin coat of stuff that you can stick tile to and then use a pre made tube of grout (ask the tile person) and you can have it done in a couple of hours. Another really easy way to stick up tile permanently is using a product called 'Liquid Nails' that is made for tile......you just use a caulking gun, put some on the tile, and stick away!.....then fill the cracks with the toothpaste looking tube of grout. Good Luck and I hope this works well for you!
Q:I'm having a small bathroom remodled. The floor isn't perfectly rectangular, there are some uneven areas because of the tub. I would like the opinion of a profession tiler (should there be one put there, somewhere)...should the floor tiles always be centered, or start lined up against a wall? Also, should the grout be completely dry before sealing it? Thanks.

In regards to sealing grout, many grouts, like TEC Power Grout, never need to be sealed to maintain stain resistance. You can get TEC Power Grout at Lowe's. For the tile layout, start tiling at the end of the room and work your way out. At the end of the room, find the center point, and do a dry lay out of your tile from the center point to the wall. You want to have at least 1/2 a tile at the wall, although it looks better if you have a full tile along the wall. You also want to have a full tile at the entrance because it looks nice that way. You may need to adjust your dry layout and cut tile with a wet saw so that your tile can fit the space. Good luck!
Q:The logistics of maintaining my marble tile should be an important consideration when choosing what kind of tile I wish to install. Acidic cleaners can etch the tile, which will then need to be repaired, so watch out for them.How can I Maintain my tile and keep it clean with the proper solutions once it is installed?

There are belowing guidances need to be taken into consideration while maintaining marble tiles: 1Use a dampened sponge mop without cleaner to clean the tile on a daily basis. 2On a weekly basis, use a different sponge mop with a marble cleaner to mop the tile. 3On a quarterly basis, apply a marble sealer made of polymer resin. 4Use painter's tape to tape around the edges of the tile. 5Mop the tile with a dampened sponge mop to remove any dust or debris. 6Following the manufacturer's directions, pour a small amount of a polymer resin into a disposable cup. Pour the polymer resin over the tile, using the paint spreader to push it back into an even layer. 7Allow the polymer resin sealer to dry according the manufacturer's directions.
Q:while laying new floor of tiles, i'm confused above, which tiles are more durable for floor: homogenized floor tiles or glazed floor tiles, or granite floor tiles

In a home setting it rally doesn t matter what you use. They ll all out last us if they are properly set. And setting is the key from the floor prep to the glueing of the tile with thin set. Two basic type of porcelains, full bodied porcelains where the color goes through out. The backing is basically the same colored as the front. Then you have glazed porcelains where the tile body is porcelain , the porcelain is baked, there is a color or pattern on the surface and then a glaze is applied. Then there is the standard clay bodied tile where the clay is baked , a color on the surface and a glaze and its refired again. Homogenized tiles, and I m not over familiar with them is a very hard tile that has a very low water absorption rate. All are good products but clay tiles are not as true in sizing as most ( not all) porcelains . Any questions you can e mail me through my avatar and check my qualifications there. GL
Q:To remoe the old wall tiles between kitchen cabinet takes a lot of time or may damage the sheetrock behind it, can I install granite or new tiles on top of it. Appreciate for any input

The cost to demo the old tile is insignificant in the face of doing the job twice. Do it right. Get rid of the old tile and take the old drywall off as well. It easier and less costly to do it right the 1st time.
Q:I need to know the quality of all different kinds of tiles. Please name the tile and the list or features of it so I can see which tile has the best and worst quality! THANK YOU!

You are such a ***** shut yo mouth before i come through the computer and yank that skanky hare right out of yo scalp also, you need 2 get a life instade of being the town bicycle and leting everyone have ride!THANK YOU!
Q:I had asked the guy I am seeing to go somewhere with me tonight and he said he had to prep the floor before laying the tile? He has been working on a flooring job, but what do you do to prep a floor? Is this the same whether with tiles or hardwood?

Preping the floor for tiling can involve multiple things: First tile cannot be layed on any kind of surface It has to be dry and very solid without any movements or the tile or the grout will crack after some time, so it might involve some extra screws on a plywood floor removing cushion floor etc. If the floor is uneven or not level this has to be fixed before laying the tile also, this may include pouring some self leveling concrete to level the floor. The floor surface has to be completely clean before laying the tile, so brooming, removing baseboards etc. He may also chalk some lines as reference points before laying the tile. Hope this helps
Q:my floor tile has a crack so i replaced one tile with the same exact tile but but the new tile looks different how do i make the new tile look like the old tile

Try to select such colors which matches the old one so that looks same. If still not working then take help from experienced professionals.
Q:What is transparent tiles

(The market also known as tiles, polished tiles, etc.) is the rock debris by pressing high pressure, the surface after the hardness can be compared with the stone, water absorption is lower, good wear resistance.
1. Manufacturer Overview

Location
Year Established
Annual Output Value
Main Markets
Company Certifications
2. Manufacturer Certificates

a) Certification Name
Range
Reference
Validity Period
3. Manufacturer Capability

a)Trade Capacity
Nearest Port
Export Percentage
No.of Employees in Trade Department
Language Spoken:
b)Factory Information
Factory Size:
No. of Production Lines
Contract Manufacturing
Product Price Range